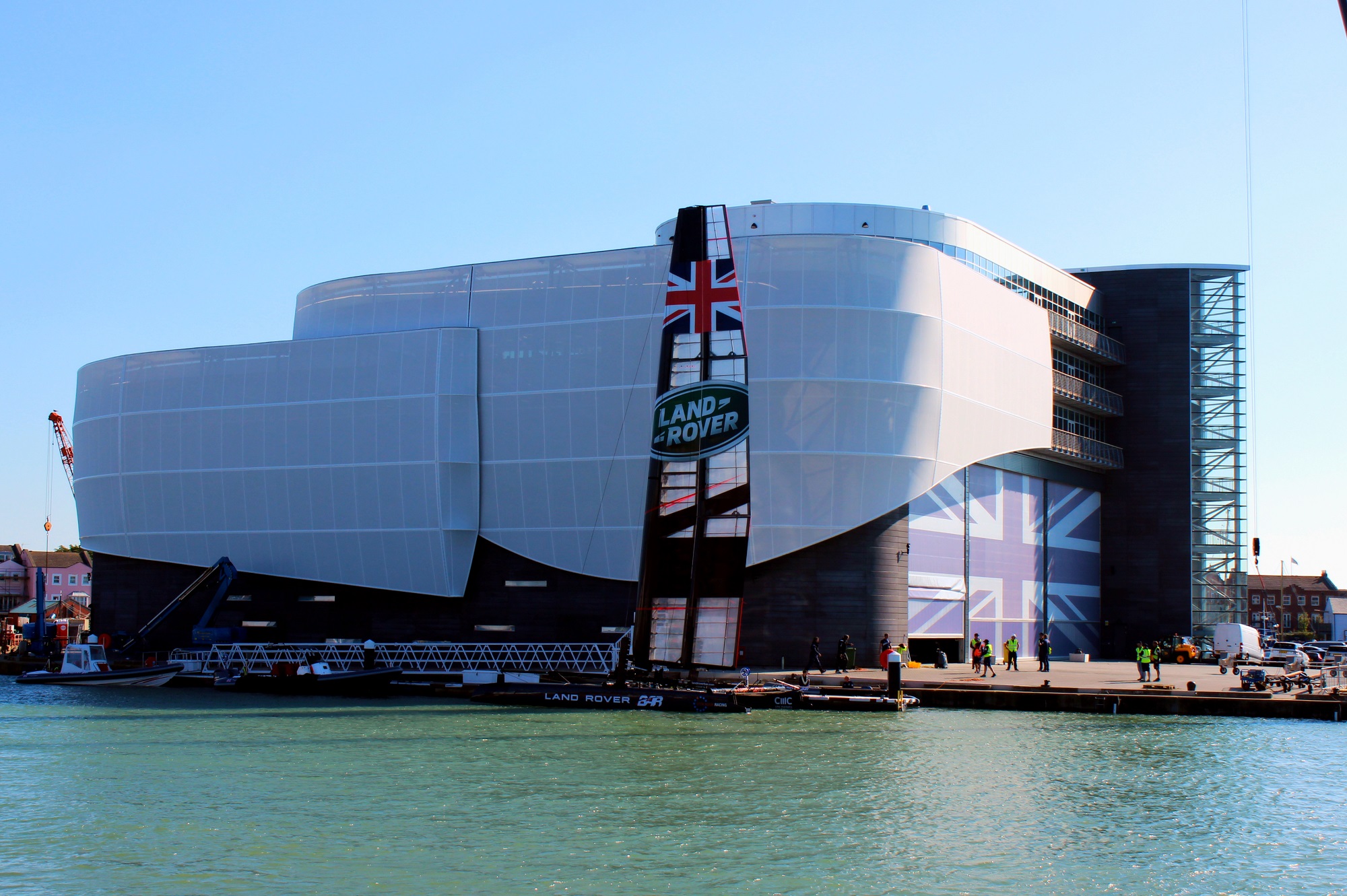 Fabric Façades
The use of tensile fabric as a façade material is proving a highly effective solution with many benefits.
The Outer Skin
Fabric overcladding has an increasing relevance for architects. Not only can it be used on new builds, but has a big role to play in the refurbishment of existing properties.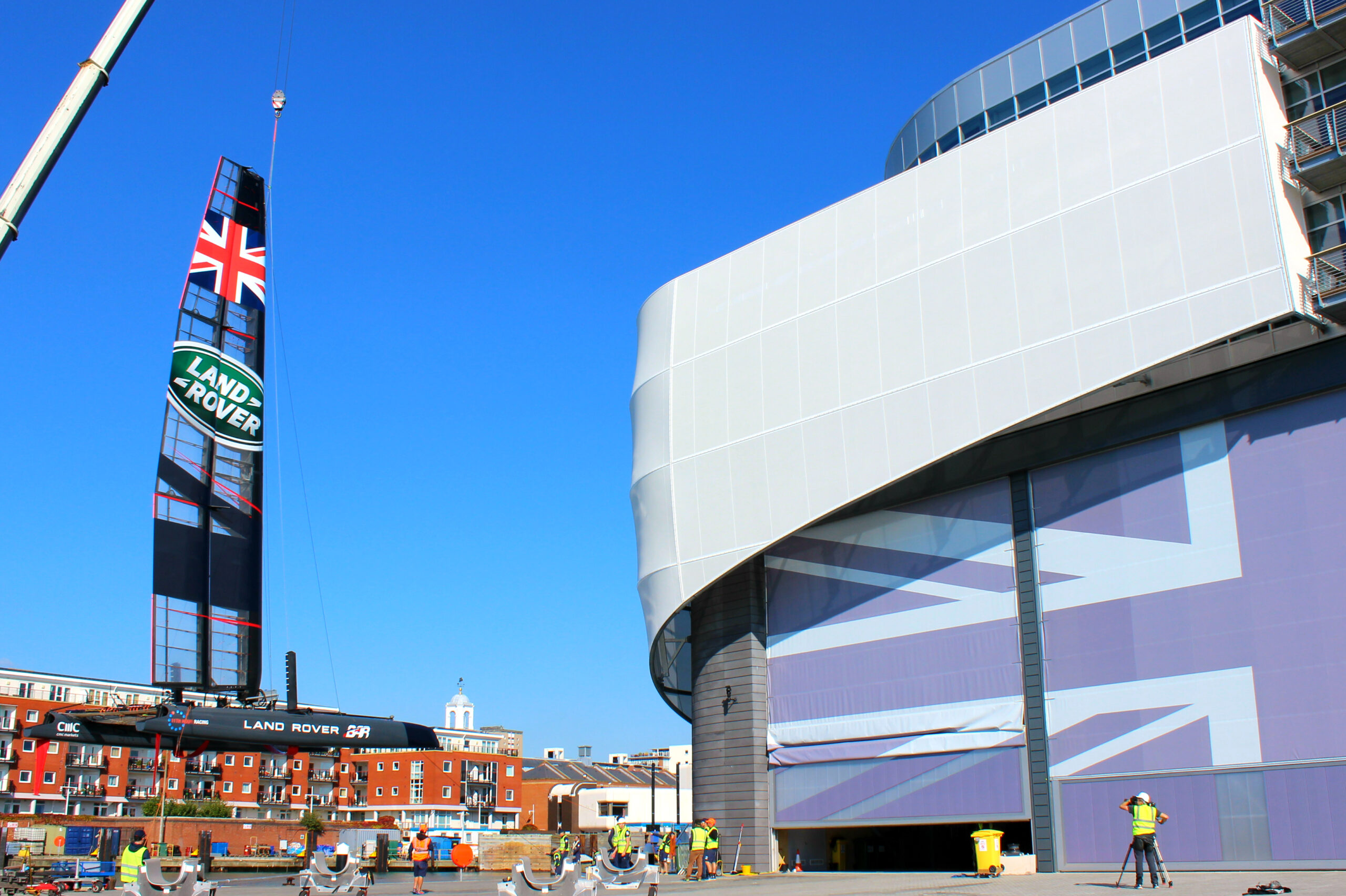 Cost Effectiveness
Replacing a tired, old building is expensive. It can be far more cost effective to overclad with a dynamic new fabric façade that achieves architectural impact and is fast to install.
Fabric mesh was chosen to form an eye-catching wrap around the Ben Ainslie Racing HQ in Portsmouth.

Lightweight Construction
Together with a lightweight first fix steel framing system, the fabric façade puts significantly less loads onto the building compared with some other rain screen systems.
At the National Exhibition Centre in Birmingham the whole of the public facing façades were overclad with a combination of backlit giant 3D fabric pyramids and printing graphic panels to the centre, giving it a dramatic facelift and a new lease of life. This was done at a cost considerably less than replacing the existing façade.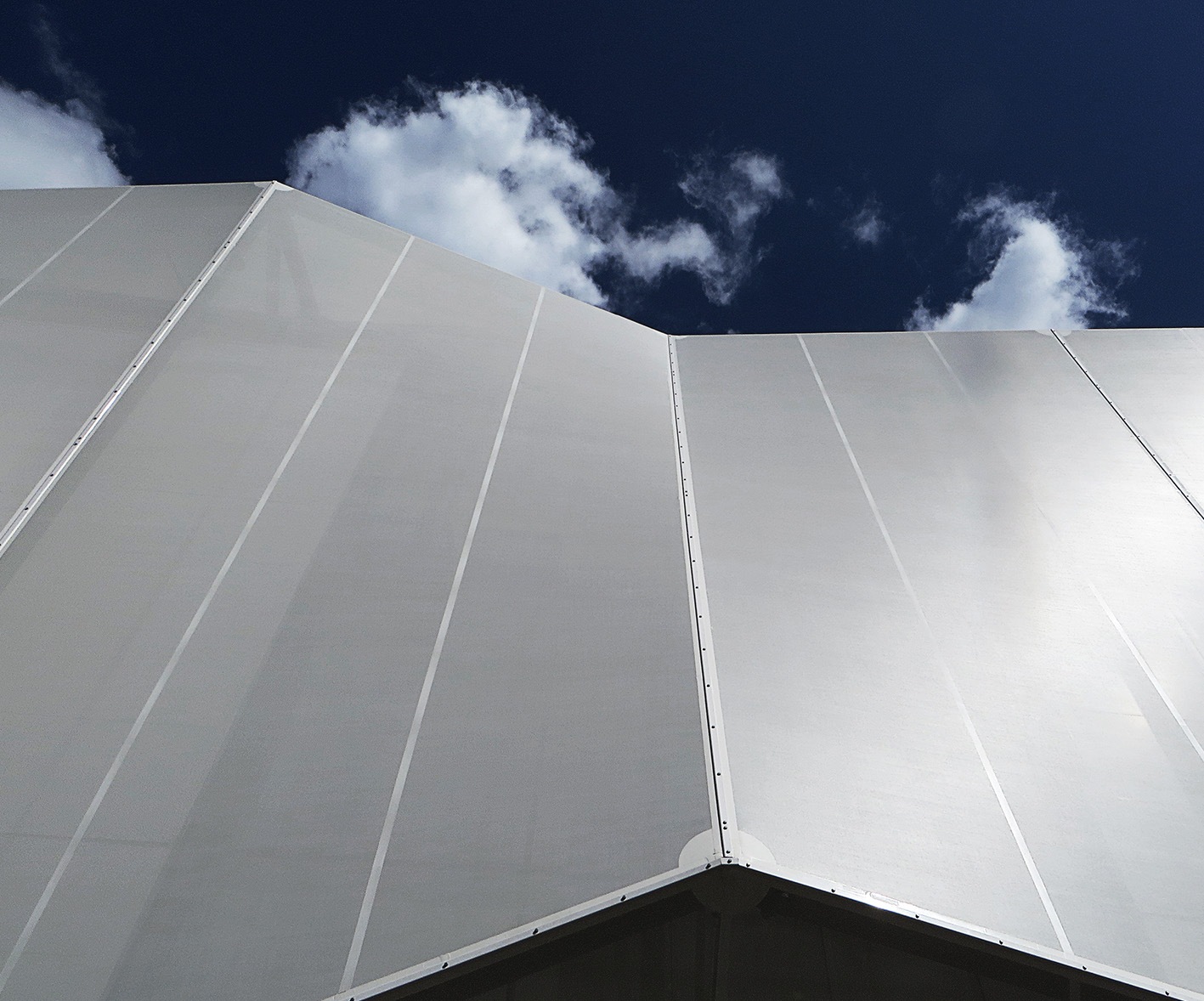 Climate Façades and Environmental performance
There are not only aesthetic benefits but practical ones too. By overcladding a building, you can dramatically improve its environmental performance in terms of heat gain and energy saving, through increased insulation and elimination of glare.
This has been proved at the Ben Ainslie Racing HQ in Portsmouth, where the cladding provides additional insulation and protects the envelope behind from the cooling effect of the wind.
"The feedback that I have had from everyone who has worked with you and your team has been incredibly positive. From my point of view it has been a real pleasure to work with such a professional team."
Kristin Davidson, NEC Birmingham
– 3D Fabric Facades
Related Projects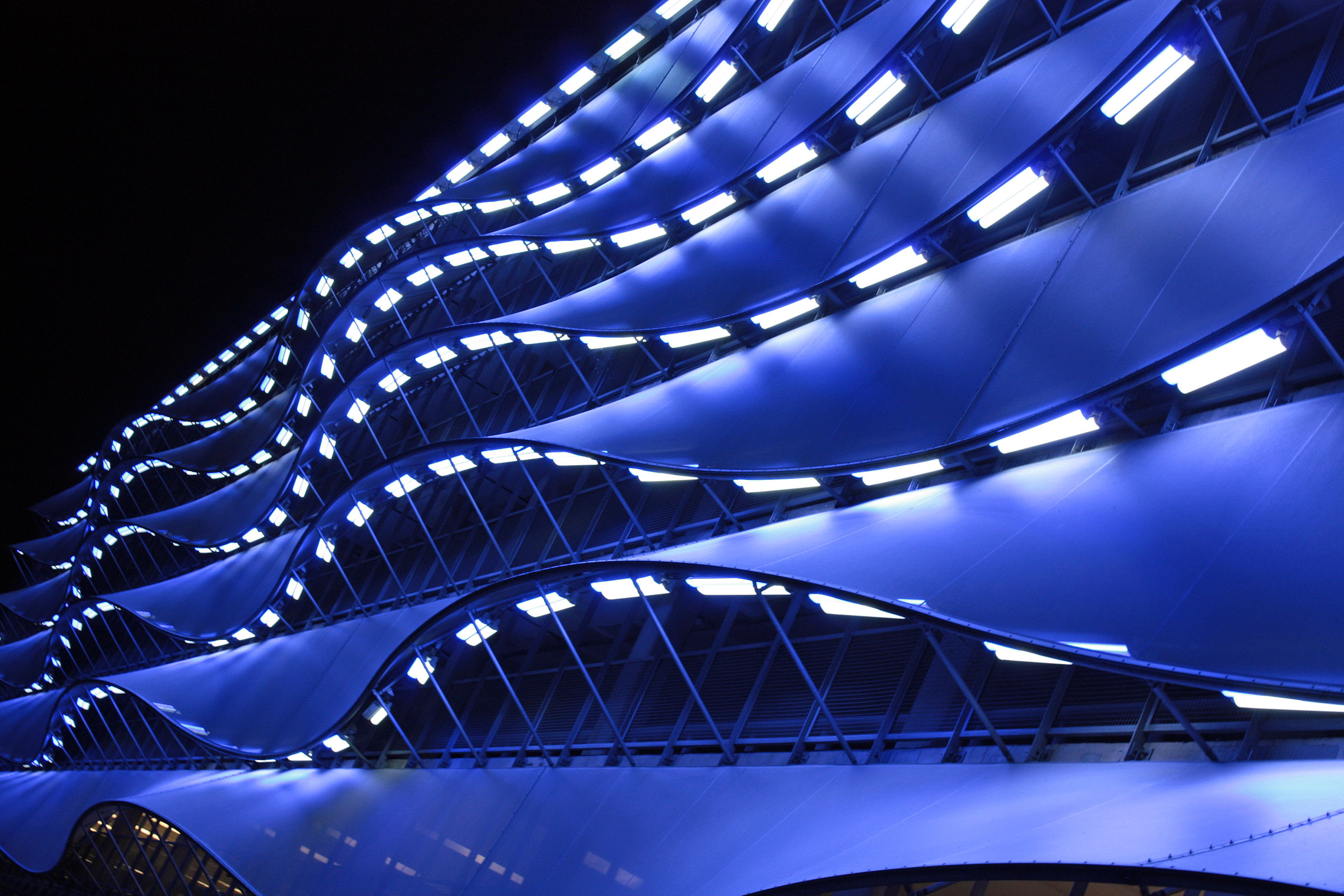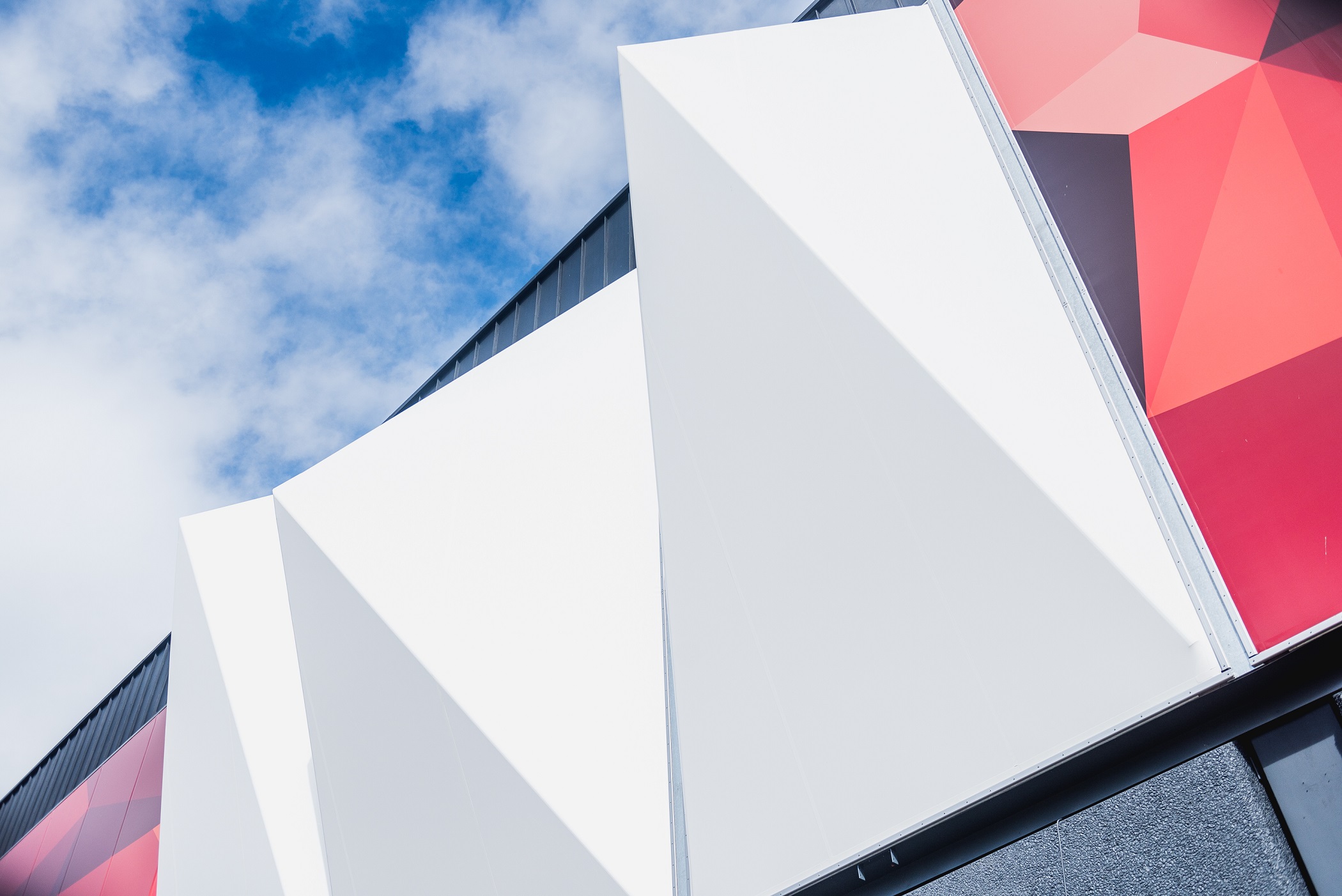 National Exhibition Centre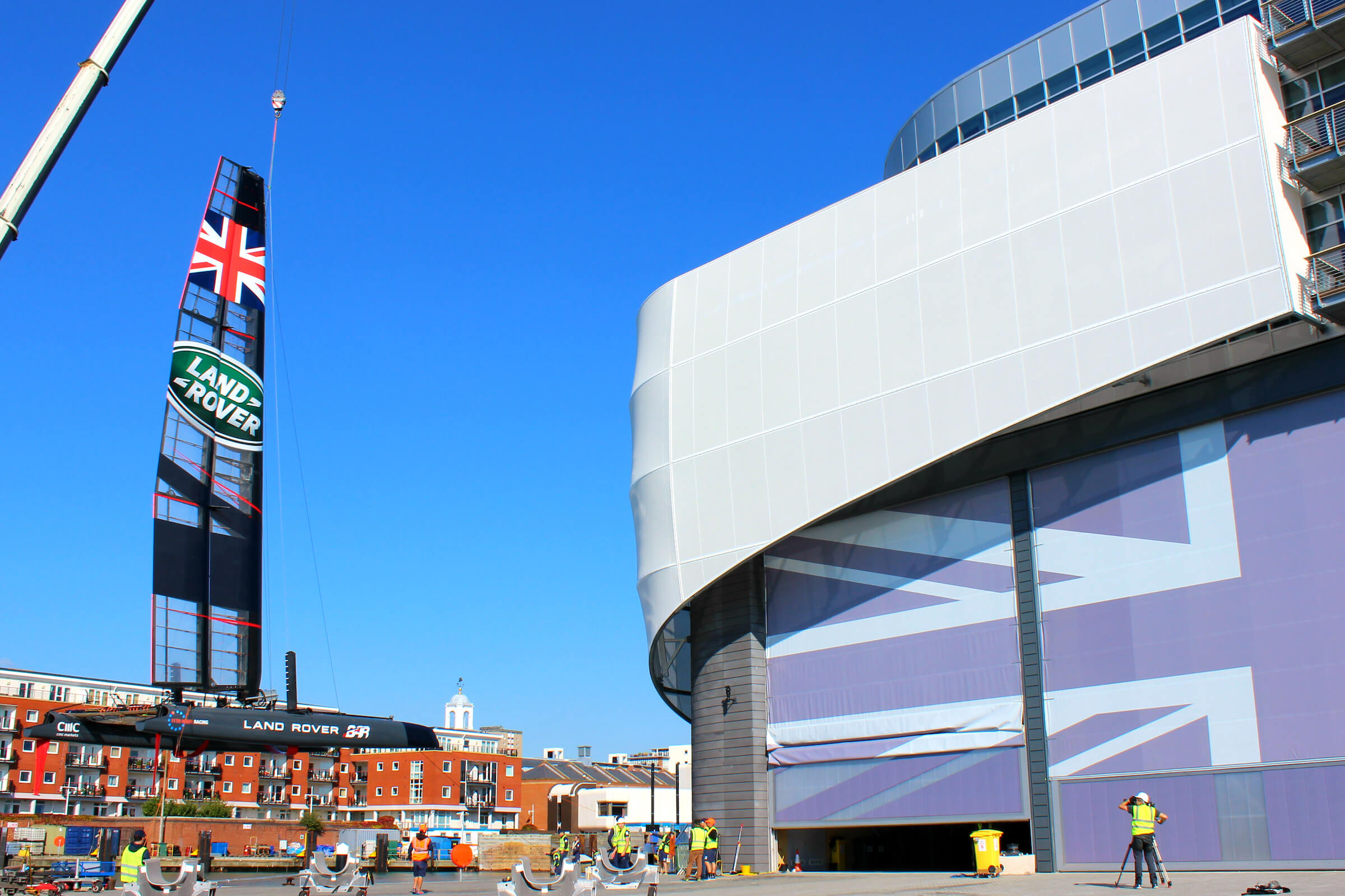 Related Articles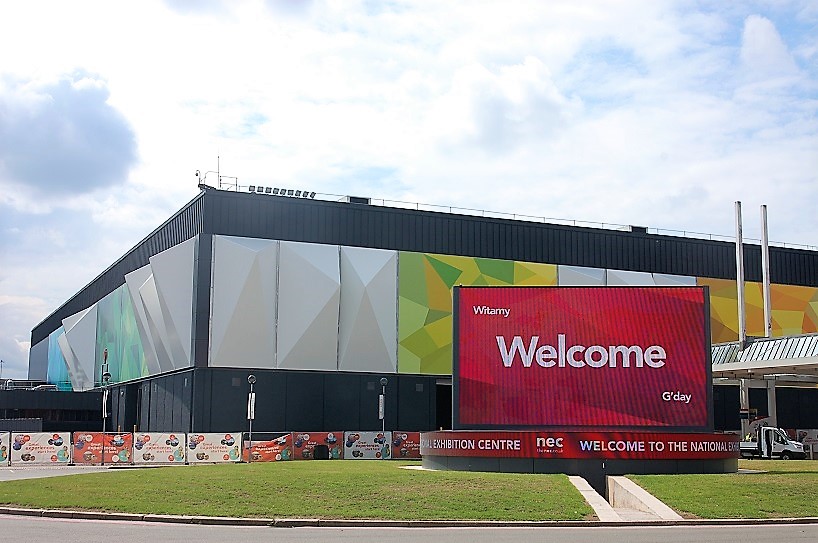 Base Structures gives the NEC a spectacular new look
As part of an exciting £4.5 million transformation of Birmingham's NEC, Base Structures has installed a stunning fabric façade to the exterior of Halls 1…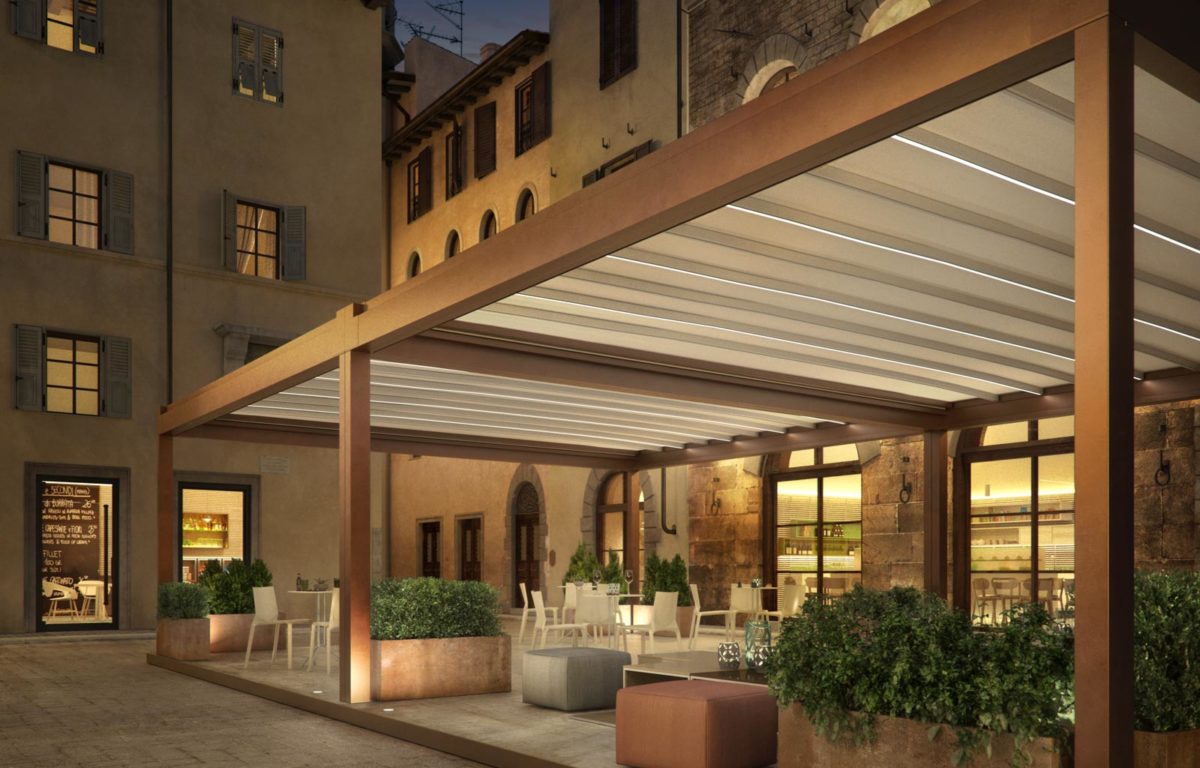 Retractable Fabric Roofs
For flexibility, convinience and striking design
Solar Shading at the touch of a button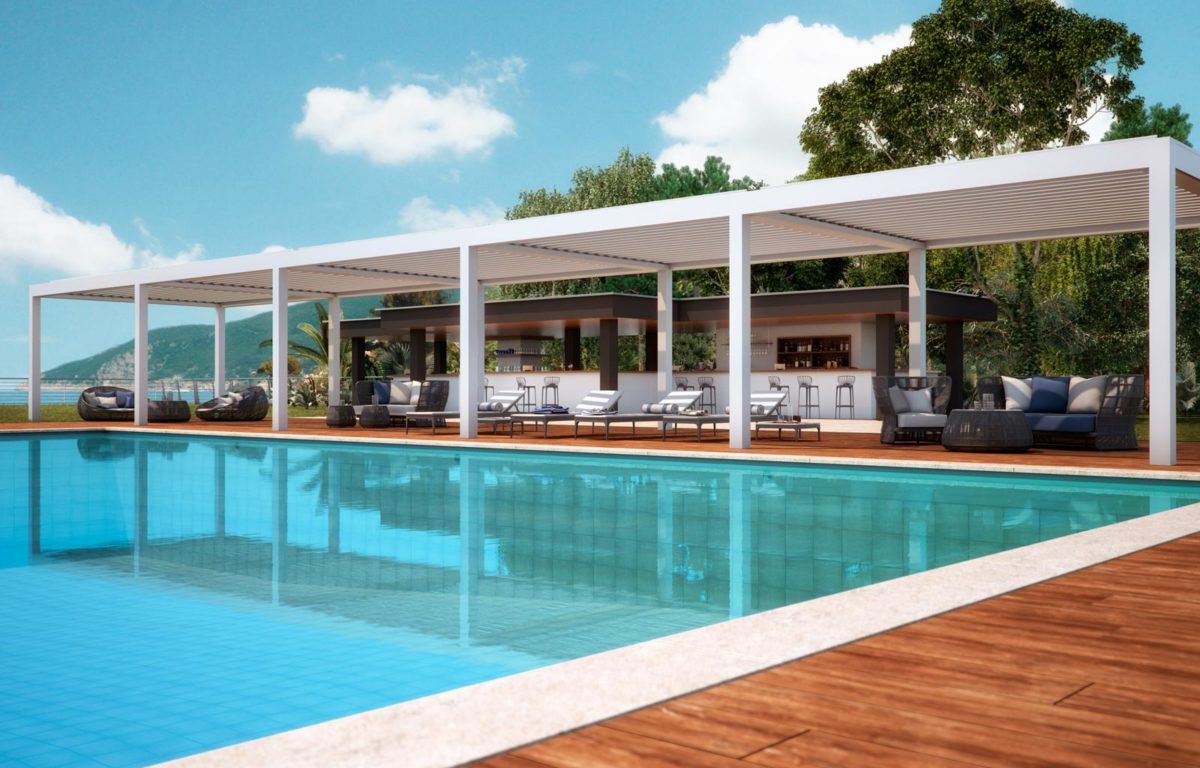 The beauty of a retractable awning system is in the sheer flexibility it offers, at the touch of a button. For restaurants, leisure, retail and events spaces, the challenge is to provide the best possible ambience for the ever demanding customer, while at the same time maximising the available footprint to allow for dependable, revenue generating activities and events.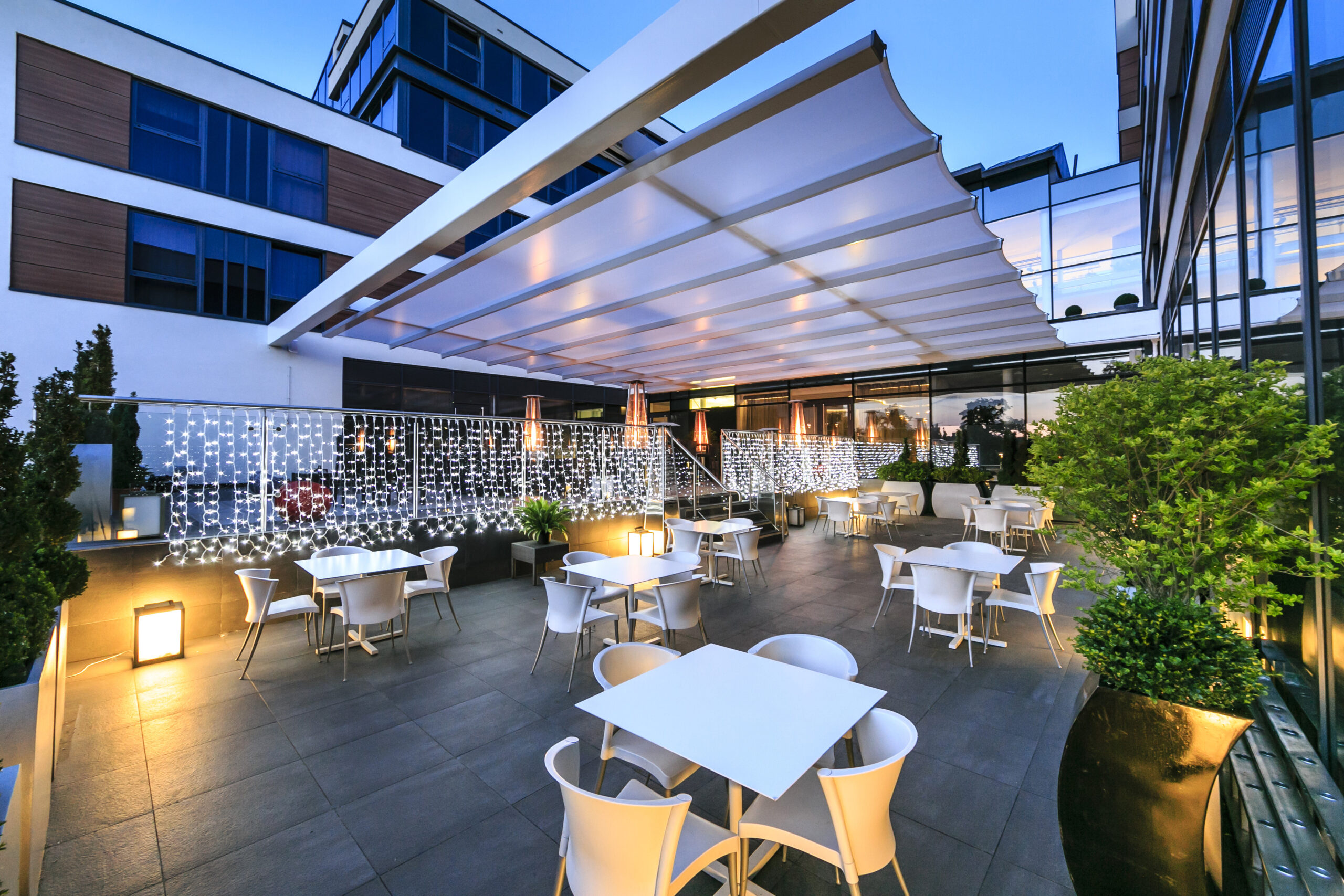 A tensile retractable fabric roof allows businesses to make the most of their outdoor space, ensuring that customers can enjoy an alfresco experience when the weather allows and protection from rain, wind or even excessive sunshine when it's needed.
With the desire for more outdoor living, the ability to cover external spaces with the press of a button opens up huge opportunities for the commercial and retail sectors.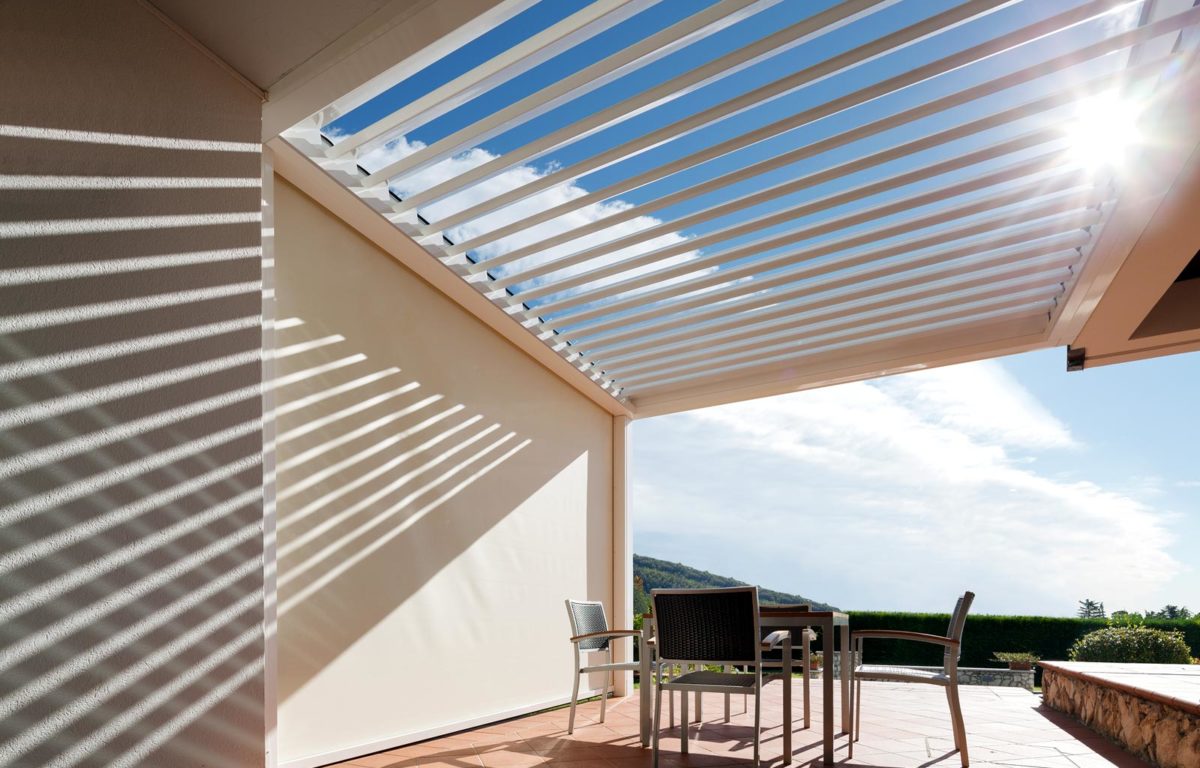 For the larger covered areas we offer the En-Fold retractable roof from Uni Systems. This is a proven and robust fabric roof design that deploys down drive beams and can be configured in a wide variety of shapes to suit different footprints.
For smaller sites, or if a modular approach is required, the Italian designed Pratic range offers freestanding units with either a retractable fabric roof or a rotating louvre roof. Both systems can accommodate internal rainwater collection and additional features include integrated vertical blinds, glazed facades and LED lighting.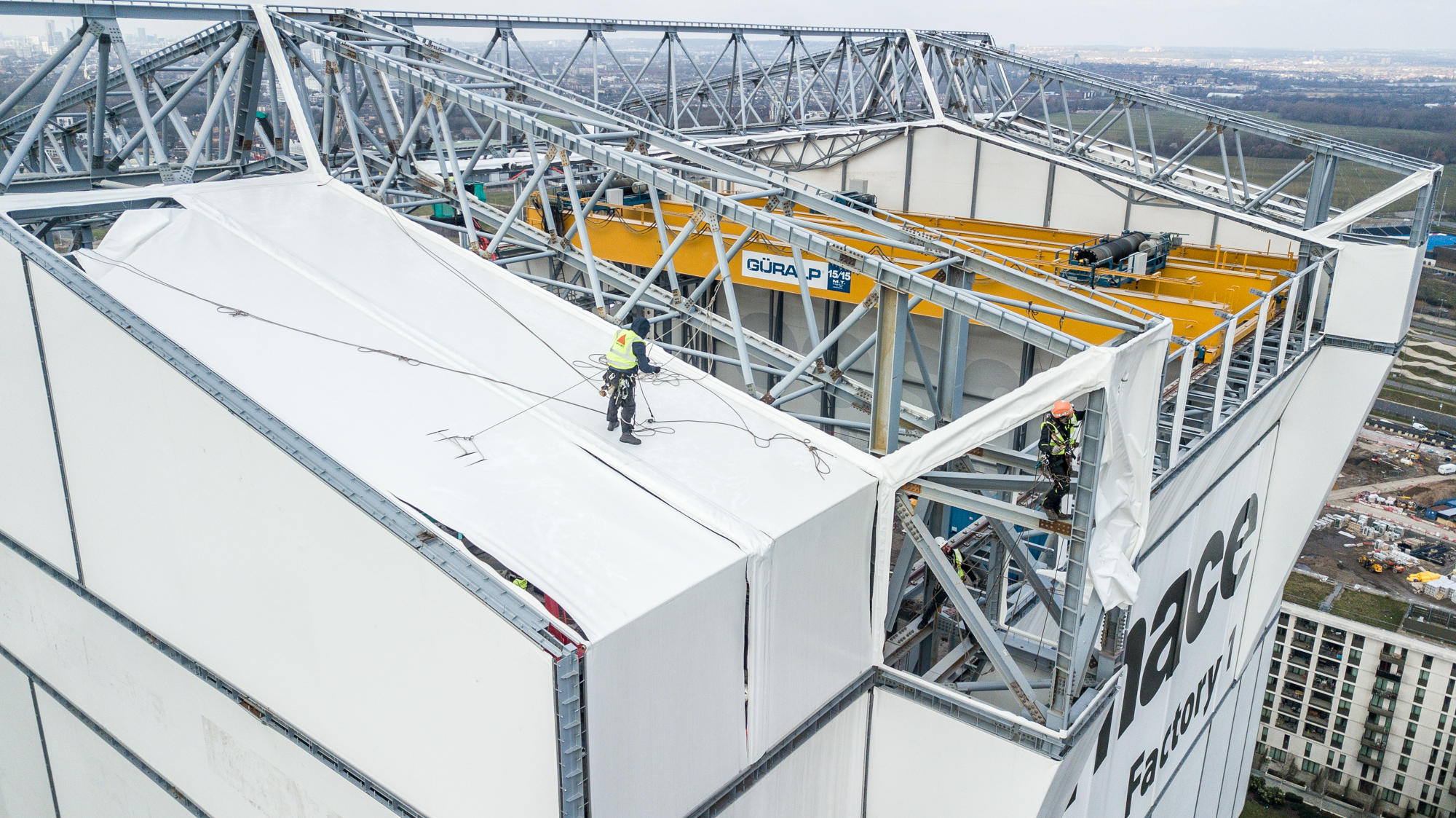 Temporary Screening
Our temporary screening options allow you to keep projects on-track and keep sites safe.
Key Benefits
Quick to install and demount
Fully weatherproof
Easily adaptable to suit build programmes (move it as work progresses)
Mountable on existing structures. It doesn't usually require scaffolding, meaning time putting up is kept at a minimum
Ideal for unusual, large, complex, or curved apertures and temporary roofing
Easy to clean
Effective and Flexible
If you are carrying out extensive site works or a refit, there are four reasons to consider temporary fabric building screening.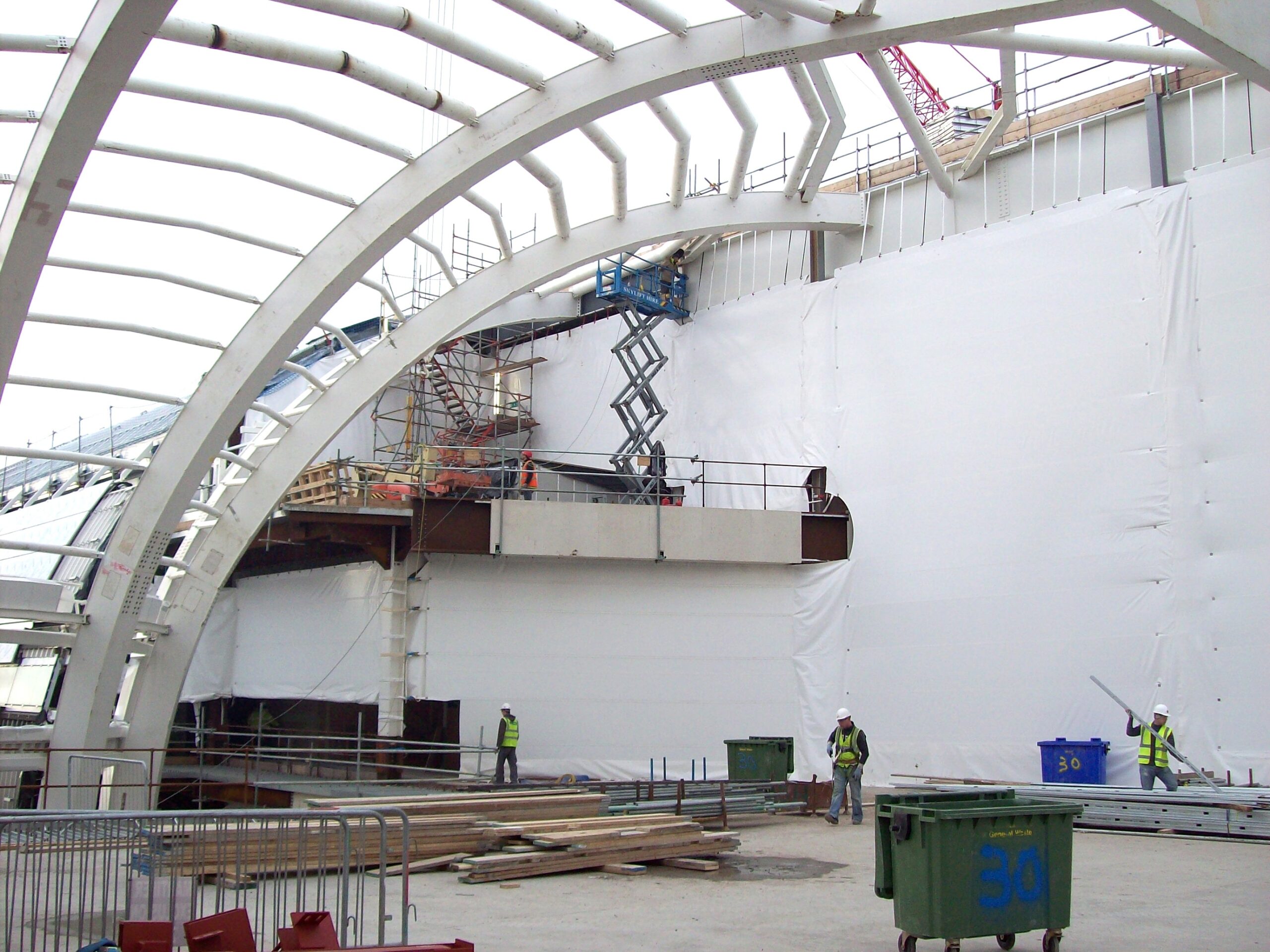 SEPARATION
It provides privacy, covering areas you might want to protect from the general public – either to keep people away for their safety or maybe you are not yet ready to launch.
PROTECTION – WIND AND WATER
With robust waterproofing and wind sheltering you can allow works to progress even in turbulent weather conditions and negate building programme delays.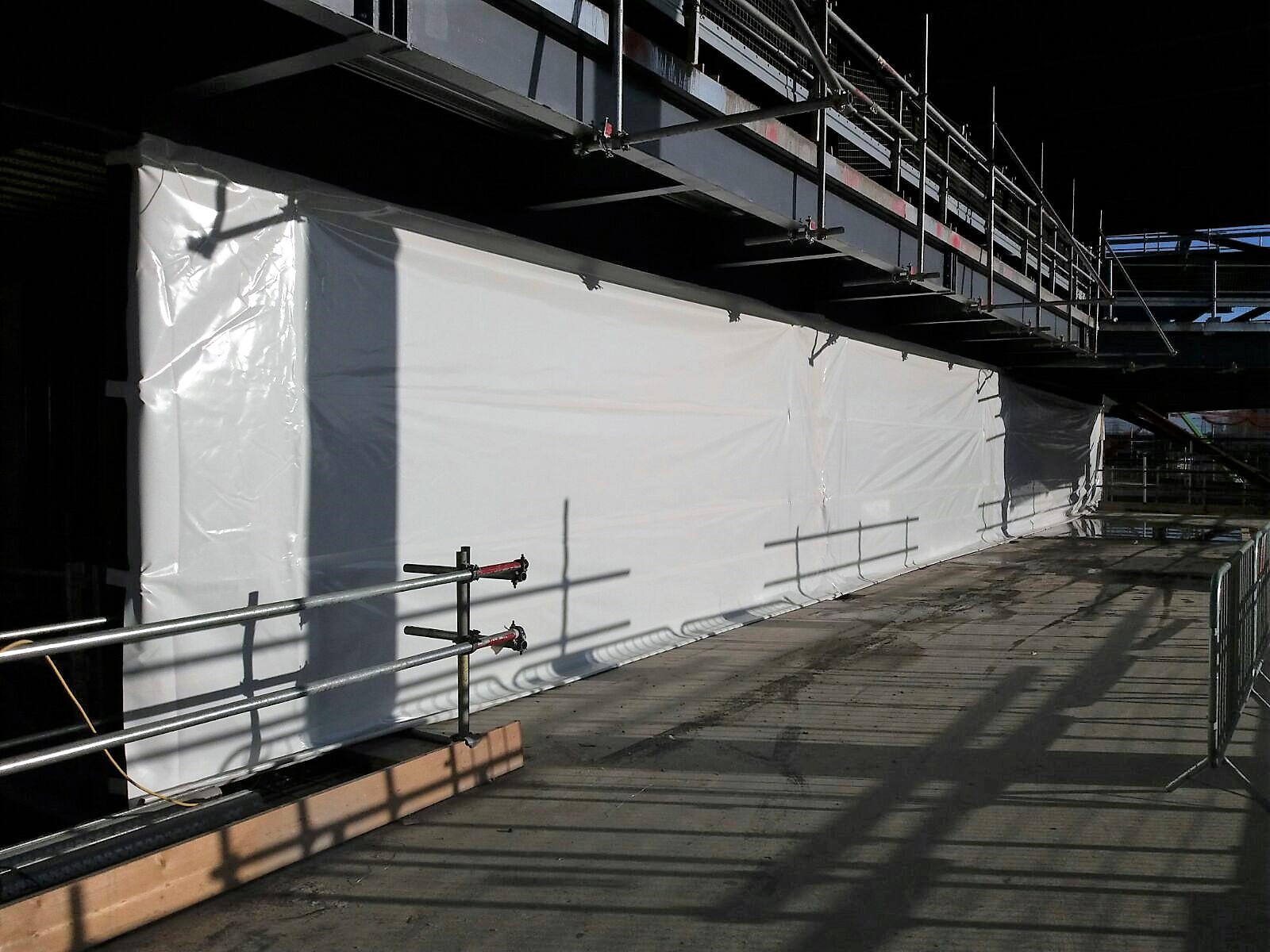 VERSATILITY
We recognise that when projects change quickly, flexible solutions are key. Covered scaffolding and traditional hoardings can be labour intensive and difficult to move. Temporary fabric screening is versatile and opens up more options.
LOW COST OPTION
Engineered fabric screening saves you time and therefore money. We've worked with contractors who swear by its performance, enabling them to fast-track fit-outs, new-builds and renovation works in all outdoor conditions.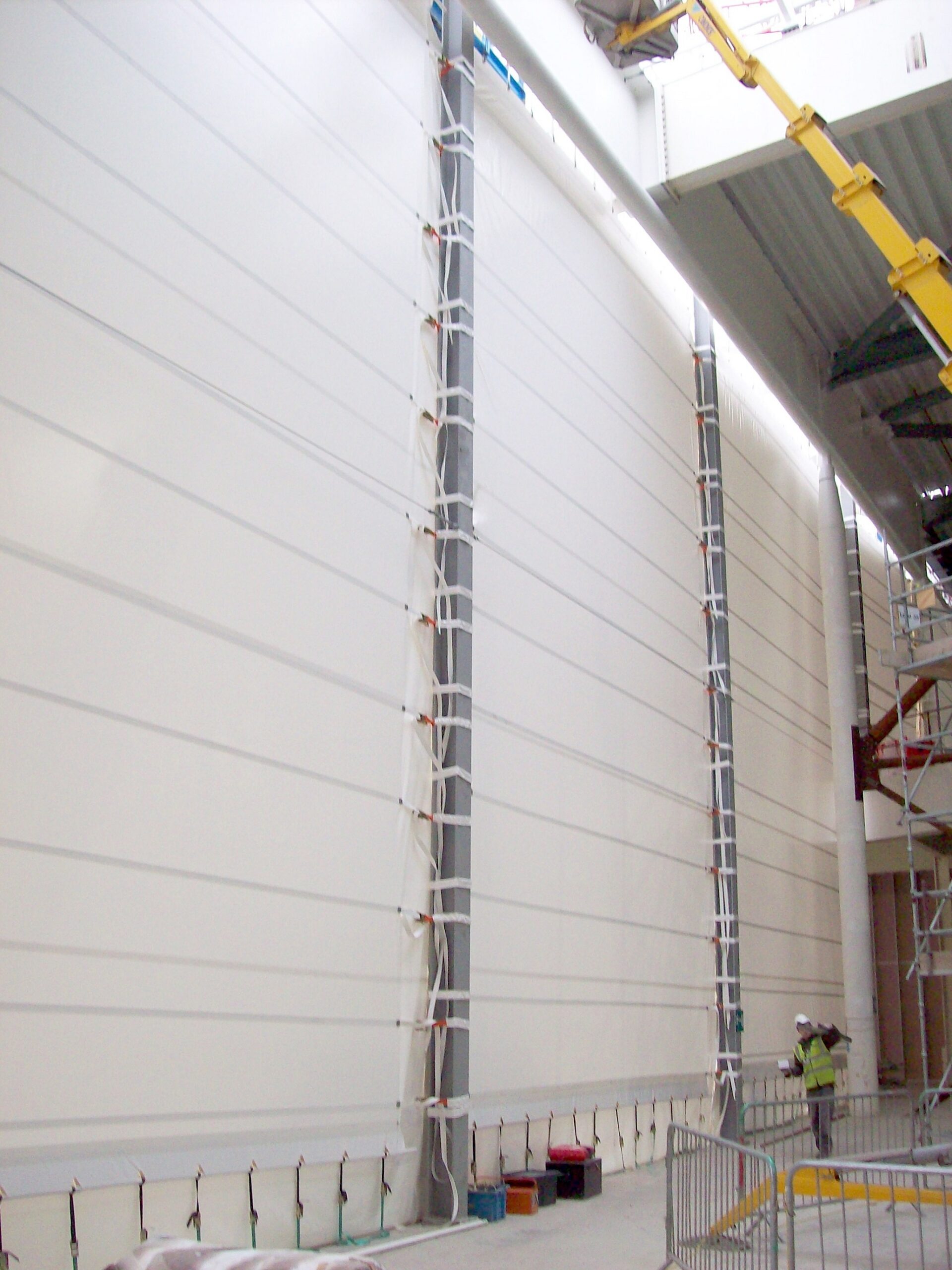 many different uses
Weatherproofing entire new build structures to allow an internal fit out
Screening off unsightly temporary works from operational areas or partial demolition sites
Sealing huge apertures to separate temporary works from operational areas, or for building extensions
Adaptable screening for fast track build programmes
"The large areas of high performance and versatile temporary weather screening allowed even the most sensitive of the fit-out works to progress in the poorest of weather conditions."
Giles Cranidge, Mace Limited
– Dublin T2 temporary screening project
Related Articles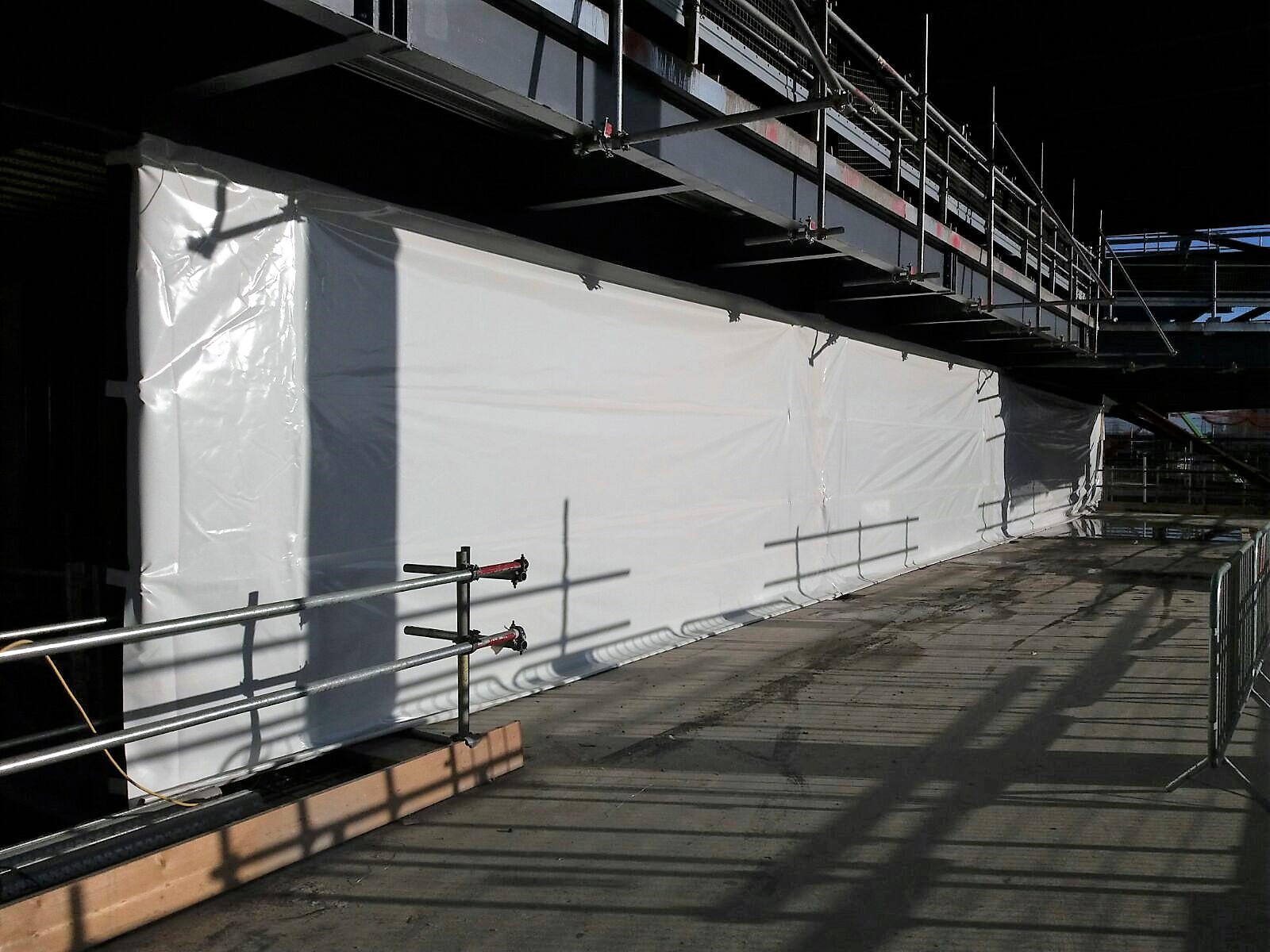 The benefits of adding waterproof temporary screens to your next building project
Construction projects can be complex affairs, with many different teams converging on small, often tight spaces to carry out the necessary work in time. Alongside…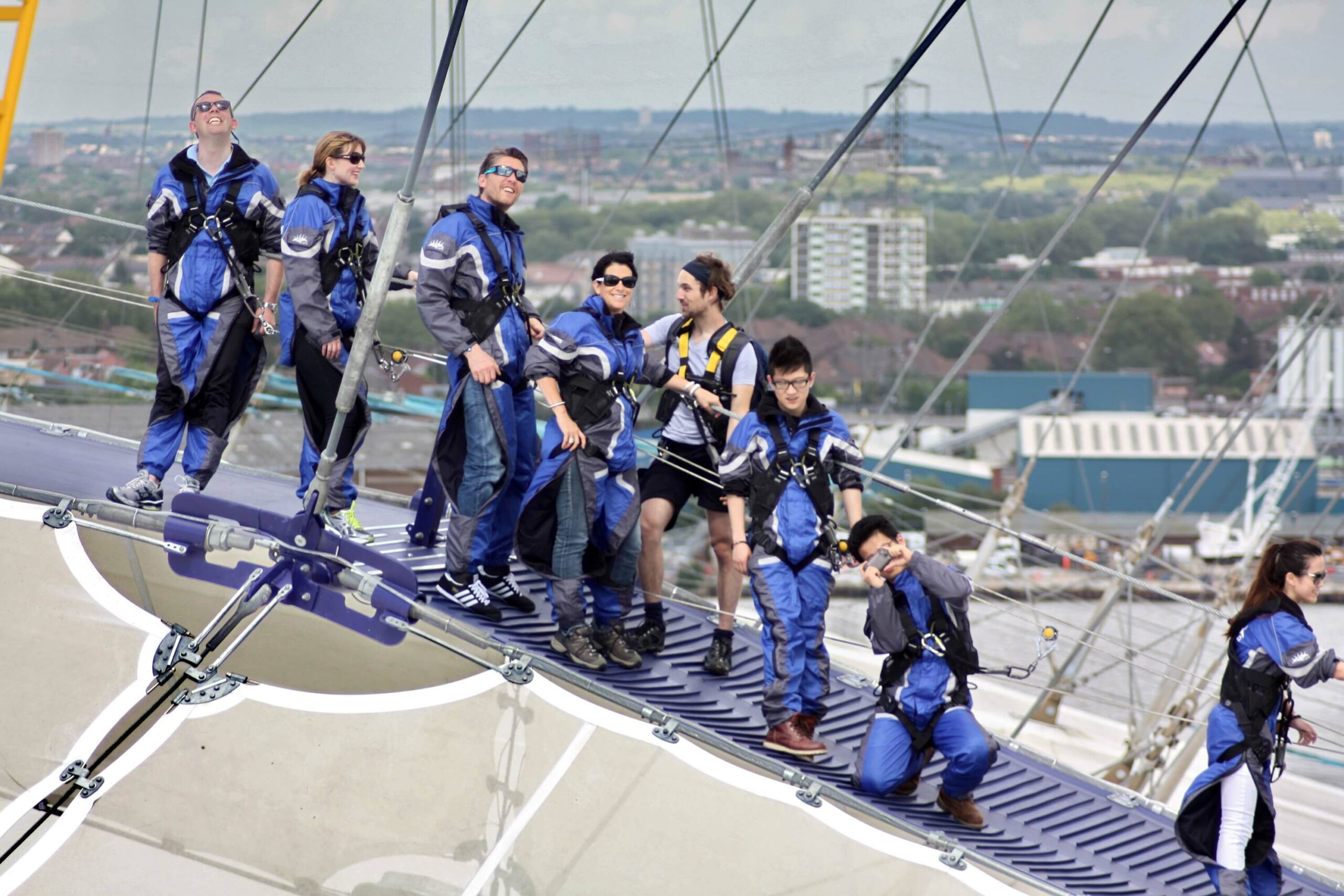 Unique Solutions
During our three decades of incredibly diverse tensile experience, we have conceived so many unique build solutions we are considered industry leaders in the field of one-off designs.
Research & Development led solutions
We delight in being asked to solve problems and work with clients to develop new products and innovative installation techniques.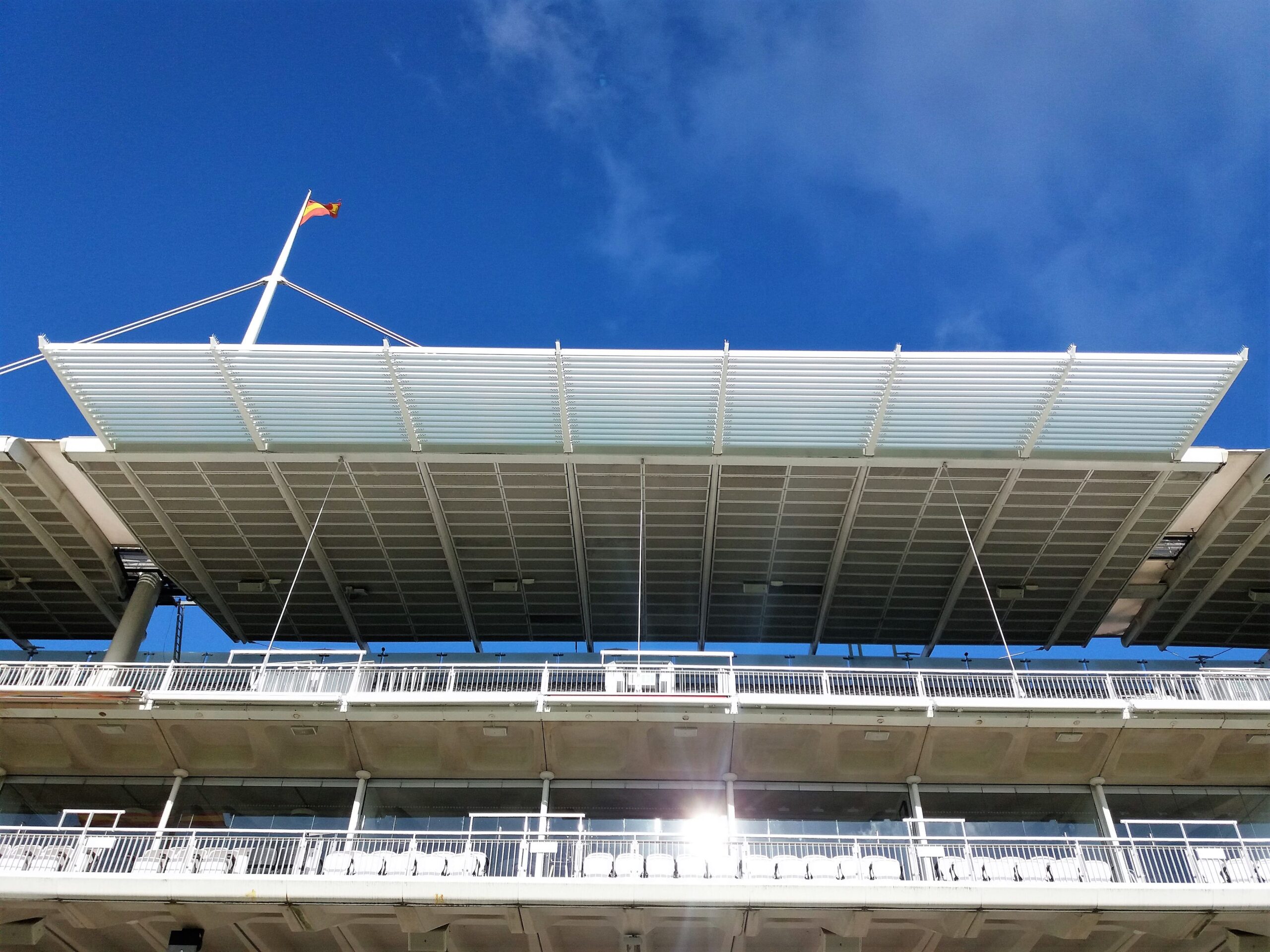 At the O2 in Greenwich, we had the interesting task of creating a walkway over the top of the dome. This required some creative thinking with our rope access team to develop a bespoke winching operation.
We have also devised louvers for Lords Cricket Club Grandstand, designed lampshade patterns, advertising banners and installed fibre optic rope high above the ground.
Another innovate product was a retractable sail for crane booms to improve their performance in high winds (below).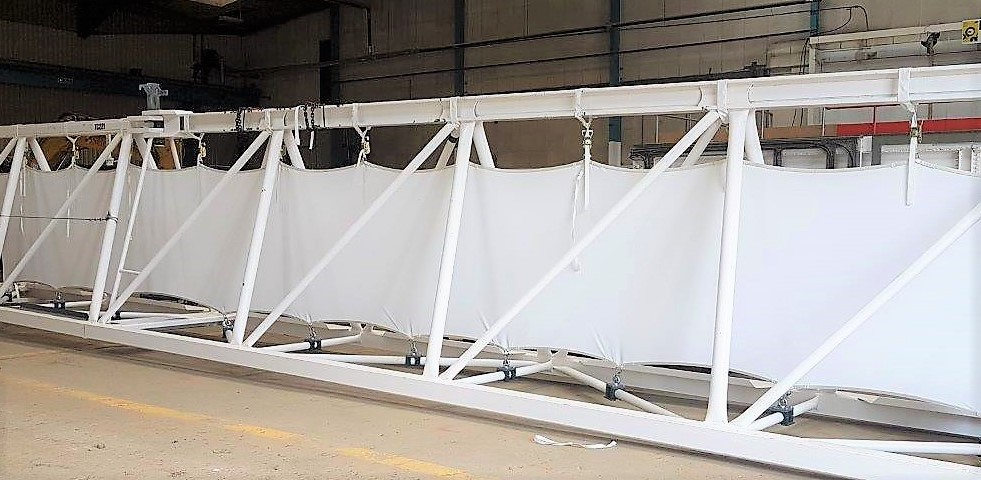 We also worked with other partners from across Europe under the leadership of the University of Southampton to develop smart fabrics using printed electronic circuits.
No matter what scale, if you have a challenge for us we are ready to accept it!
Contact our creative team today to find out how we can find a product or design a solution to fit your needs.
"Base Structure's expert design and problem solving approach has given us one more vital component to help build the much needed UK capacity."
Will Kirkman
– Business Development Director, Burdens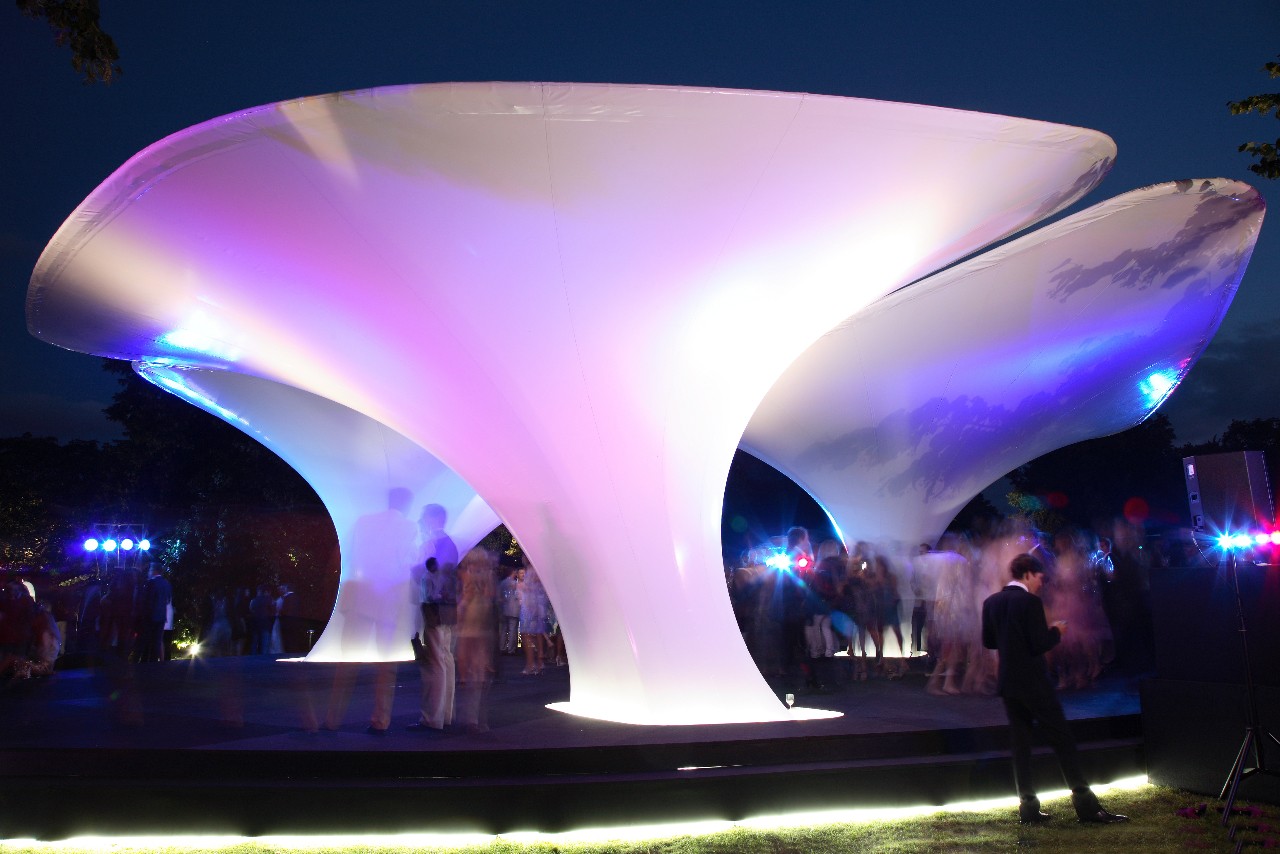 Event Structures
From the Olympic Games to pop up bars, we have created temporary structures that are designed to impress.
Putting your show on the road
A successful temporary structure not only requires a good looking design, but also a sound structure that is practical to build and demount.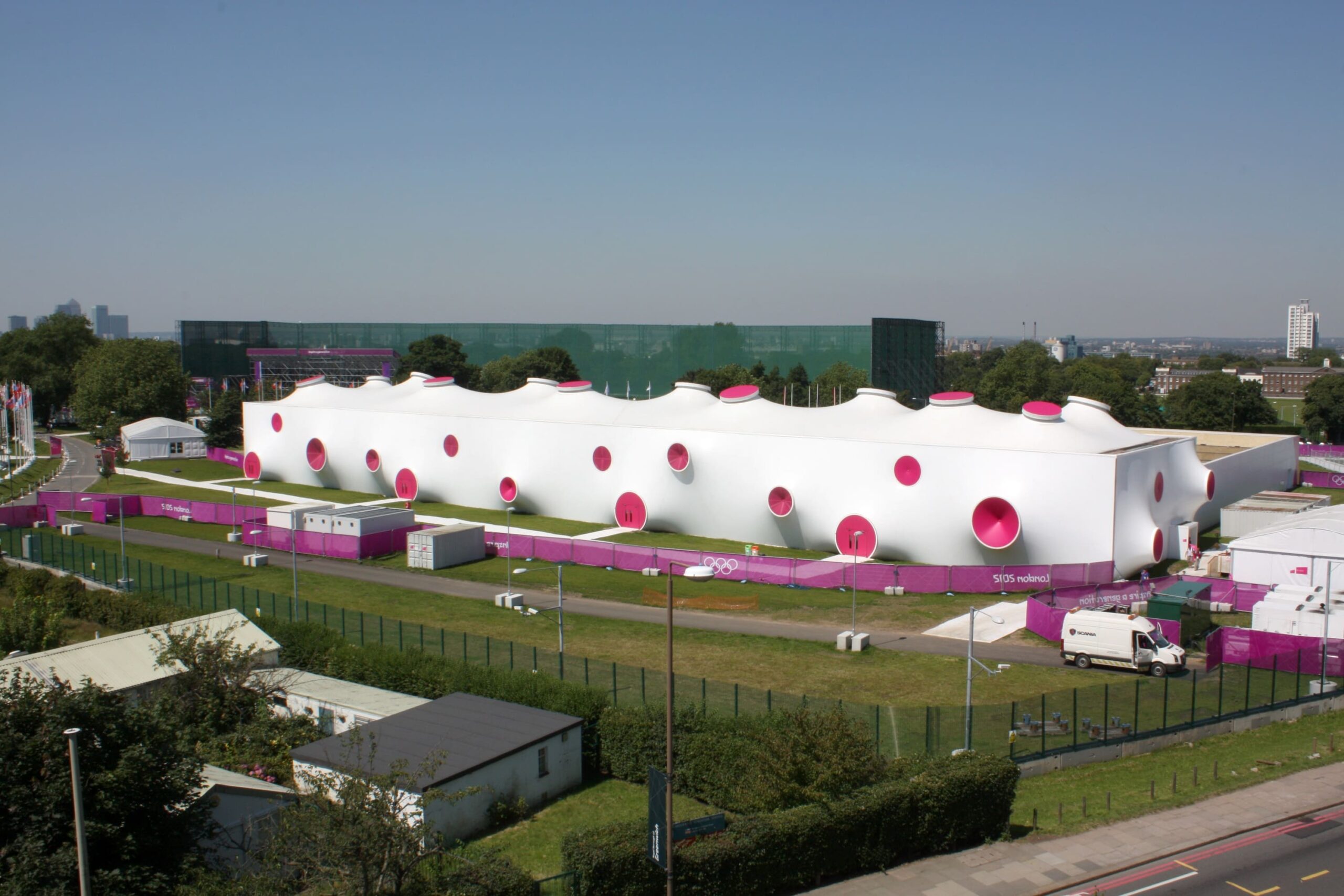 Fabric is ideal for events, as it is light to transport and fast to install. Add in the option for high definition printing and the whole structure can be easily branded.
When it comes to creating bespoke temporary fabric structures for events and performance stages, whether it's at a huge festival such as Glastonbury or a small local event in the community, we have the experience you need.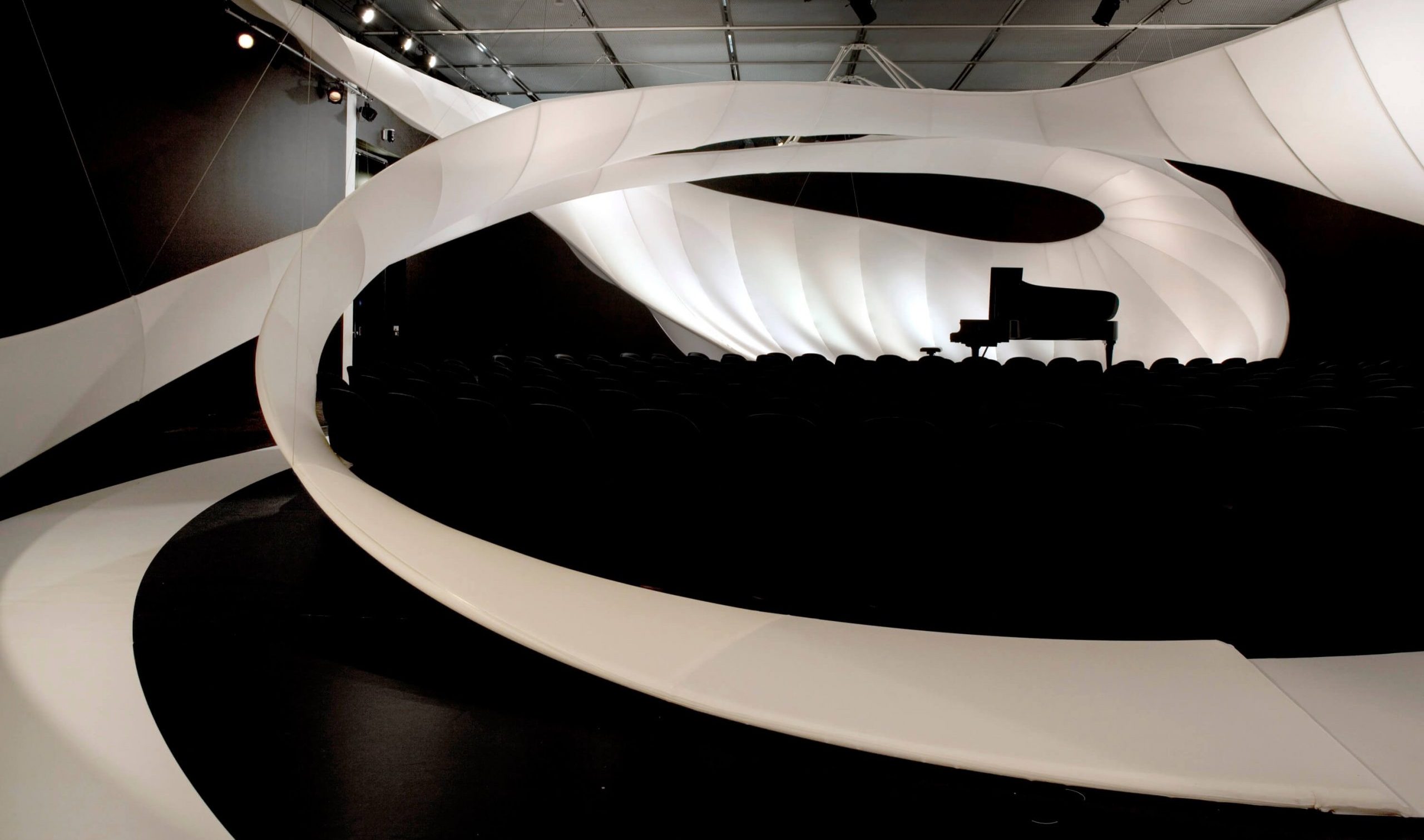 Not only do we offer to design and manufacture the complete structure, we can supply a crew to tour it internationally. Our structure for Bach Concert Hall structure for Zaha Hadid Architect took us from Manchester to Abu Dhabi and back to Holland.
We can also offer pop up venues combining converted containers with integrated shading, provided by tensile sails.
Talk to us about your ideas!
"It has been a pleasure to work with Base Structures on the J.S. Bach Chamber Music Hall. They have a positive attitude and flexible approach towards challenging proposals. Their creativity, breadth of experience, and attention to detail were invaluable to the success of the project."
Melodie Leung and Gerhild Orthacker
– Zaha Hadid Architects
Related Projects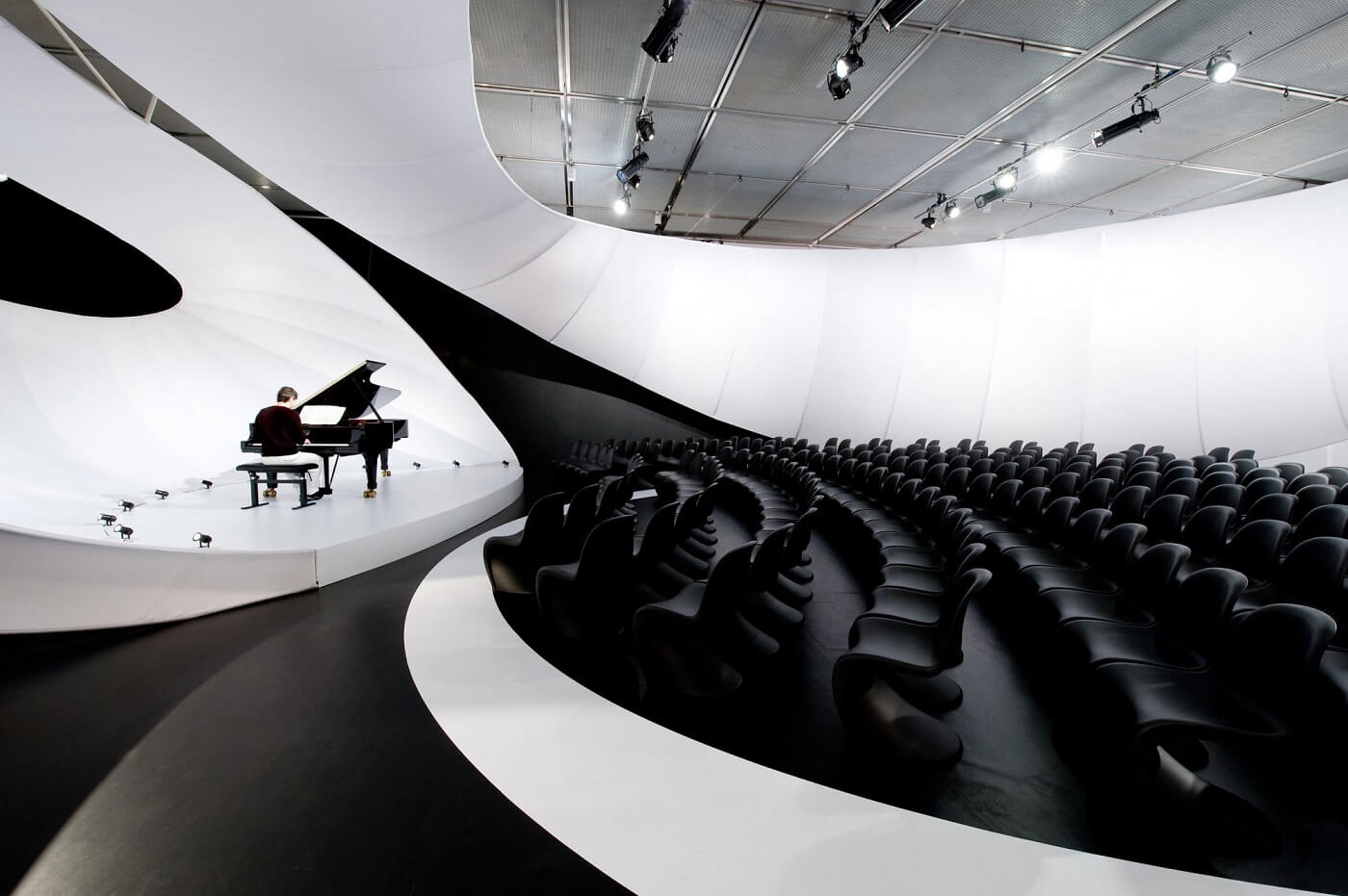 JS Bach Music Hall – Zaha Hadid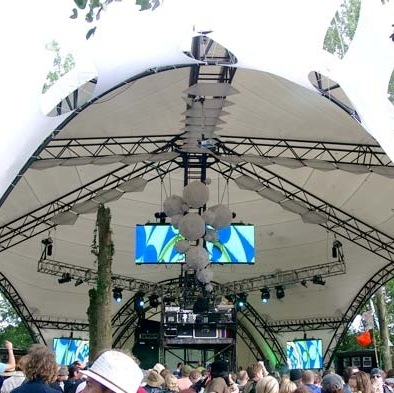 Glade Stage Glastonbury Festival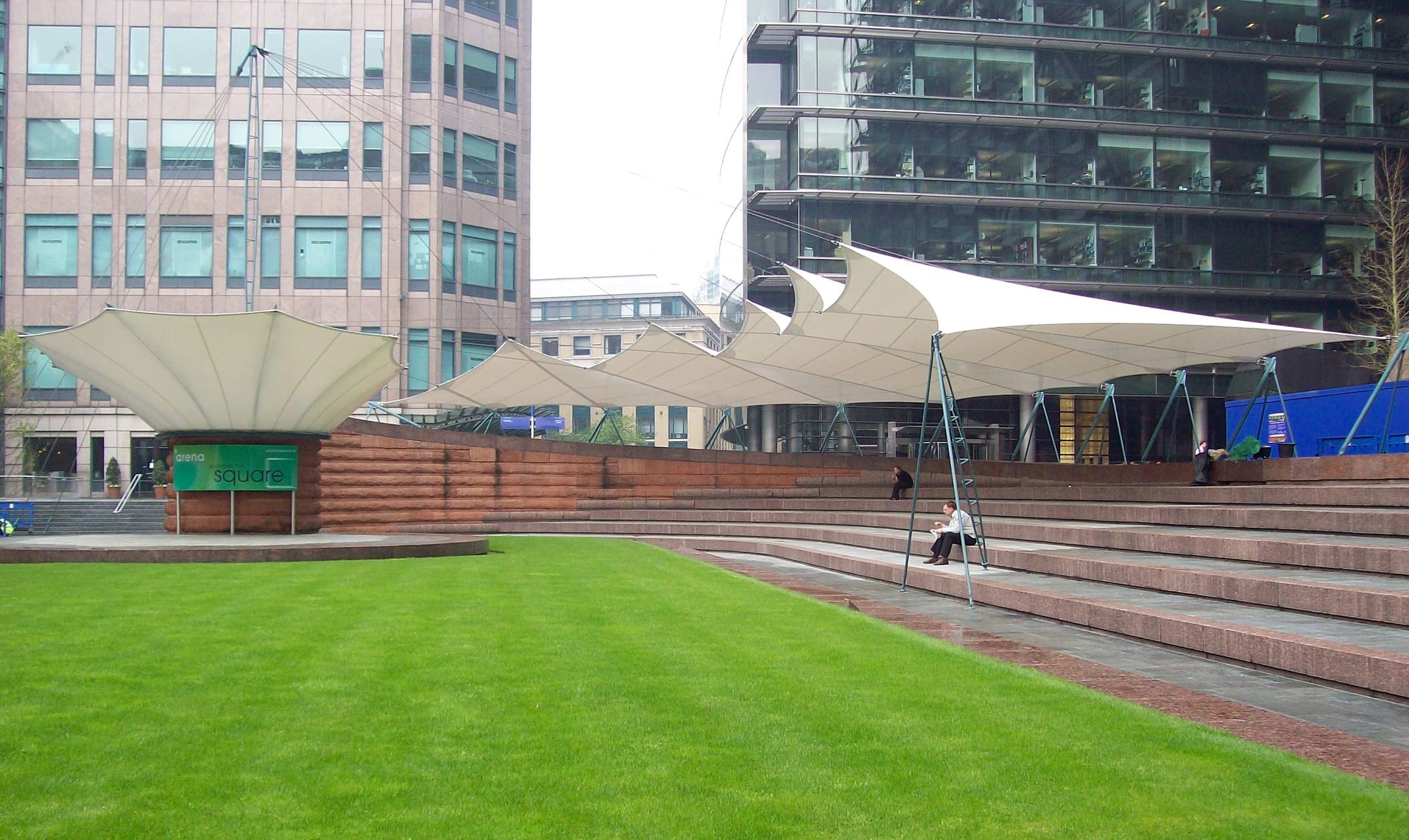 Exchange Square Event Canopies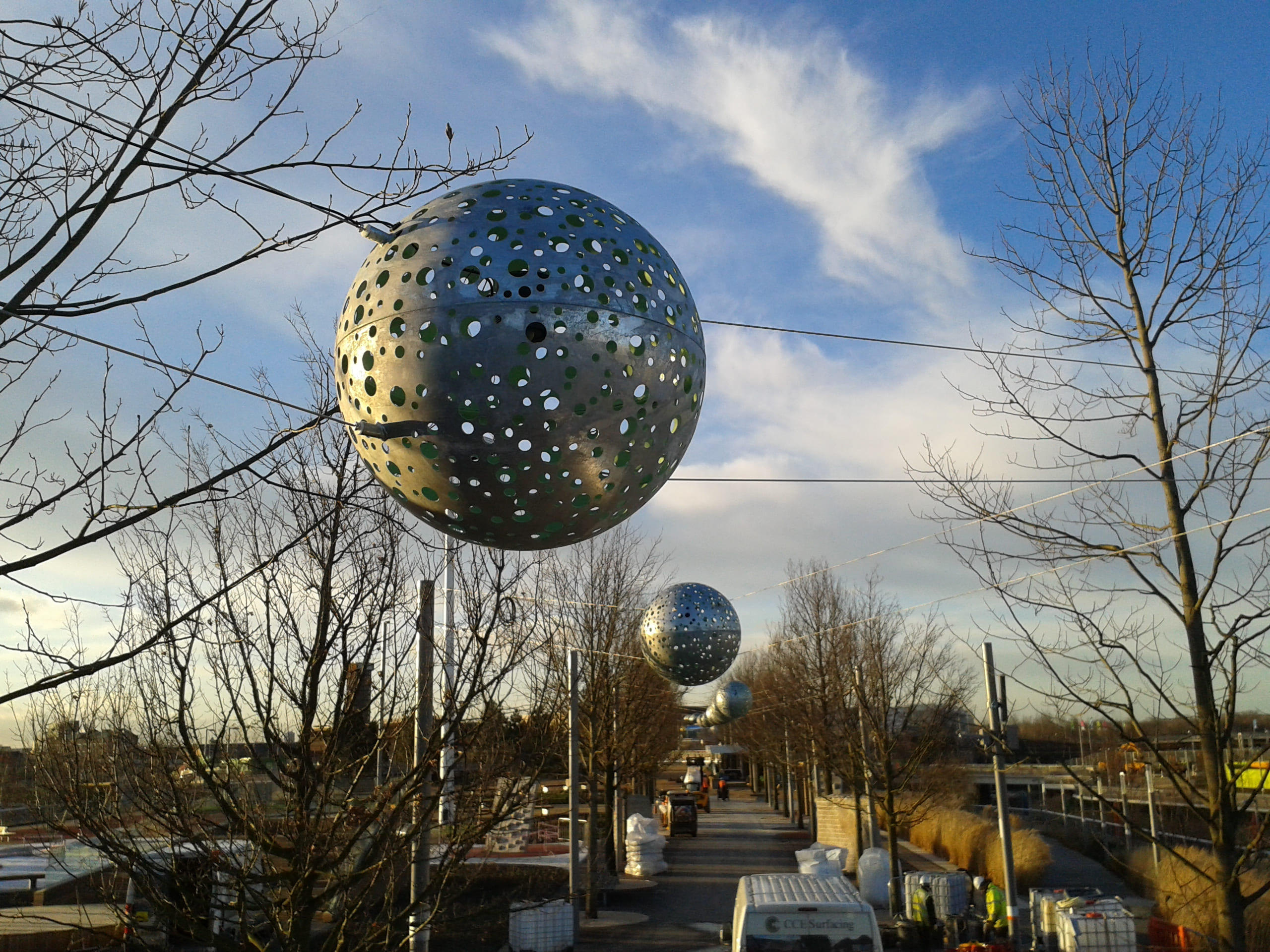 City Dressing & Street Decoration
We are skilled in helping you create engaging, interactive, decorative experiences for outdoor spaces.
What is City Dressing?
The way people are using our municipal spaces is changing. With the advent of online shopping and changing recreational habits, we understand the need to diversify town centres, shopping districts and outdoor urban spaces into creative, experience-led environments and destinations, offering far more than the traditional shopping experience.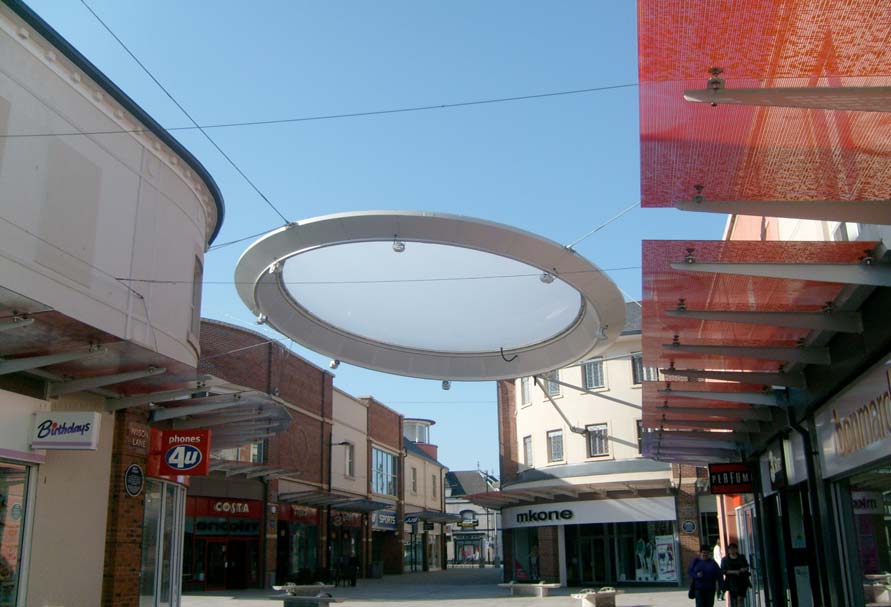 Making our city and town centres attractive is good for the community, local morale and the success of small-scale businesses and traders in the area. We understand the need to engage with the right people early on, and we're committed to working with you from the word go to add an extra layer of creativity to your city decoration or city dressing project.
With our knowledge of working at height and for public spaces such as galleries, museums, shopping centres and sports grounds to name just a few, we're well placed to design, construct, supply and install any manner of street or city decoration.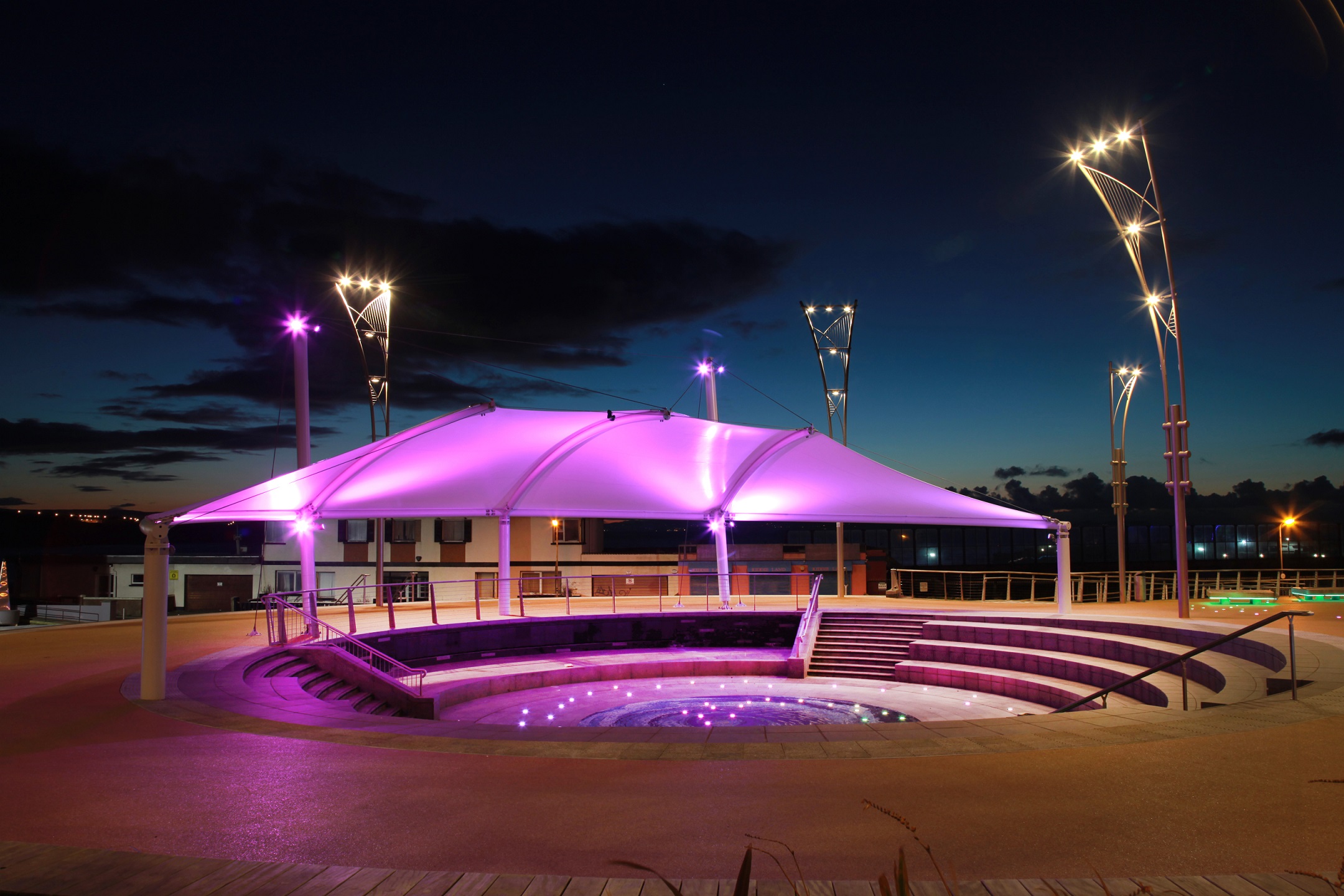 We use modern design and construction methods. Our knowledge of tensile fabric systems also means that we can be trusted to choose the right materials and methods to ensure longevity and sturdiness.
Our teams are fully qualified to work at height and we have many years experience liaising with town planners, councils and facility management professionals to get the best out of any municipal space construction or renovation.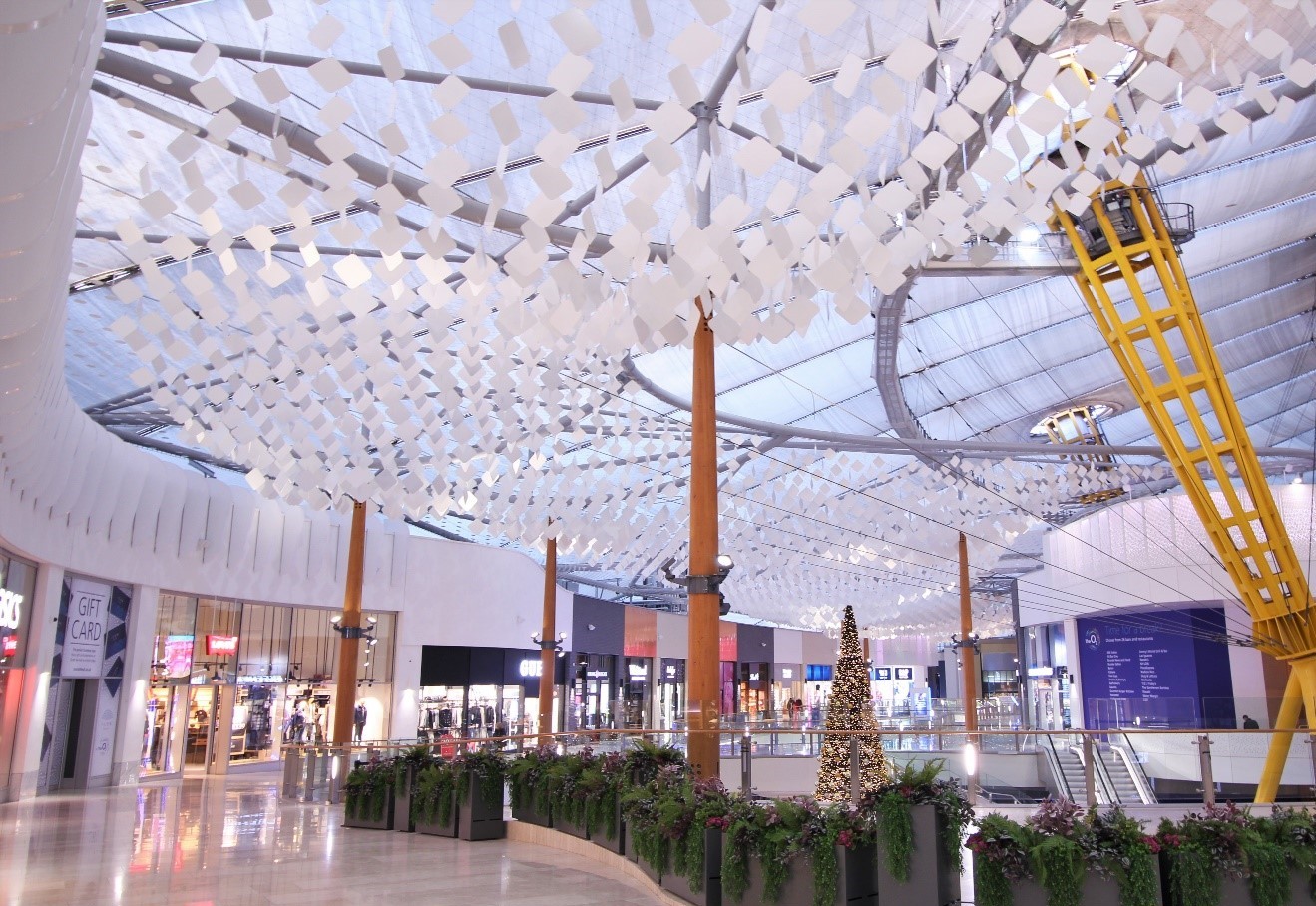 We've also got the technical know-how to get it off the ground too, so we're a safe pair of hands to work with your design team to realise their concept in a pragmatic and cost effective way.
Contact us today to discuss how we can help you get your town decoration or city dressing project off to a strong start.
Related Projects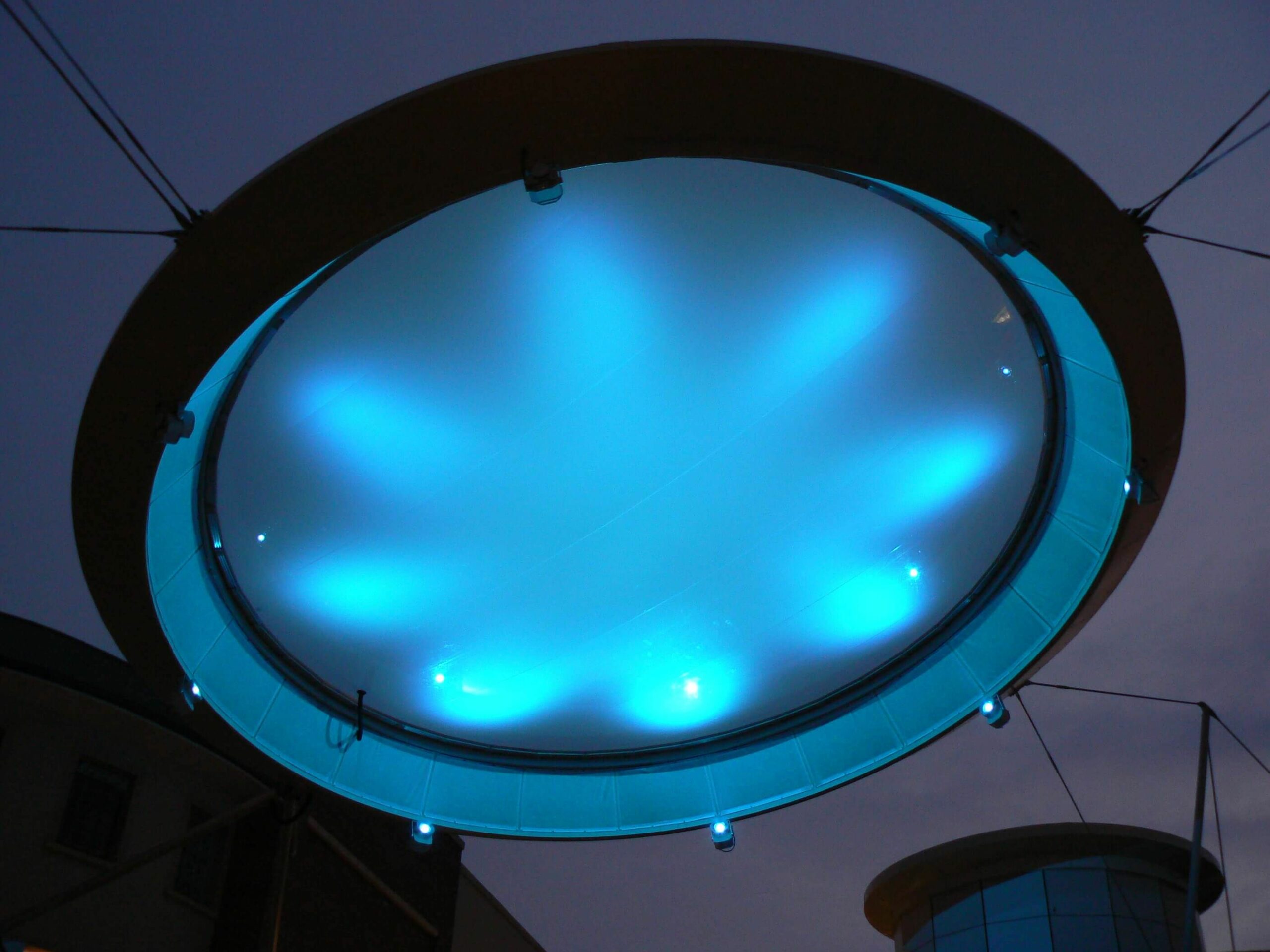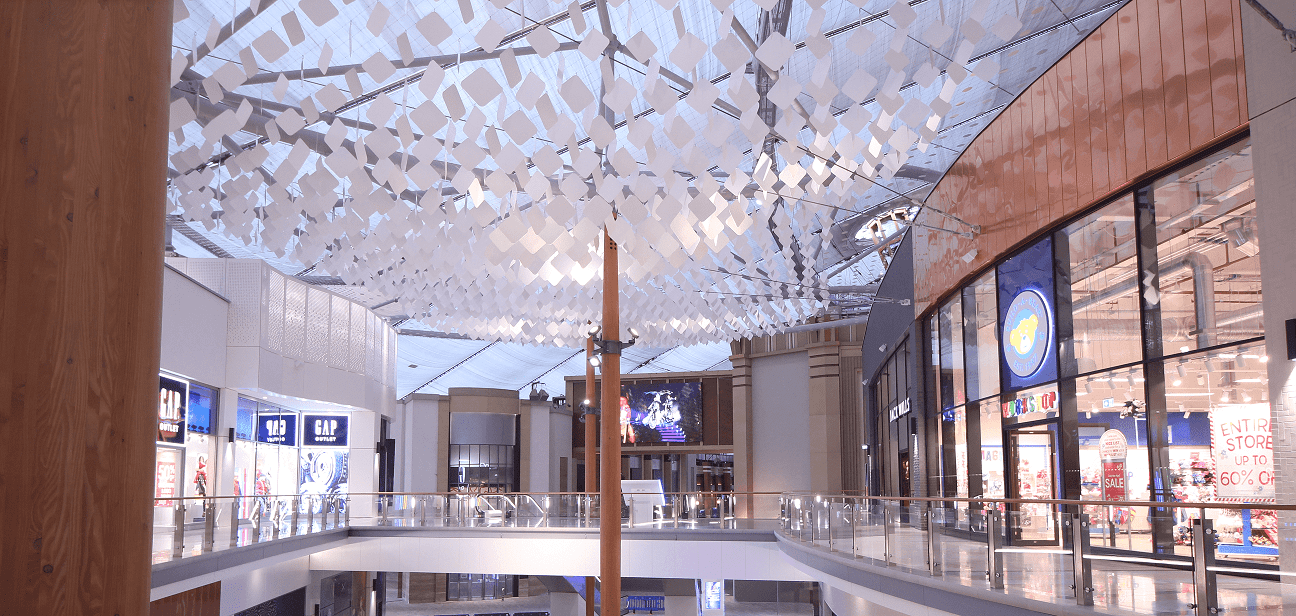 O2 Designer Outlet Village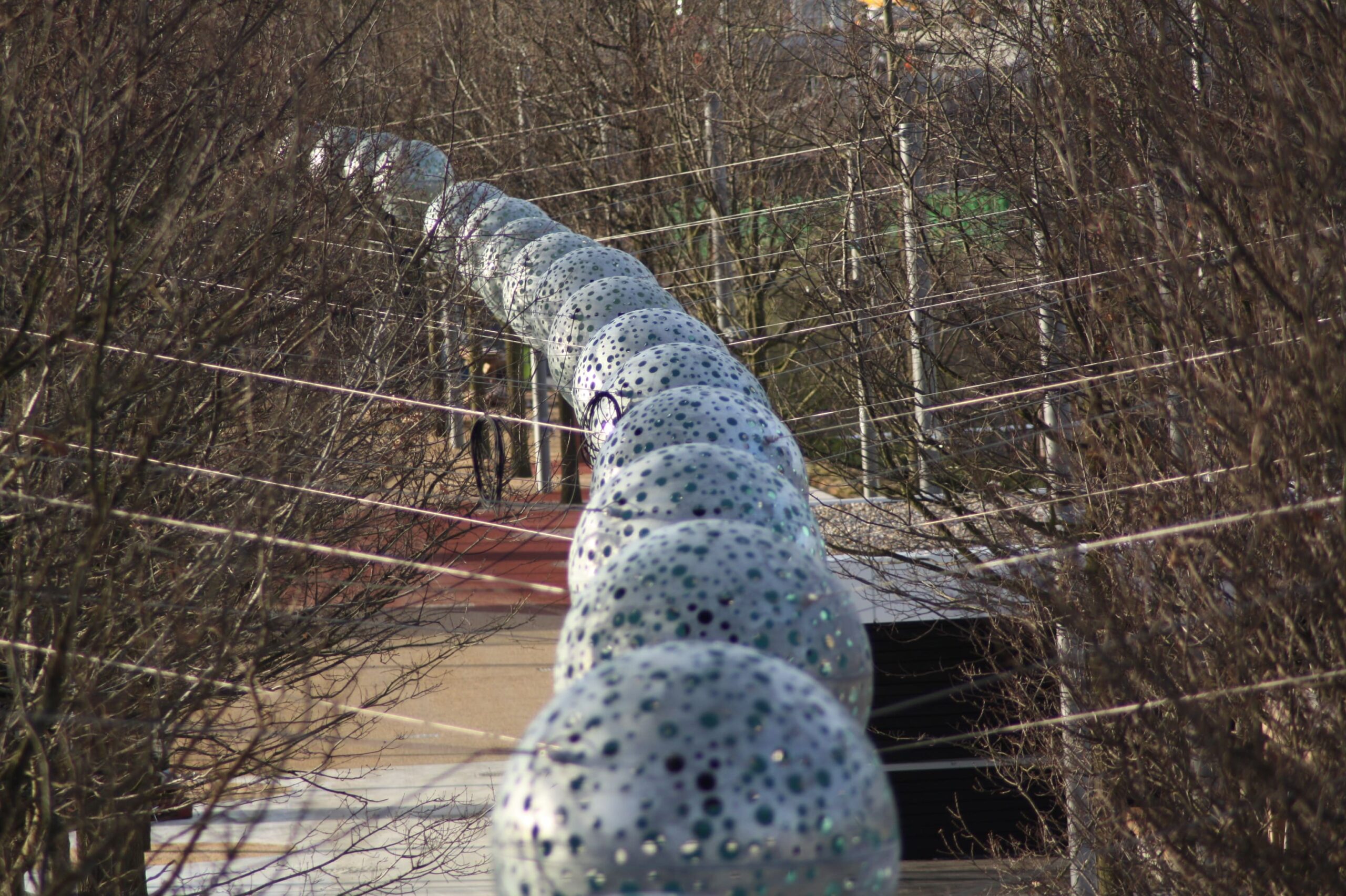 Olympic Park – South Plaza
Related Articles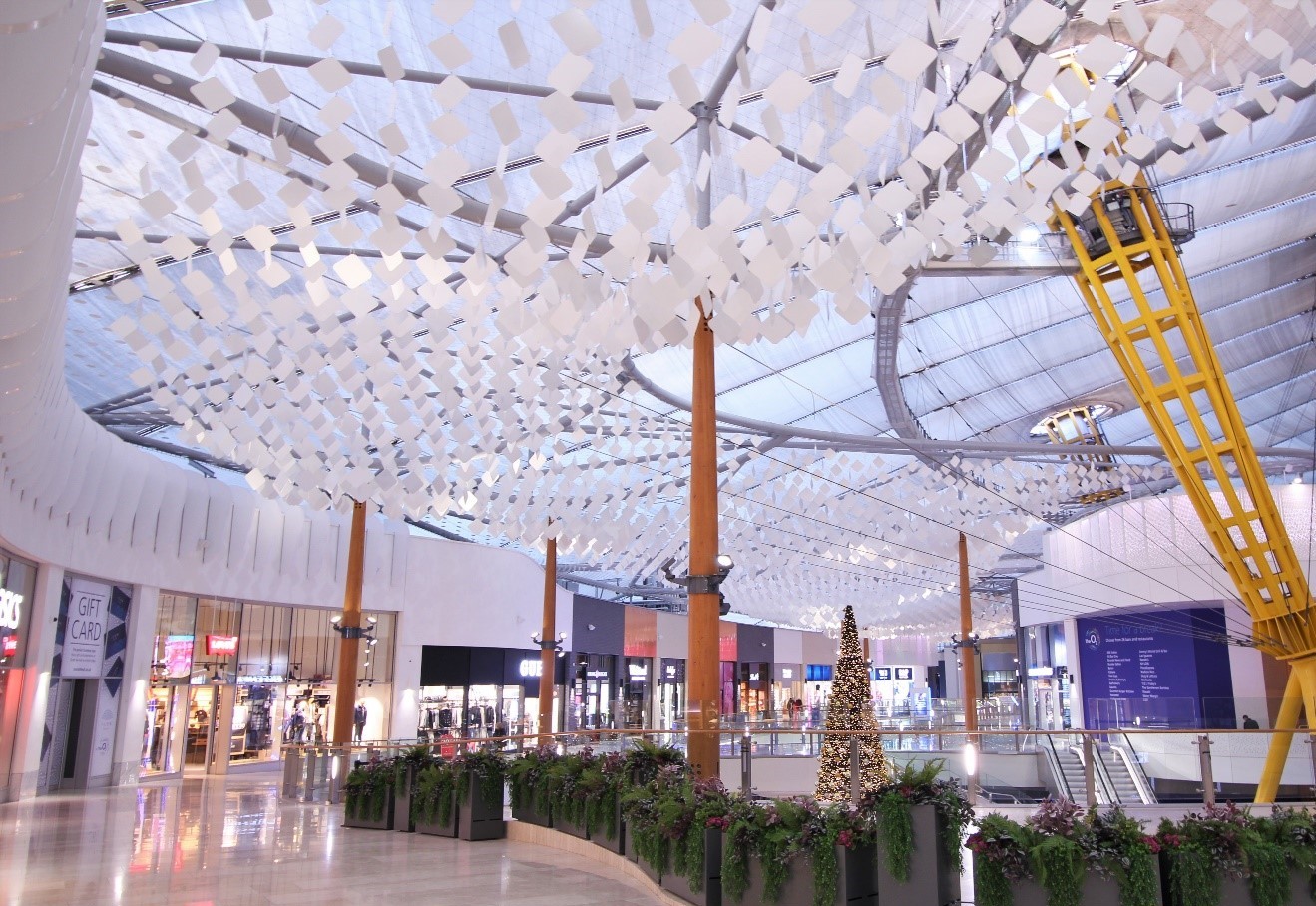 Experience Led Spaces for a Changing era of Retail
We are excited to announce a new city dressing service designing, creating and installing stunning displays in town centres and retail areas around the country.…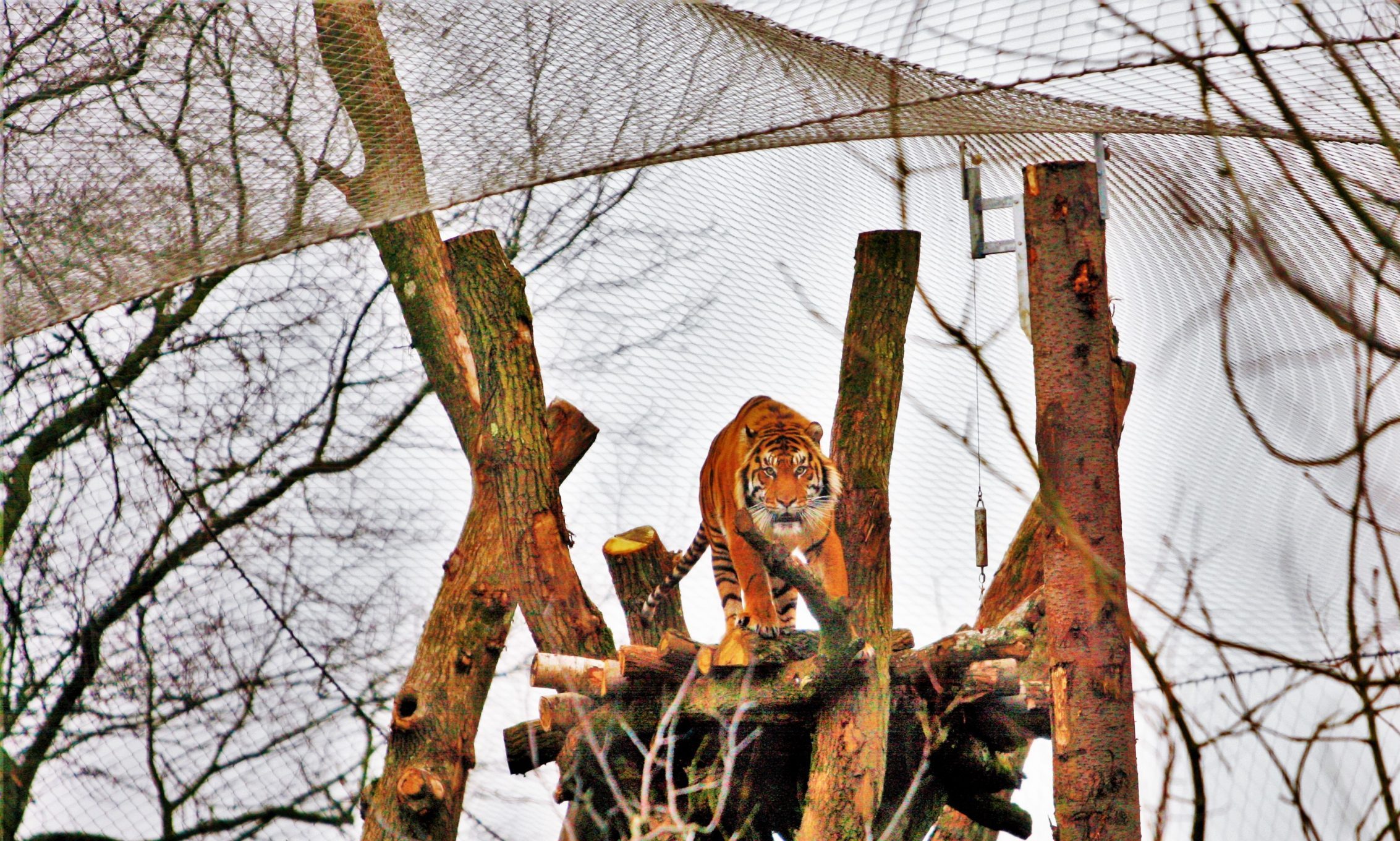 Zoo & Wildlife
Designing animal enclosures is not a simple process. Here at Base Structures, we have years of experience and knowledge to deliver world class structures for both Zoological and Wildlife organizations.
Aviary Structures & Zoo Enclosures
Our zoo structures include animal enclosures, aviaries and a wide range of bespoke canopies.
We understand each zoo will know their animals better than anyone else. That's why we work with you to create the right bespoke solution.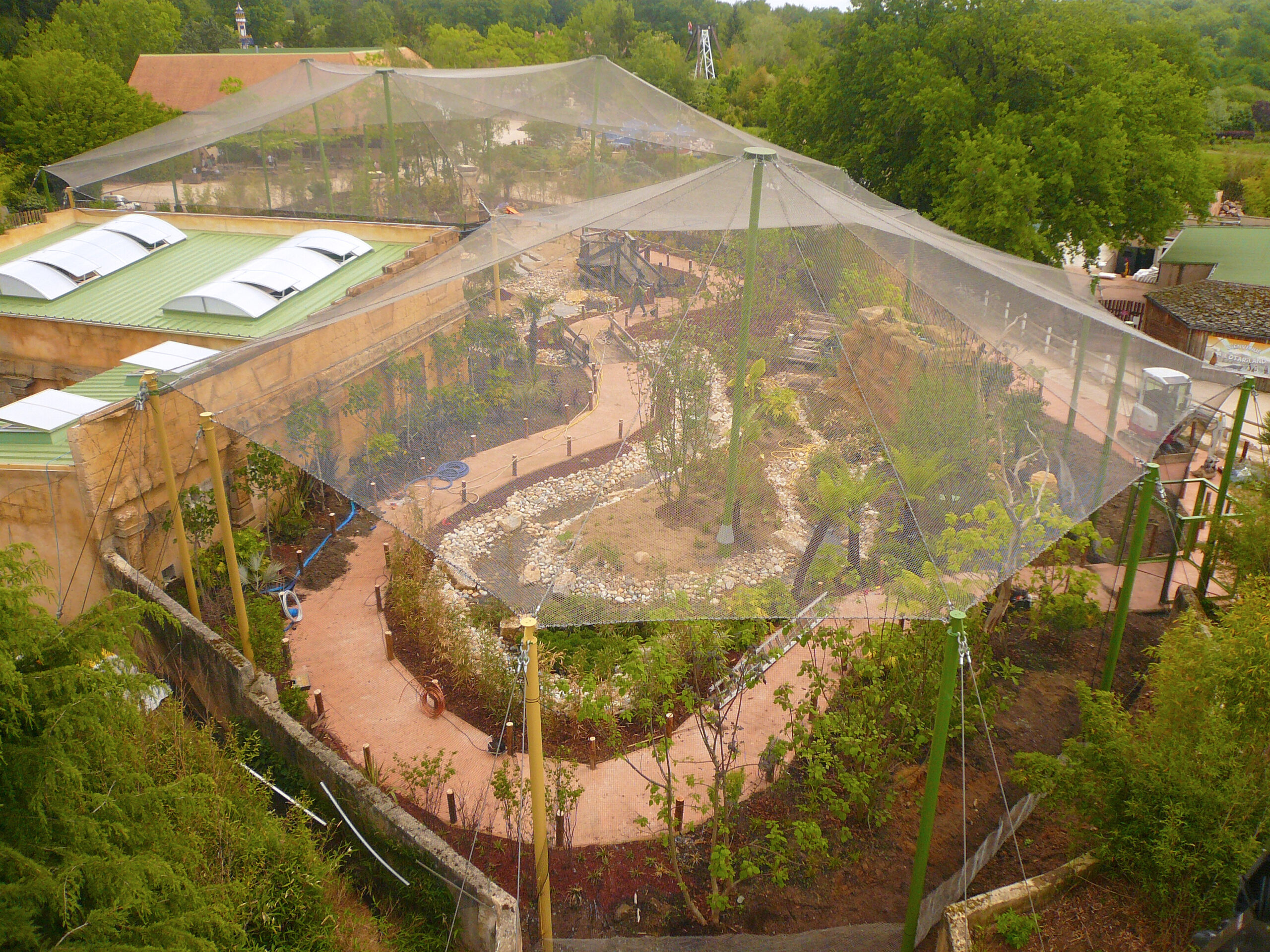 Expert Knowledge
To design and build successful zoo enclosures and structures requires expert knowledge and a strong understanding of the rigorous safety requirements,  animal behaviours and of the different types of mesh and fabrics to suit.
Products to fit your needs
It takes dedication and an ability to listen and understand exactly what the client needs. We work with our clients to maximise the animals living space and spectator viewing capability, whilst maintaining safety of the staff and public.
Related Projects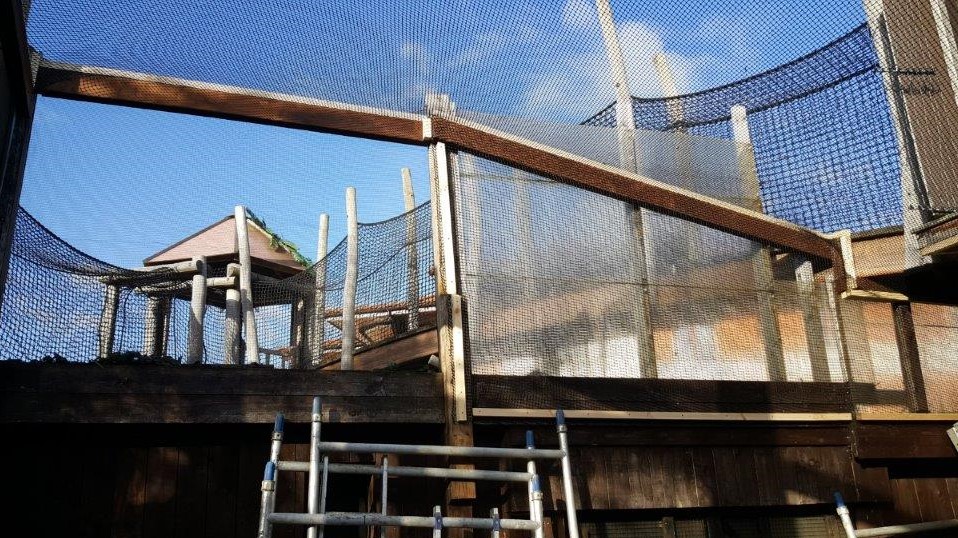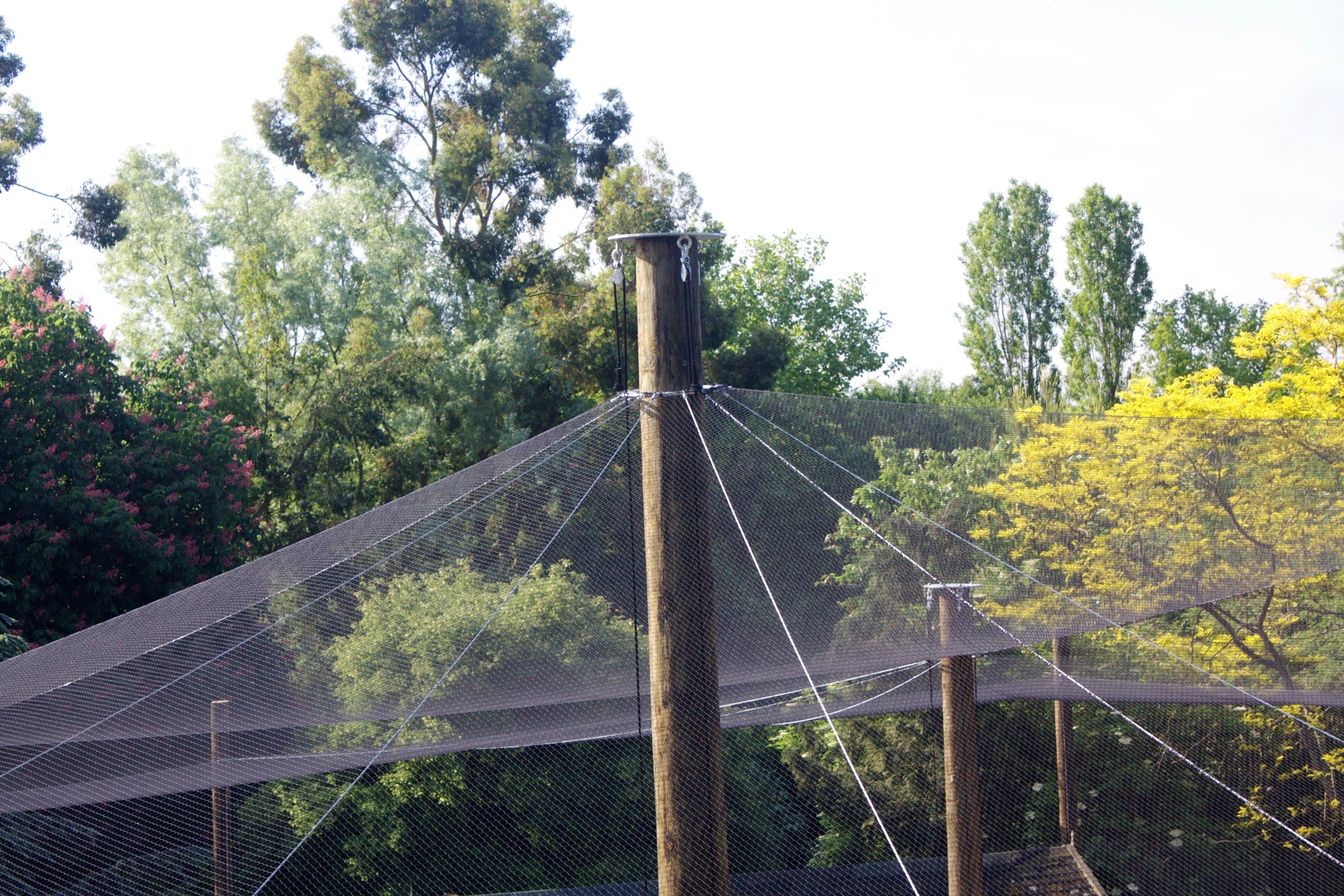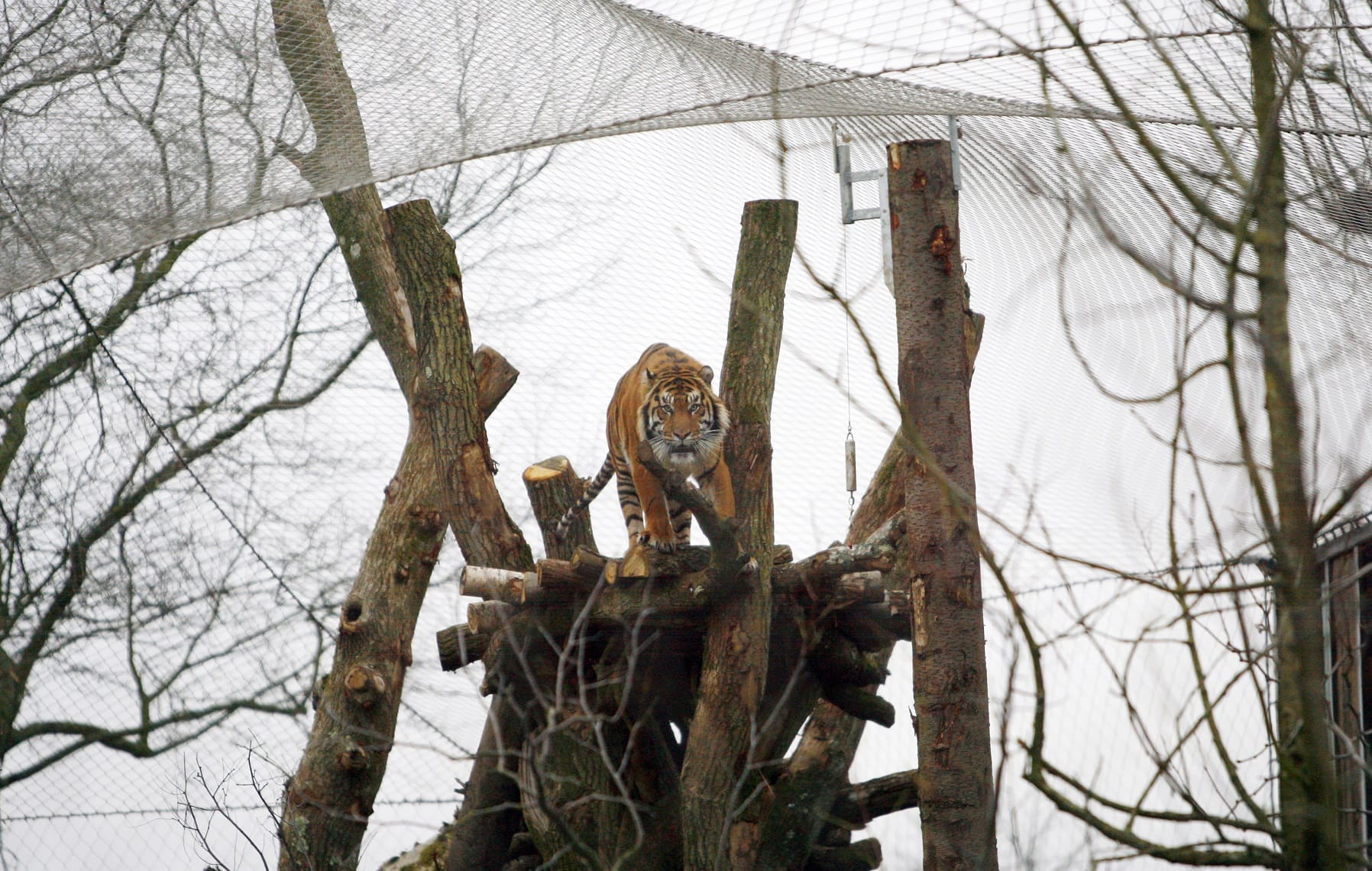 London Zoo Tiger Enclosure
"They (Base) are the ultimate professionals. Easy to work with, positive, responsible and ultimately get the job done."
Arnaud Bennet
– Owner, Le Pal Zoo
Related Articles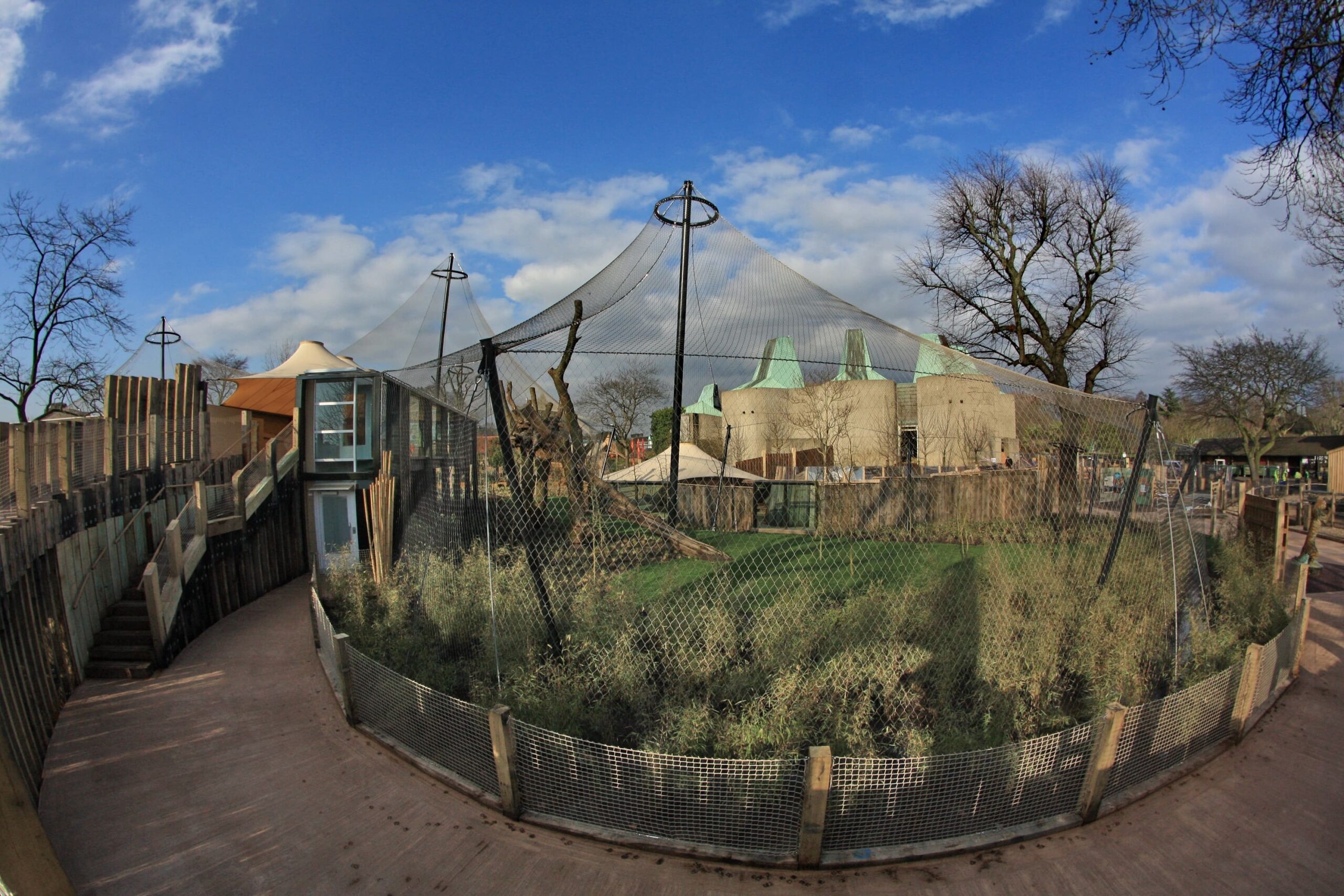 How the Right Mesh Enclosures Can Improve Animal Welfare at the Zoo
For our clients who run and manage zoos, animal welfare is their top priority. Most zoos exist as an opportunity not just for the public…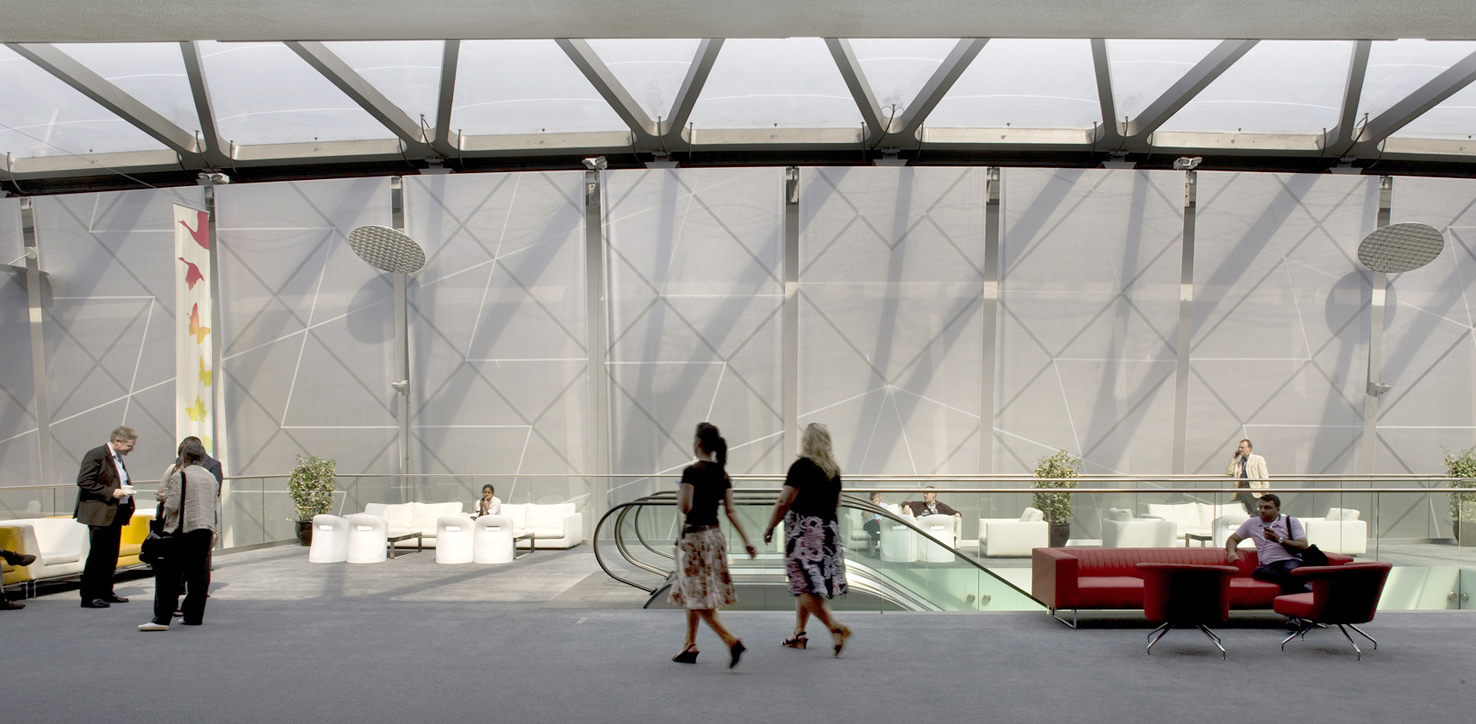 Indoor Architectural
We design and build fabric structures across the globe, from iconic architectural fabric structures that define a building, to standard fabric canopies that make a statement.
Creative and flexible interior solutions
We have been working with designers creating exciting fabric interiors across all sectors.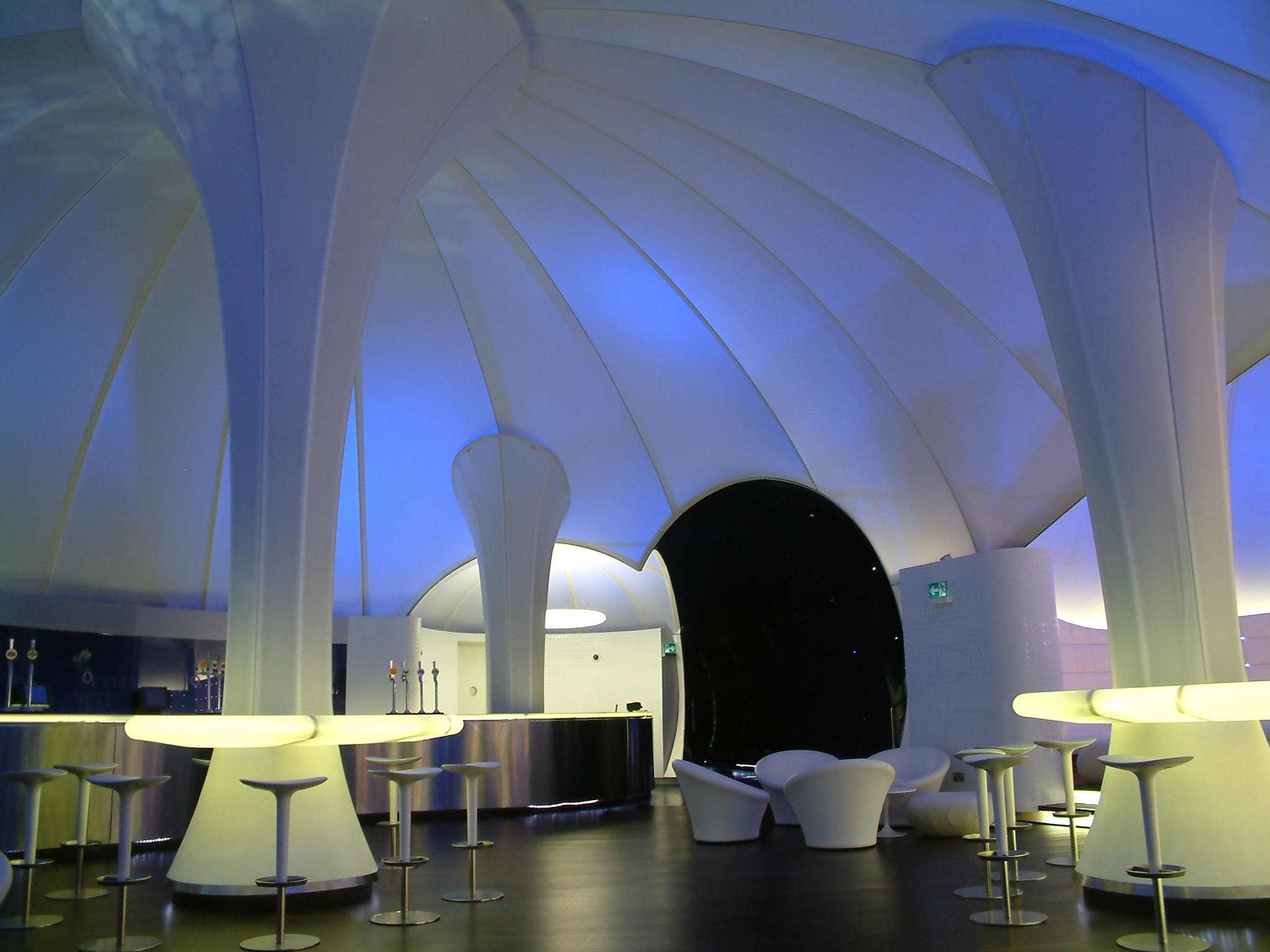 The vast range of fabrics that can be used indoors, opens up exciting and creative possibilities for creating eye catching ceilings, wall claddings, or sculptural features for atriums, foyers, reception areas and large communal spaces.
The ability of fabric to span across wide areas with the minimum of structure, means that light weight linings can be used for walls and ceilings in large interior spaces. Add to that the ability to introduce curvature, back lighting and print and we can create some amazing effects.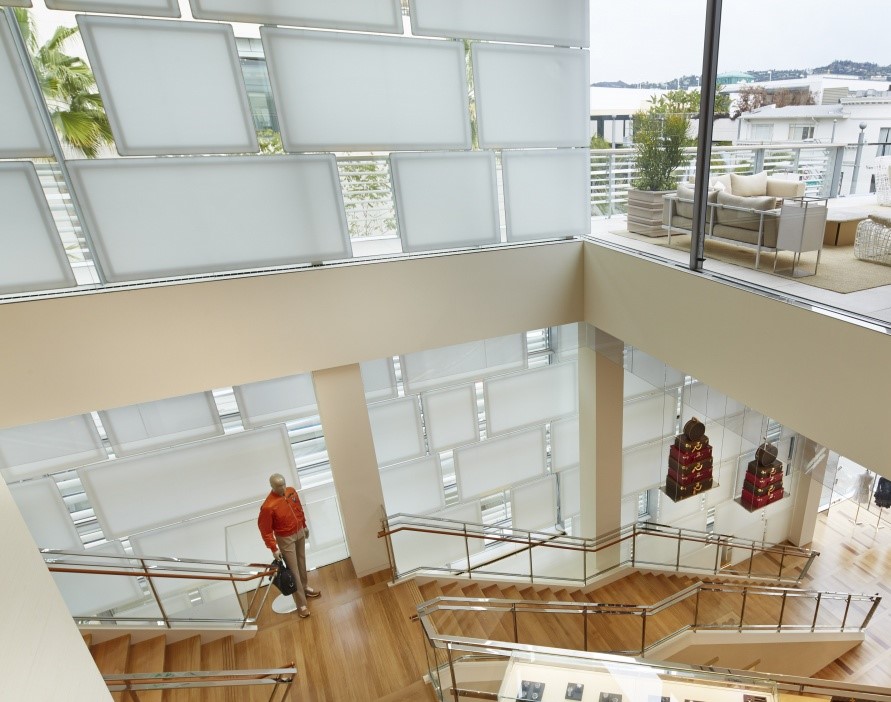 Framed systems can also be suitable especially for retail applications where flexibility and speed of installation are essential.
From creating extraordinary interior architectural fabric structures, such as the Louis Vuitton flagship Beverly Hills Rodeo Drive store (pictured here), O2 Sponsors Lounge, and the Atrium blinds at the Healthy Living Centre, to producing more conventional installations, such as fabric canopies for point-of-sale or exhibition displays, our versatile skill-set means we can realise any interior installation. Innovation is at the heart of everything we do.
"It has been a pleasure to work with Base Structures on the J.S. Bach Chamber Music Hall. They have a positive attitude and flexible approach towards challenging proposals. Their creativity, breadth of experience, and attention to detail were invaluable to the success of the project."
Melodie Leung and Gerhild Orthacker
– Zaha Hadid Architects
Related Projects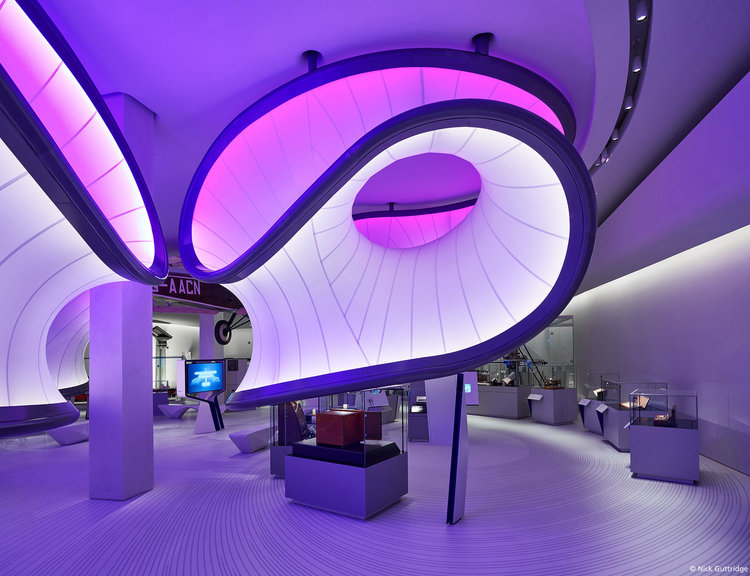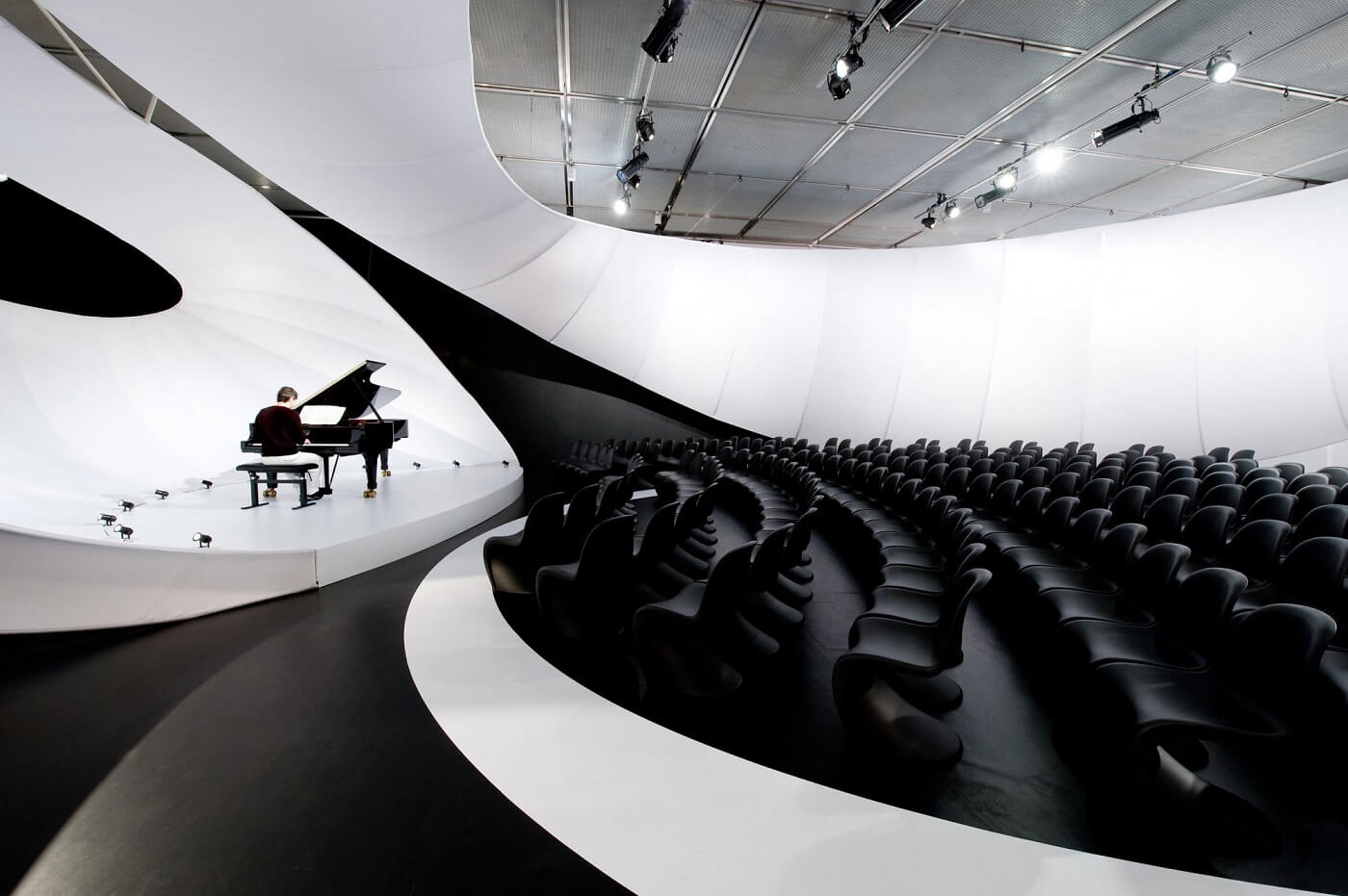 JS Bach Music Hall – Zaha Hadid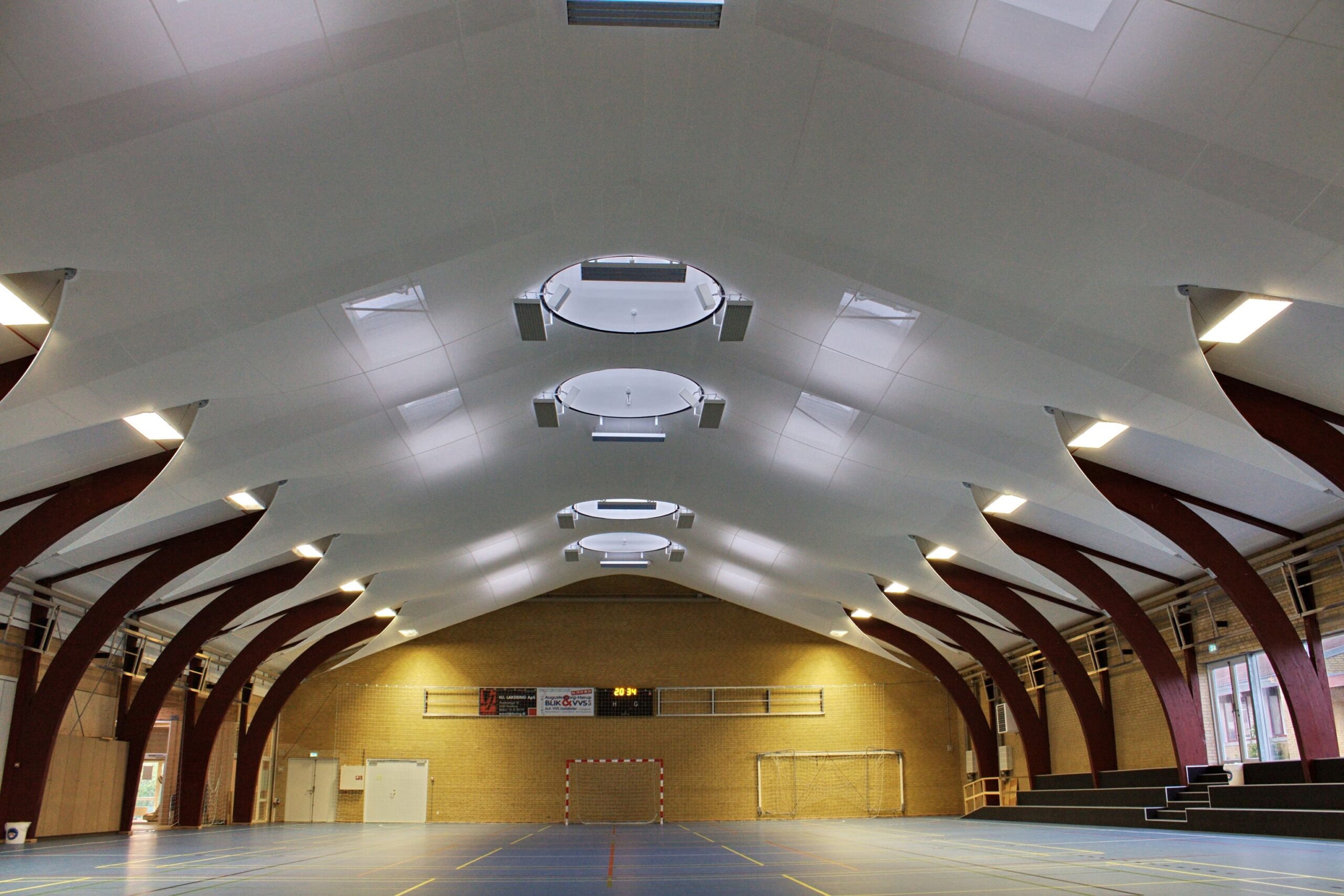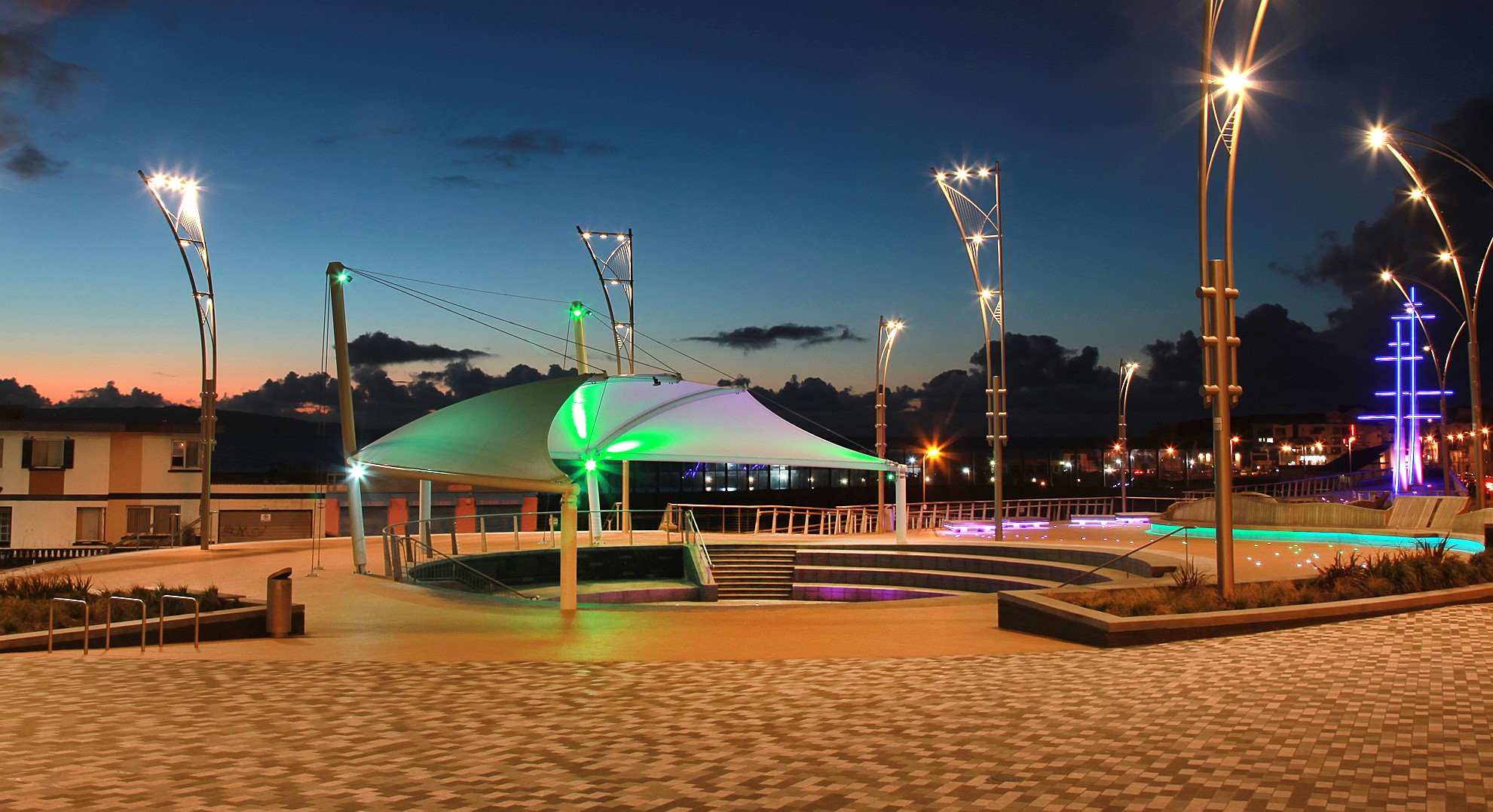 Pre-Designed Canopies
Our pre-designed 'off the shelf' fabric canopies are an excellent way to squeeze the most from your budget, without compromising on the quality and finish of your product choice.
Key Benefits
Fully Engineered to British Standards for year round use
Warranty Backed, all our canopies are warranty backed for 10 years
Easy to specify, request 3D models and a full 'copy and paste' specification
Colour choice for both steelwork and fabric
Design & planning advice we can help get your project off the ground
A full range including shelters, play-shades, entrance canopies, walkways, stages, queue canopies, outdoor classrooms and more
We will find the right canopy for you
Our highly qualified fabric experts know these structures inside-out, meaning you'll always have someone on-hand if you need any guidance throughout the process. Contact our world-leading team today to find out which pre-designed canopy might be right for your project. You can also browse the ranges we have available below.
Our Pre-Designed Canopy Range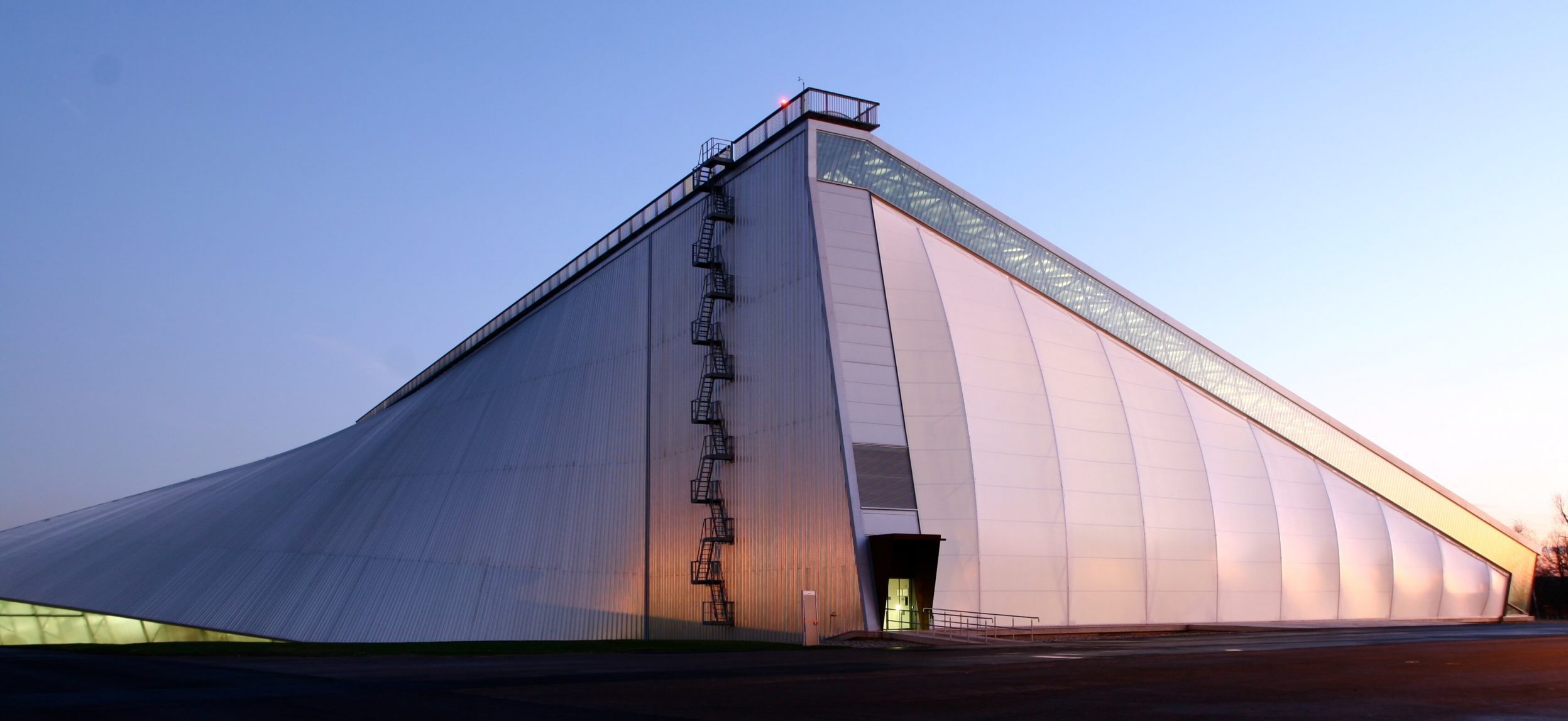 Architectural Fabric
Base Structures have been helping architects round the globe create iconic structures – from translucent stadium roofs to curvaceous walkways.
Style and Substance
For architects, tensile fabric provides the opportunity to add drama and curvature to their buildings in an easy and cost effective way. No other building material has the ability to span large distances, allow light through and take a double curved form.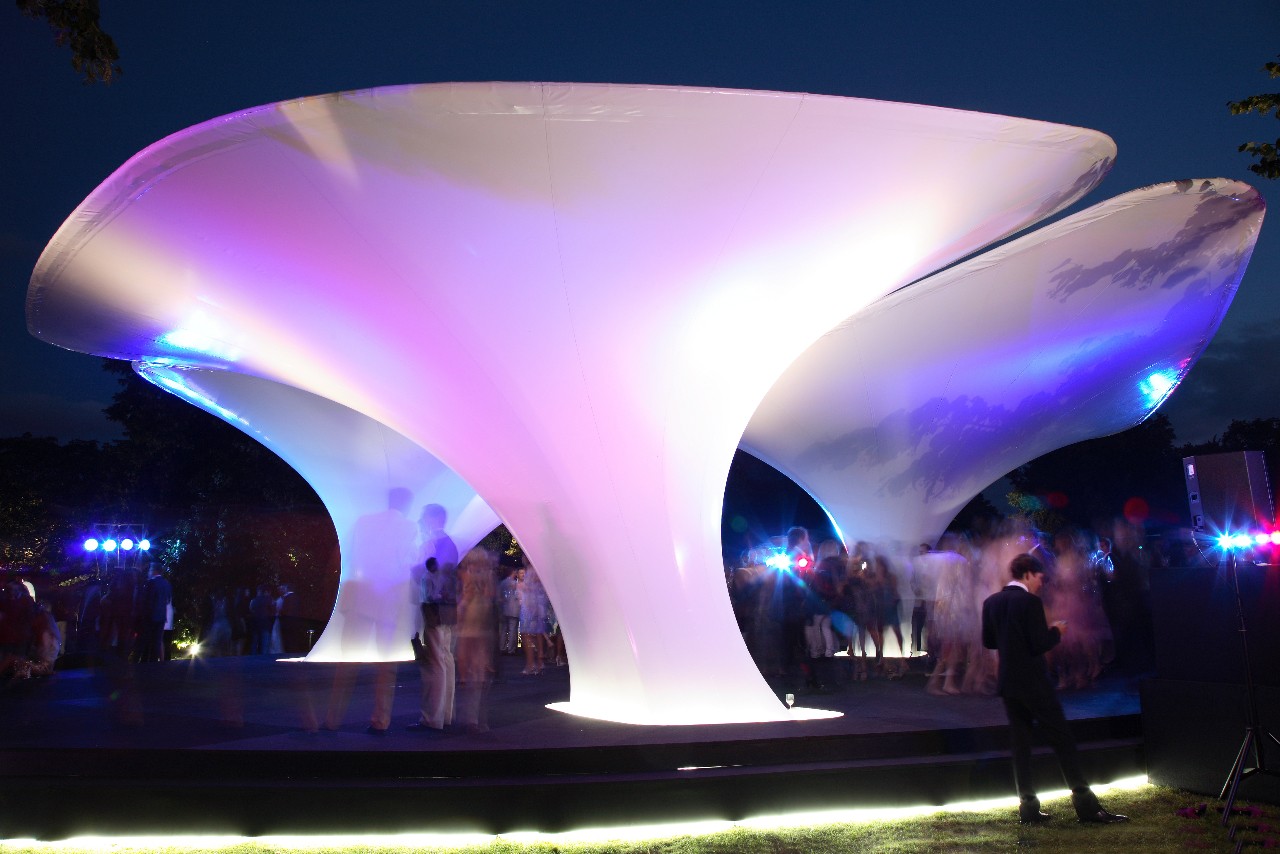 But it's not all about appearance. Fabric structures can be used in all sorts of ways to provide protection from the elements. This applies not only to improving the outdoor experience for people but can also be used to enhance the environmental performance of the building.
And far from being an expensive option, tensile fabric is considerably cheaper than toughened and laminated glass, and can even be more cost effective than polycarbonate.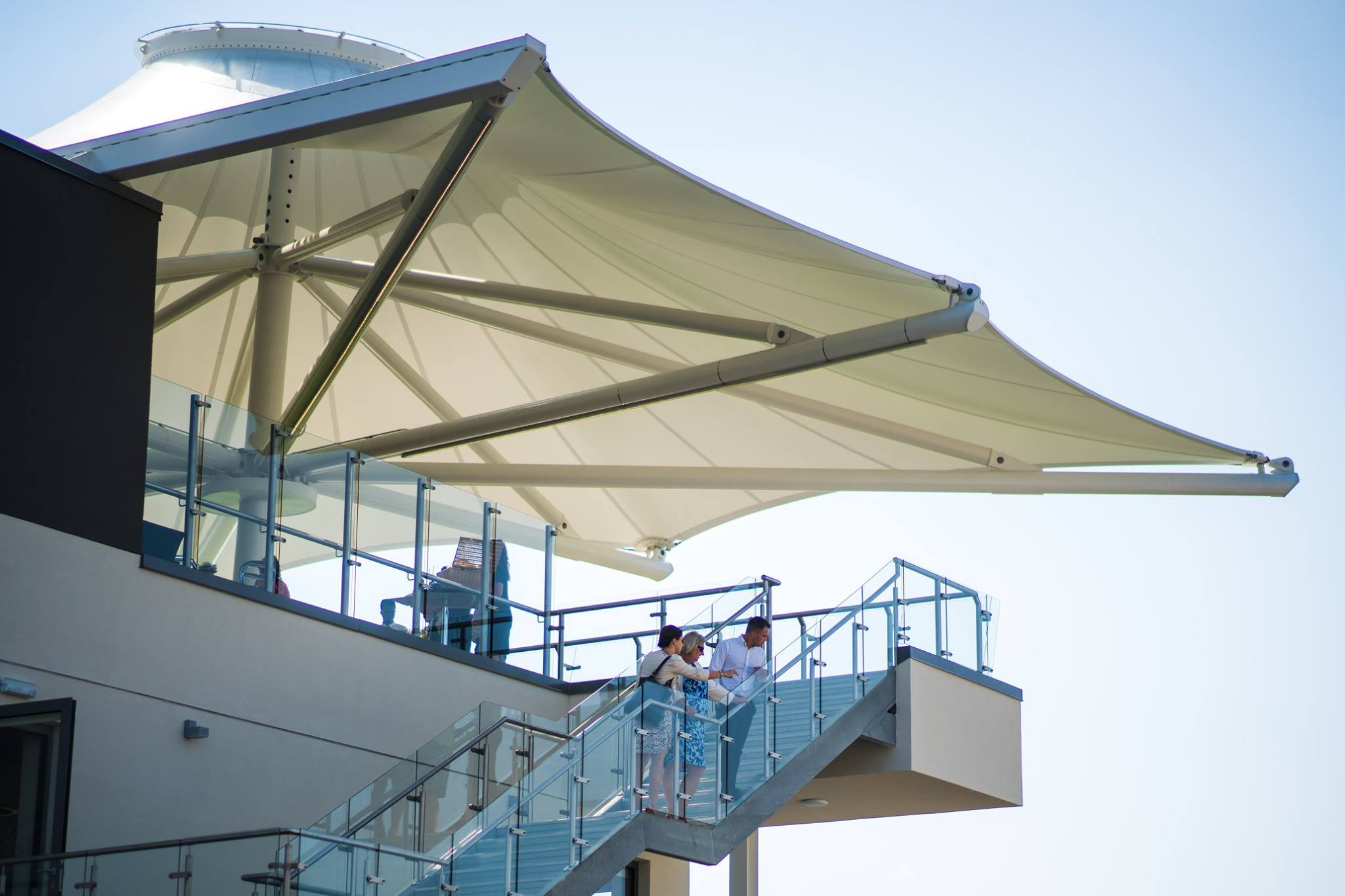 Fabric comes in a range of translucencies and colours as well as being available in a mesh form. Different types of technical fabric are available, each with its own merits as outlined in our tensile guide.
Base Structures can help you realise your design concept, using our knowledge of fabrics and structural know how.
"We've worked with other fabric contractors over the years. Frankly Base have shown an altogether higher level of service and professionalism."
Alan Howatson
– Barr Construction
"Thank goodness we were working with Base Structures. They have an incredible ability to deliver complex projects under duress and extreme timescales. Their collaborative approach and innovative thinking was outstanding, and their approach to safety on such a difficult project was second to none. I wouldn't hesitate to work with Base again – they are a trusted partner and worked seamlessly with us throughout."
Matthew Birchall
– Director | Sports and Lightweight Structures, Buro Happold on Up at the O2
Related Projects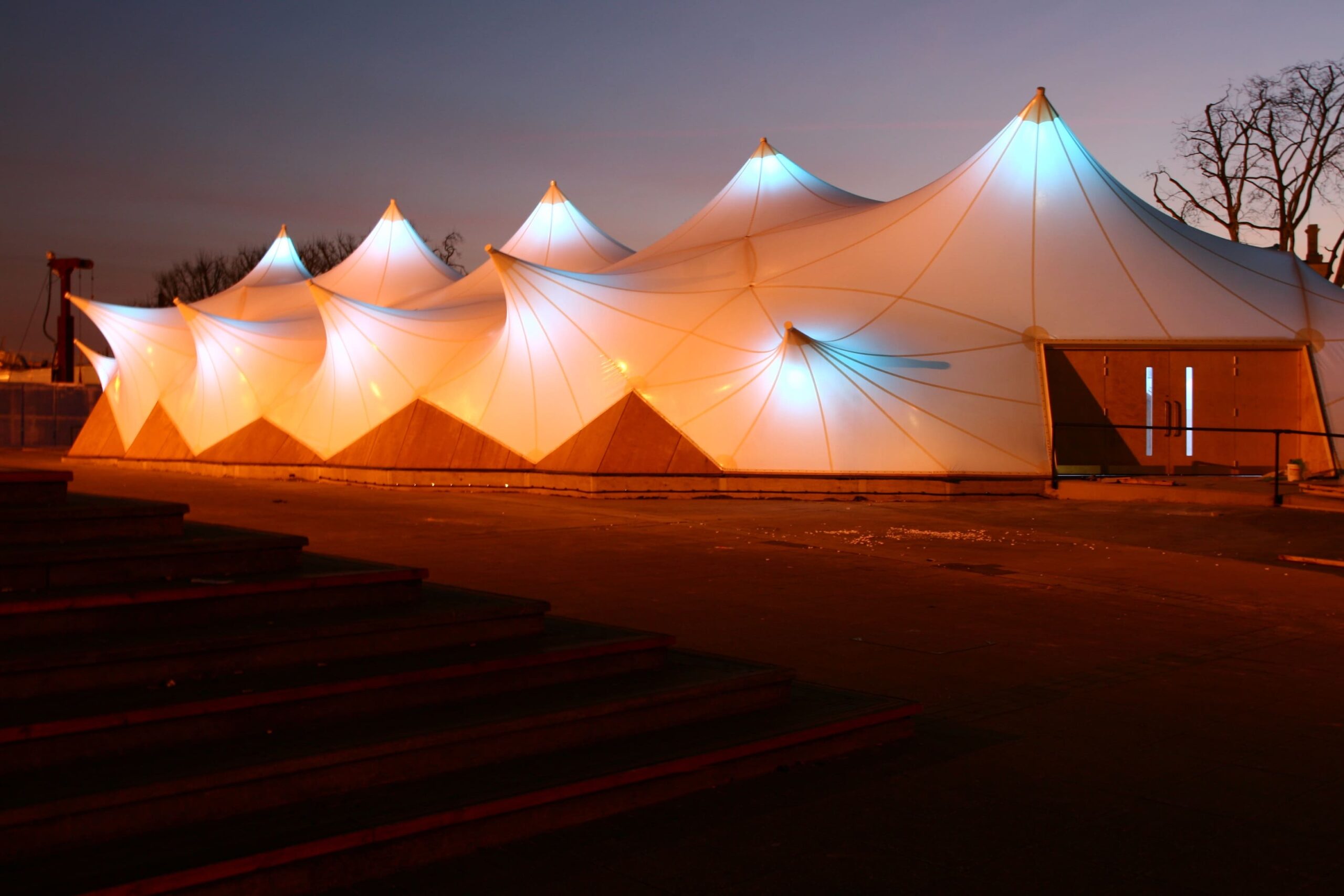 London 2012 Games Basketball Arena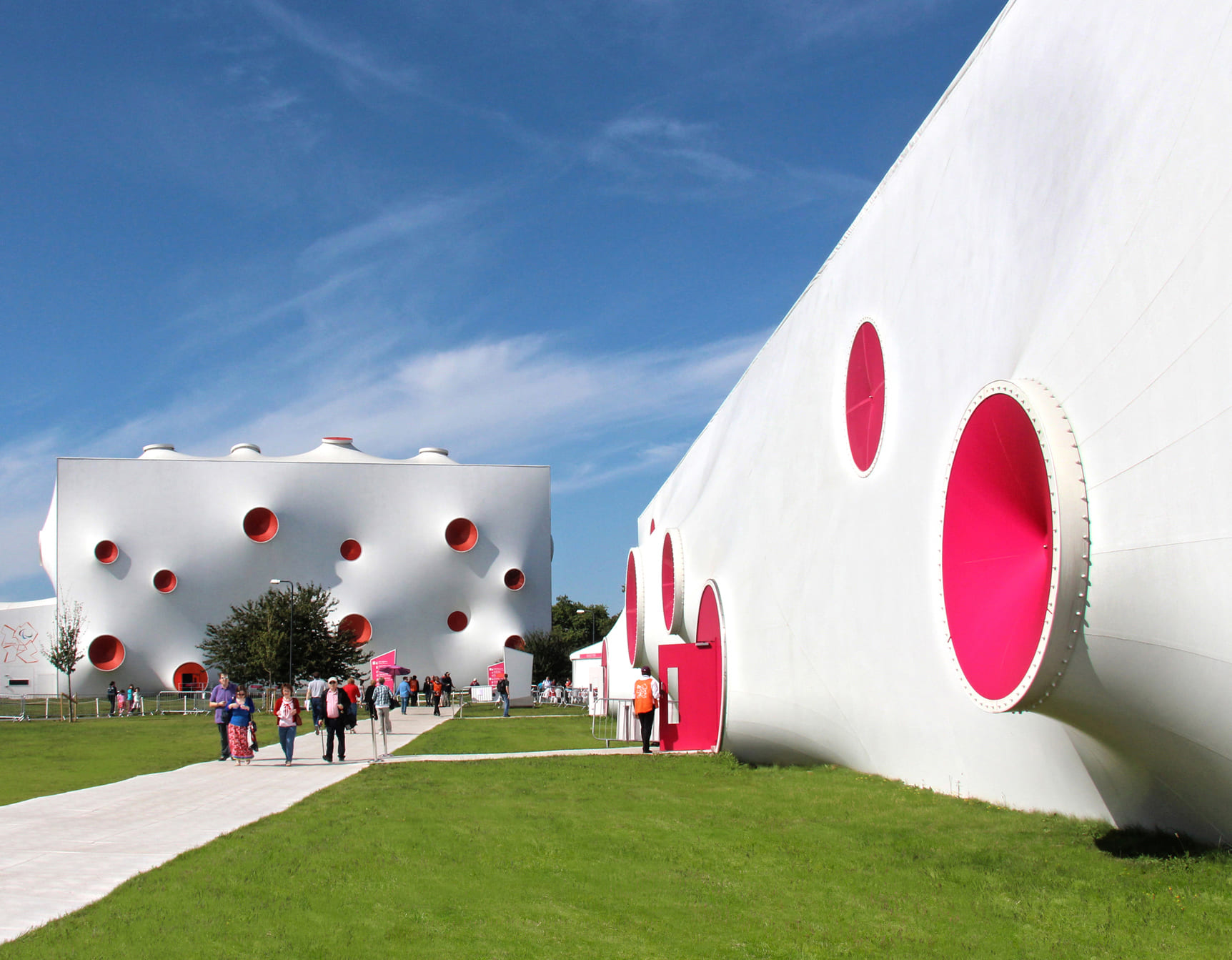 London 2012 Games Shooting Ranges