Client
Ben Ainslie Racing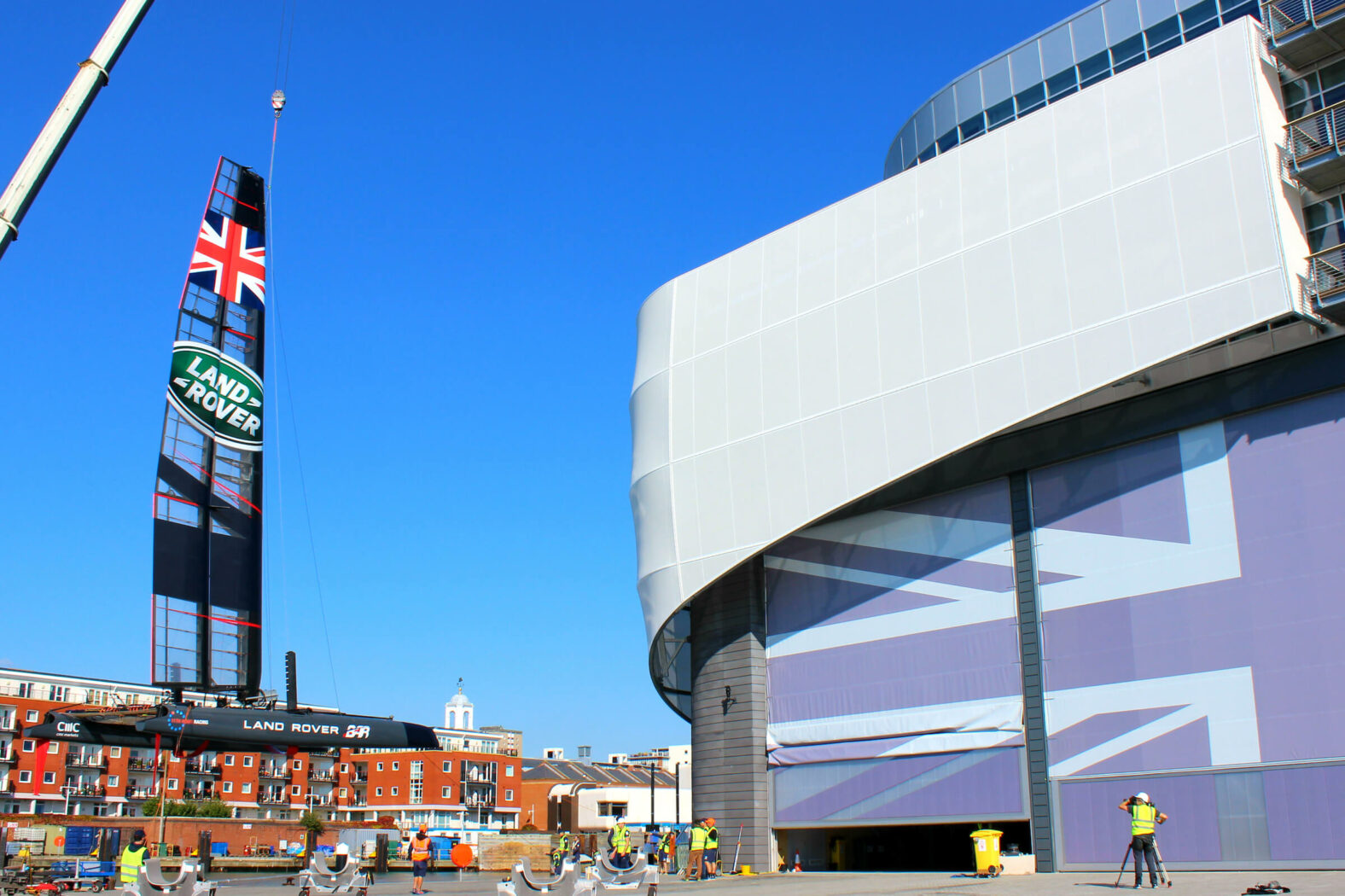 Fabric Cladding, ETFE & Retractable Solar Blind Installation
Over the past 12 months, a new landmark has arrived on the Portsmouth shoreline – Land Rover BAR's headquarters, a building which will play host to a team that is making a bid to win sailing's top prize. Developing a yacht and crew good enough to enter and win the America's Cup requires a multi-million-pound investment.
The Brief
Using modern methods of construction – and with technologies incorporated into the design to seek carbon neutral credentials – Ben Ainslie Racing sought to commission a home that brings together the three key functions of boat design and team training; boat building, a visitor and education centre. HGP Architects who designed the Spinnaker Tower, were commissioned to design and deliver a unique and functional building on the Camber site in Portsmouth.
Base Structures was asked initially by HGP Architects to provide a semi-transparent fabric cladding wrap to stretch around a robust structure of a combination of glass reinforced concrete and glazing with the fabric having the capacity to be externally back lit.
As designs developed, Base were also commissioned to provide a triple skin ETFE cushion insulated atrium roof system to provide a high level of light through into the central core of the building, together with an internal retractable blind system to handle solar gain and glare.
The Team
Hamish Calder – Ben Ainsley Racing
Matthew Williams – Architect, HGP Architects
Vivienne Conway – Architect, HGP Architects
Kevin Hemmings – Architect, Base Structures
Fraser Shirley – Project Manager, Base Structures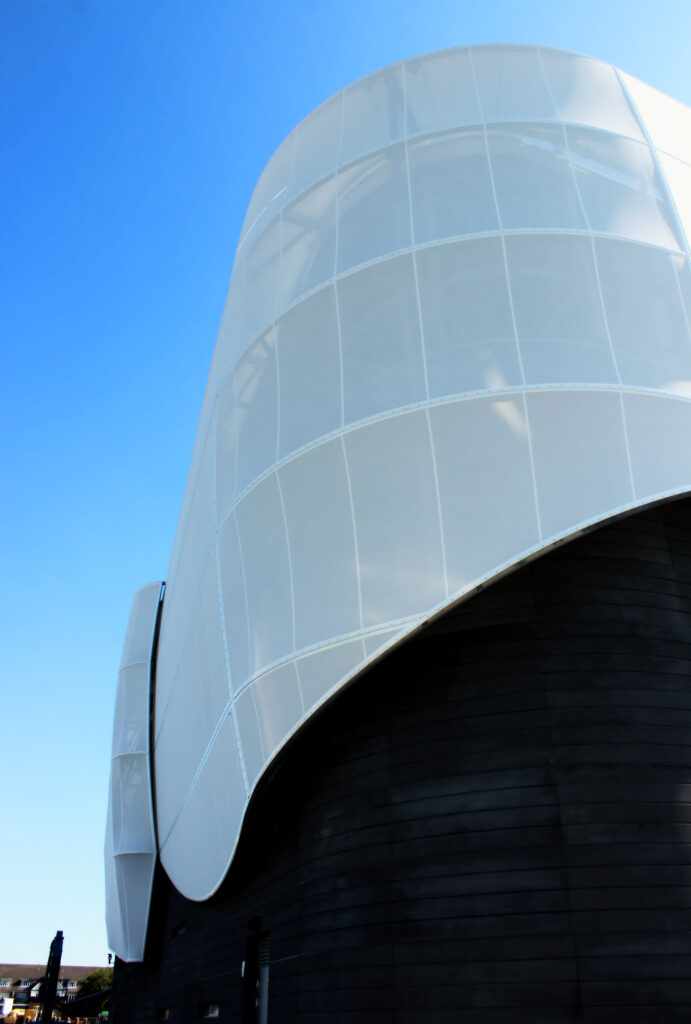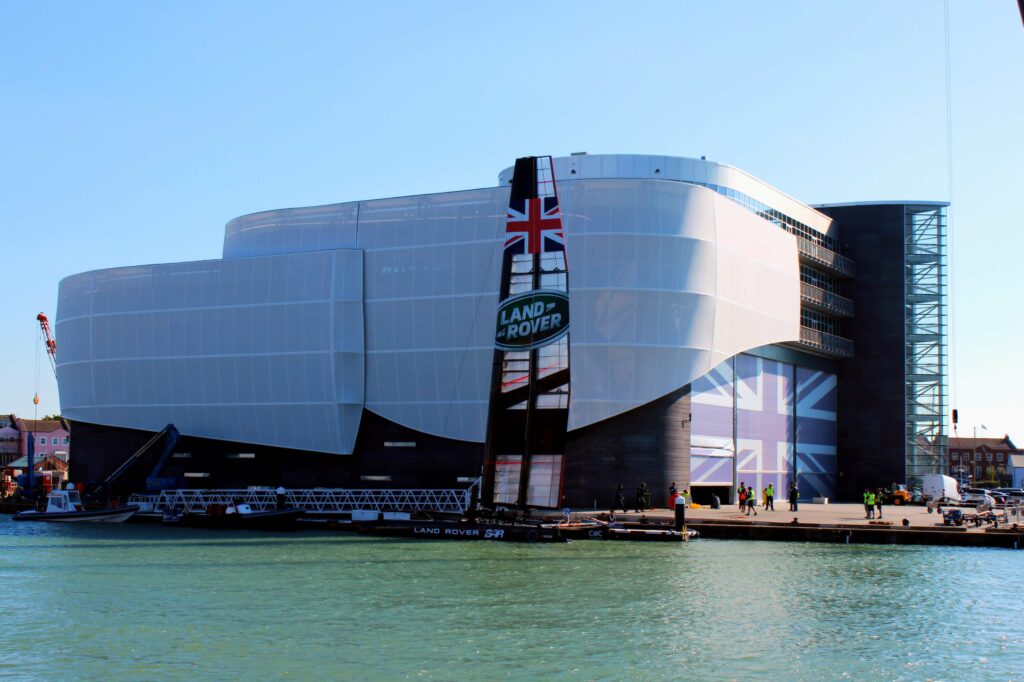 Solution
Ferrari Soltis 86 fabric mesh was specified for the external vertical cladding to allow a degree of transparency both sides, with the roof panels using a sold PVC Mehler 7211 fabric to allow for drainage. The ETFE triple layer system provided by Vector Foiltec, achieves a U value of 1.96 W/m2k with a light transmittance of 87%.
Result
"Home of Ben Ainslie Racing Built to BREEAM excellent standards, a purpose-built facility housing all of the team's activities from design to sailing, sports science to marketing – a showcase for sport, innovation, technology and sustainability in the heart of Portsmouth."
Vital Statistics
Supported by £6.5 million of government funding
6875 m2 footprint
2790 m2 Vertical Curved Fabric Cladding
625 m2 Fabric Roof Panels
500 m2 Fabric Keder Pockets
161 m2 ETFE Triple Layer ETFE cushion system
70 m2 Internal Fabric Retractable Blind