Client
Trinity Leeds Shopping Centre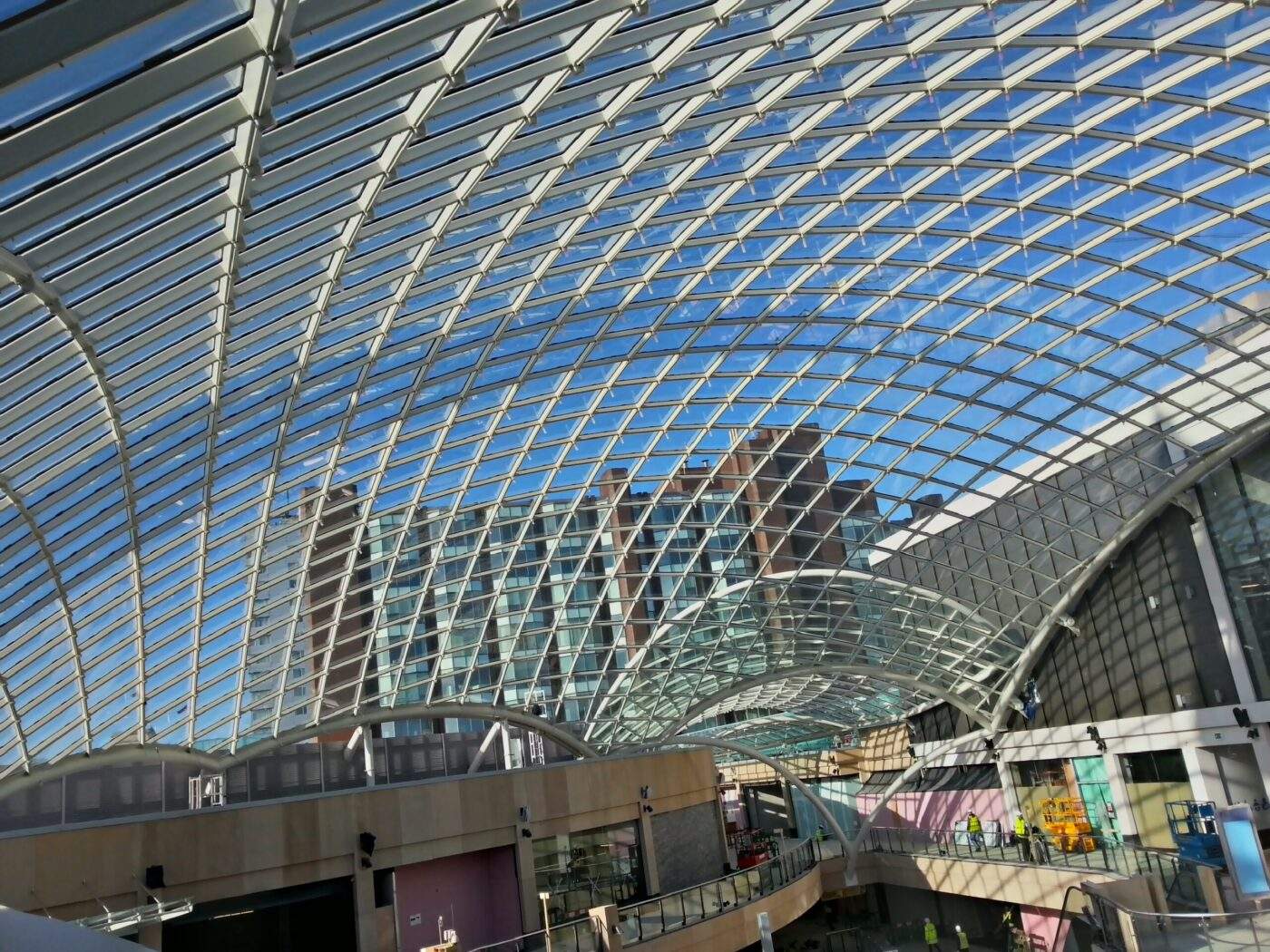 ETFE In-fill Panel for Architectural Glass Roof
Trinity Leeds Shopping Centre opened in March 2013, welcoming over 130,000 shoppers on it's first day. Named after the adjacent 18th century Holy Trinity Church and housing 93,000m2 of retail floor space, this modern day cathedral celebrates the altogether different God of Shopping.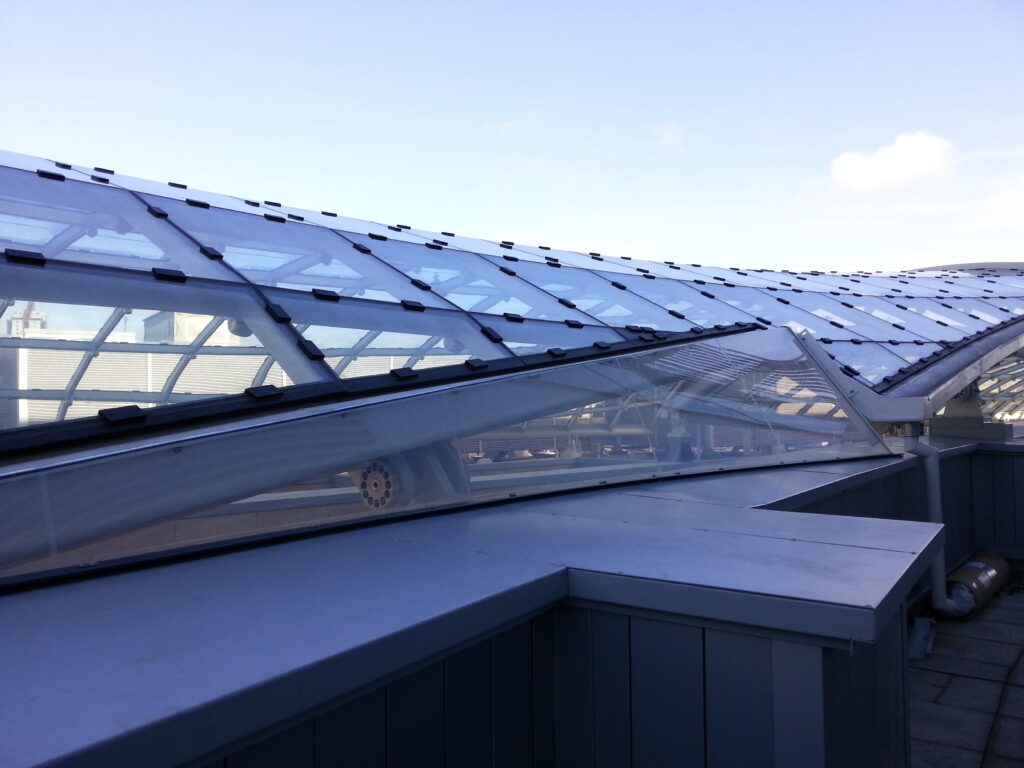 Our Solution
The centre-piece of the shopping centre is a 3,716m2 glass dome designed by SKM Anthony Hunt, containing 1,902 glass panels that arch 30.5m over street level. Base were approached by contractor Laing O'Rourke to help solve a small yet significant problem with the dome, to subtly fill a space between the shopping centre parapet and the glazed roof. By using ten shaped ETFE segments welded together to create a single twisting panel measuring over 12m long, a virtually invisible barrier now prevents the ingress of the elements without compromising the sleek, glazed aesthetic – all at a fraction of the cost of using bespoke glass.
Results
We may be no Michelangelo but we are nonetheless proud of our finishing touch to this dramatic dome.
Similar Projects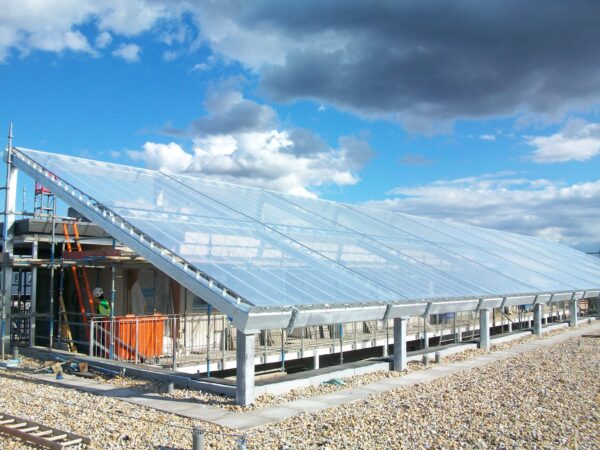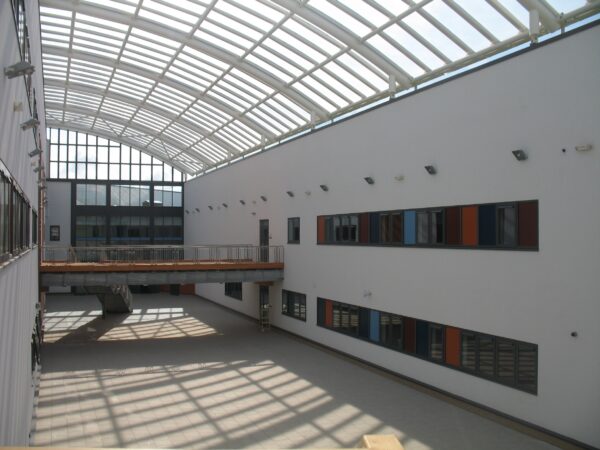 Nottingham University Samworth Academy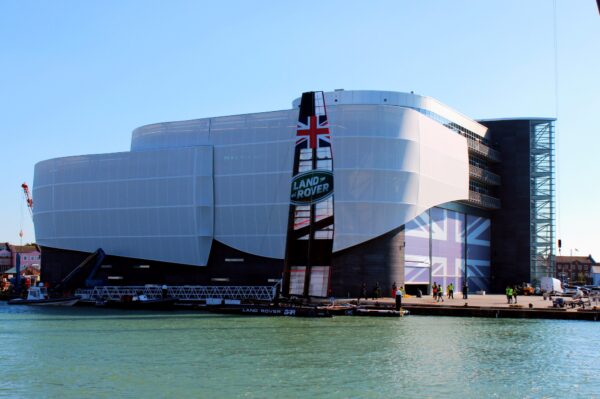 Client
Trinity Leeds Shopping Centre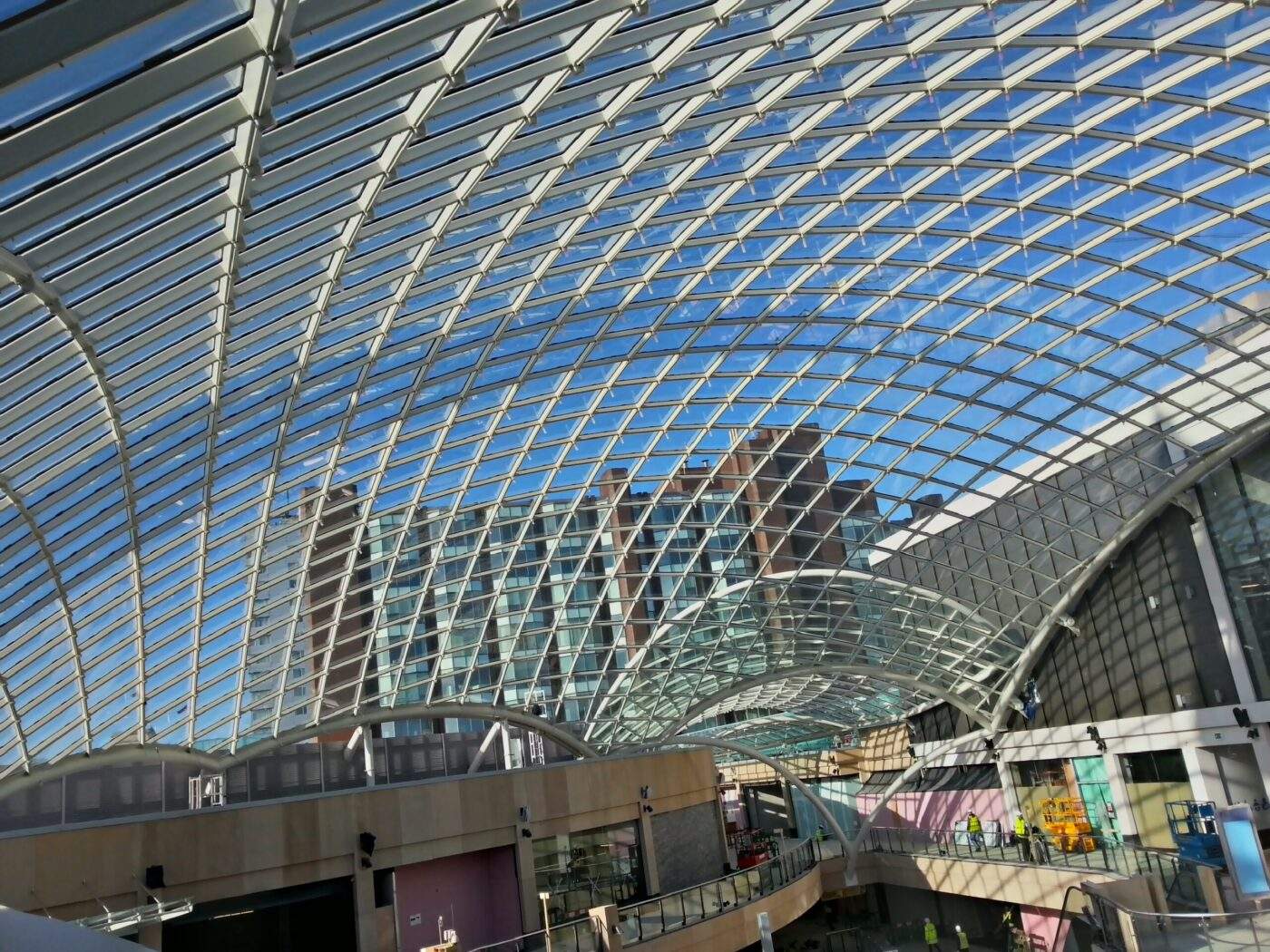 Base Delivers a Revolutionary Structure
As part of the Government's initiative to roll out academies across the UK, Nottingham University and Leicestershire businessman David Samworth co-sponsored the building of a brand new secondary school in Nottingham – the Nottingham University Samworth Academy or NUSA.
Project Highlights
First project in the UK to use single ETFE skin TEXO®, a revolutionary framing concept and never before applied in a roofing context
Almost 40% cheaper than glass and less than 1/10 the weight of glass –including frames
Virtually indistinguishable from conventional glazing (97% translucency)
30 year lifespan
Faster and safer installation process compared to glass
The Brief
One element of the architect's design for the academy featured a cable supported, single skin clear ETFE roof over an unheated internal street. The roof's main function, as well as providing a shelter, was to allow a high level of natural light to enter the street as it was going to be bordered by classrooms. The main contractor, Carillion plc, approached Base for its technical expertise to develop a solution that could deliver all the key functional and aesthetic effects in the architect's proposal.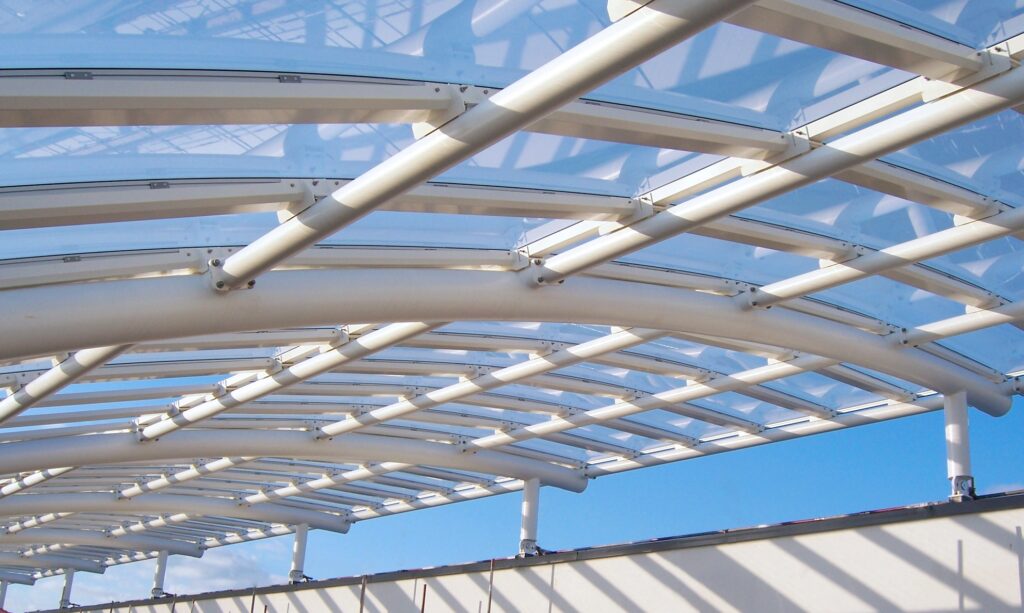 The Solution
Base won the project on technical experience, by proposing a more robust single skin ETFE solution. By adapting the revolutionary TEXO® cladding system, designed by Tensoforma of Italy, Base proposed to deliver an innovative tensile fabric solution that would offer the required high light translucency (97%), while offering a 30-year design, life thanks to a more modular approach. Initially conceived as a vertical cladding panel, this was the first time that TEXO had been adapted as an alternative to a glazed solution by using single skin ETFE foil.
The design incorporates a single layer of ETFE foil mounted on an extruded aluminium frame, and uses a high tech plastomeric strip to keep the foil under constant tension, even under varying wind loads. The benefits of the system include a high translucency roof that is a fraction of the weight, and costs considerably less than a toughened glass alternative.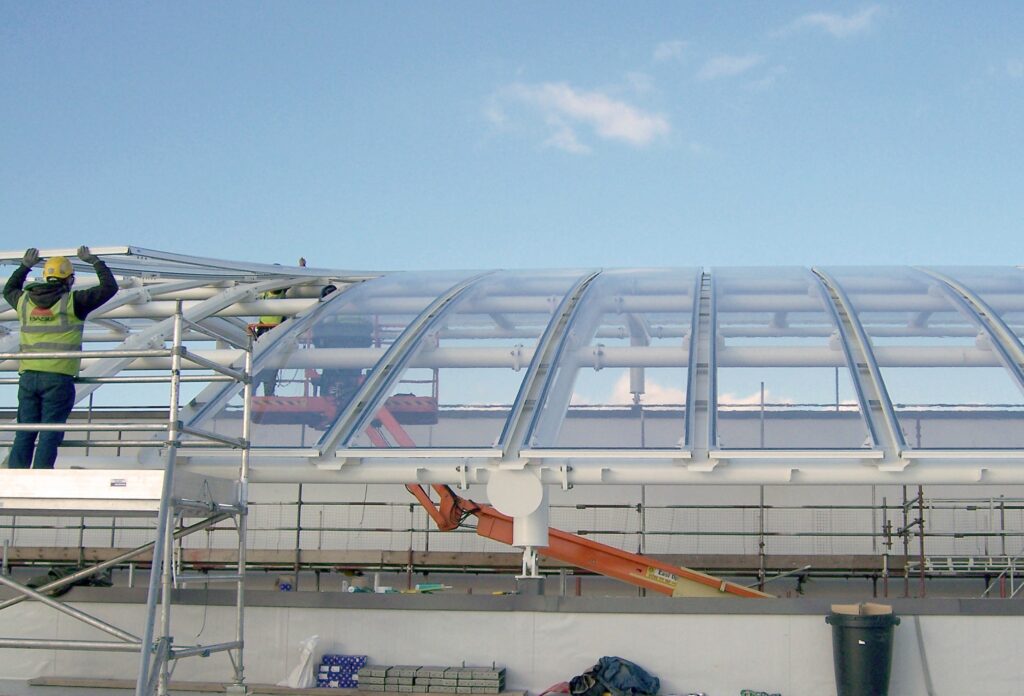 The TEXO® system is modular in that the frames can be built and covered in a controlled factory environment off-site and delivered as complete and finished units which are then fixed into a prepared structural steel frame and gutter system. As such the solution also offered a high degree of prefabrication, reduced expensive site time and featured low weight components, which greatly reduced the risk of damage to the ETFE foil and from injury on site.
Base undertook the complete design, manufacture and installation process, including the structural aluminium gutters and primary steel arches.
The Results
Base delivered a highly innovative solution that matched the aesthetic requirements with a robust build quality, offering a 30-year lifespan – all installed swiftly and cost-effectively, meeting the brief and budget. The architect was particularly delighted with the high light levels our solution achieved. The NUSA opened to its first pupils on Friday 4th September 2009, and the new building was officially opened by Dame Kelly Holmes DBE in September 2010.
"When it came to developing the design, I appreciated Base's honesty and straightforward approach. Their wealth of experience in tensile structures was a great advantage, not to mention the quality product which Base installed quickly and efficiently. I would have no hesitation in recommending them."
Paul Gott
– Architect, Atkins Global
Similar Projects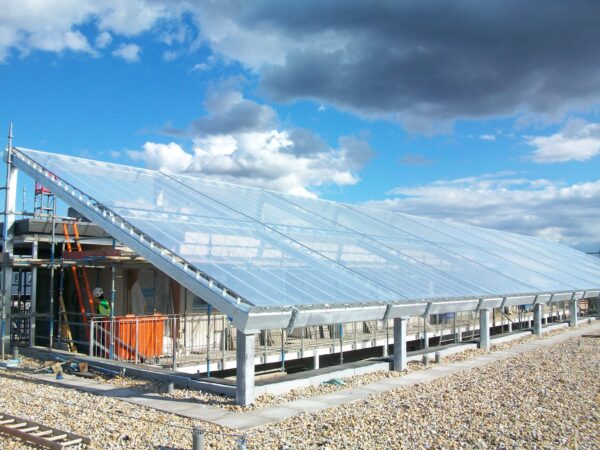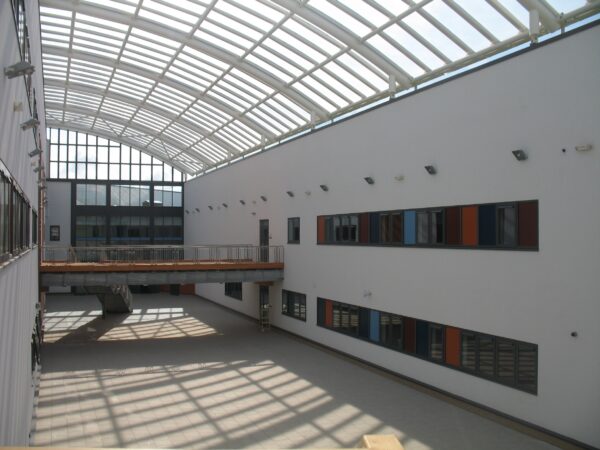 Nottingham University Samworth Academy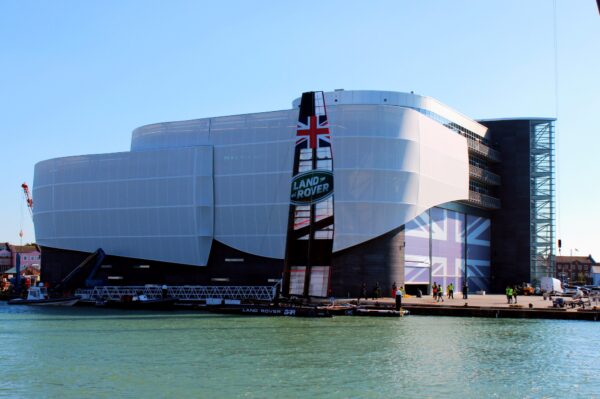 Client
Trinity Leeds Shopping Centre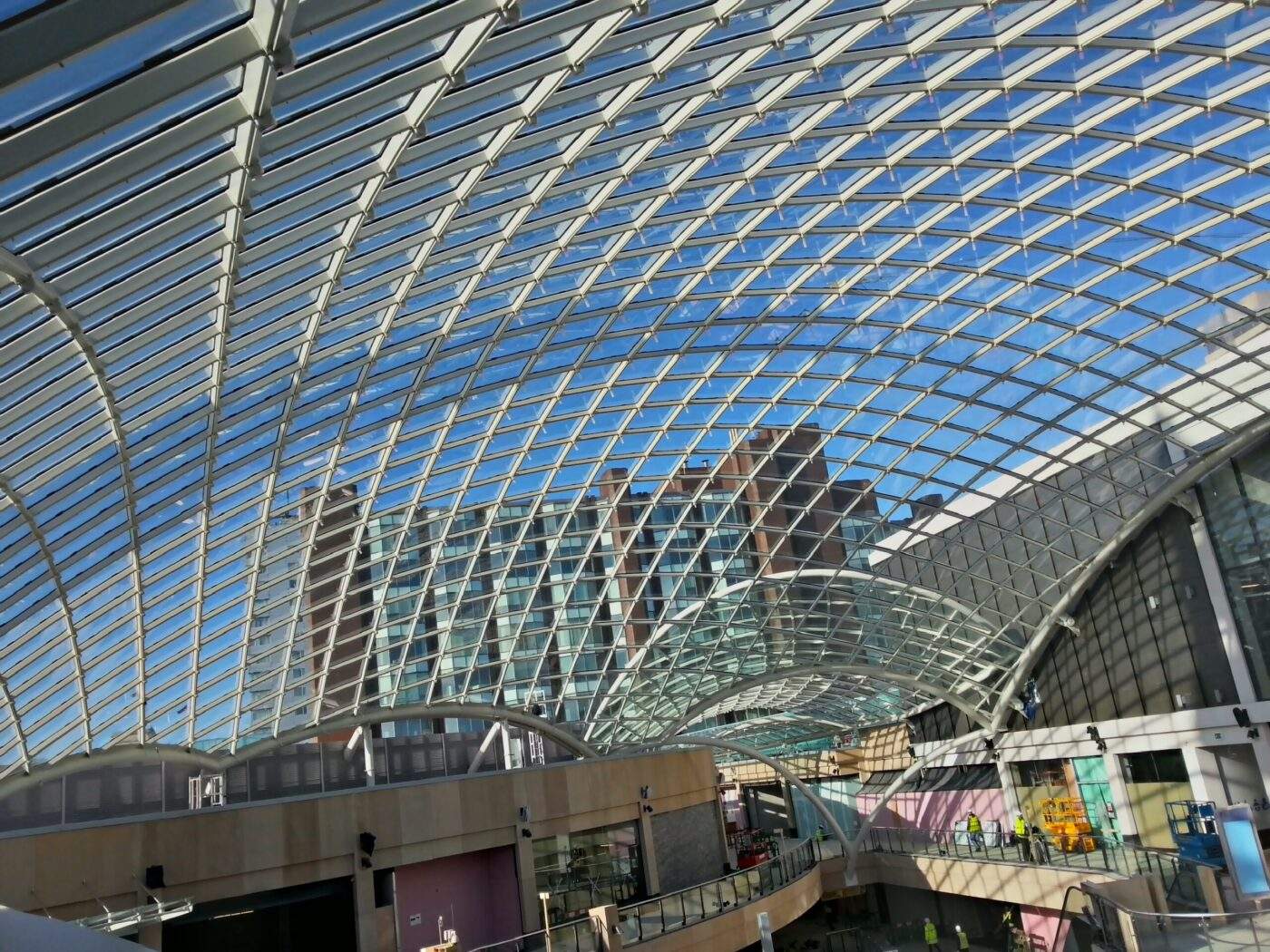 Cable Supported Single Skin ETFE Roof
Built on the site of a former paper mill, this major new housing development in Waltham Forest provides a much needed mix of private sale, shared ownership and market rental homes to help ease the significant shortage of affordable housing in the Capital.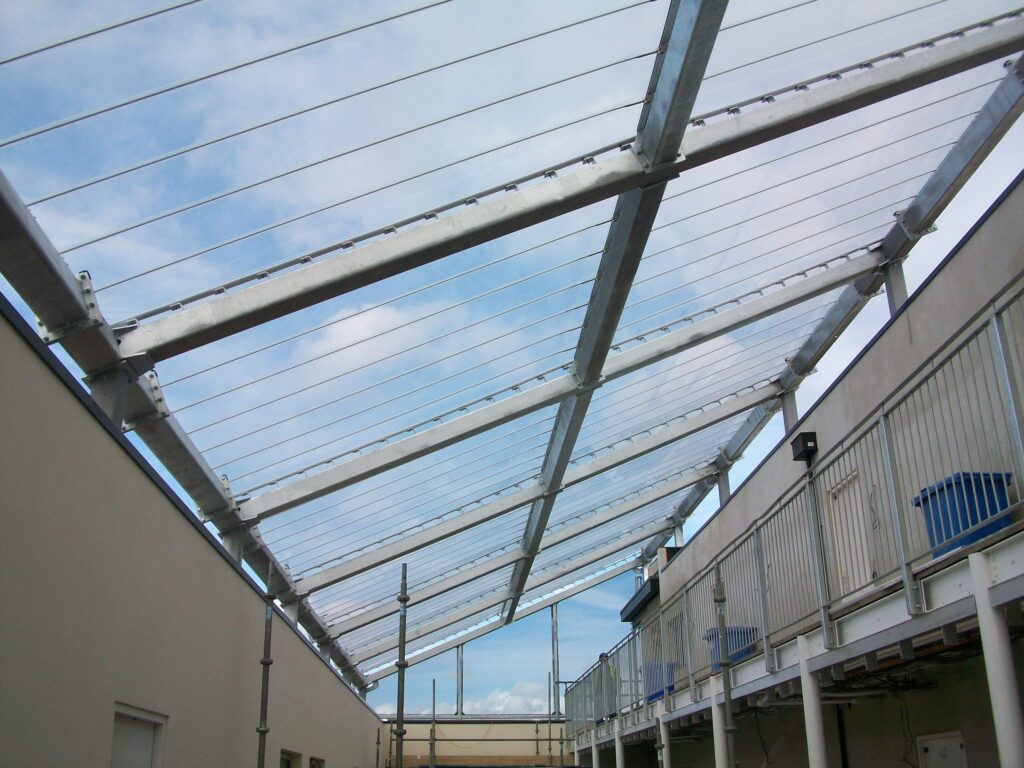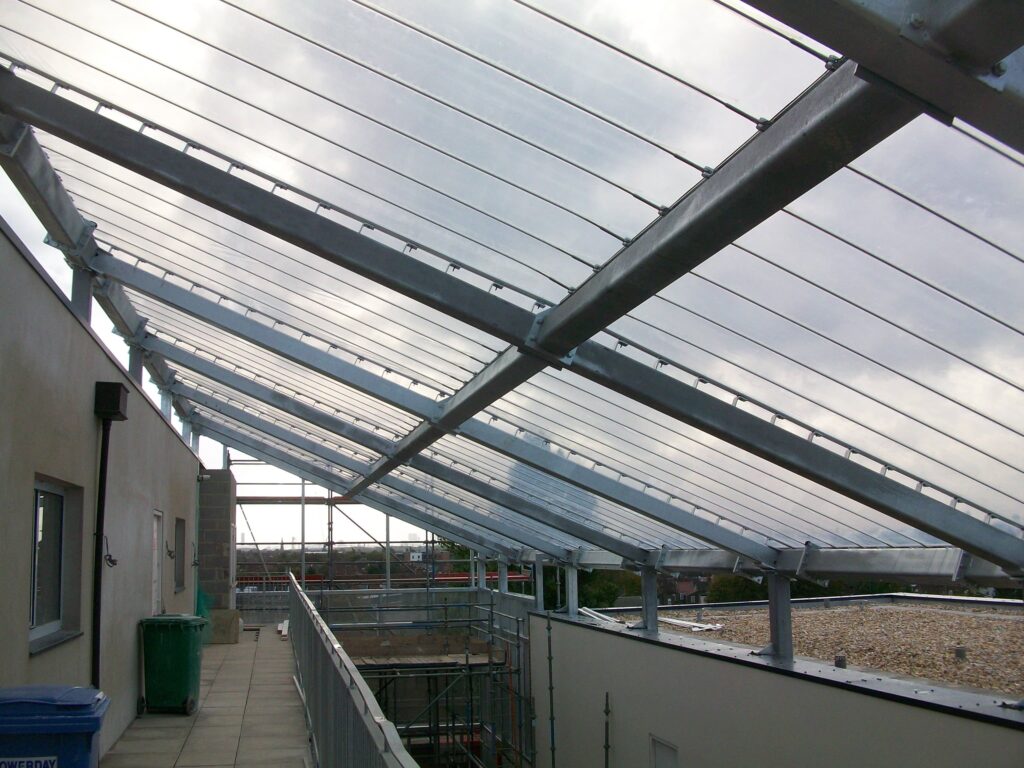 Our Solution
Part of the new build design included a spacious communial atrium that required discreet protection from the elements. A lightwieght single skin ETFE roof was specified that allows 97% light transmittance to penetrate through to the living space below, allowing significant savings of materials and cost. Measuring 39 metres in length and 7 metres wide, the ETFE roof is divided into bays measuring approximately 5.5 metres x 7 metres. Tensioned cables attached to the structural main beams ensures adequate support of the ETFE panels in high-loading conditions such as snow. The only problem with the perfectly tensioned ETFE film is that it is so discreet, most people won't notice all our hard work!
Similar Projects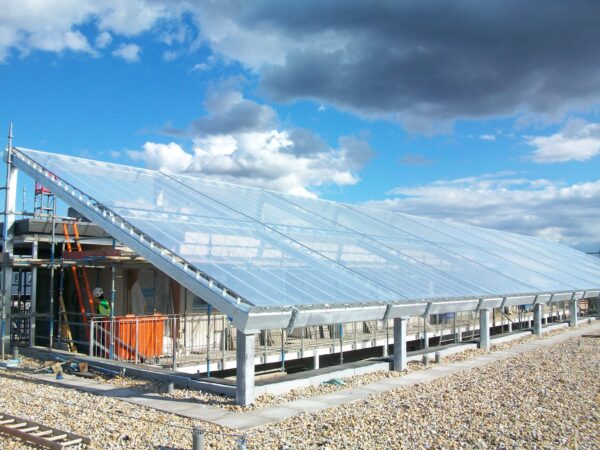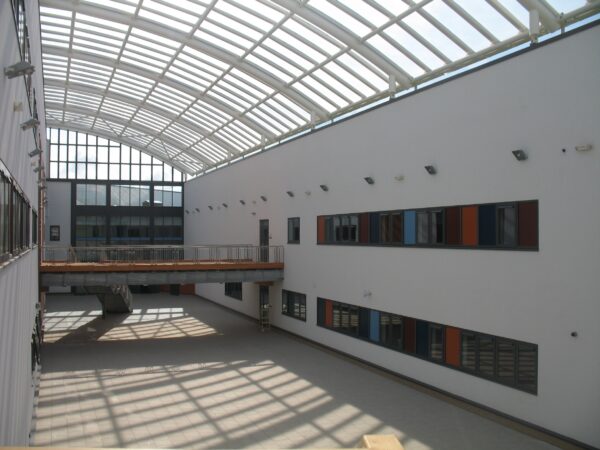 Nottingham University Samworth Academy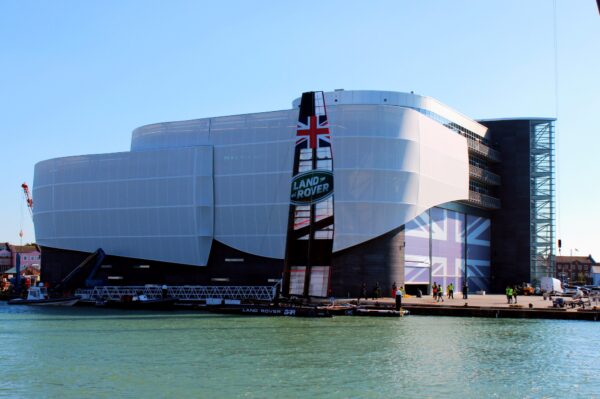 Client
Trinity Leeds Shopping Centre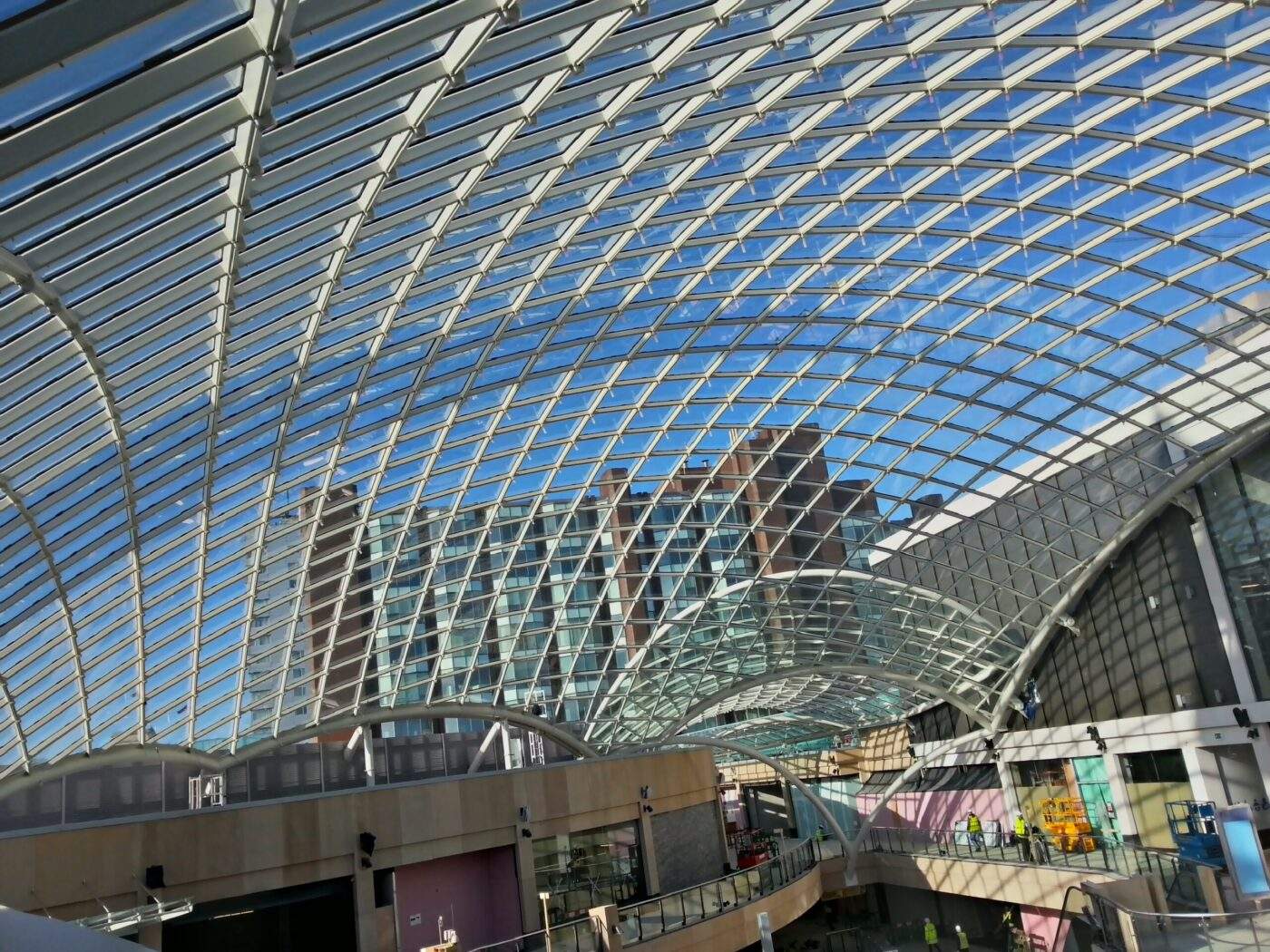 The Overview
We manufactured and installed The Hub's canopy which is suspended from the surrounding buildings, a tricky feat of engineering and a test of our 3D modeling systems. The hub is constructed from a three chord rolled steel truss which is clad with steel panels and supports a state of the art inflatable ETFE cushion.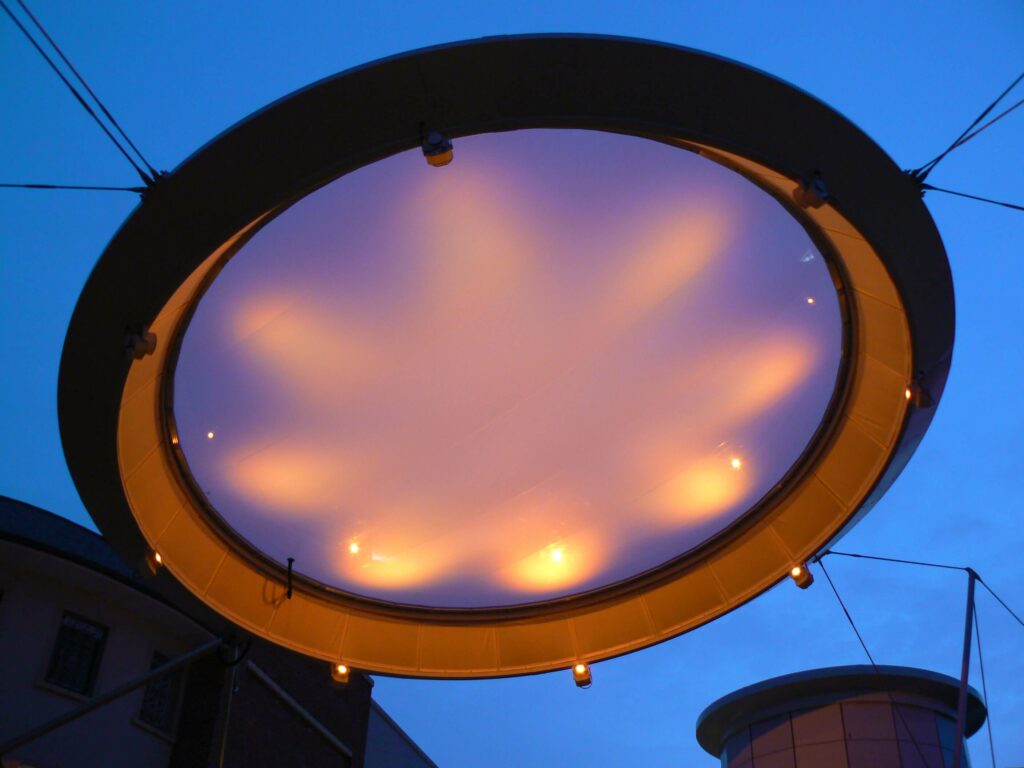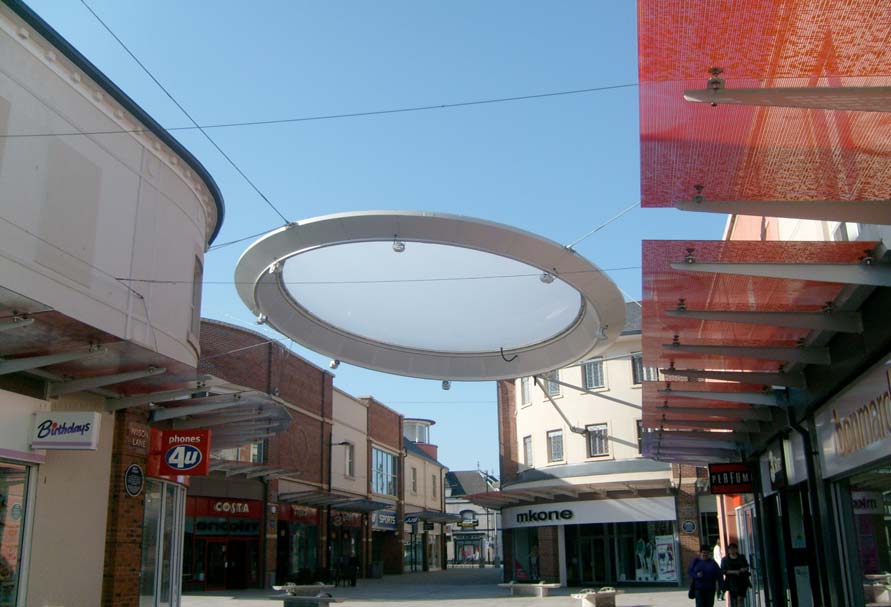 The Result
The Hub will be the first permanent outdoor 3D sound performance space in the country. The Hub's 3D sound system can be configured to broadcast any live or recorded sound. A unique ambient 'soundscape' has been composed for The Hub by Illustrious Company. The soundscape will provide an immersive sound experience and will include elements of recordings made in and around Workington in October 2006.
Similar Projects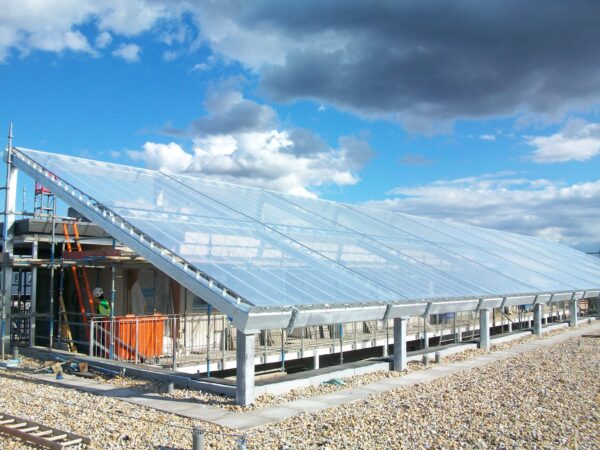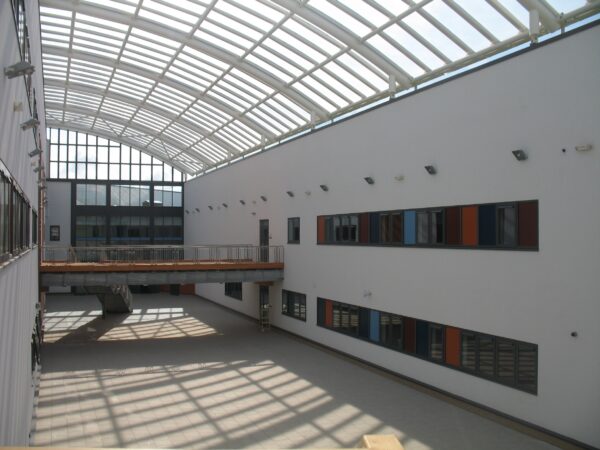 Nottingham University Samworth Academy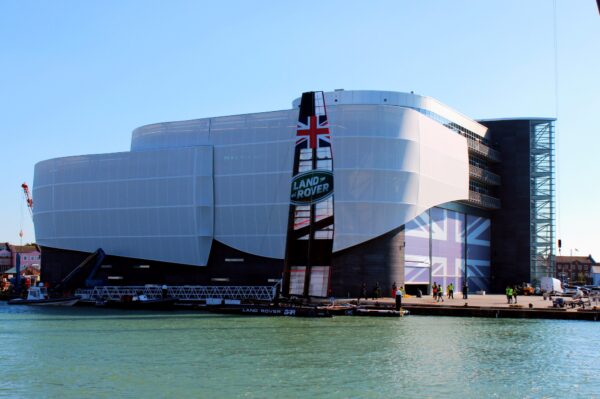 Client
Ben Ainslie Racing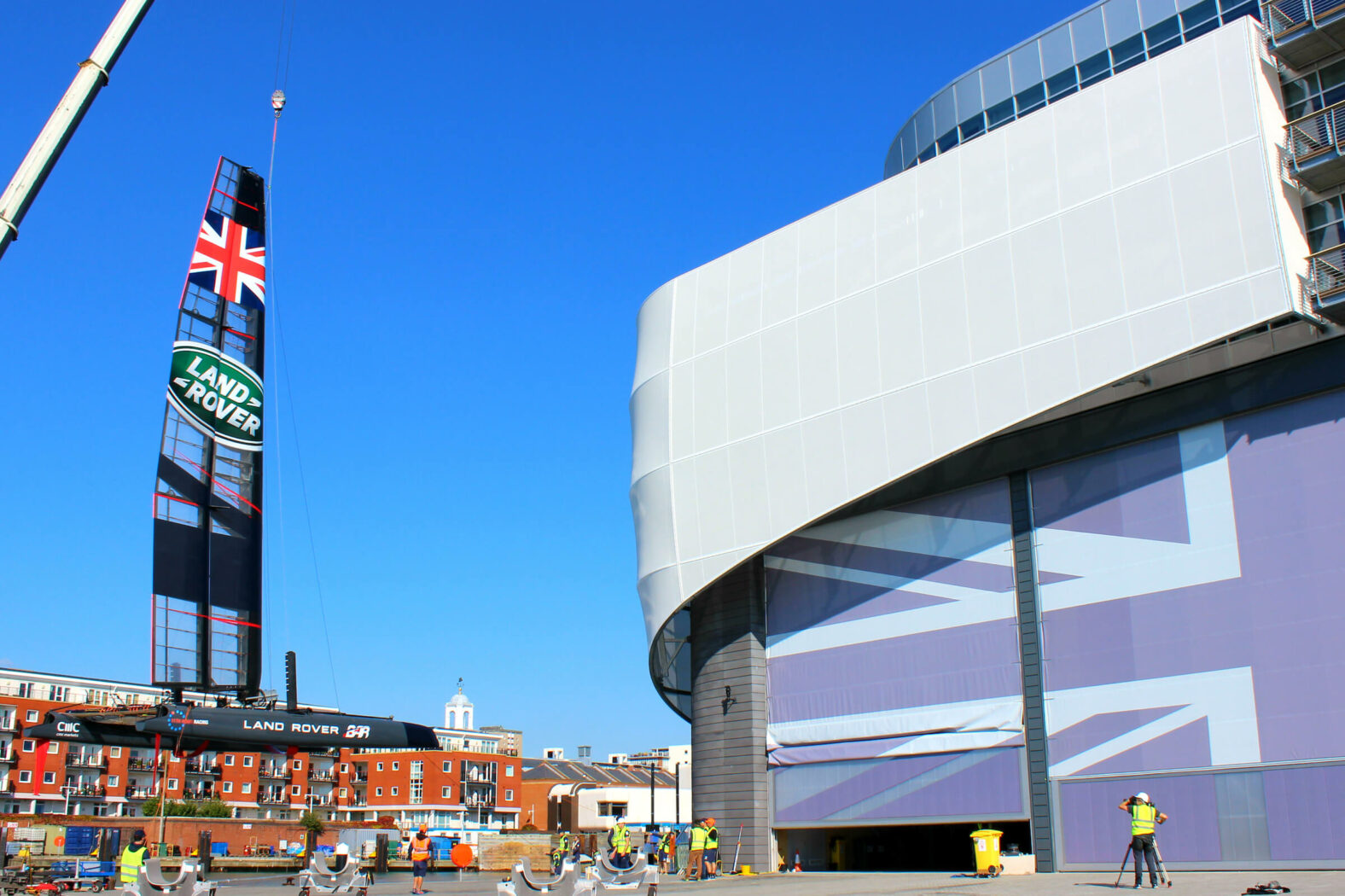 Fabric Cladding, ETFE & Retractable Solar Blind Installation
Over the past 12 months, a new landmark has arrived on the Portsmouth shoreline – Land Rover BAR's headquarters, a building which will play host to a team that is making a bid to win sailing's top prize. Developing a yacht and crew good enough to enter and win the America's Cup requires a multi-million-pound investment.
The Brief
Using modern methods of construction – and with technologies incorporated into the design to seek carbon neutral credentials – Ben Ainslie Racing sought to commission a home that brings together the three key functions of boat design and team training; boat building, a visitor and education centre. HGP Architects who designed the Spinnaker Tower, were commissioned to design and deliver a unique and functional building on the Camber site in Portsmouth.
Base Structures was asked initially by HGP Architects to provide a semi-transparent fabric cladding wrap to stretch around a robust structure of a combination of glass reinforced concrete and glazing with the fabric having the capacity to be externally back lit.
As designs developed, Base were also commissioned to provide a triple skin ETFE cushion insulated atrium roof system to provide a high level of light through into the central core of the building, together with an internal retractable blind system to handle solar gain and glare.
The Team
Hamish Calder – Ben Ainsley Racing
Matthew Williams – Architect, HGP Architects
Vivienne Conway – Architect, HGP Architects
Kevin Hemmings – Architect, Base Structures
Fraser Shirley – Project Manager, Base Structures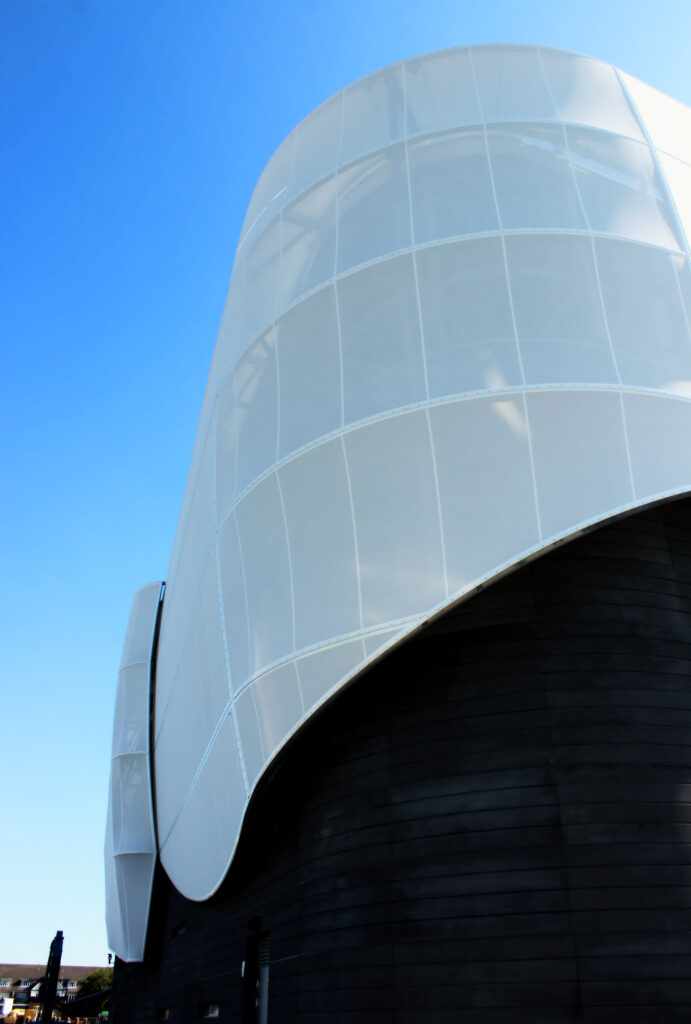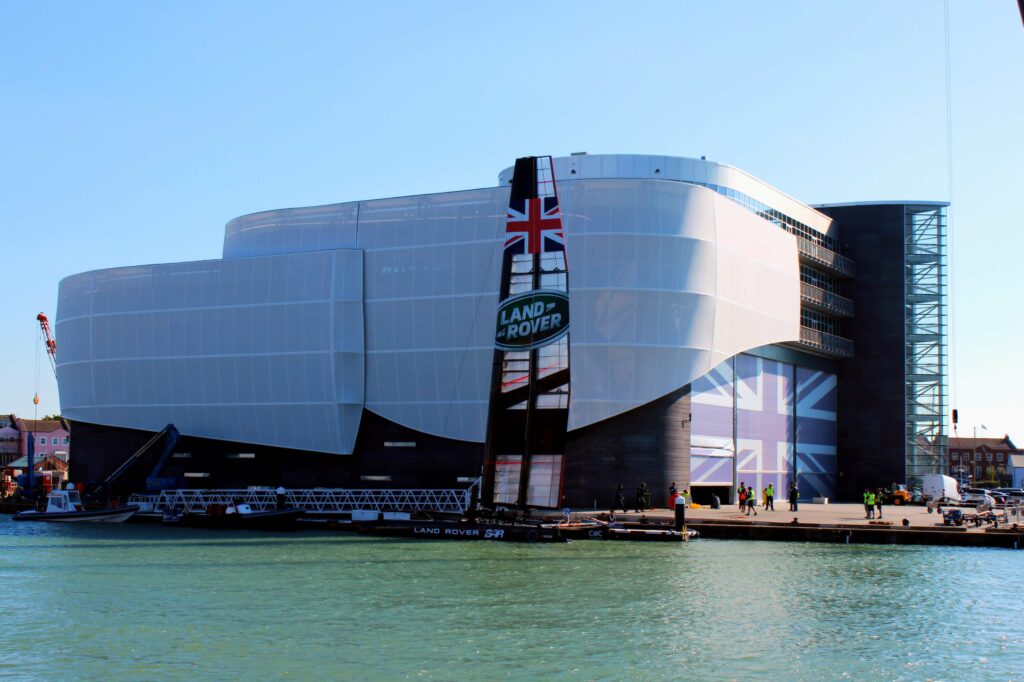 Solution
Ferrari Soltis 86 fabric mesh was specified for the external vertical cladding to allow a degree of transparency both sides, with the roof panels using a sold PVC Mehler 7211 fabric to allow for drainage. The ETFE triple layer system provided by Vector Foiltec, achieves a U value of 1.96 W/m2k with a light transmittance of 87%.
Result
"Home of Ben Ainslie Racing Built to BREEAM excellent standards, a purpose-built facility housing all of the team's activities from design to sailing, sports science to marketing – a showcase for sport, innovation, technology and sustainability in the heart of Portsmouth."
Vital Statistics
Supported by £6.5 million of government funding
6875 m2 footprint
2790 m2 Vertical Curved Fabric Cladding
625 m2 Fabric Roof Panels
500 m2 Fabric Keder Pockets
161 m2 ETFE Triple Layer ETFE cushion system
70 m2 Internal Fabric Retractable Blind