Client
Watershed Roofing Ltd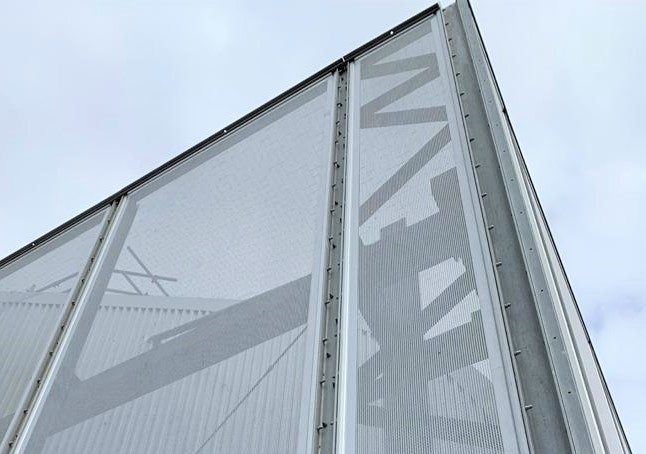 Fabric Mesh Façade Removal & Re-instatement
Having originally installed the fabric mesh façade to the Nova Leisure Centre in Prestatyn in 2015, we were asked to remove the 28 no. mesh screens and supporting aluminium extrusion temporarily to allow some much needed maintenance works to the existing building.
We then re-instated the mesh fabric screens once the refurbishment works had been completed.
The original installation was for ISG Construction and involved design, manufacture and install of the large fabric façade panels ranging in size up to 7m long, along with the associated fittings.
Similar Projects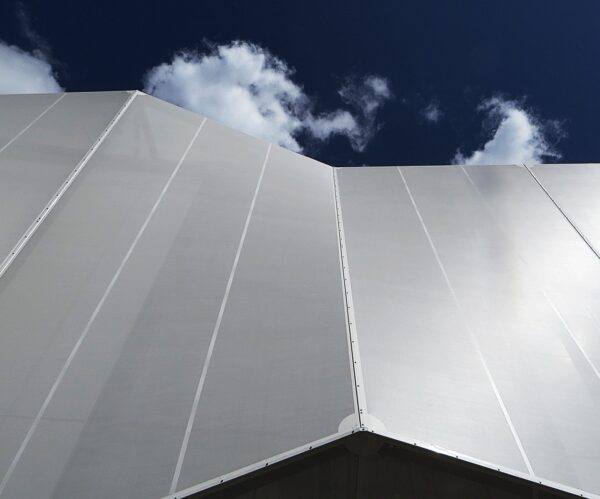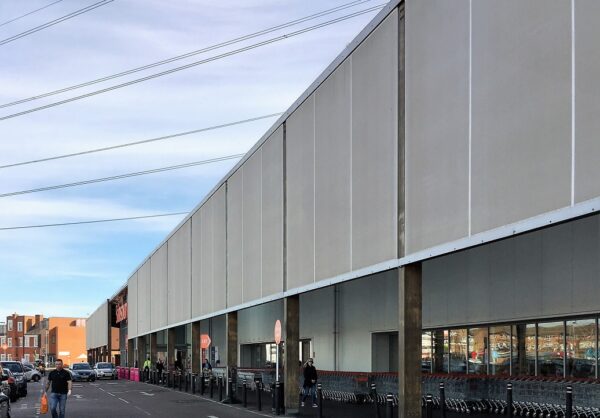 Sainsburys Crayford Refurbishment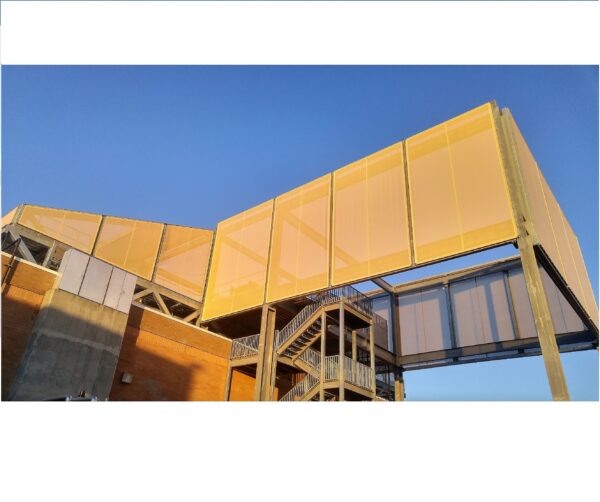 Client
The Wildfowl and Wetlands Trust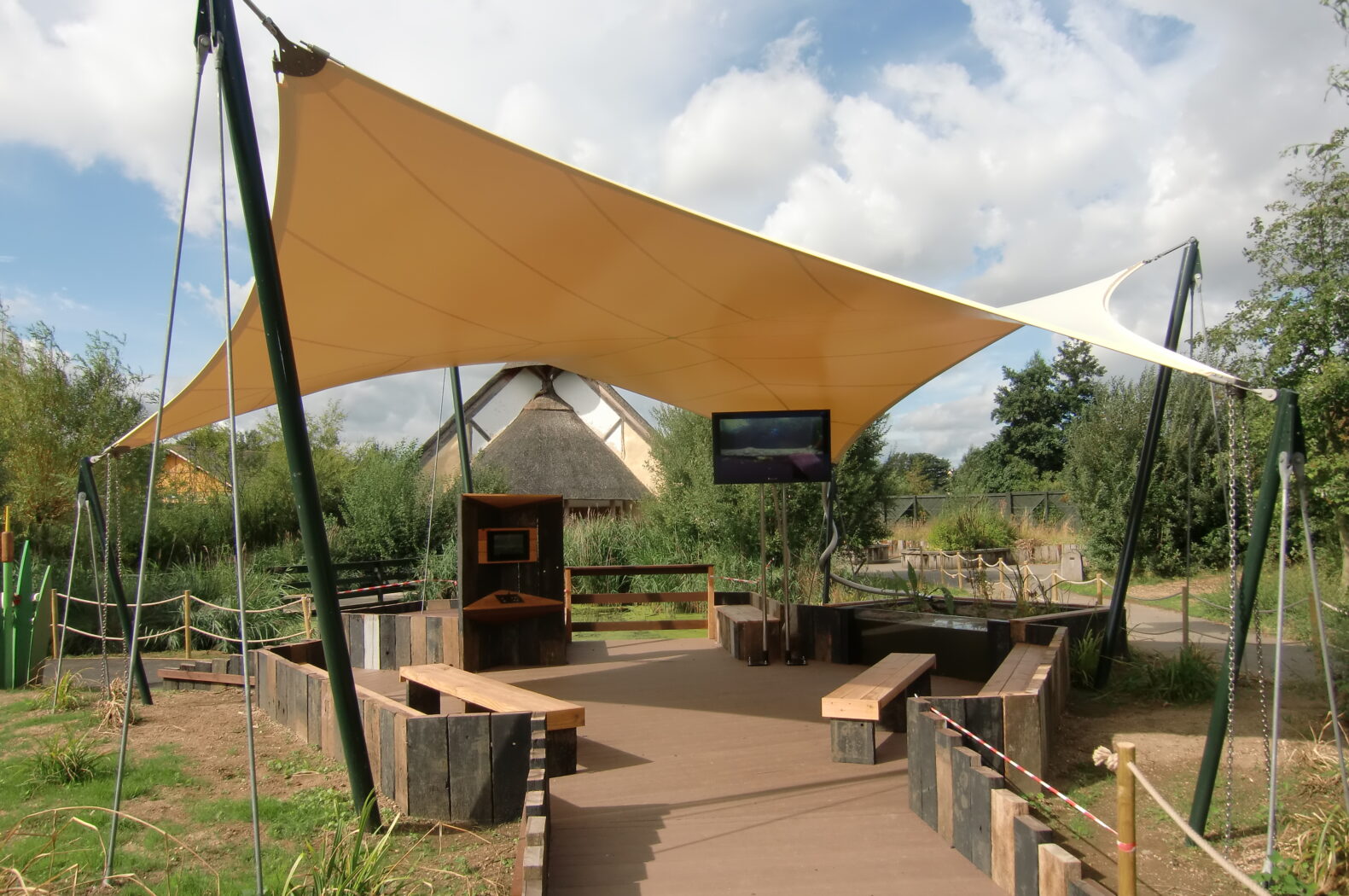 Digital Pond Dipping Facility Fabric Canopy
Located on the banks of the River Thames in Barnes, The London Wetland Centre brings the countryside into the Capital. Designated a Site of Special Scientific Interest in 2002, the wetlands are home to otters, peregrine falcons, bitterns and a multitude of other species – and all despite being under the main flight path for Heathrow Airport. In 2010 the WWT approached us to help create a brand new, high-tech 'Pond Zone'. Bringing pond dipping into the 21st century, this outdoor attraction features a manoeuvrable underwater webcam and wide screen displays.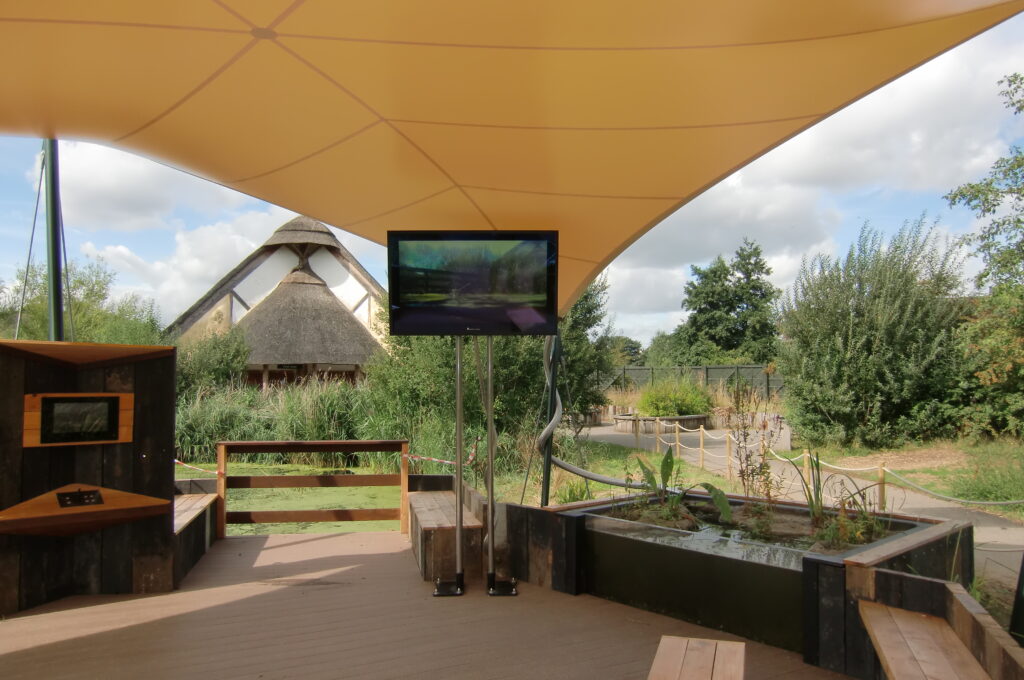 Our Solution
To ensure this educational facility can be used in all weathers, one of our standard tensile fabric canopies was specially adapted to provide an affordable solution. A Malvern 6P 1000 was fitted with stainless steel chains to attractively direct water to ground level, whilst a serpent hose on one corner channels rainwater into the pond itself.
Results
With green steelwork and cream PVC, this tensile fabric structure creates a natural yet stylish addition to the wildest corner of the Capital city.
Similar Projects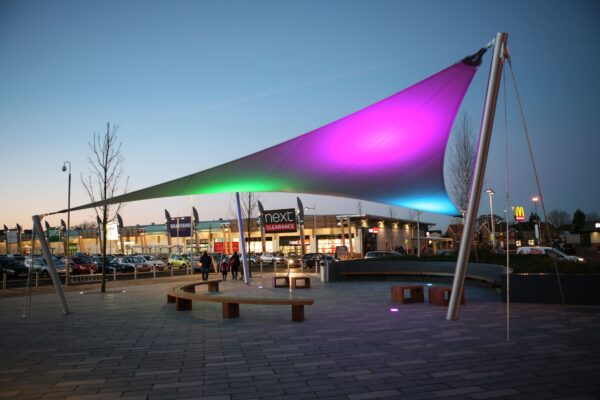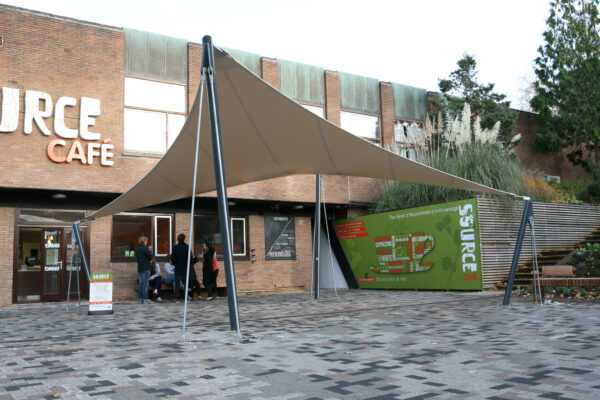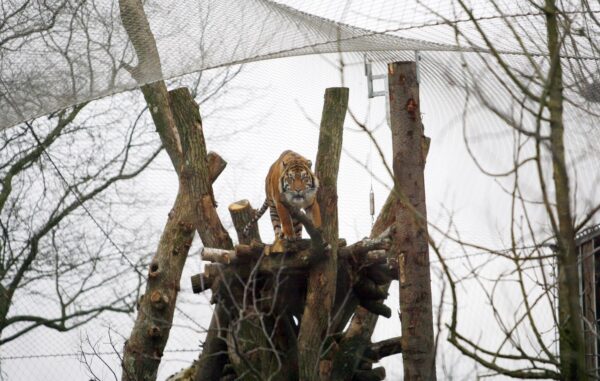 London Zoo Tiger Enclosure
Client
The Wildfowl and Wetlands Trust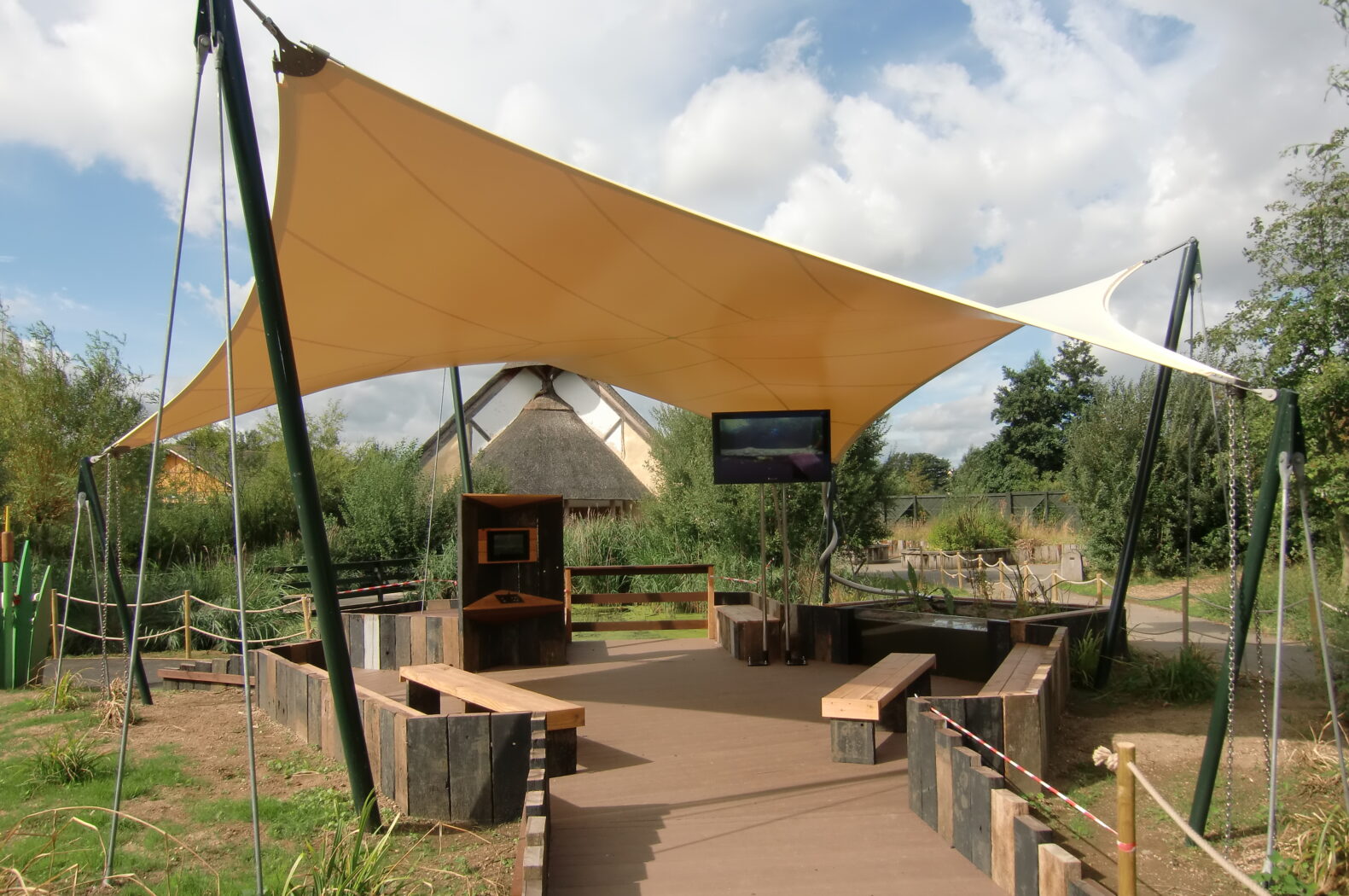 Terminal PTFE Roof
Passenger comfort is essential to the whole 21st Century travel experience and so it is that bus stations are coming of age. Gone are the diesel streaked, wind-swept naked expanses of concrete and tarmac inhabited only by pigeons, drunks and unfortunate late night travelers. Nowadays passenger embarkation terminals are state of the art architectural landmarks that have more in common with the best hotels than ghost towns, and now Wolverhampton Bus Station is no different after commissioning a PTFE roof for it's terminal.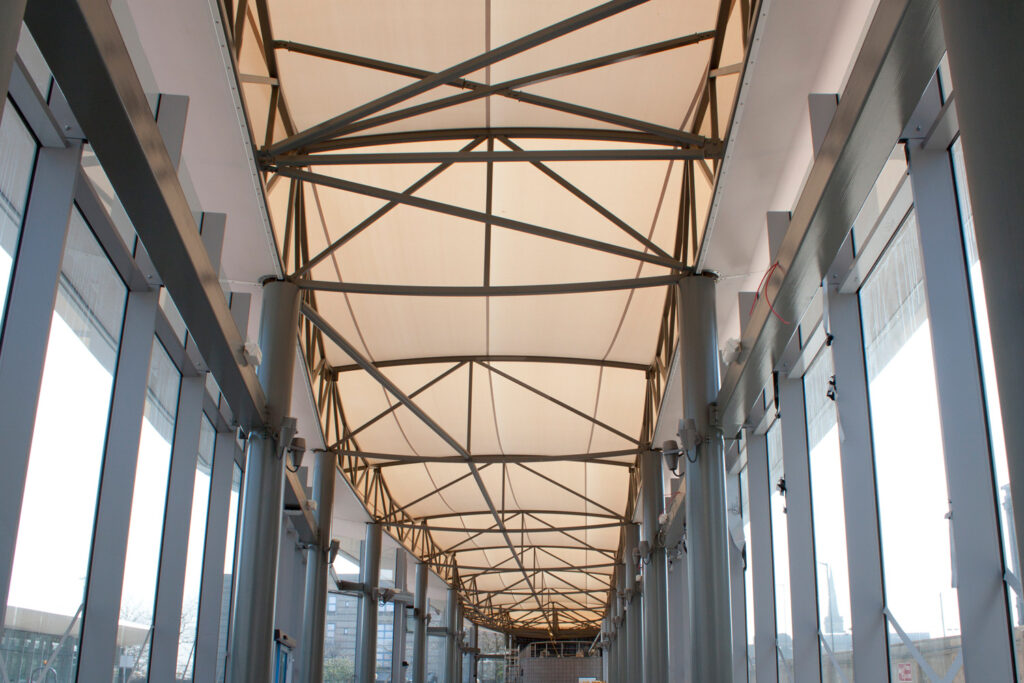 Our Solution
Wolverhampton is the latest city to have invested in passenger welfare by constructing three steel and glass boulevards, sealed against the elements with 6000m2 of architectural fabric that has been especially profiled to minimise the roofs intrusion onto the cityscape beyond.
Results
The daytime translucency of the fabric and night time feature lighting ensure the friendly ambience is maintained 24 hours a day.
Similar Projects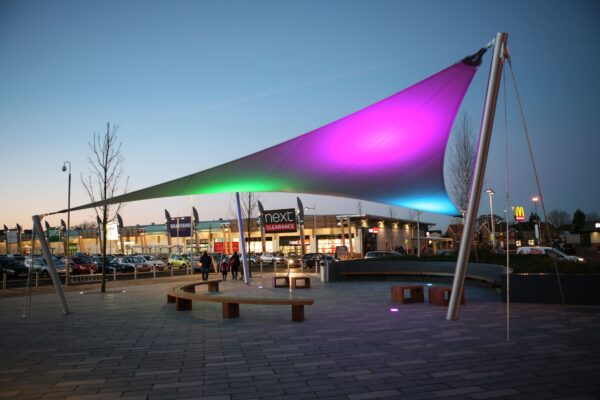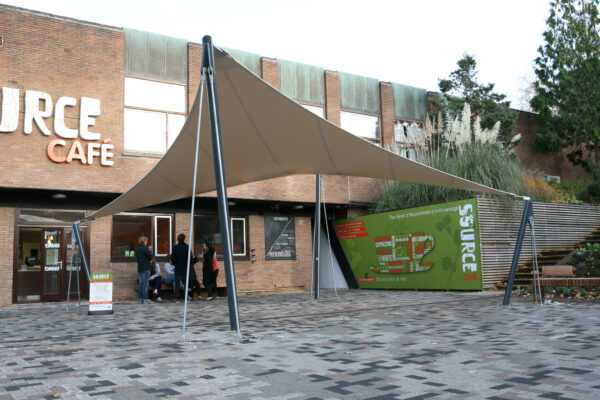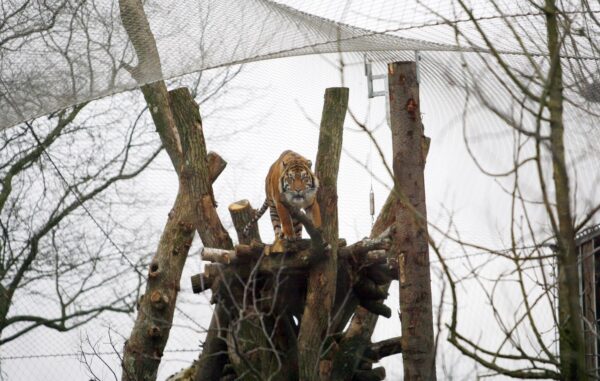 London Zoo Tiger Enclosure
Client
The Wildfowl and Wetlands Trust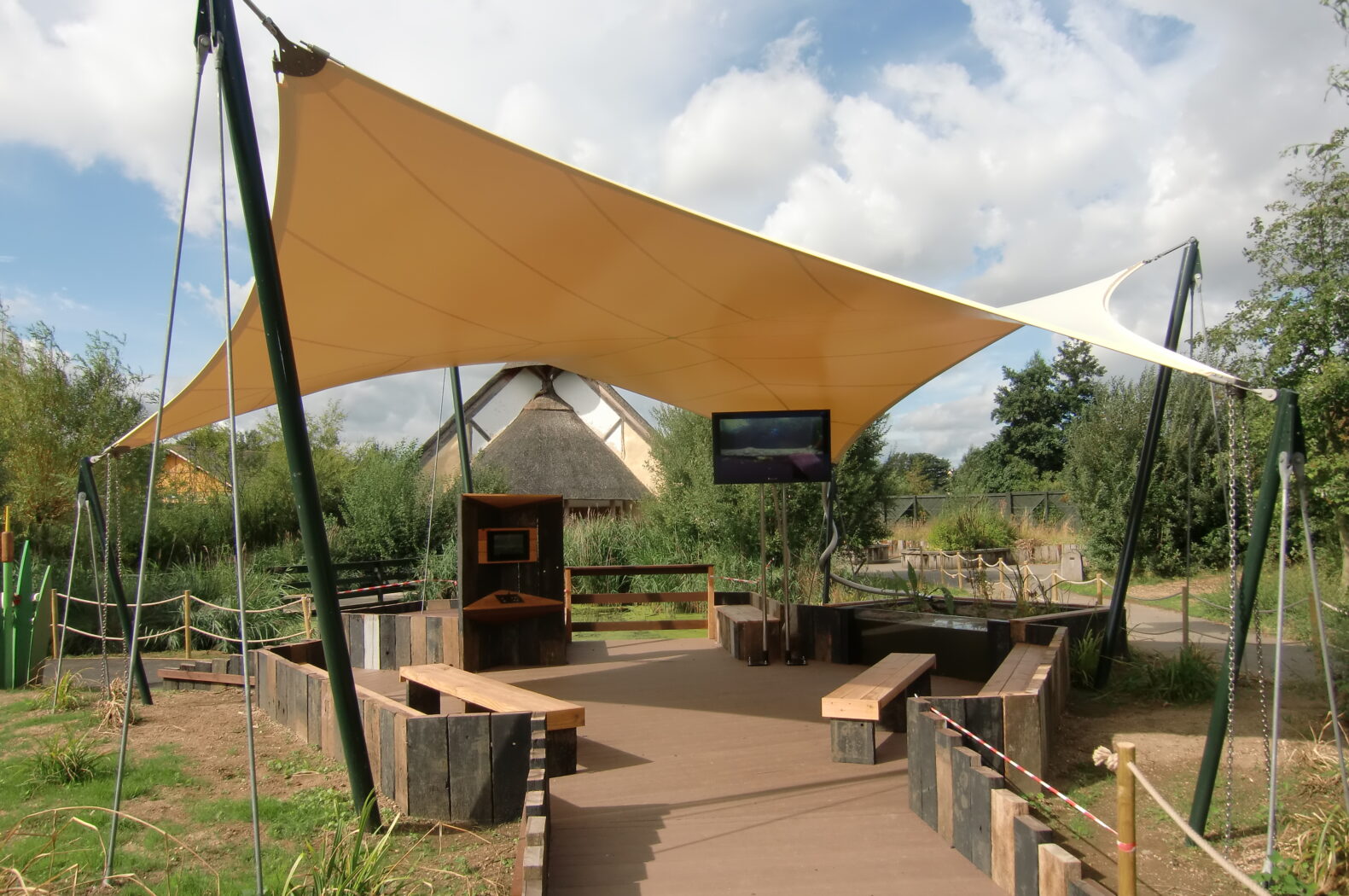 Silicon Glass Cloth Fabric Canopy
This silicon glass cloth canopy structure formed part of the final stage of construction of the now famous White City Shopping Complex in West London. The scope of works covered design, manufacture and installation of the steelwork, fabric, gutter and nosing.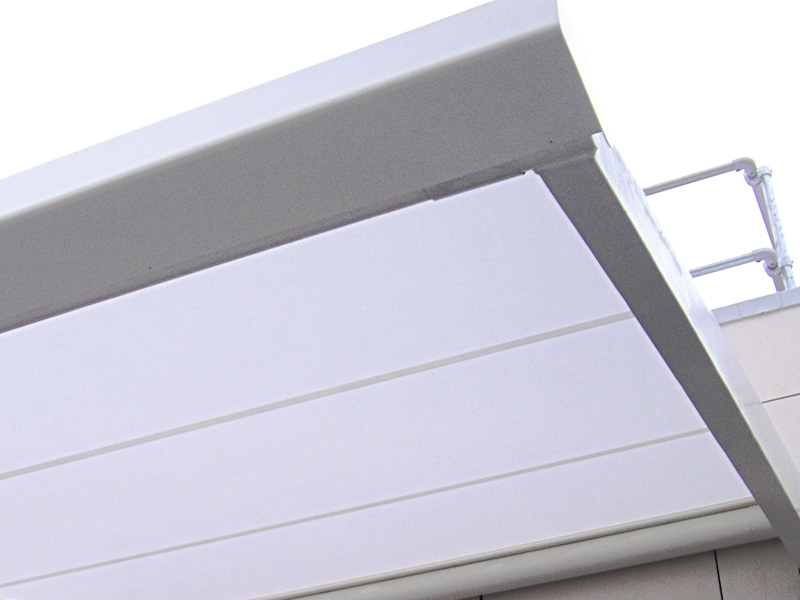 The client had a requirement for a high level of translucency, previous similar structures in the complex had used a PTFE based cloth which is expensive, particularly when ordered in small quantities. In order to overcome this Base structures sourced a high translucency silicon glass cloth, Atex 3000®, fabricated using special heat welding techniques, and this provided the client with a cost effective solution. At the front of the structure the water capture and collection system is artfully concealed behind a powder coated aluminium nosing, giving the installation a clean finish.
Similar Projects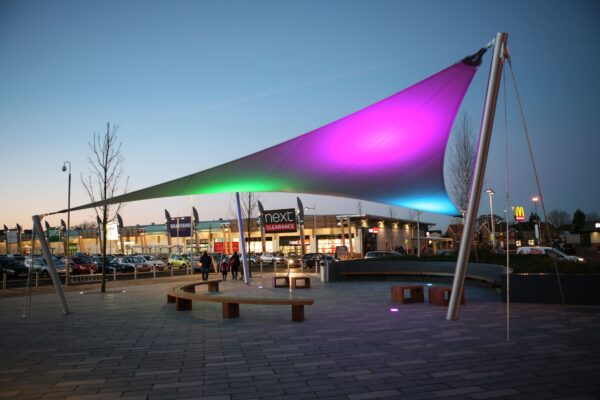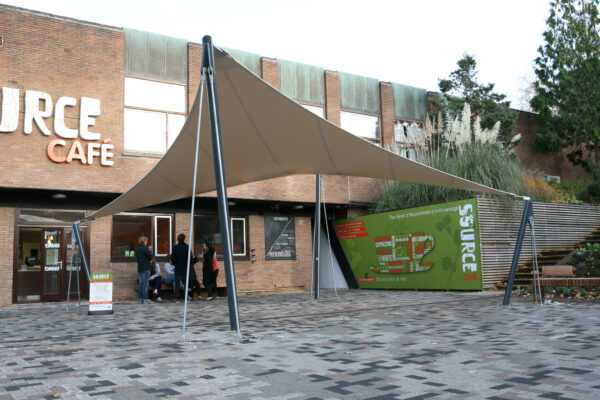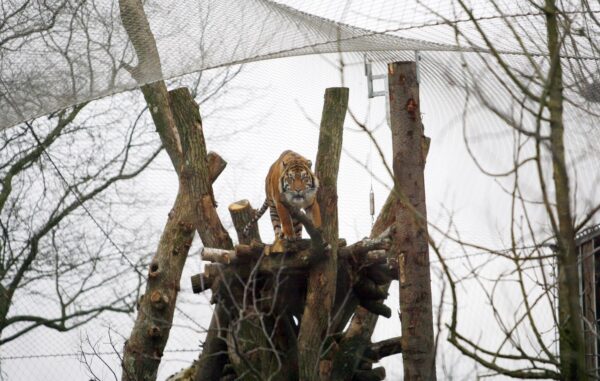 London Zoo Tiger Enclosure
Client
The Wildfowl and Wetlands Trust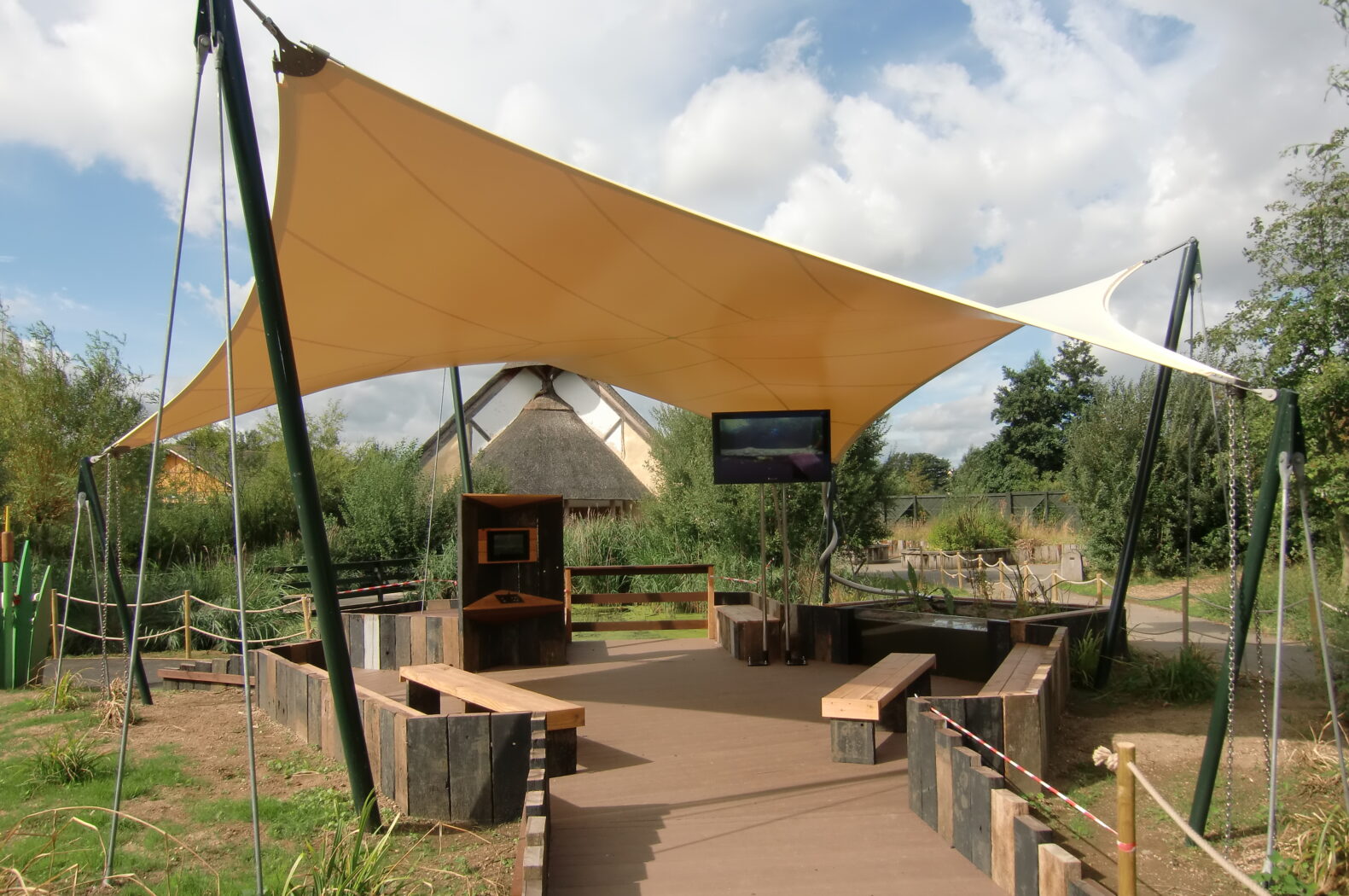 Fabric Walkway Canopy
An attractive tensile fabric covered walkway designed as part of the redevelopment works at Westgate shopping centre in Oxford.
The canopy shelters a connecting link walkway within the complex and gives ambient soft diffused lighting to the area. Our scope of works included design, supply and erection of steel frame, connection details and tensile fabric canopy.
Similar Projects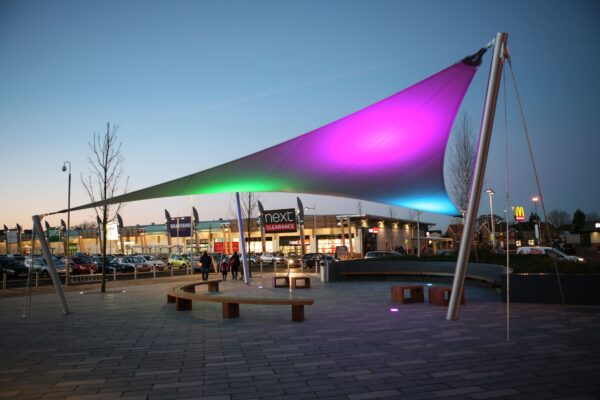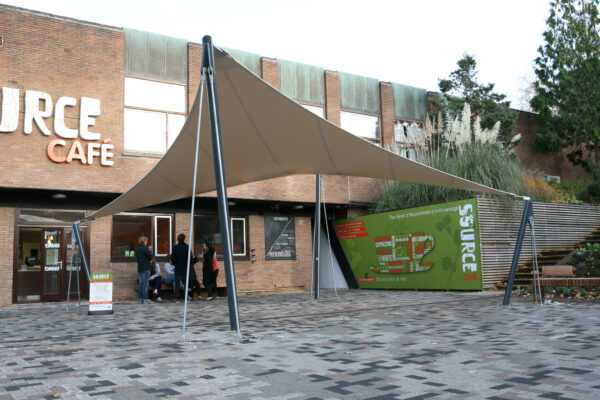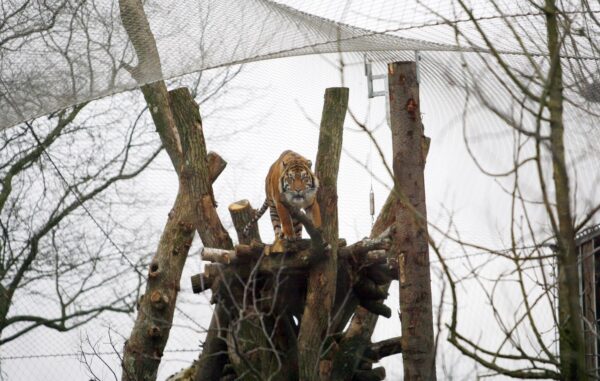 London Zoo Tiger Enclosure
Client
The Wildfowl and Wetlands Trust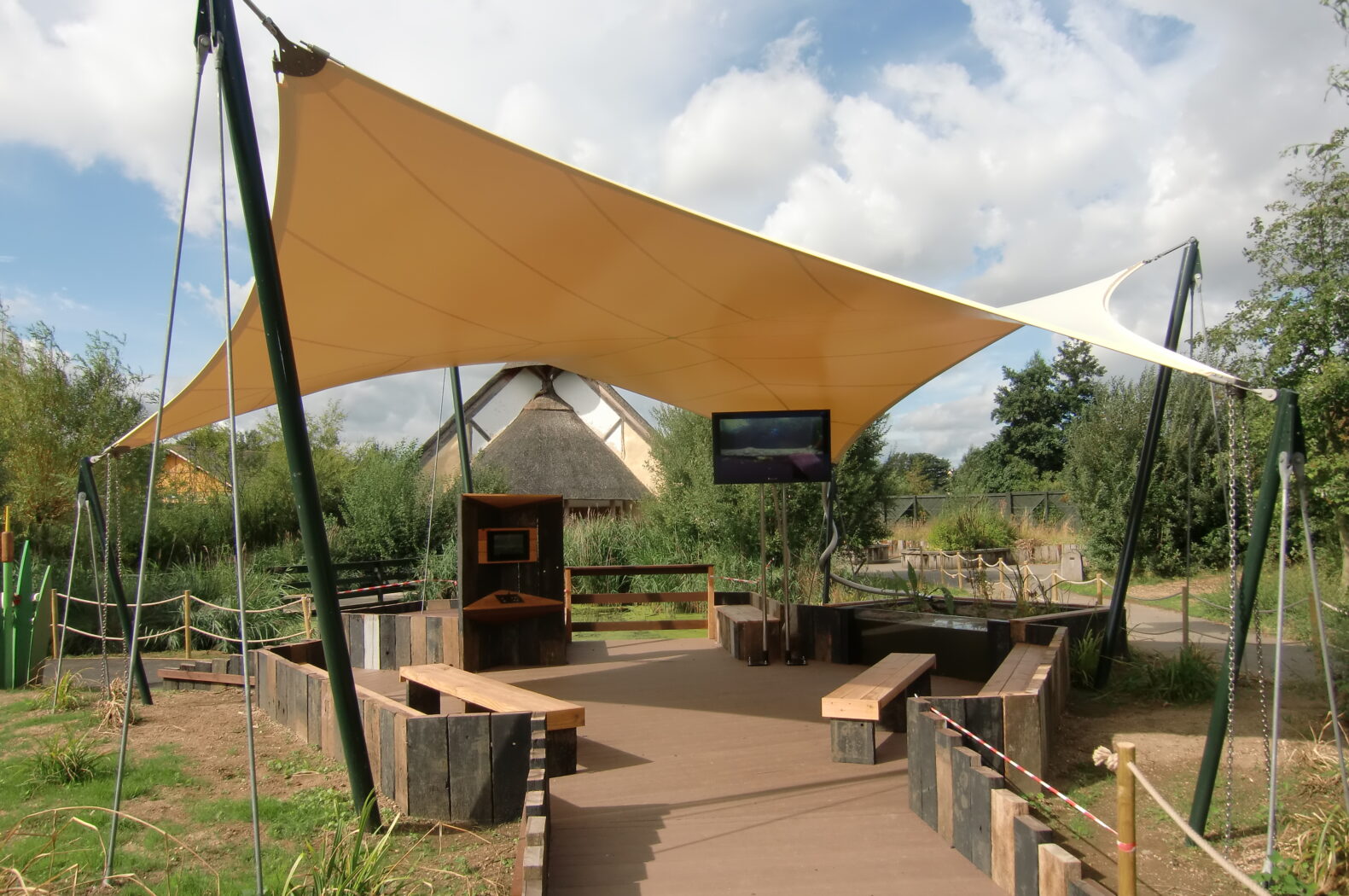 Covered Fabric Walkway Canopy
West Drayton Primary School needed a tensile fabric solution for their playground to provide a sheltered play area for the children and a walkway adjacent to the building.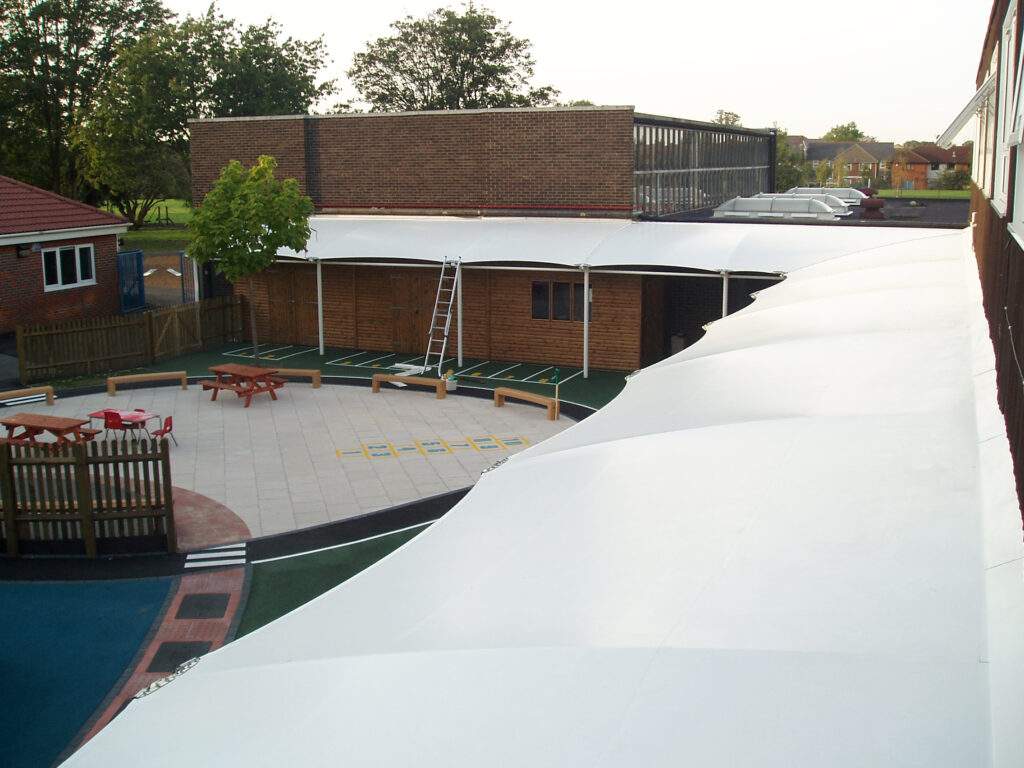 Our Solution
This project consists of a 40 meter long PVC fabric covered architectural walkway structure installed in the school's playground. Our scope of works included the design, manufacture and installation of the PVC fabric canopy, steelwork and associated fittings. As part of our standard pre-designed range, this walkway canopy is both budget friendly and stylish.
Results
The fabric canopy benefits both the pupils and the building providing a sheltered walkway as well as a shaded outdoor play area.
Similar Projects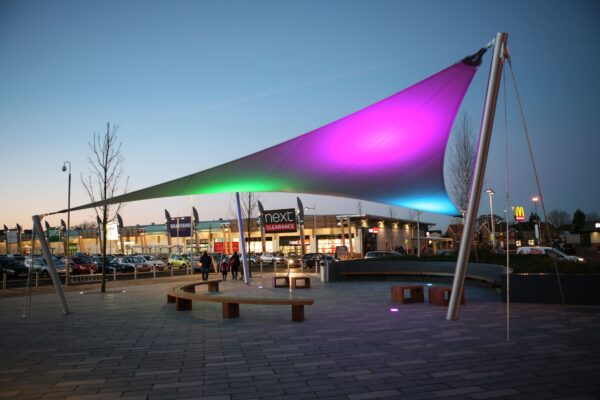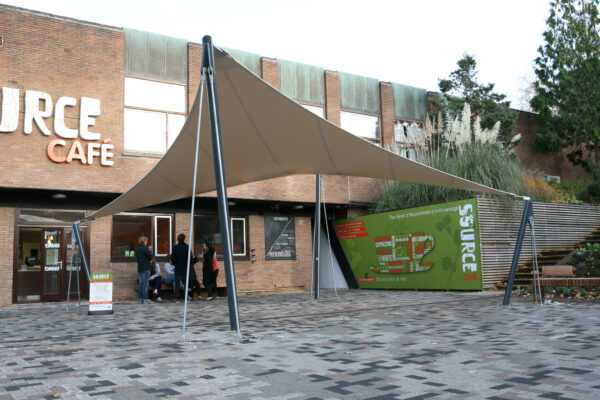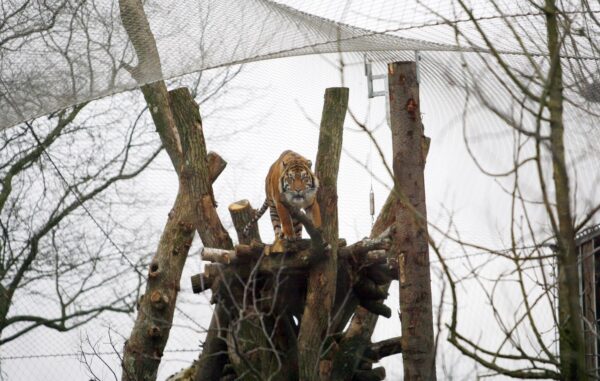 London Zoo Tiger Enclosure
Client
The Wildfowl and Wetlands Trust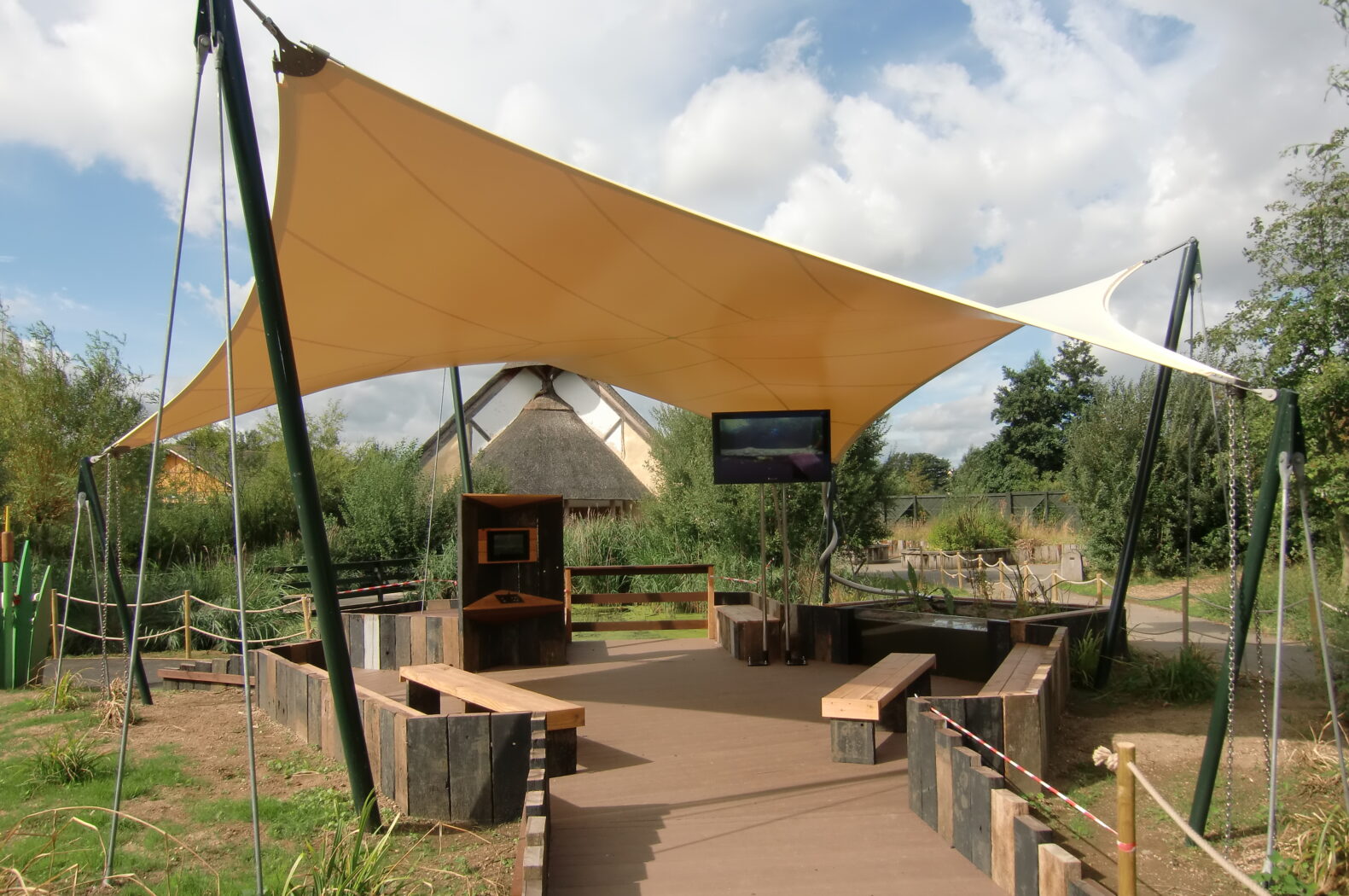 Large Temporary Building Fabric Roof Structure
The project brief was to supply a tensile roof structure and fabric walling which could incorporate doors and see through panels to form this large temporary building in Miami, Florida.
Using fabric for the roof and walls provided diffused lighting and a soft ambience to create the desired environment in which the client could hold a Victoria's Secret fashion show. The fabric panels proved to be a great architectural solution, catering for all the client's needs in a short time frame.
Similar Projects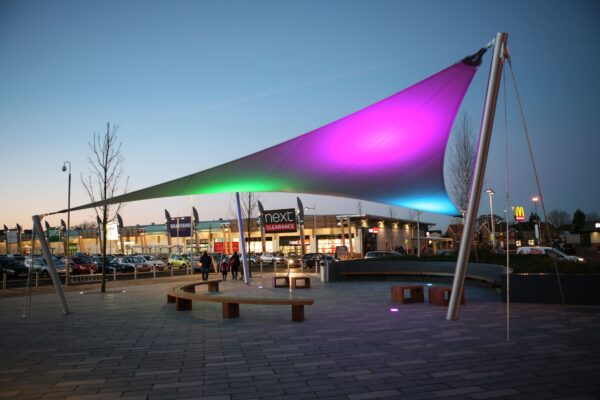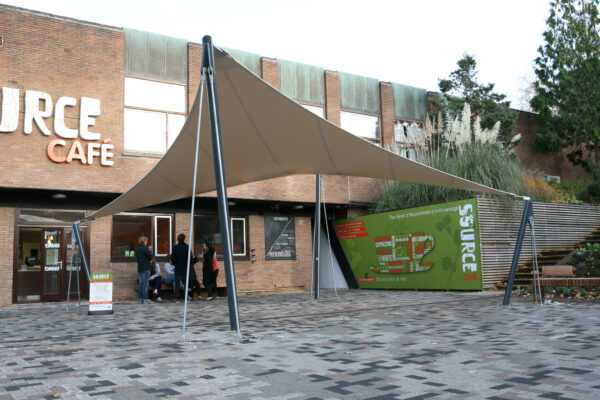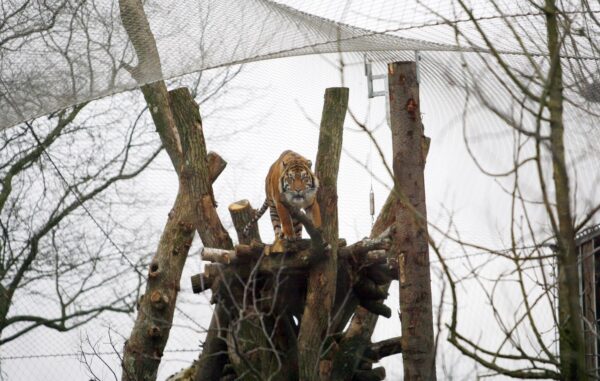 London Zoo Tiger Enclosure
Client
The Wildfowl and Wetlands Trust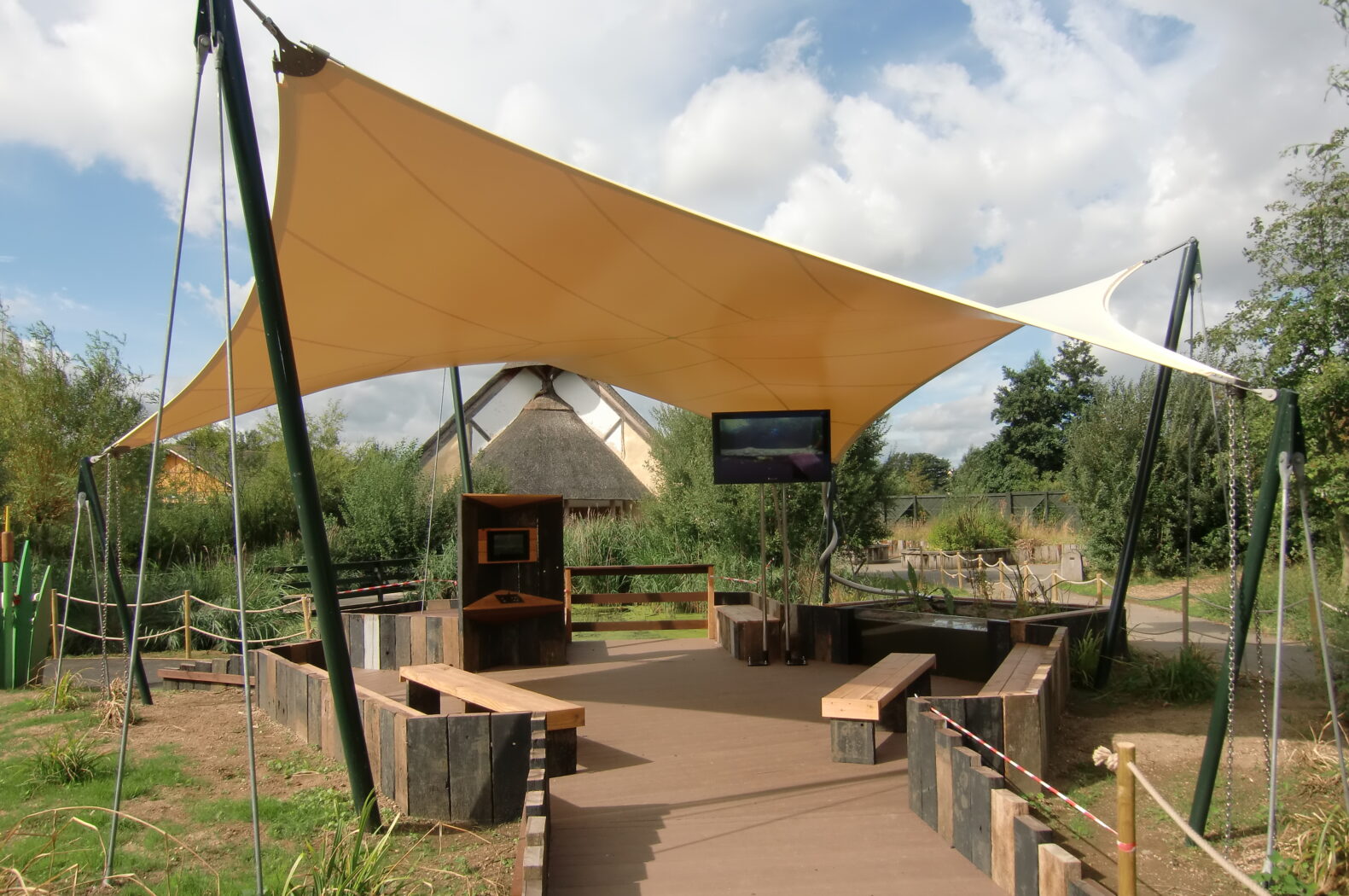 Interconnected Hypar Fabric Canopies
Formerly used as a School of Architecture, the Portland Building was designed by Sir Colin Stansfield-Smith in the 1990's. In 2014 the building required complete remodelling and refurbishment by University of Portsmouth to accommodate new schools for Business, Civil Engineering and Information Services, with Studio Four architects acting as lead consultants on the new scheme.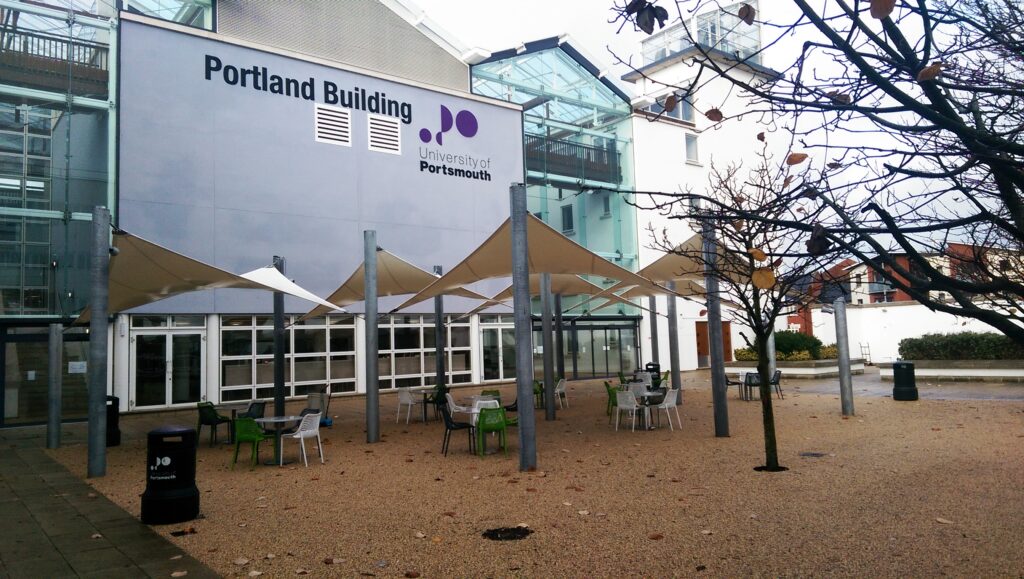 Our Solution
A key success of the redevelopment included bringing an external, under-utilised courtyard into use with resurfacing and new tensile fabric canopy shelters. One of our pre-designed fabric canopies Playsail-4P-500 was used to create a series of six simple hypar fabric canopies manufactured from Type 2 PVC fabric and measuring 4.7m x 4.7m in plan were tensioned to shared posts. The substantial posts rising from the ground are made from galvanised mild steel, linking the individual fabric elements into a much larger modular structure.
Results
The structure as a whole is reminiscent of ship masts and sails – and it not only provides shelter to extend the usable external space but also helps to create a new identity for the Portland building. We hope this architectural flourish is one that Sir Colin Stansfield Smith would have approved of!
Similar Projects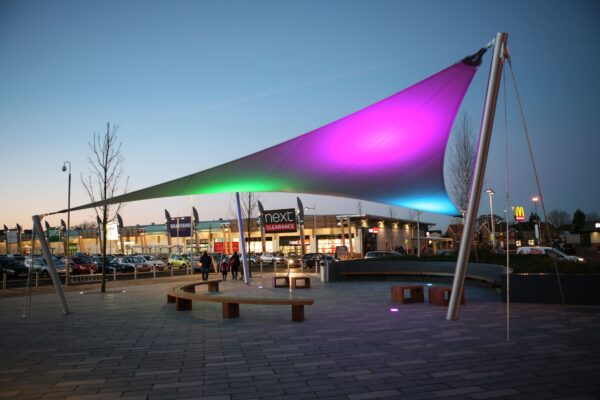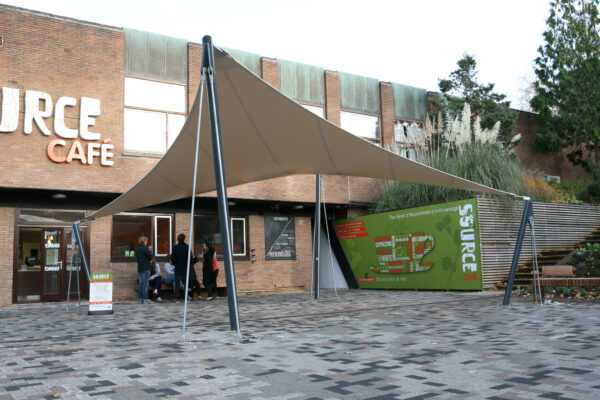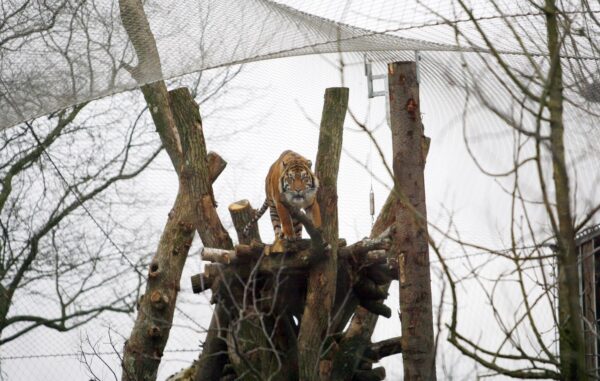 London Zoo Tiger Enclosure
Client
The Wildfowl and Wetlands Trust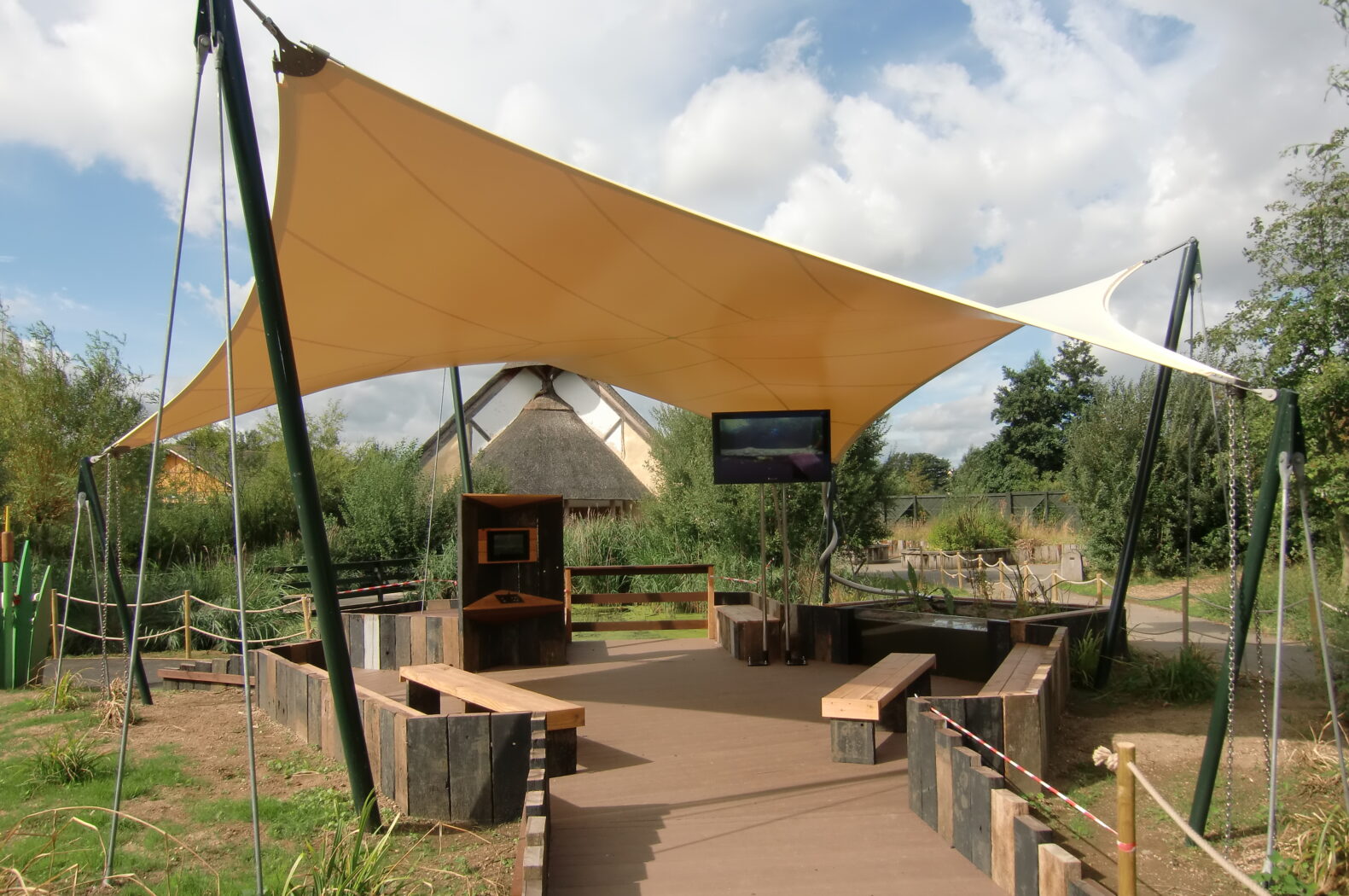 ETFE In-fill Panel for Architectural Glass Roof
Trinity Leeds Shopping Centre opened in March 2013, welcoming over 130,000 shoppers on it's first day. Named after the adjacent 18th century Holy Trinity Church and housing 93,000m2 of retail floor space, this modern day cathedral celebrates the altogether different God of Shopping.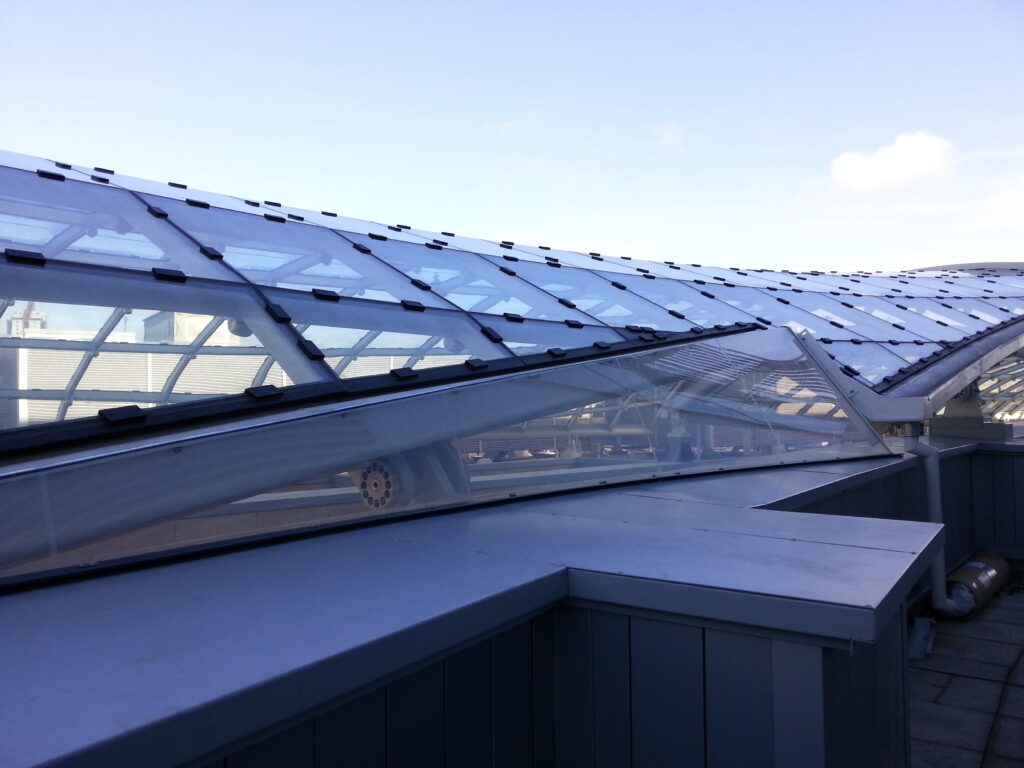 Our Solution
The centre-piece of the shopping centre is a 3,716m2 glass dome designed by SKM Anthony Hunt, containing 1,902 glass panels that arch 30.5m over street level. Base were approached by contractor Laing O'Rourke to help solve a small yet significant problem with the dome, to subtly fill a space between the shopping centre parapet and the glazed roof. By using ten shaped ETFE segments welded together to create a single twisting panel measuring over 12m long, a virtually invisible barrier now prevents the ingress of the elements without compromising the sleek, glazed aesthetic – all at a fraction of the cost of using bespoke glass.
Results
We may be no Michelangelo but we are nonetheless proud of our finishing touch to this dramatic dome.
Similar Projects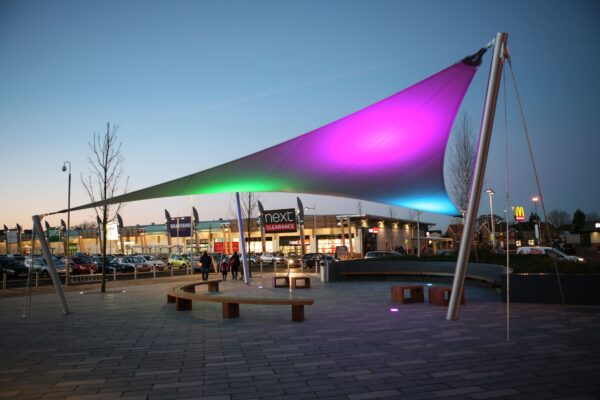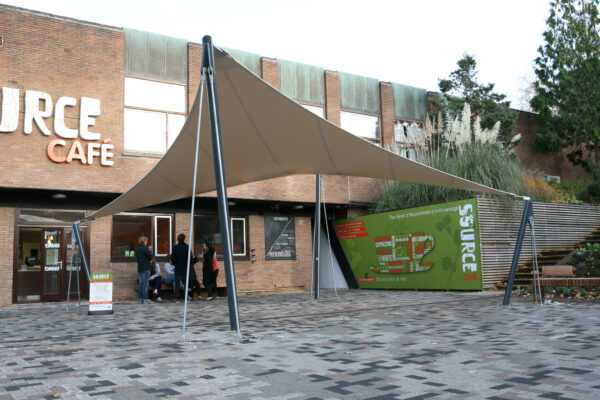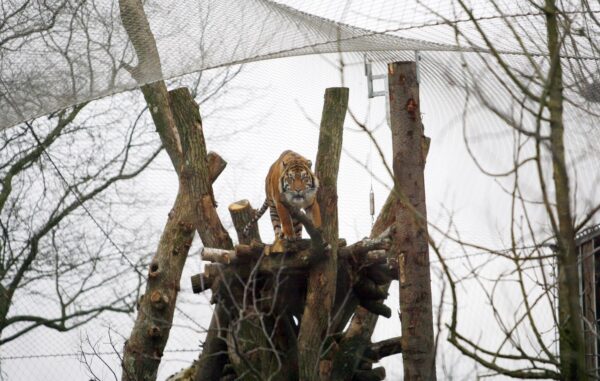 London Zoo Tiger Enclosure
Client
The Wildfowl and Wetlands Trust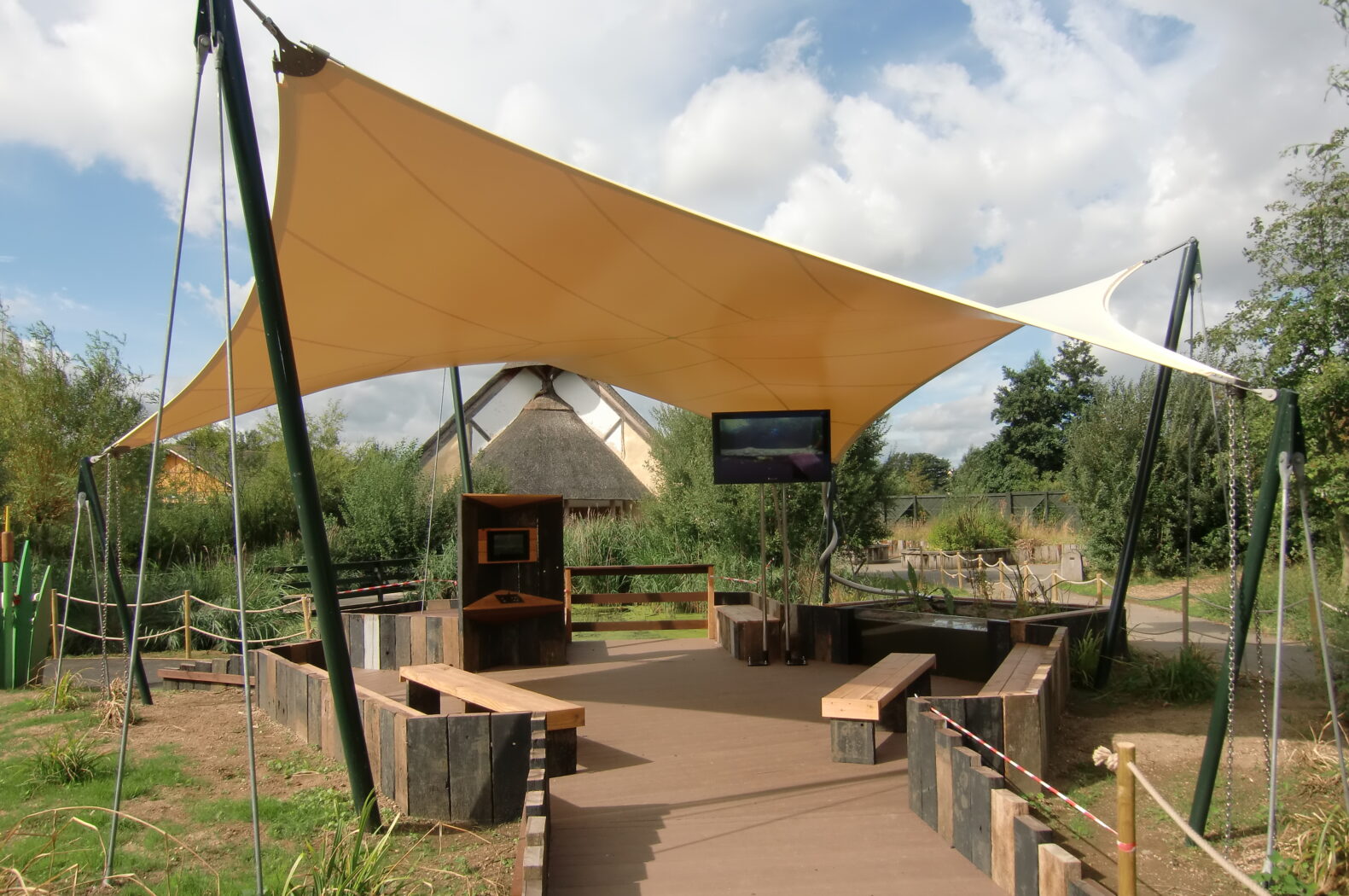 Single Cone Fabric Canopy Structure
As South Bristol's iconic theatre space, The Tobacco Factory has a creative and collaborative buzz about it with regular live music and a cafe bar as well as top class theatre productions. For the commercial outdoor bar, a tensile fabric structure was needed to provide weather protection for the area.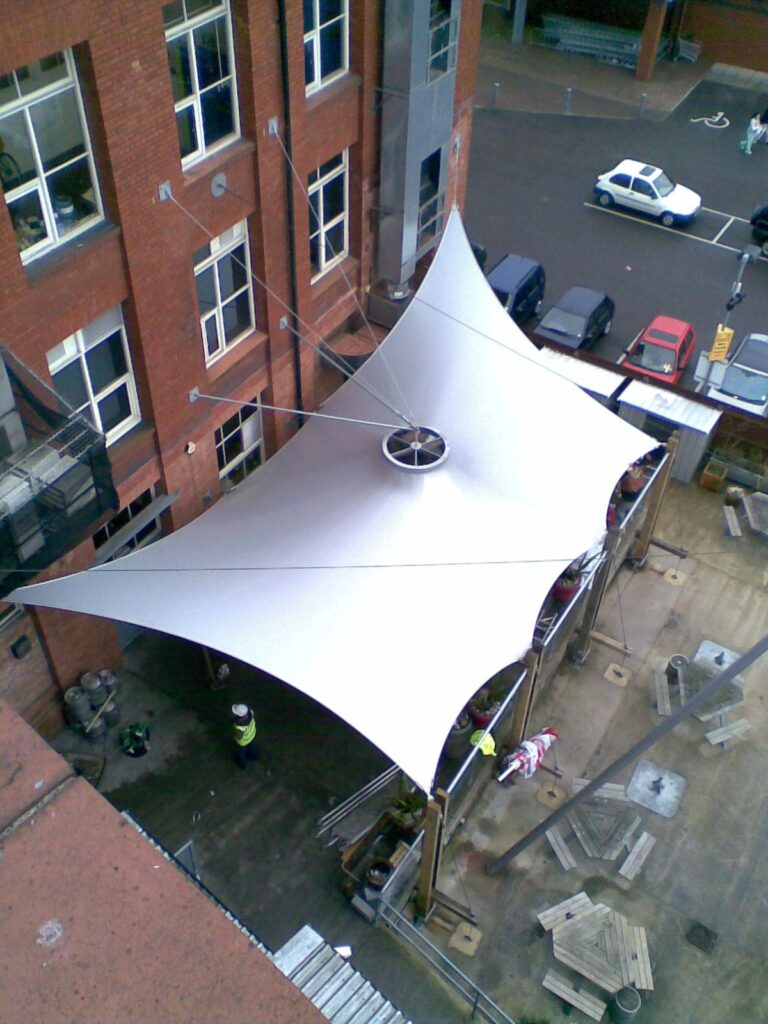 Our Solution & Results
A silver PVC single cone tensile structure was fabricated and installed to a tight programme and has provided a stylish covered outdoor area for functions and entertainment.
Similar Projects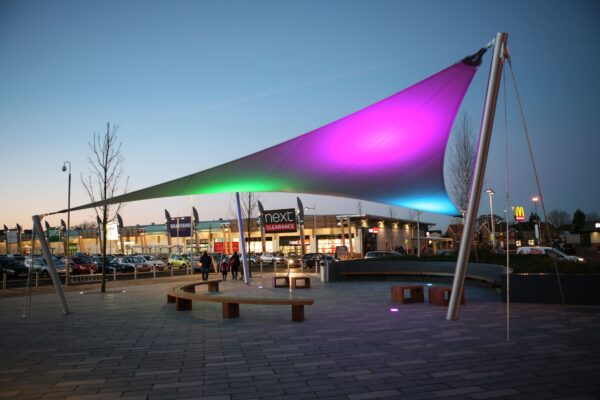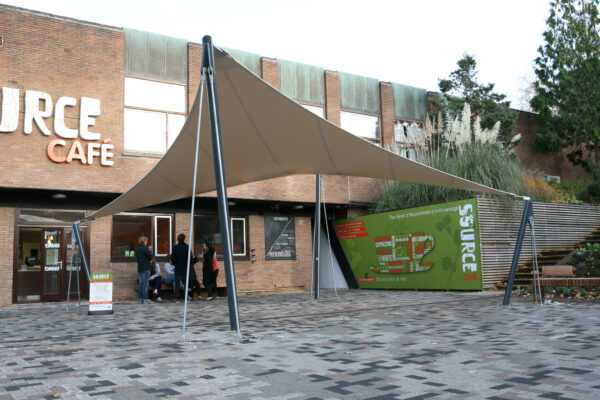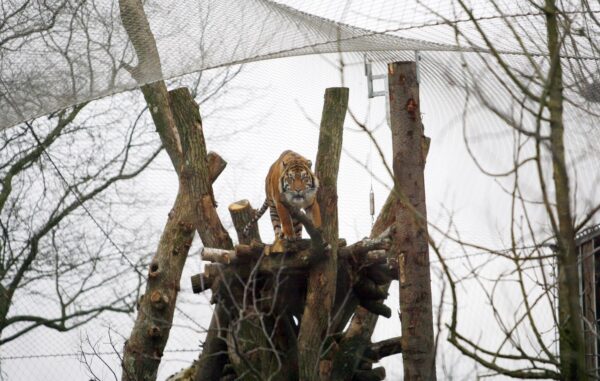 London Zoo Tiger Enclosure