Client
Winvic Construction Ltd
Fabric
Mehler TF400 Silver, PES with PVDF Coating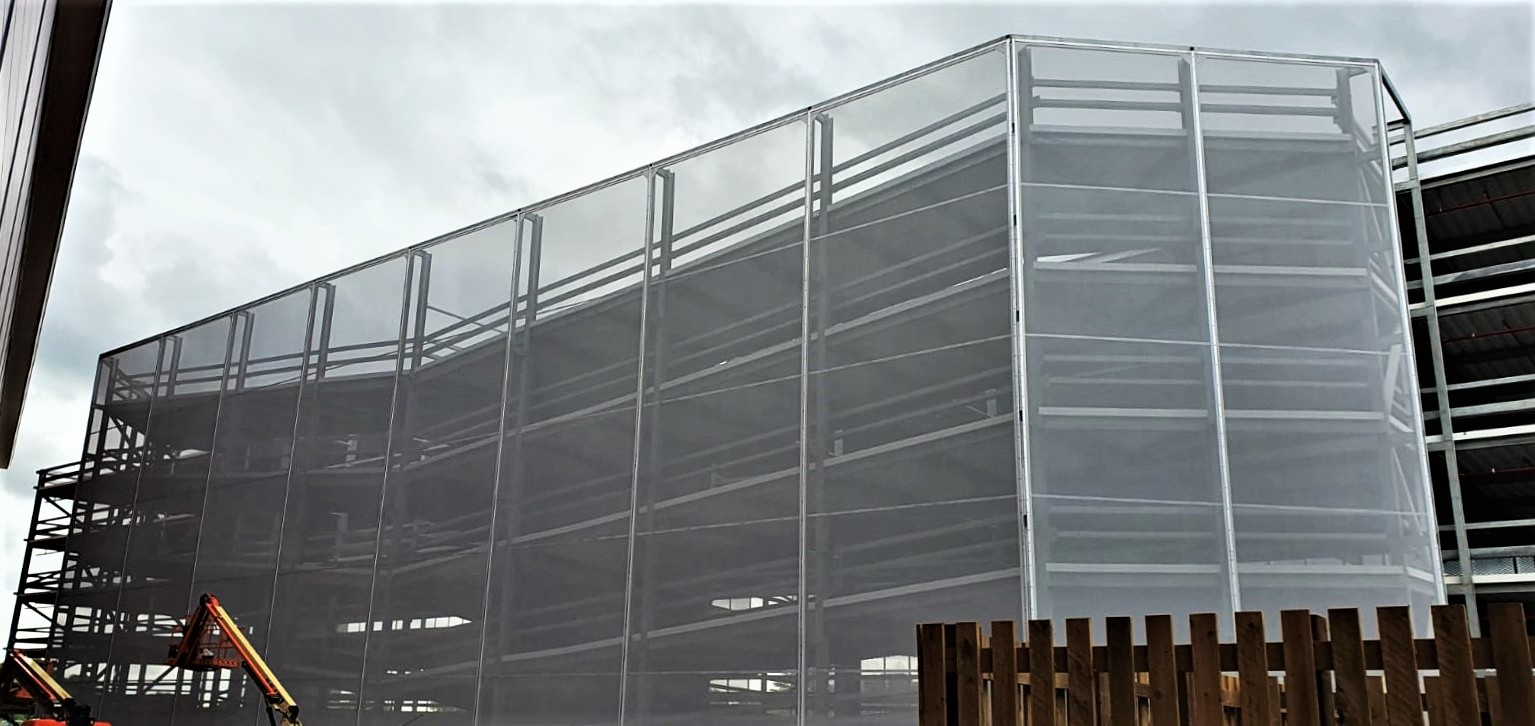 Multi Storey Car Park Mesh Cladding
As part of the ICON development to expand the logistics park at Manchester Airport to make it one of the largest in Europe, we were approached by Winvic Construction to develop a mesh cladding scheme for the five storey car park being built to supplement the new warehouse and offices of Plot 1.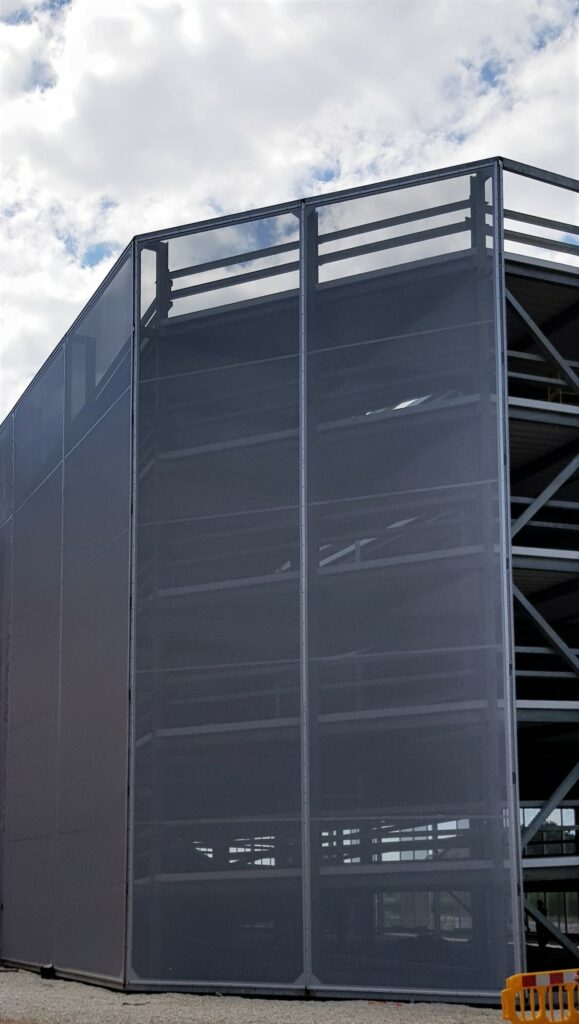 Our Solution
Our solution involved a fabric mesh cladding system comprising of 14no. panels with its supporting aluminium extrusion interface that would fit to the steel frame of the multi storey car park.
The Results
The 960m² fabric mesh cladding offers greater protection from the elements and busy urban environment, extending the lifespan of the building as well as providing additional weather protection for the carpark users.
Similar Projects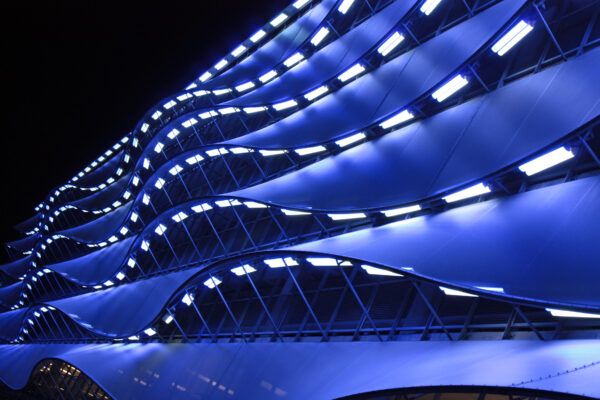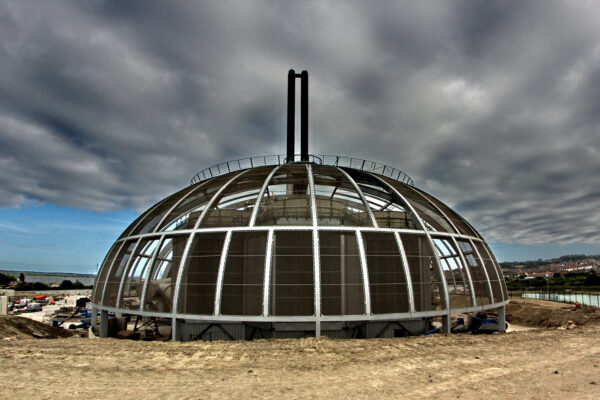 Newhaven Energy Recovery Facility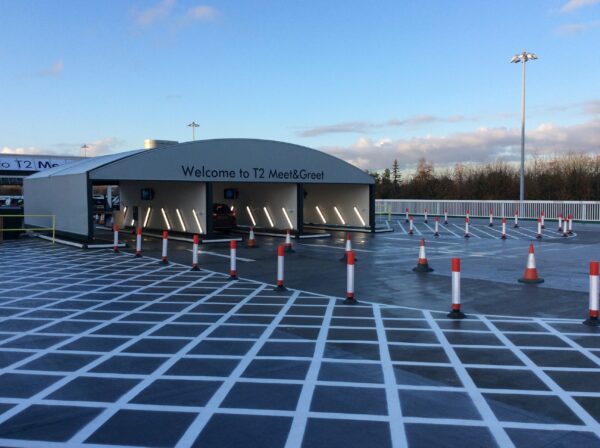 Manchester Airport – Valet Parking Canopy
Related Articles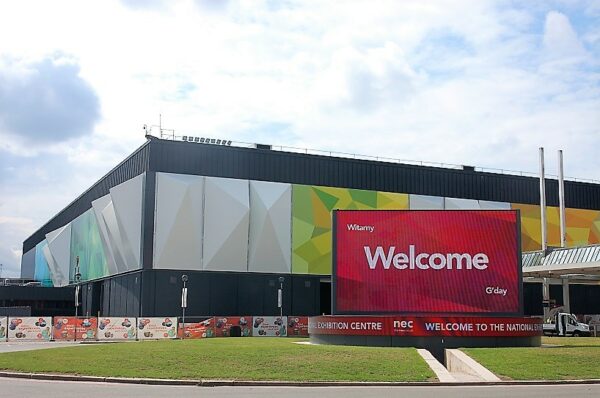 Base Structures gives the NEC a spectacular new look
As part of an exciting £4.5 million transformation of Birmingham's NEC, Base Structures has installed a stunning fabric façade to the exterior of Halls 1…
Client
Winvic Construction Ltd
Fabric
Mehler TF400 Silver, PES with PVDF Coating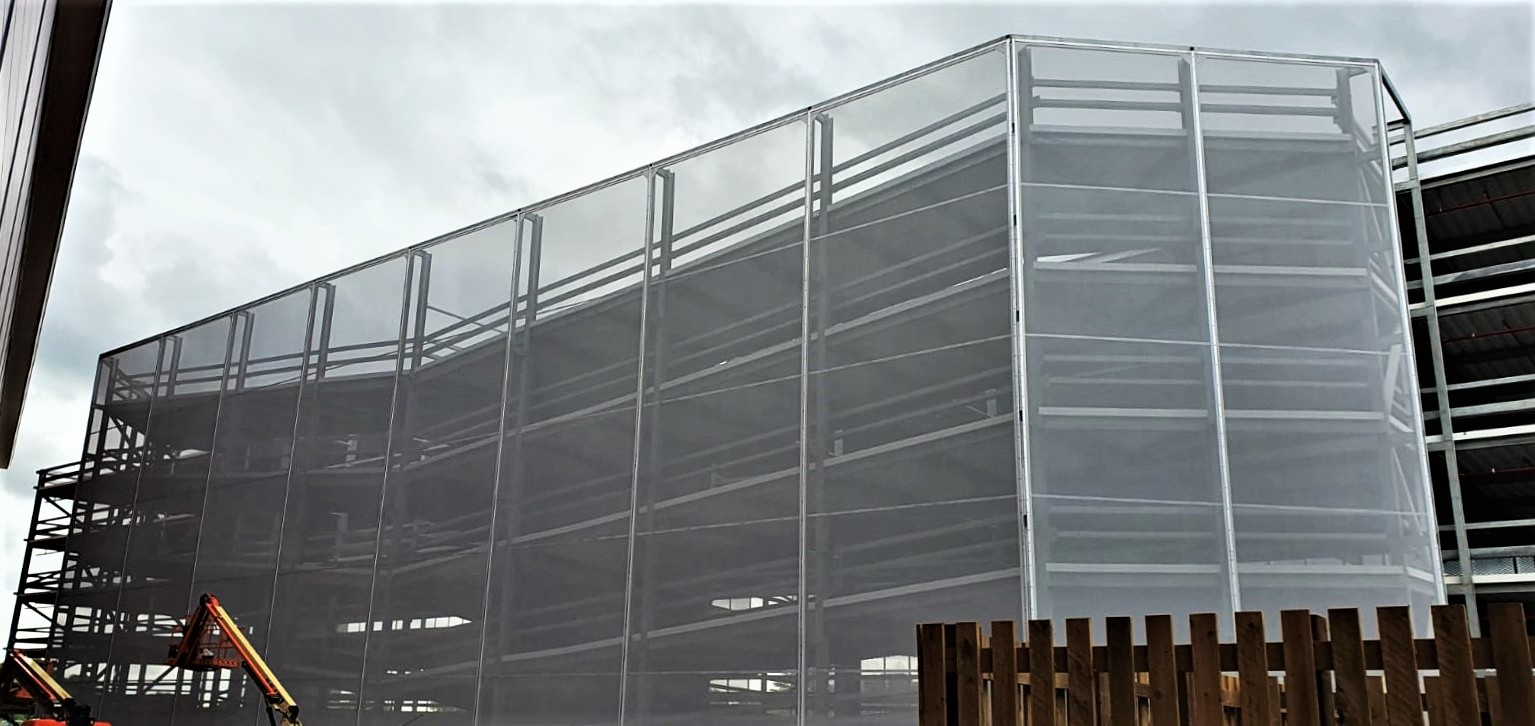 Fabric Mesh Façade Removal & Re-instatement
Having originally installed the fabric mesh façade to the Nova Leisure Centre in Prestatyn in 2015, we were asked to remove the 28 no. mesh screens and supporting aluminium extrusion temporarily to allow some much needed maintenance works to the existing building.
We then re-instated the mesh fabric screens once the refurbishment works had been completed.
The original installation was for ISG Construction and involved design, manufacture and install of the large fabric façade panels ranging in size up to 7m long, along with the associated fittings.
Similar Projects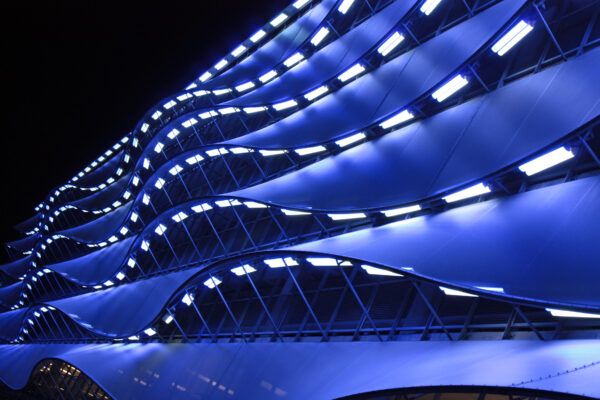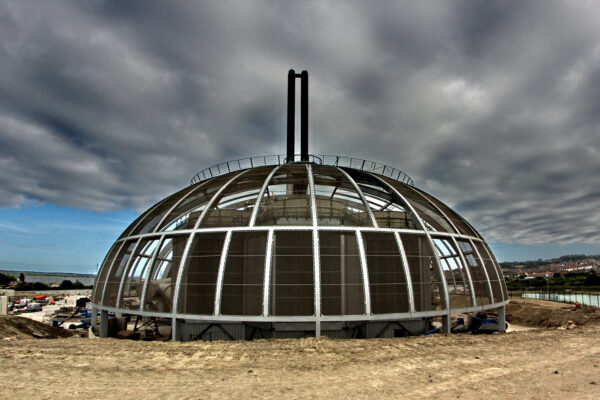 Newhaven Energy Recovery Facility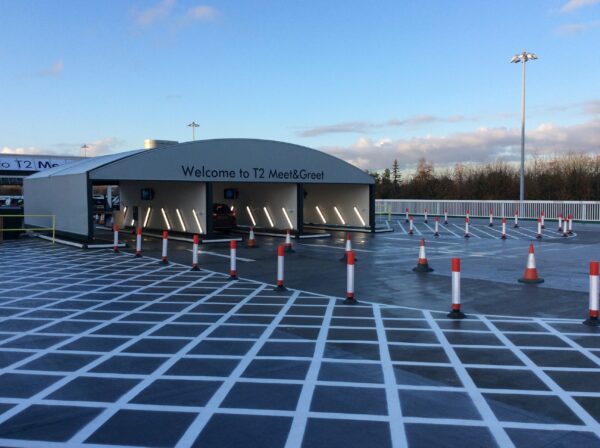 Manchester Airport – Valet Parking Canopy
Architect
Saville Jones Architects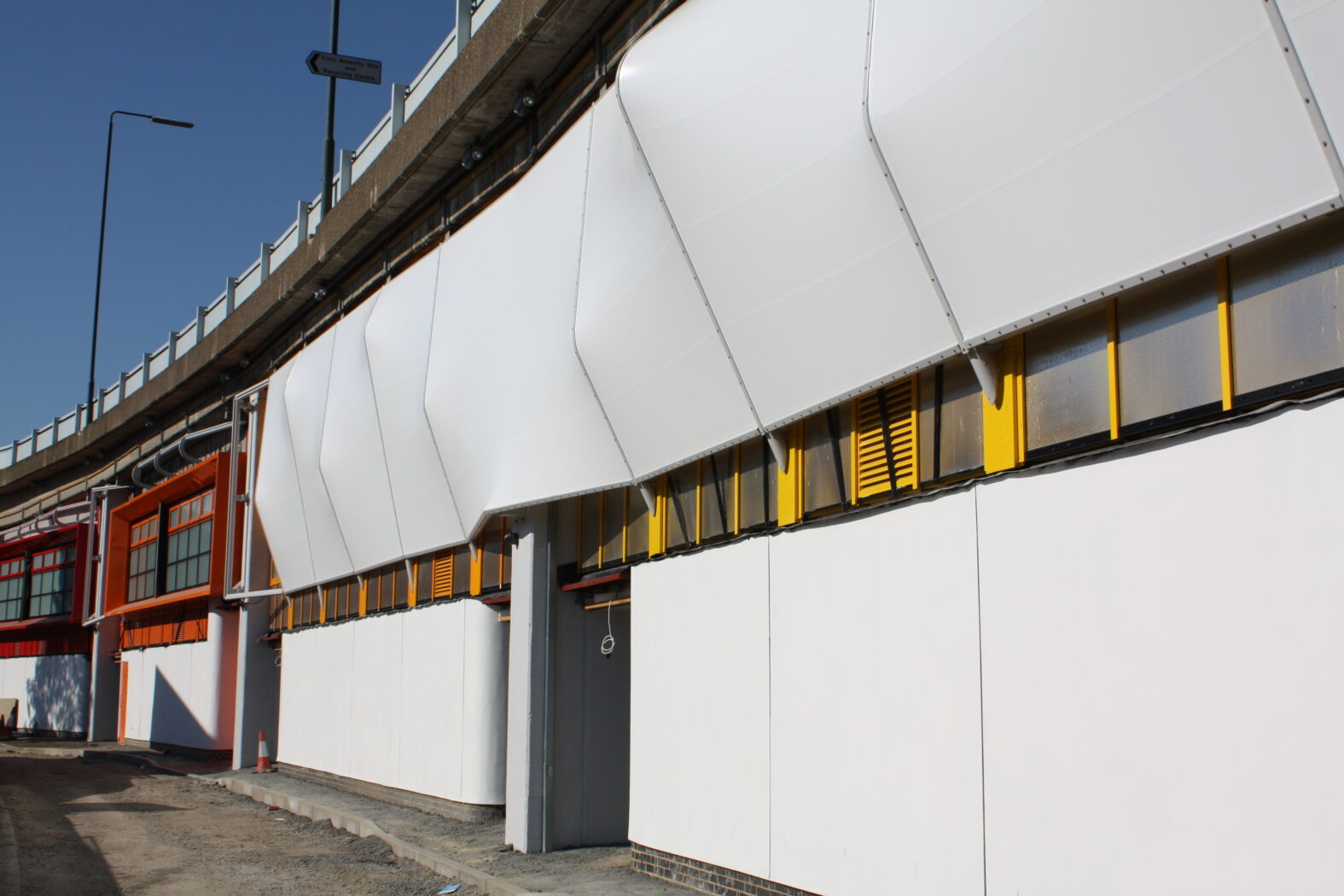 Architectural Tensile Fabric Cladding
Trust Thamesmead is a community development agency working to improve the quality of lives of over 30,000 local residents, focusing on the most disadvantaged. After recently being awarded £5 million by the Big Lottery Fund to create a Youth Leisure Zone, the redevelopment of The Southern Arches in Thamesmead began in earnest to create a world-class facility to involve and inspire the local youth with activities including climbing, dance, music and educational courses.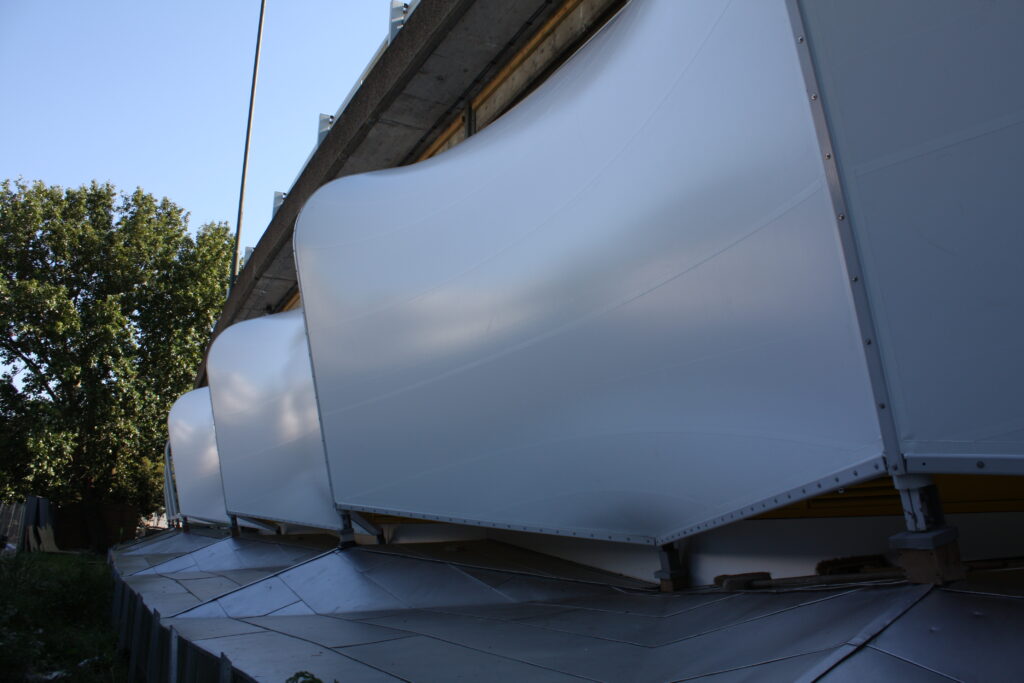 Our Solution
To create a modern and inviting facade to The Southern Arches situated underneath a busy flyover, a 216 metre long stretch of eccentric arches form an undulating wavy ribbon of tensile fabric. Ranging in height from 2 to 5 metres, this decorative wall fabric cladding will be lit from behind and above with coloured LED lights, creating a welcoming warm glow.
Results
The curvaceous forms stand in contrast to the brutal concrete environment, creating a refreshing aesthetic within in the city and superbly illustrating the transformative power of tensile fabric.
Similar Projects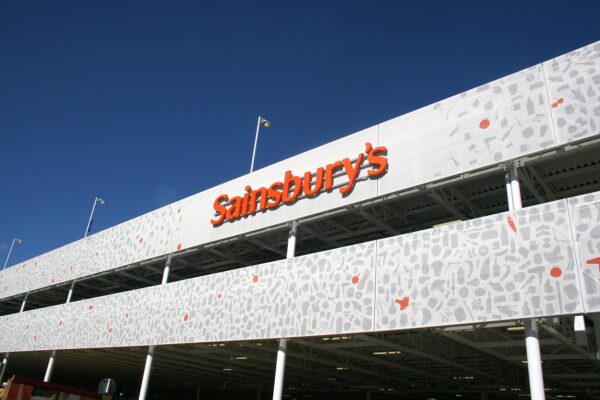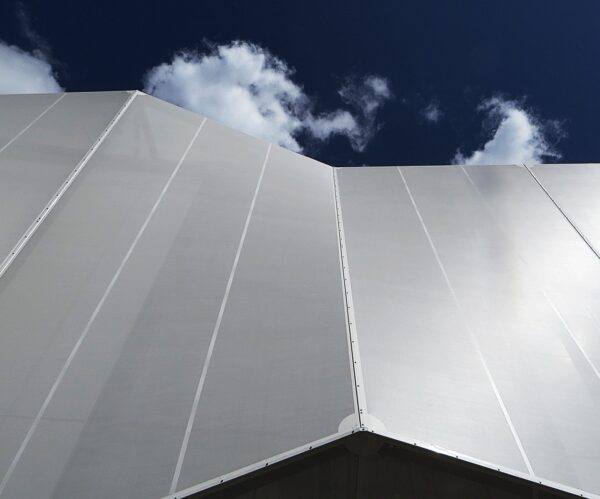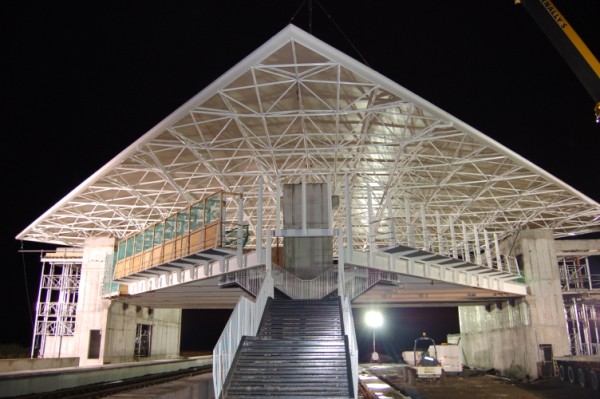 Adamstown Railway Station
Architect
Saville Jones Architects
Contractor
Base Build Services Ltd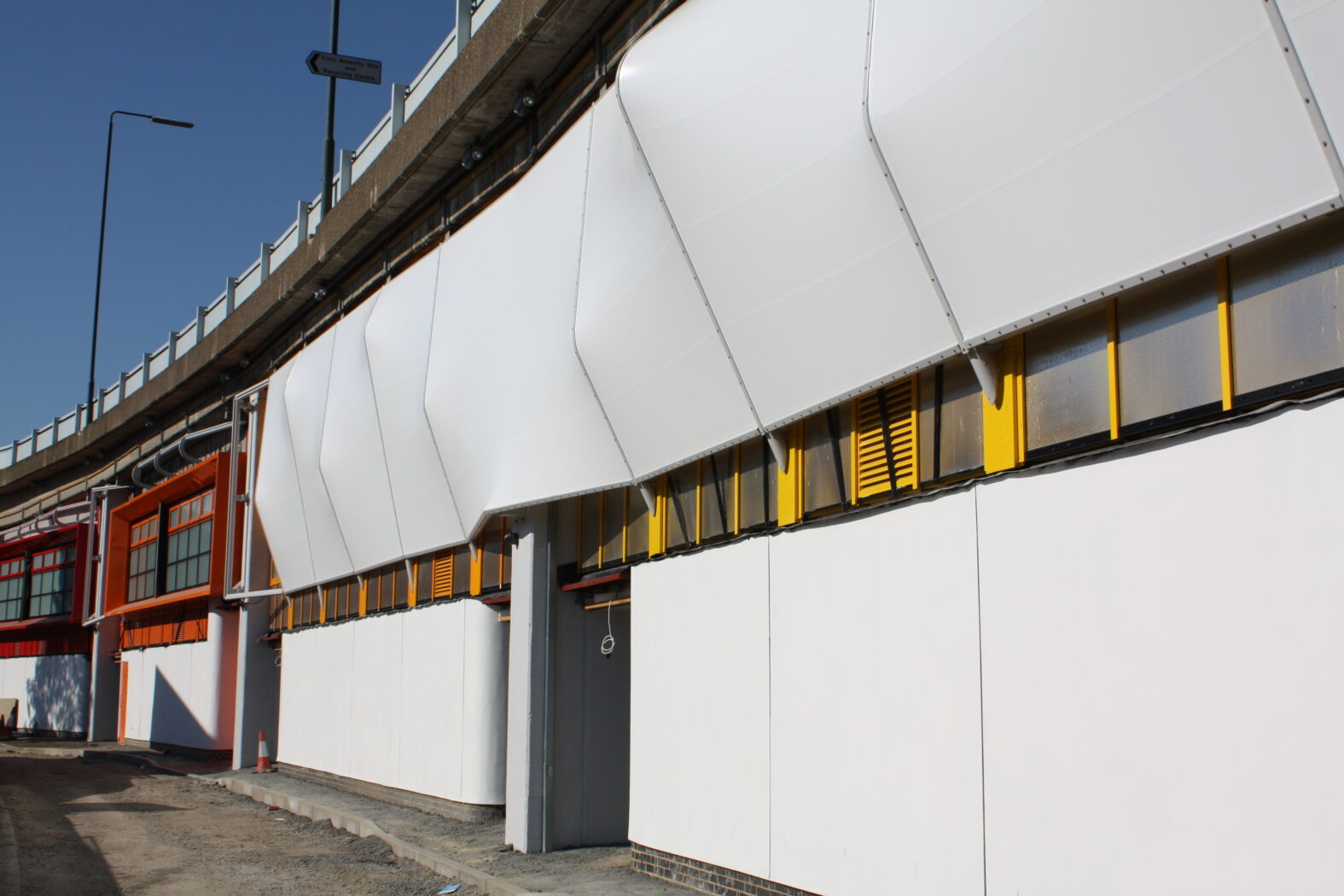 Fabric Cladding System
This PVC mesh fabric cladding system was designed to replace the existing façade at Sainsbury's in Crayford which had reached the end of its life. The refurbished fabric panel design gives greater protection from the elements and busy industrial environment extending the lifespan of the building, as well as an updated look for this busy retail store.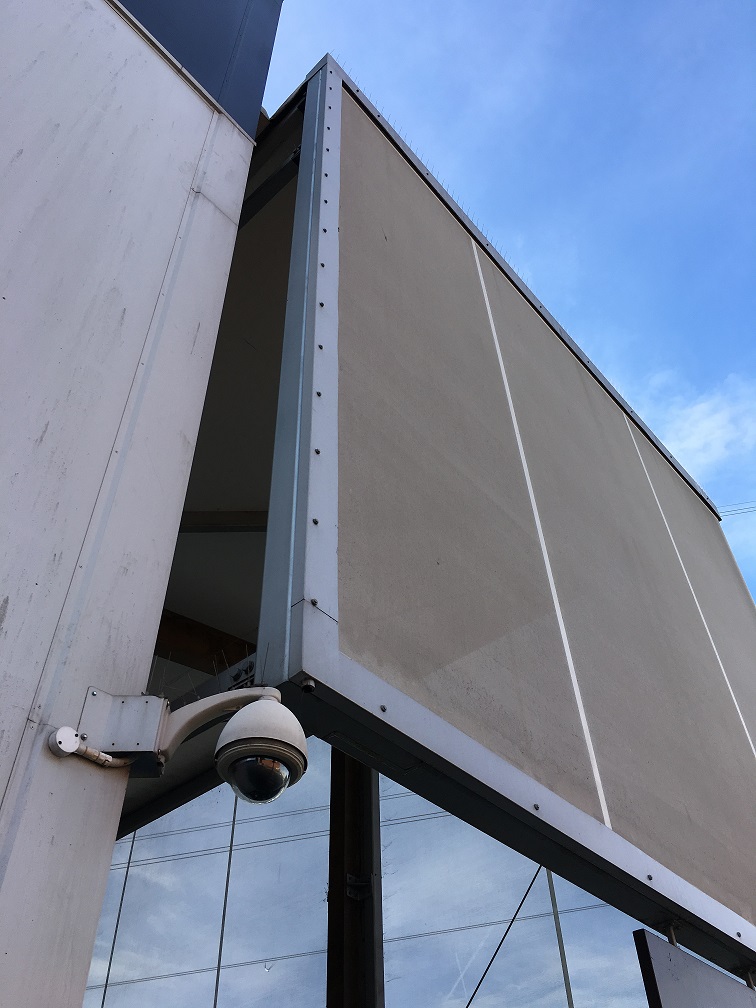 The structures consists of 1000sqm PVC mesh panels held by aluminium extrusion and fitted into an existing timber frame. The tensioning detail is covered by an attractive aluminium flashing.
The panels also serve as additional weather protection for customers where they join the walkway canopy we installed previously to the store exterior.
Similar Projects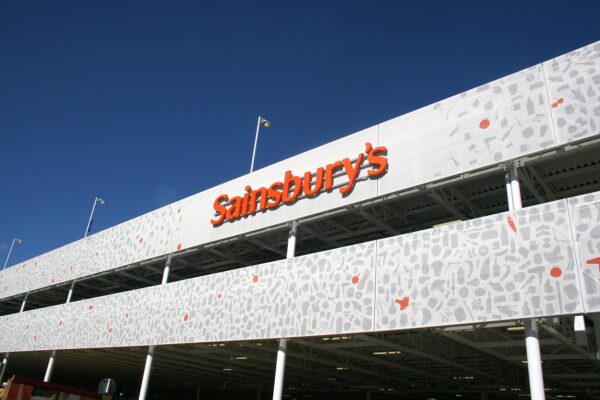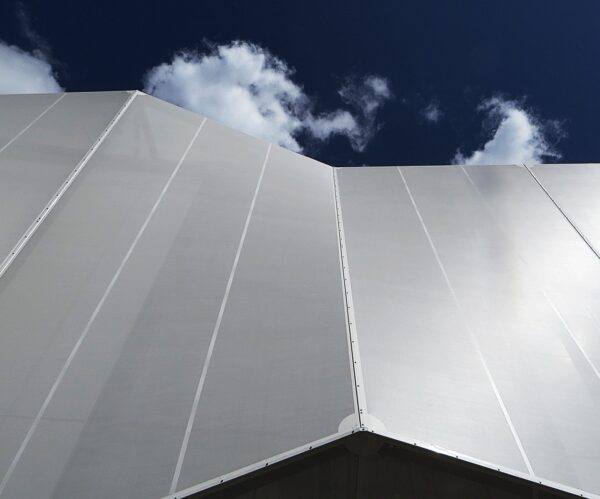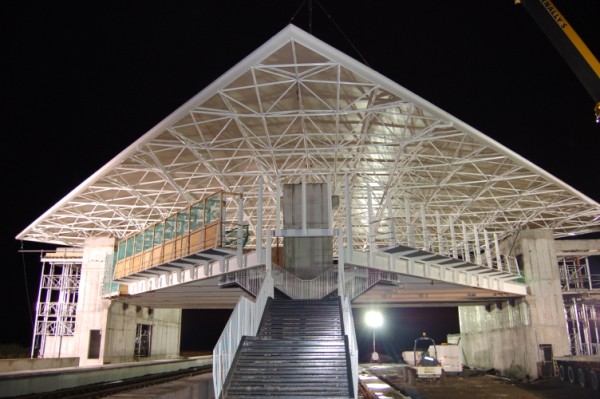 Adamstown Railway Station
Architect
Saville Jones Architects
Contractor
Base Build Services Ltd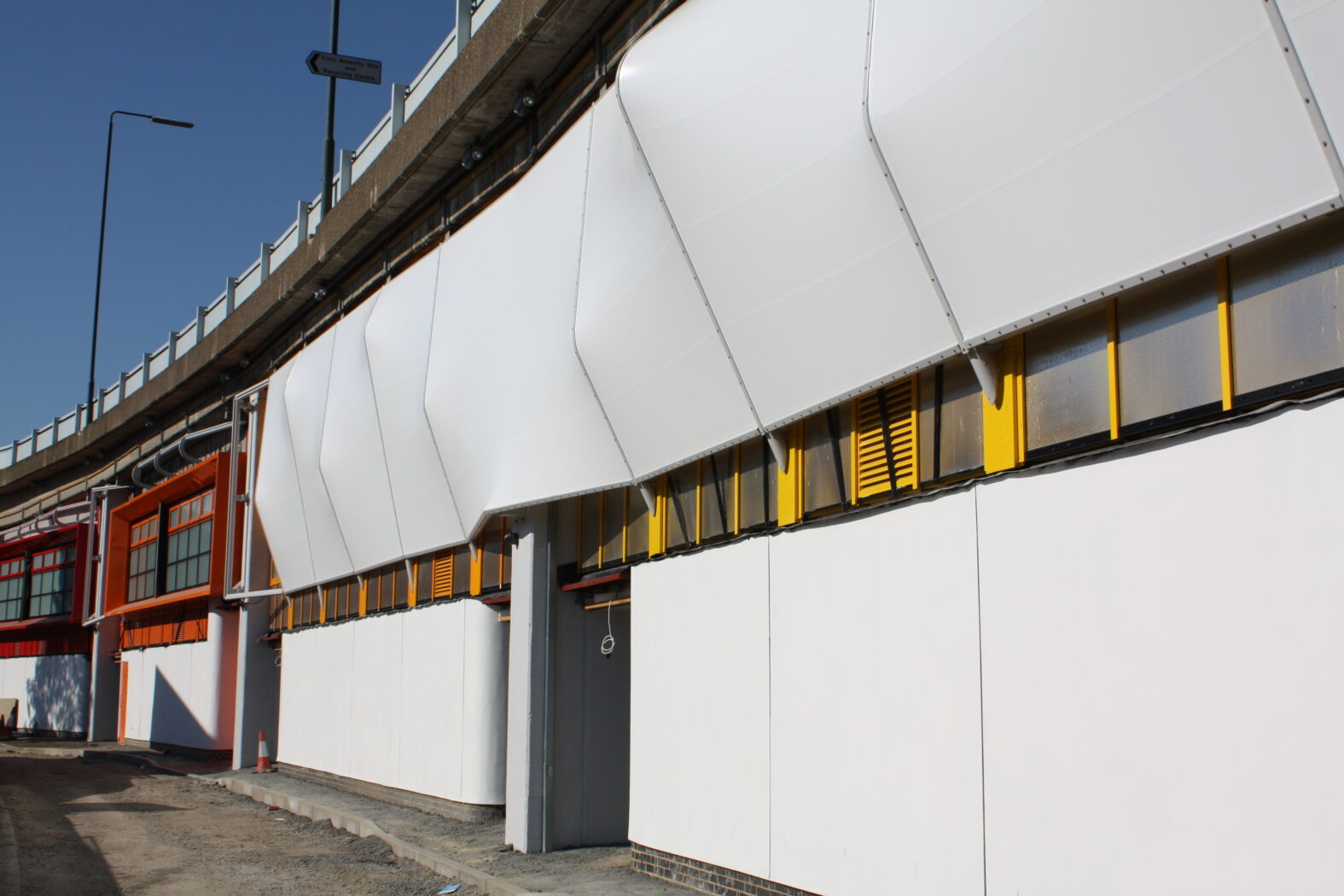 Tensile Fabric Covered Walkway Facade
In September 2010 the Sainsbury's store, Crayford reopened after an extensive re-fit, increasing in size from 30,000sq ft to 100,000 sq ft to become the largest Sainsbury's store in the UK. And to impress further, all the cooling, heating and hot water are provided by geothermal energy gathered 200 metres below ground. Consequently the new larger store has the same carbon footprint as the original, much smaller store. However, one problem remained; how to create a suitable fabric facade befitting a flagship store of such grand scale and landmark innovation?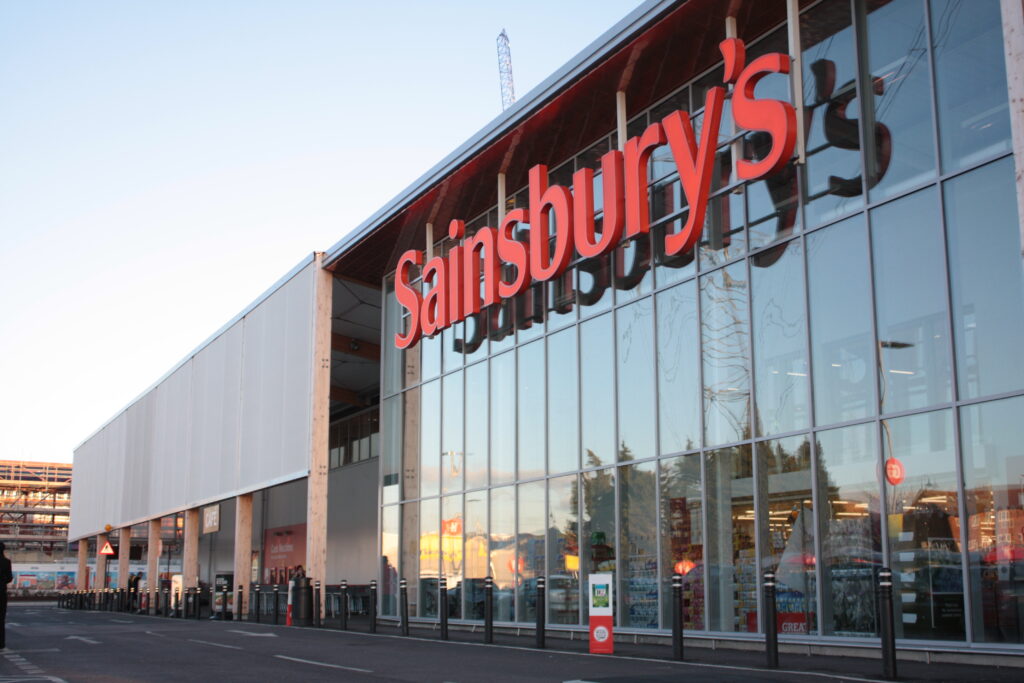 Our Solution
The solution, of course, is tensile fabric. Sainsbury's have been pioneers of tensile fabric use for many years, recognising the practical and aesthetic benefits of an eye catching structure. In this instance a covered walkway measuring a total of 126 metres in length runs across the front of the building, flanking the central floor-to-ceiling glass entrance. Vertical PTFE mesh panels measuring 7 metres high create a clean, understated frontage that allows a greater transmittance of light than solid fabric and excellent circulation of air, in turn helping to lower heat gain. The roof of the walkway is a flat, inclined PVC membrane that allows water to run off towards the rear of the walkway into a gutter system. All the individual fabric panels are fitted to steel picture frames which are in turn fitted to glulam columns and beams, allowing for efficient installation of the fabric.
Similar Projects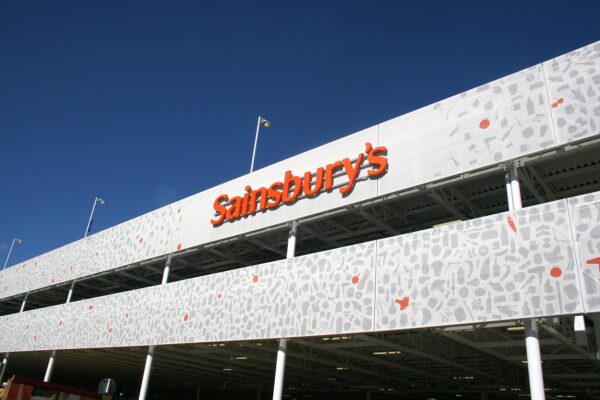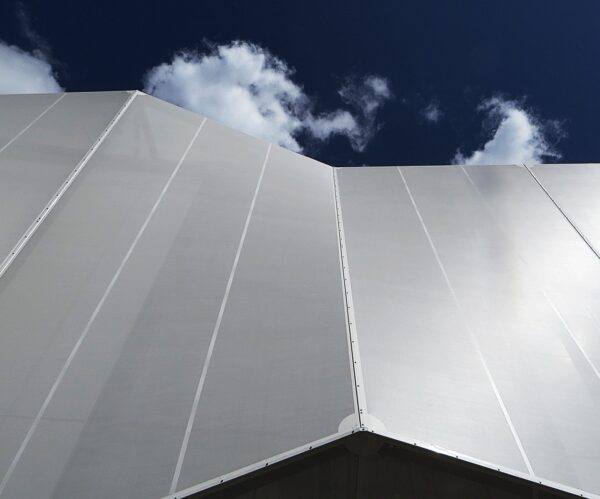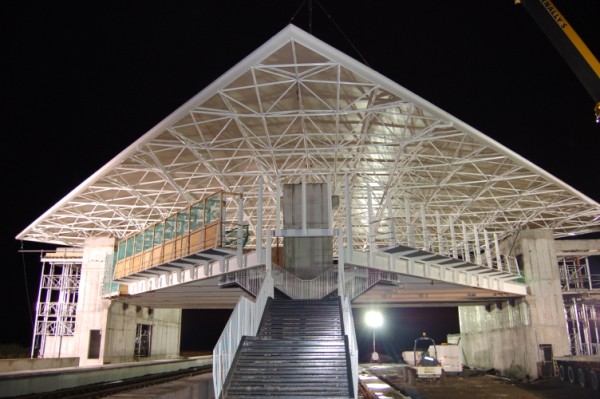 Adamstown Railway Station
Architect
Saville Jones Architects
Contractor
Base Build Services Ltd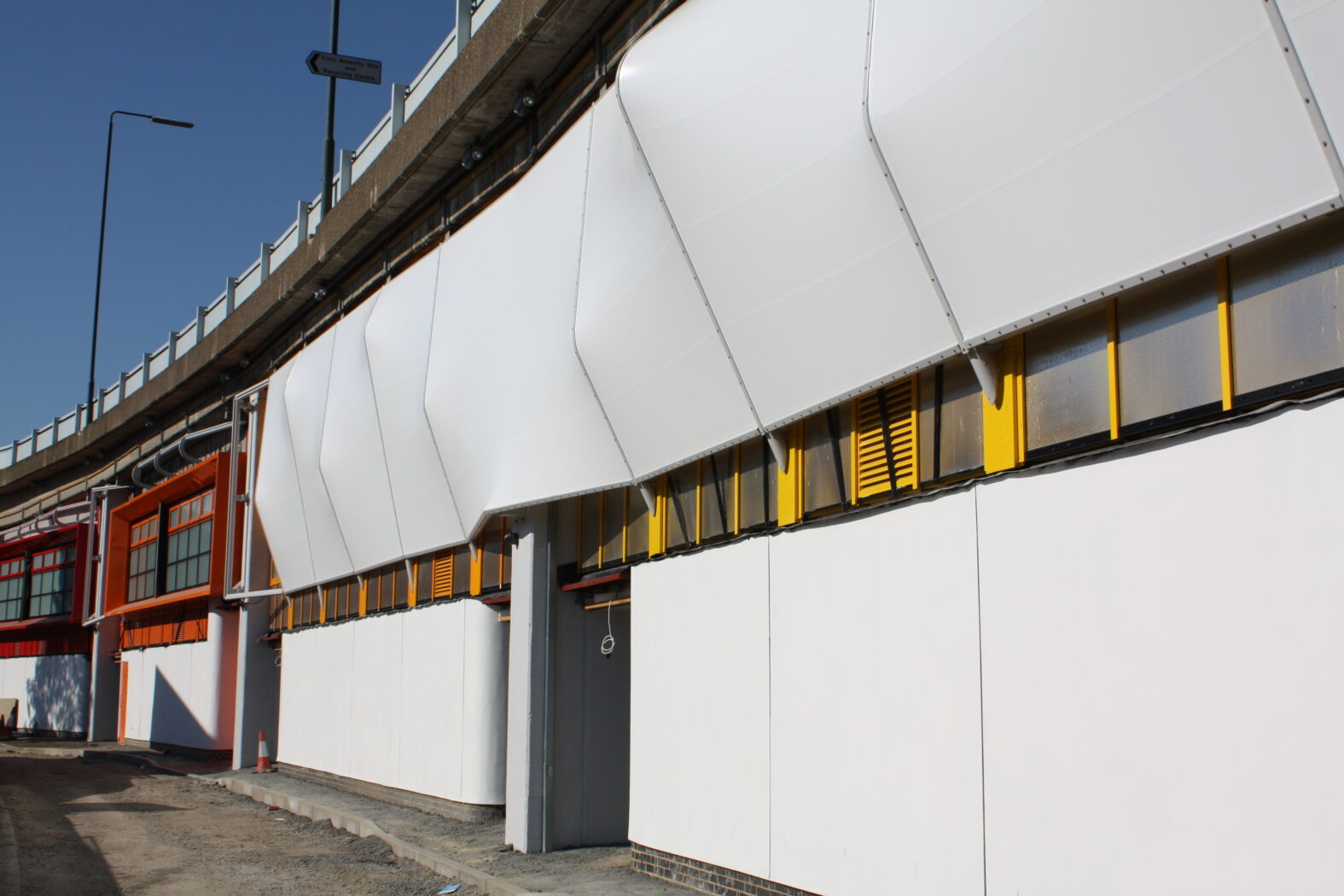 Dynamic Tensile Fabric Sail Façade
To help counteract the searing 40°C plus heat, Qatar has launched a cooled Fan Zone to enable football fans to watch the Brazil 2014 World Cup in relative comfort. A temperature difference inside the structure of around 13°C is maintained by using of a range of technology including ventilation units, high level jet nozzles to restrict prevailing winds and air-controlled modifiable dampers. Importantly the Fan Zone is being used by engineers as a trial to perfect the cooling technology that will be required when Qatar plans to host the 2022 World Cup. It houses the biggest LED television in Qatar and a variety of interactive football themed attractions.
Our Solution
Base Structures manufactured 22 triangular tensile fabric sails, arranged in 11 pairs that overlap each other to encircle the Fan Zone, lending a dynamic and eye catching facade to the otherwise unassuming building. Manufactured using nearly 150m2 of white PVC fabric per pair of sails, the natural translucency of the material is exploited with banks of lighting used to bathe the sails from behind with a wash of cool blue colour and projected patterns. A 'cool' project in every sense of the word.
Similar Projects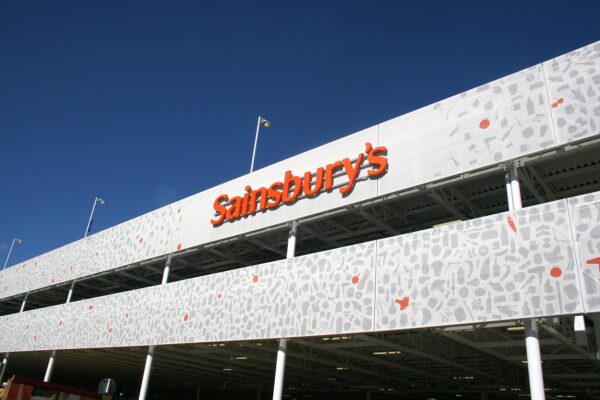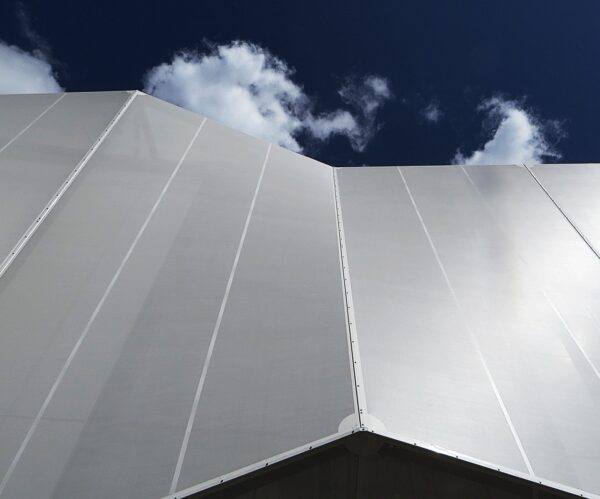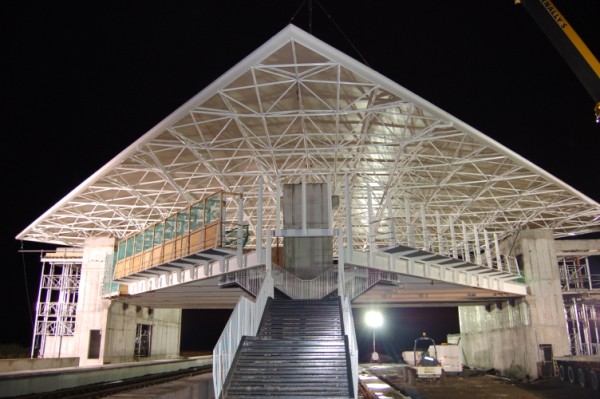 Adamstown Railway Station
Architect
Saville Jones Architects
Contractor
Base Build Services Ltd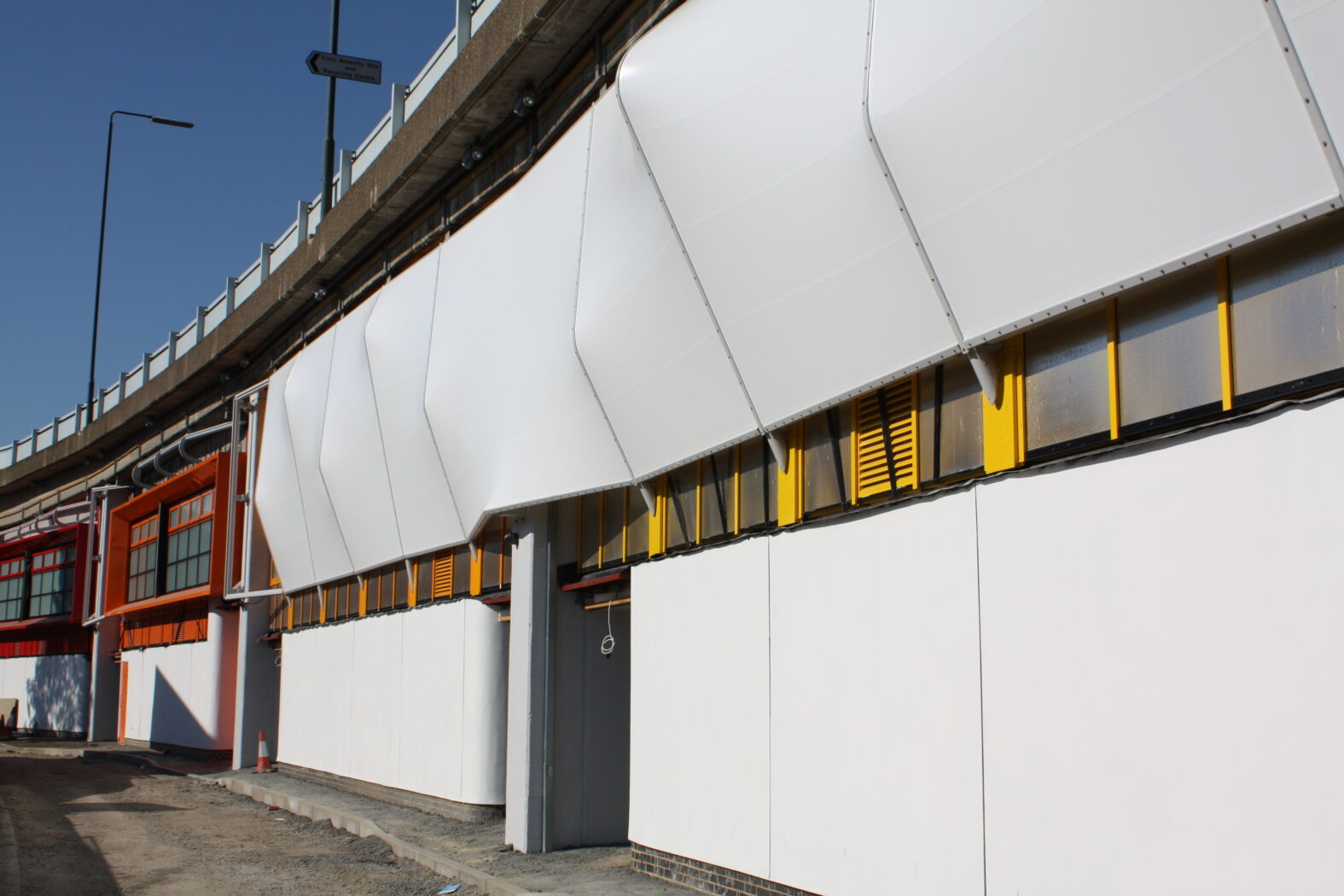 Fabric Advertising Banners
The annual Commercial Vehicle Show at Birmingham's NEC is a big event. Many brands use this show to reveal their latest vans, which is why Ford the UK's Commercial Vehicle leaders, wanted to showcase their latest big-budget advertising campaign.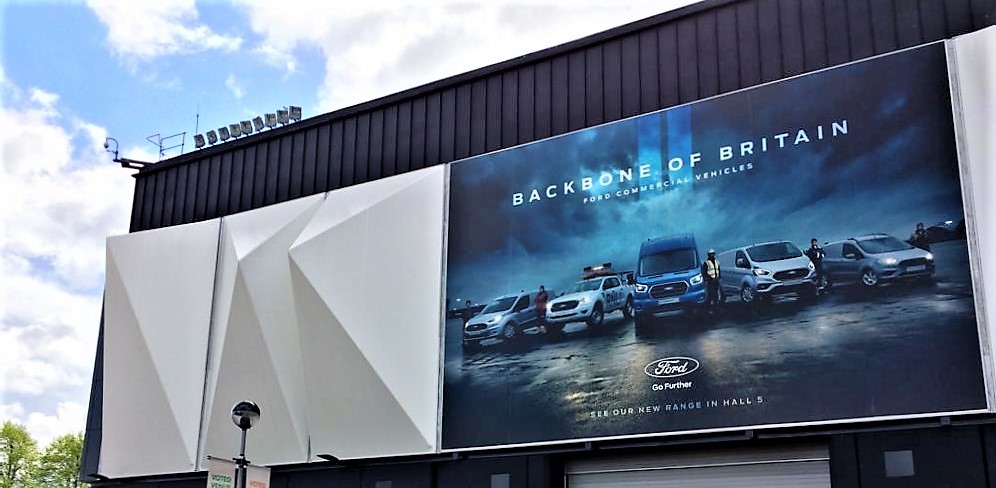 NEC contacted Base Structures and asked us to remove two existing banners from the vehicle entry doors on Halls 1 & 5 either side of the main entrance and replace them with two of Ford's new striking fabric advertisement pieces.
We manufactured and installed the 15 metres by 10 metres advertisement banners which have nestled in perfectly within our 3D fabric facades, a previous project commissioned last year.
Similar Projects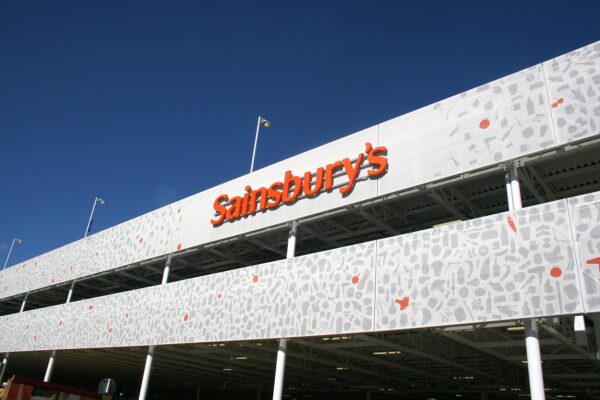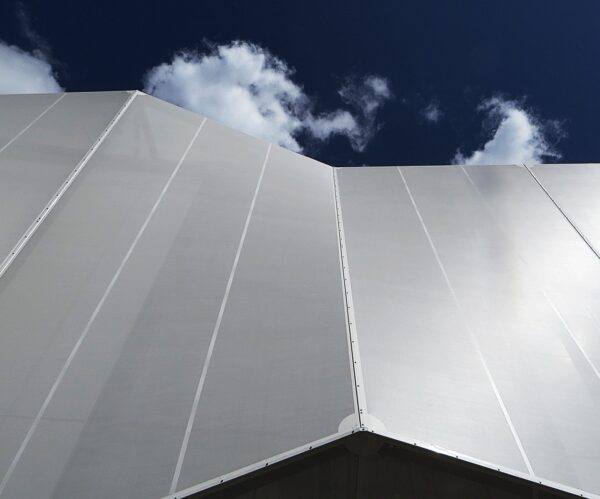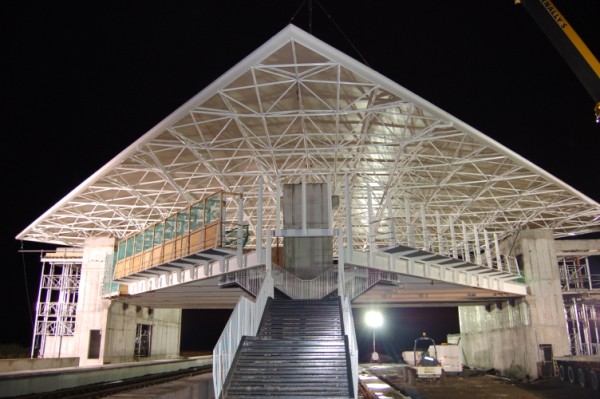 Adamstown Railway Station
Architect
Saville Jones Architects
Contractor
Base Build Services Ltd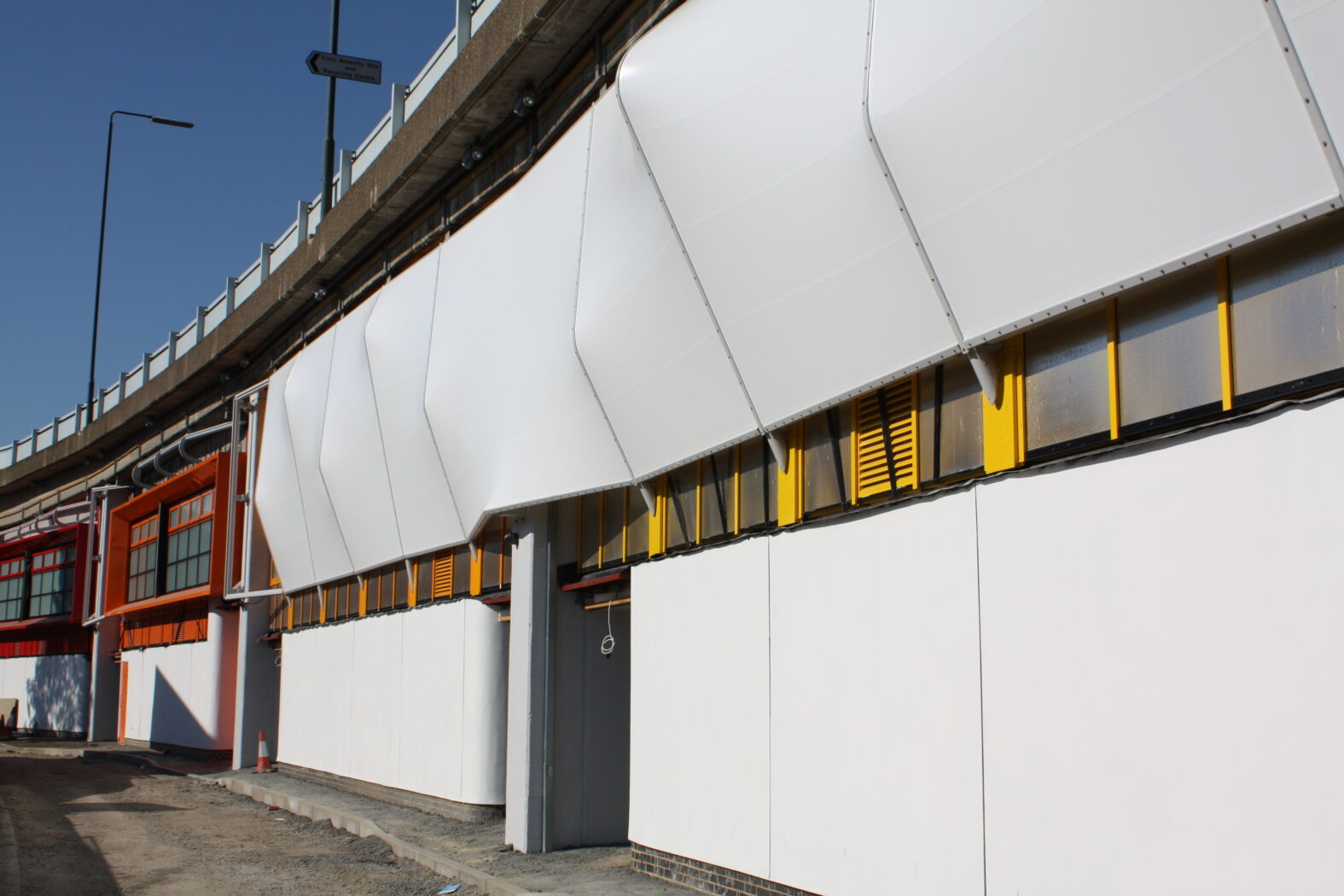 Fabric Clad Warehouse for Biomass Storage
Big enough to become Liverpool's third cathedral, the latest addition to EON's Liverpool Bulk Terminal is a massive fabric clad warehouse measuring 65m wide, 170m long and 34m to the apex which to store wood chip and biomass to feed their newly converted Ironbridge Power Station.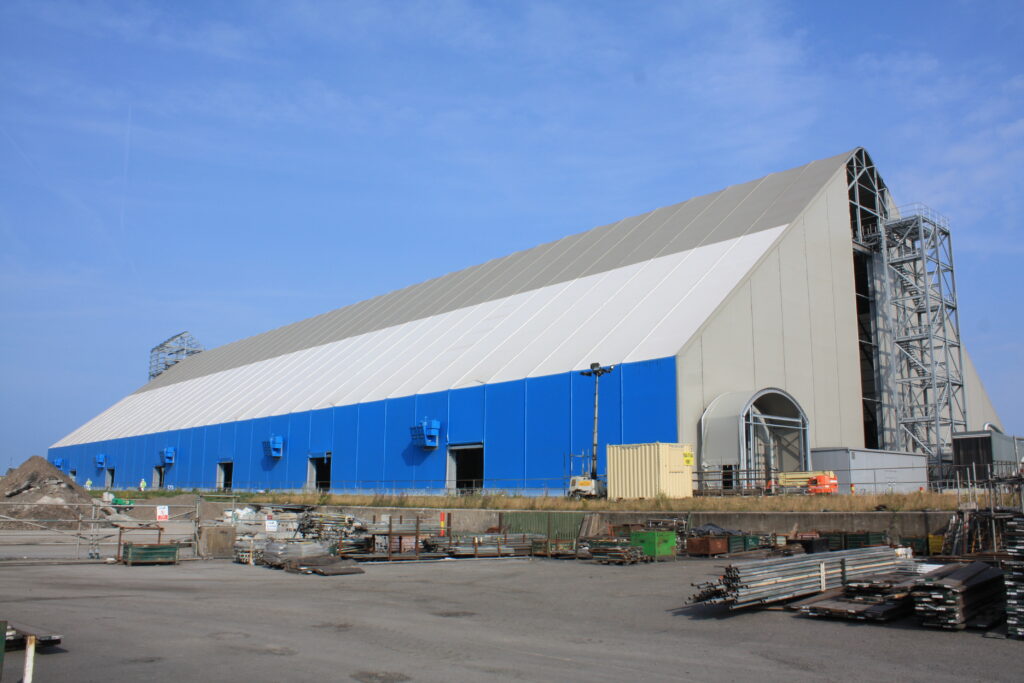 Our Solution
Why tensile fabric? As a warehouse cladding material, it requires less supporting steel than traditional alternatives, making it faster to build as well as being more commercially competitive. In this case, the principle factor was the risk of water ingress affecting the stored biomass. The tensile fabric allows installers to create a sealed environment, thereby minimising the risk to the supply of fuel for the power station.
Base Structures designed and manufactured over 22,000m² of tensile fabric covers to fit the skeleton steel structure designed and installed by the UK division of Losberger De Boer, an international supplier of turnkey temporary or semi-permanent structures for events and commercial applications. The warehouse will be used to store around 65,000 tonnes of biomass fuel with the electricity generated being used to power 250,000 homes. In addition to designing and manufacturing the grey, white and blue PVC covers, Base also provided specialist roped access personnel to assist with key elements of the installation procedure.
Similar Projects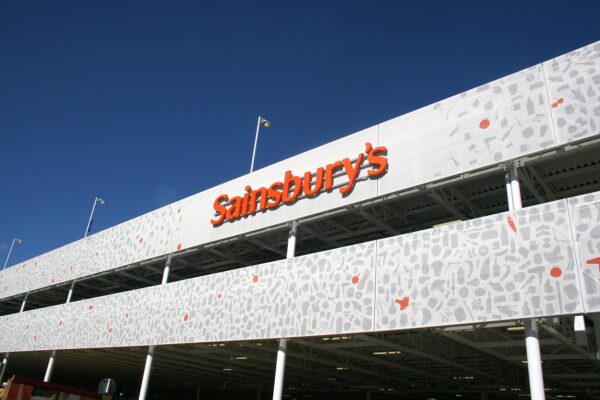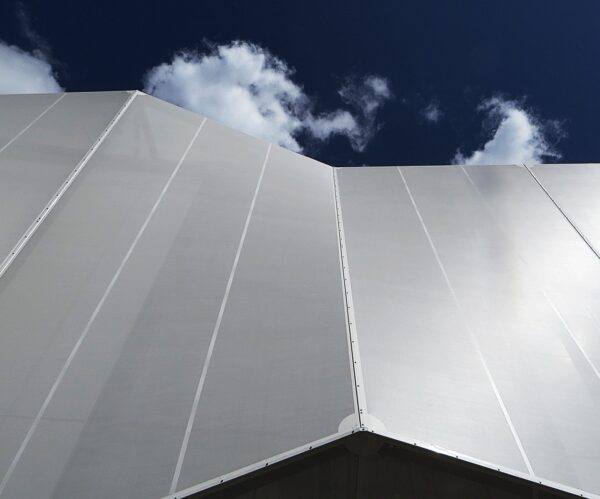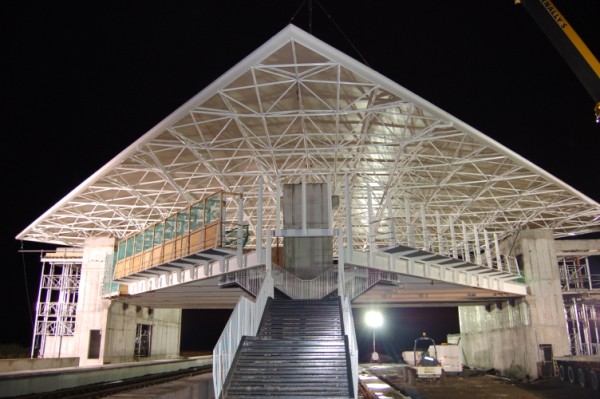 Adamstown Railway Station
Location
Phoenix, Arizona
Architect
Saville Jones Architects
Contractor
Base Build Services Ltd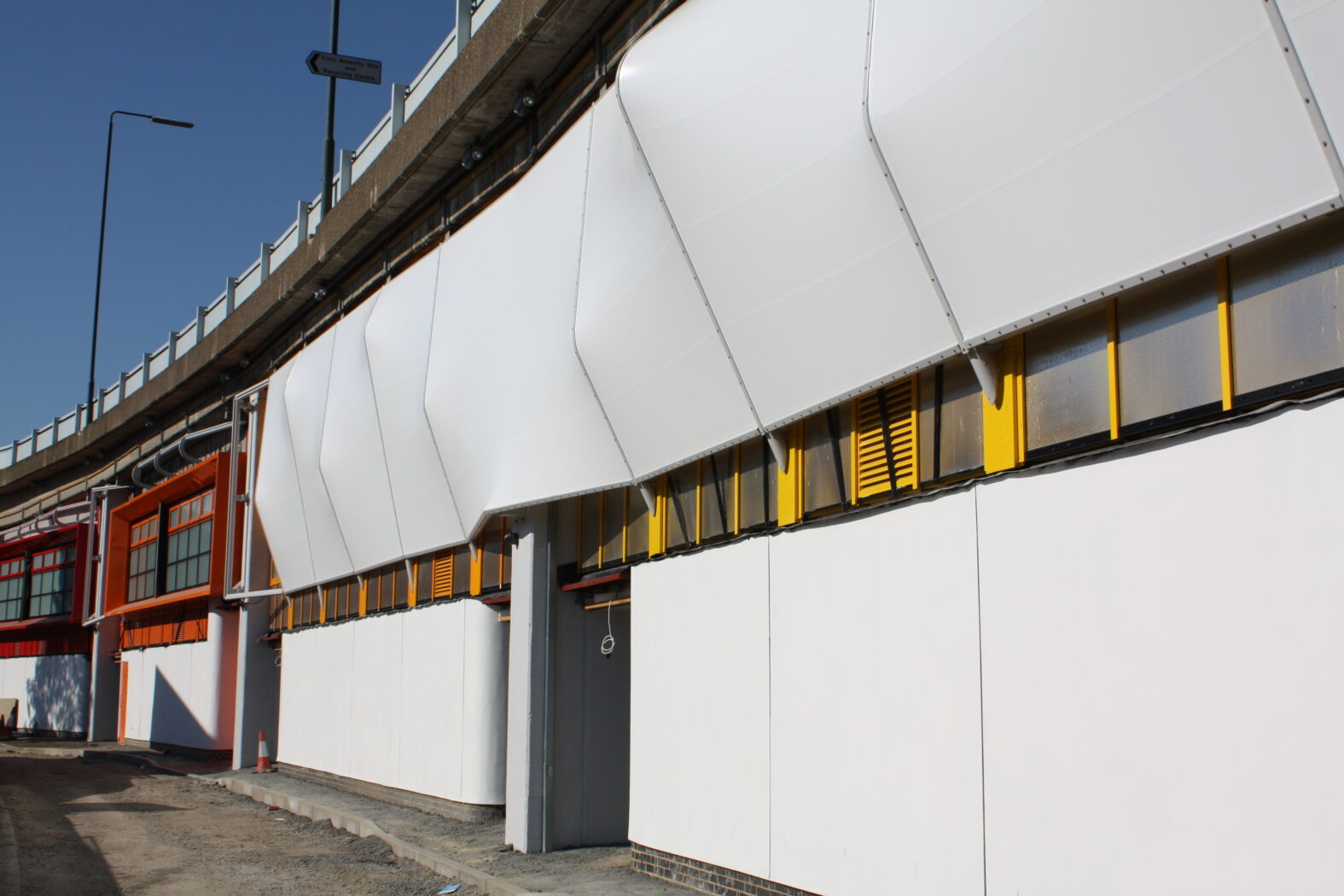 Bespoke Fabric Sun Shading System
This unique mesh fabric sun shading system was designed specifically to suit the requirements of the ADC data processing centre in Phoenix, Arizona.
The PVC panelling provides shade protection to the air handling units whilst screening them from view and turning a utilitarian industrial unit into an architectural feature.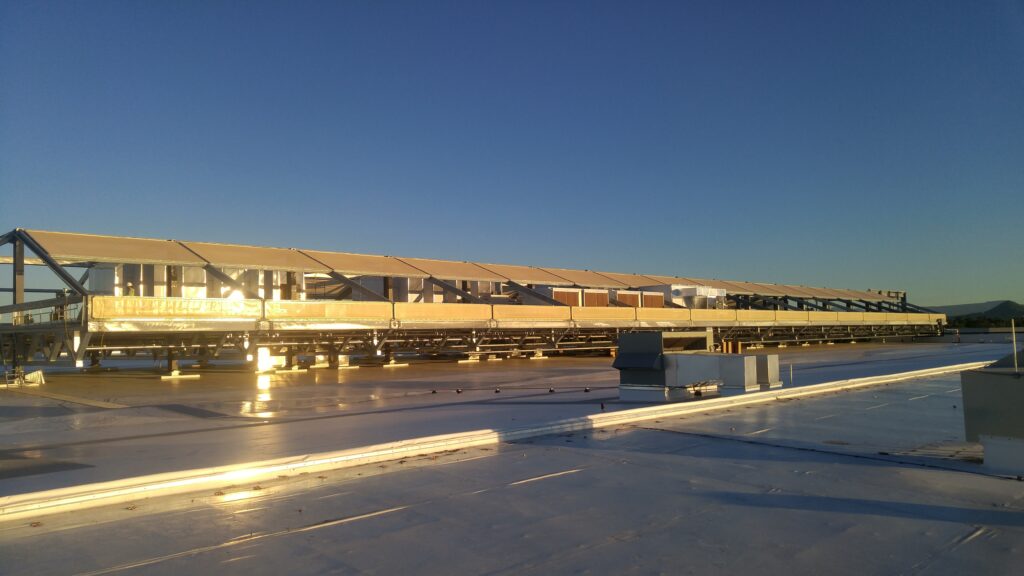 Base Structures UK designed, manufactured and supervised the installation of the mesh panels over critical areas of the centre.
Similar Projects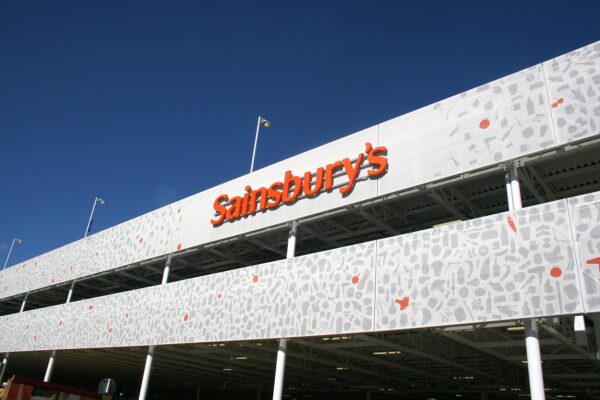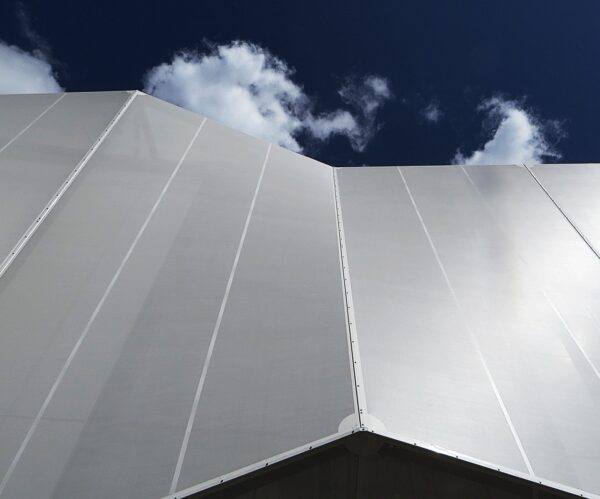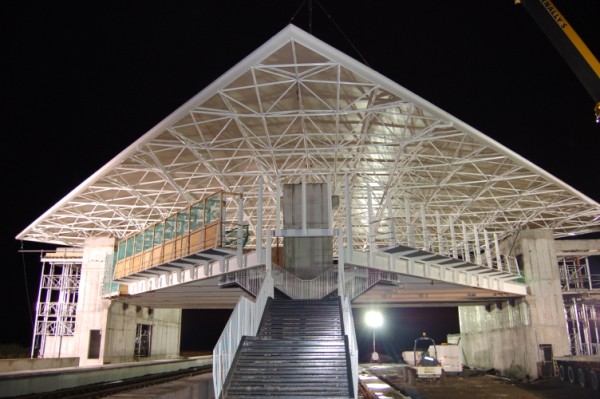 Adamstown Railway Station
Shopping Mall Fabric Cladding
Base Structures won the bid to design, manufacture and install Denmark's most extensive tensile fabric project in the country. The deal was to deliver a striking, multifaceted fabric facade and walkway metro link for Copenhagen's flagship shopping centre, Frederiksberg, working alongside FlexCover and main contractor Hoffmann.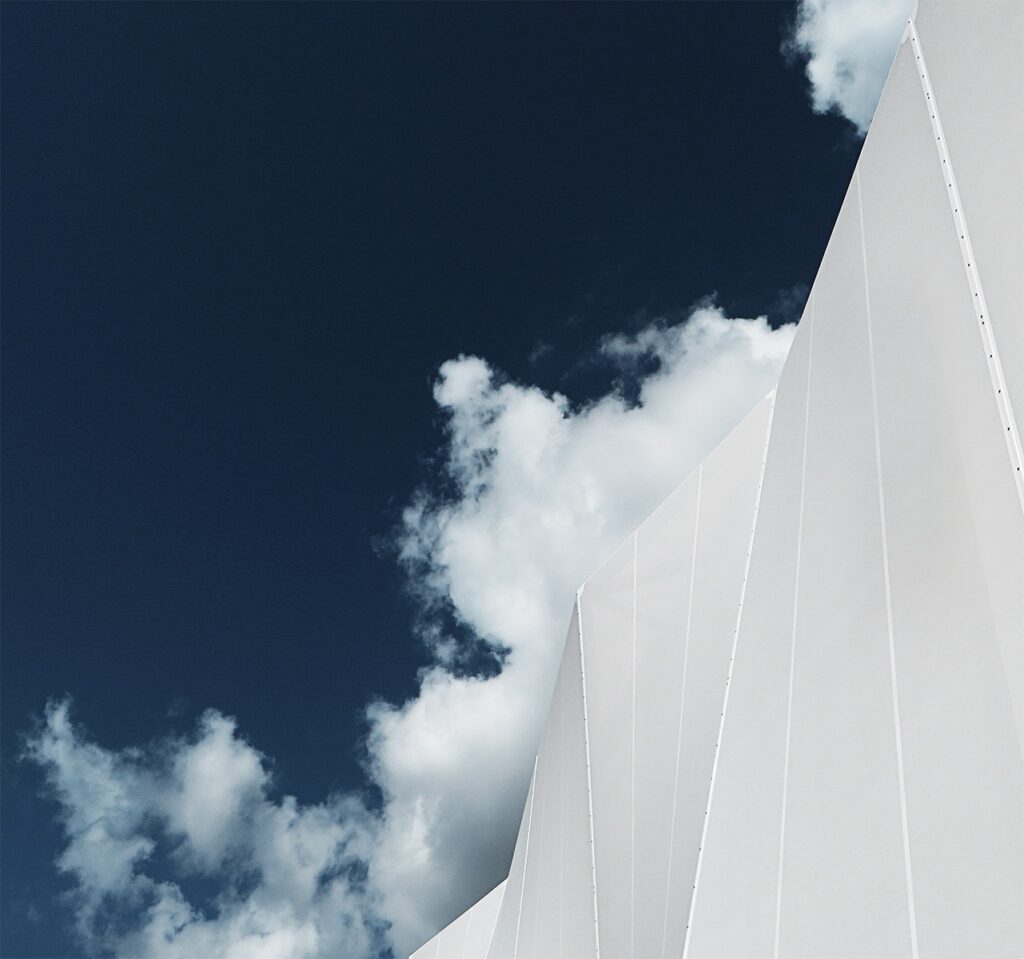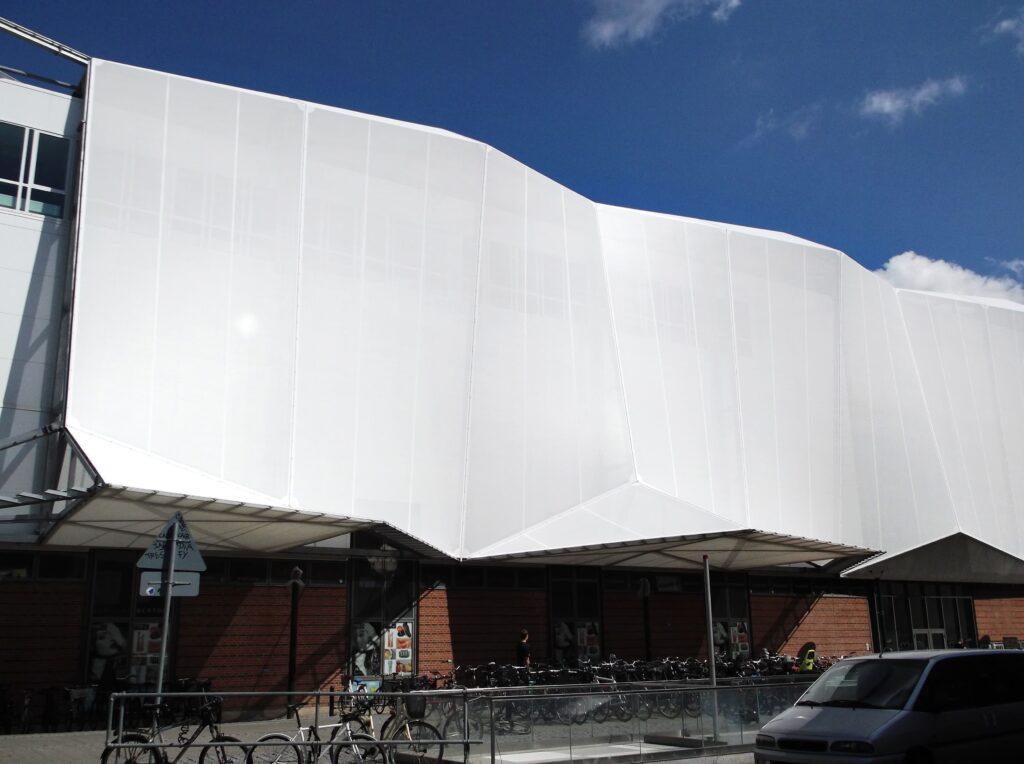 Solution
The edgy, geometric design by architect KHR comprises of fabric slabs at varying angles and planes to form a unique textured fabric wrap. Base Structures' role comprised of the design of both the steel and fabric elements as well as the fabrication and installation of all the fabric and fittings. To ensure a smooth installation programme, Base elected to prototype several panels to test and iron out any unforeseen technicalities.
Result
The fabric wrap brings a cohesive visual look to the new shopping centre which will see the existing building extended by two floors, linked to the metro with the addition of a roof top car park.
similar projects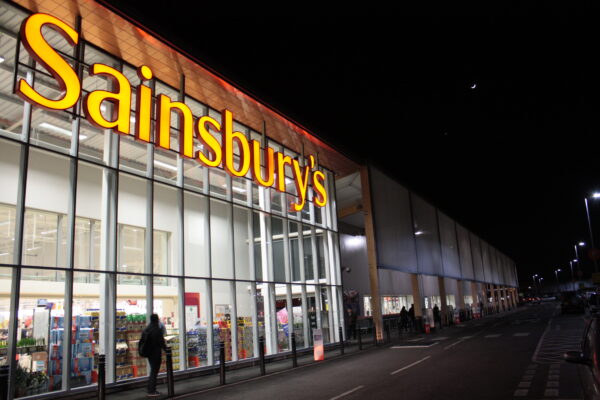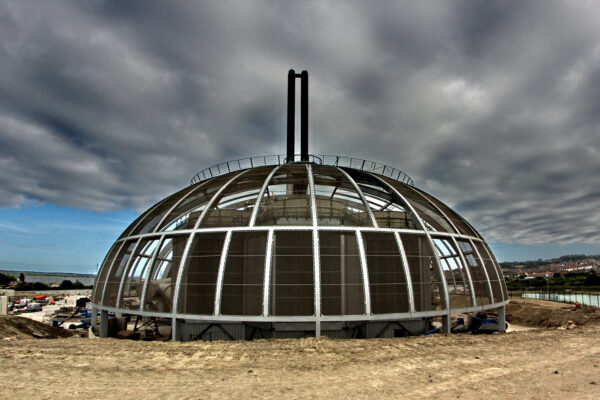 Newhaven Energy Recovery Facility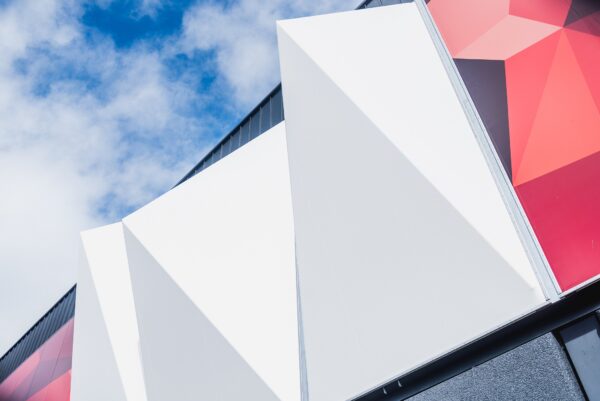 National Exhibition Centre