Client
Winvic Construction Ltd
Fabric
Mehler TF400 Silver, PES with PVDF Coating
Product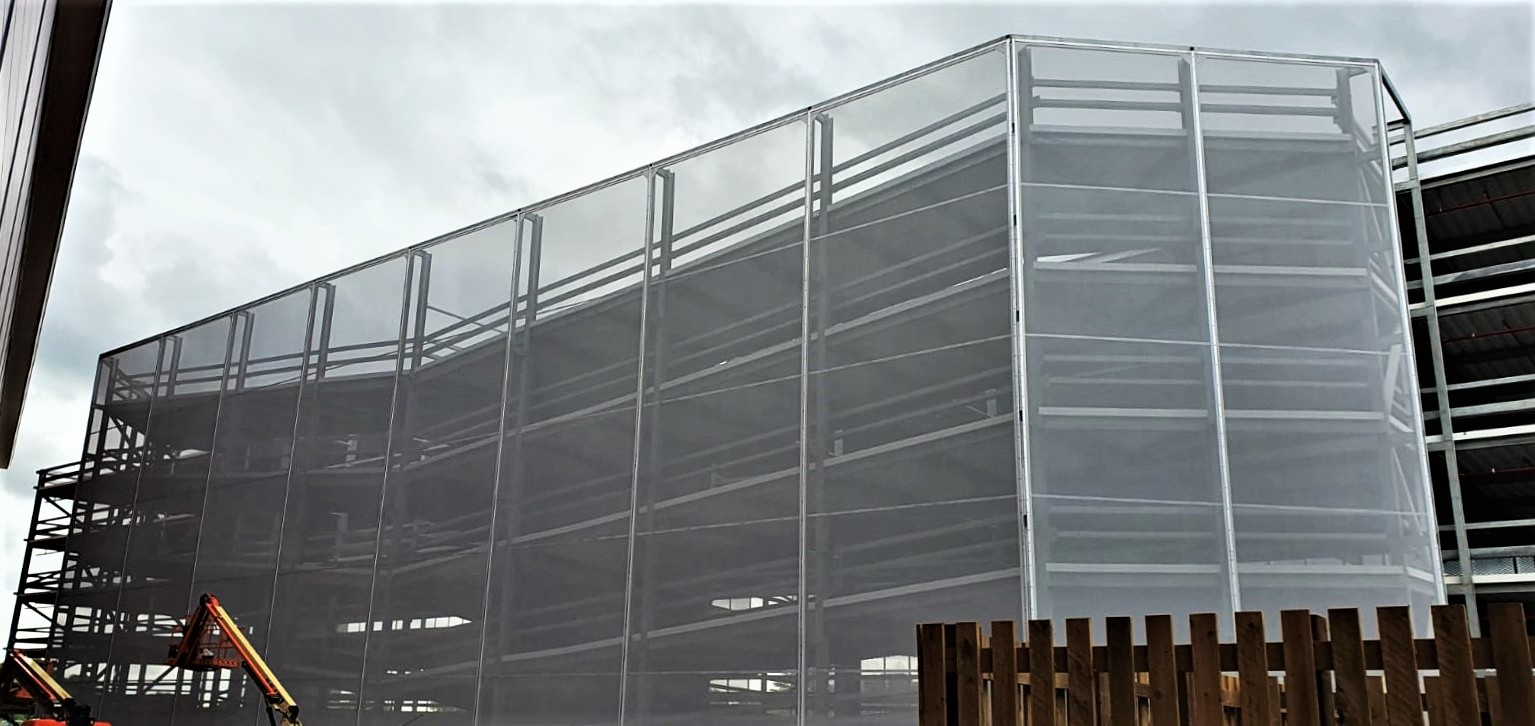 Multi Storey Car Park Mesh Cladding
As part of the ICON development to expand the logistics park at Manchester Airport to make it one of the largest in Europe, we were approached by Winvic Construction to develop a mesh cladding scheme for the five storey car park being built to supplement the new warehouse and offices of Plot 1.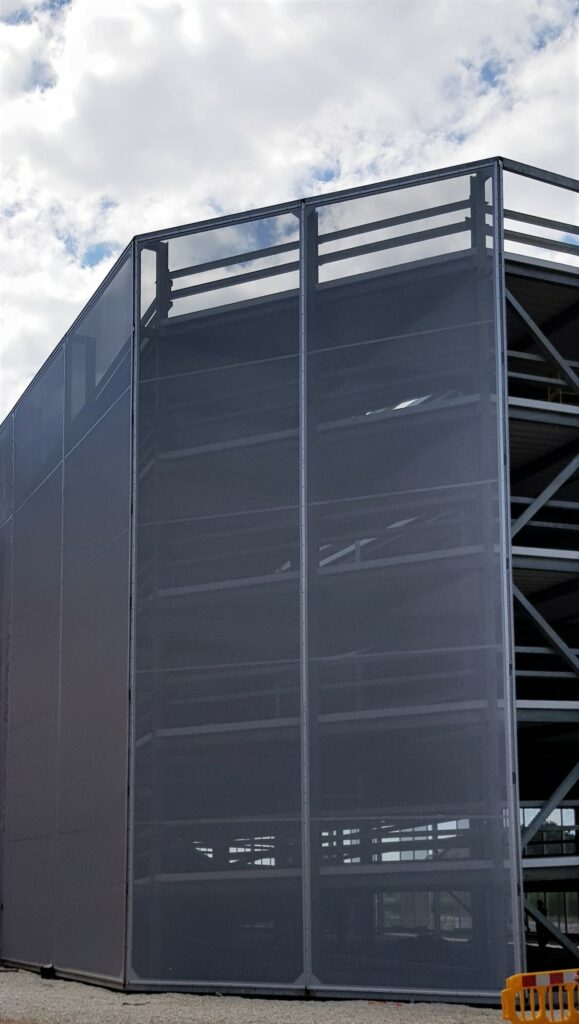 Our Solution
Our solution involved a fabric mesh cladding system comprising of 14no. panels with its supporting aluminium extrusion interface that would fit to the steel frame of the multi storey car park.
The Results
The 960m² fabric mesh cladding offers greater protection from the elements and busy urban environment, extending the lifespan of the building as well as providing additional weather protection for the carpark users.
Similar Projects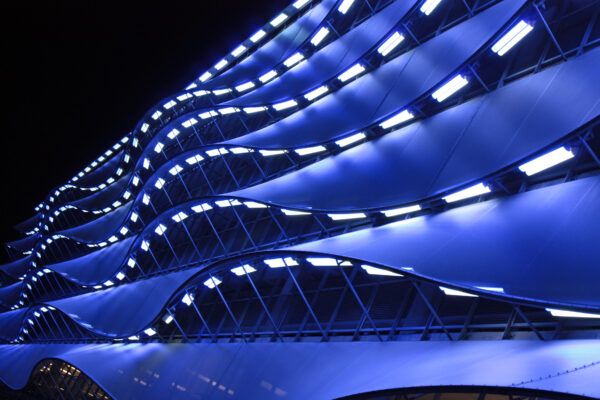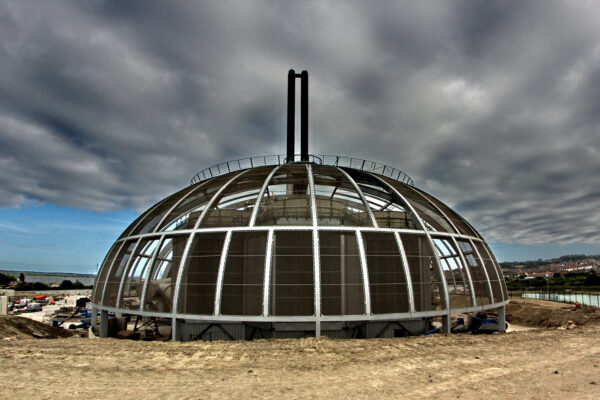 Newhaven Energy Recovery Facility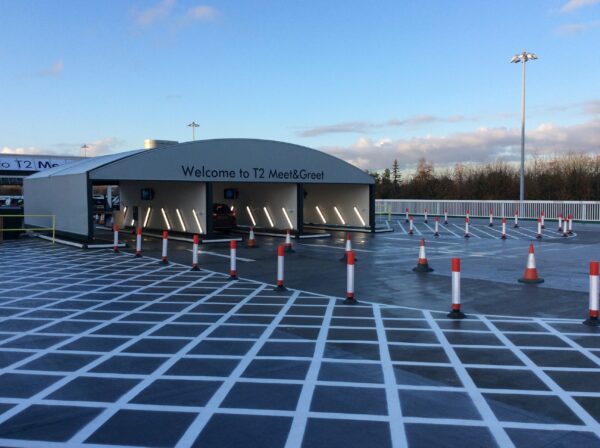 Manchester Airport – Valet Parking Canopy
Related Articles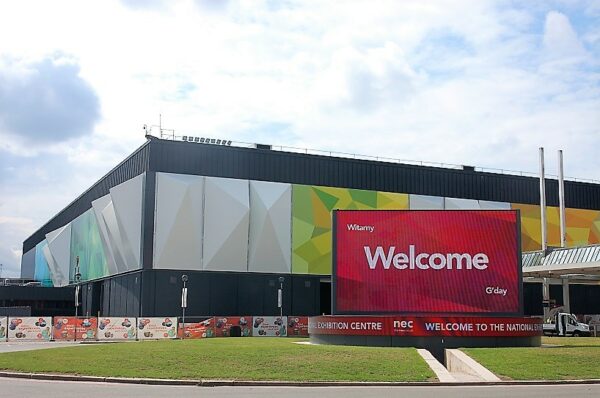 Base Structures gives the NEC a spectacular new look
As part of an exciting £4.5 million transformation of Birmingham's NEC, Base Structures has installed a stunning fabric façade to the exterior of Halls 1…
Client
Winvic Construction Ltd
Fabric
Mehler TF400 Silver, PES with PVDF Coating
Product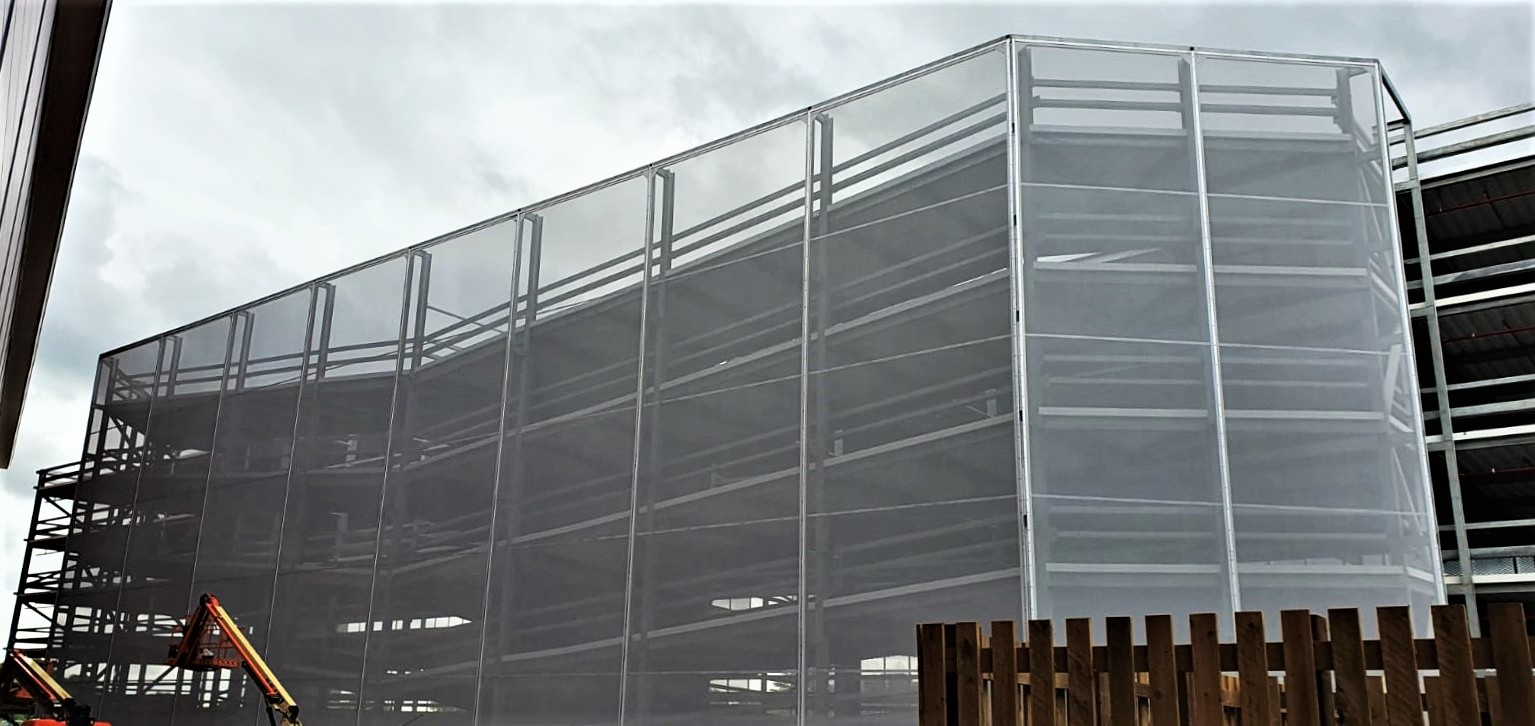 Meet & Greet Car Park Canopy
Bethell Construction approached us to help them develop a canopy scheme as part of their ongoing regeneration works with the Manchester Airport transformation team and the redevelopment of Terminal 2.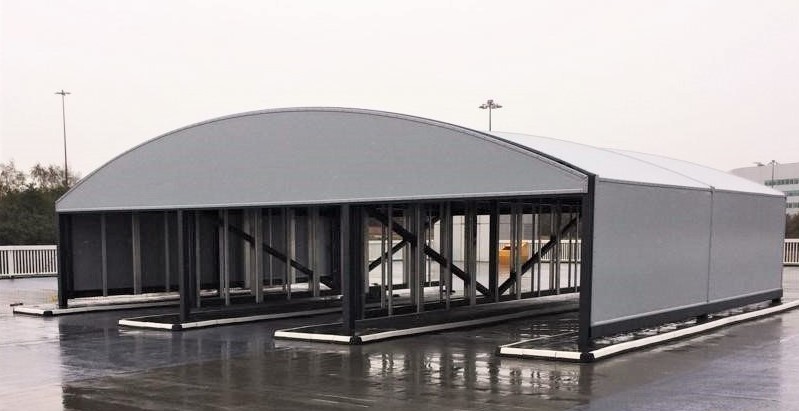 The Meet and Greet valet parking service was to be relocated to T2 and required Base to design, supply and install a new canopy. To reduce queuing times, the new structure required 3 lanes with internal cameras and scanners to scan car registrations as they arrived at the terminal.
Our Solution
We developed the detailed scheme with structural design engineers Fenton Holloway & steel fabricators Sheetfabs to include the primary steel structure, fabric interface extrusion system, 2 PVC roof panels, 4 wall panels, 2 gable end panels and a bird proofing system.
Results
The client and Base are very pleased with the resulting robust, practical and attractive canopy to service the parking customers at the terminal.
Similar Projects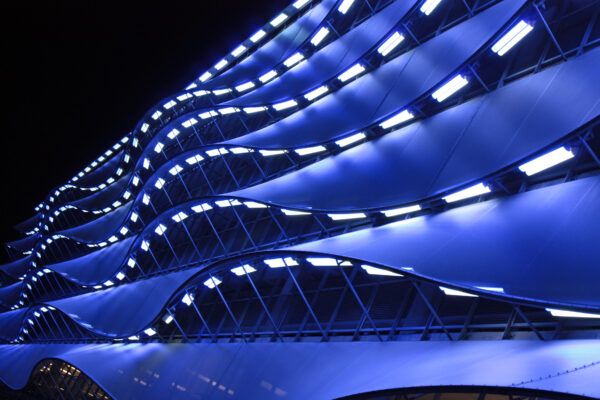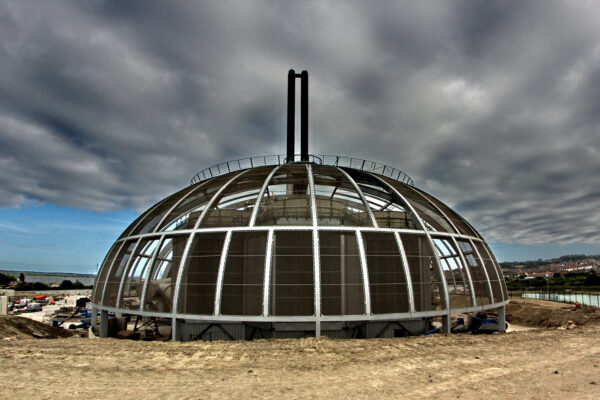 Newhaven Energy Recovery Facility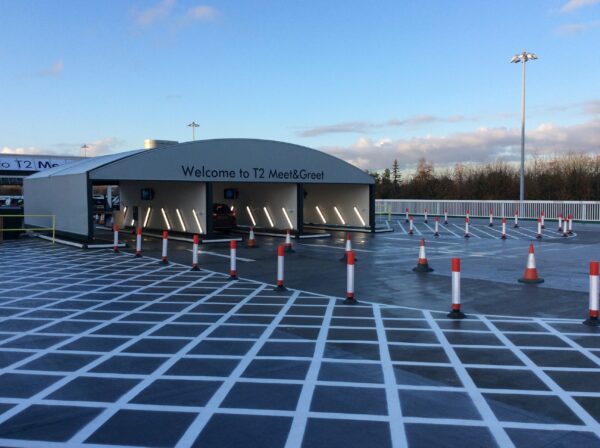 Manchester Airport – Valet Parking Canopy
Architect
Austin Smith Lord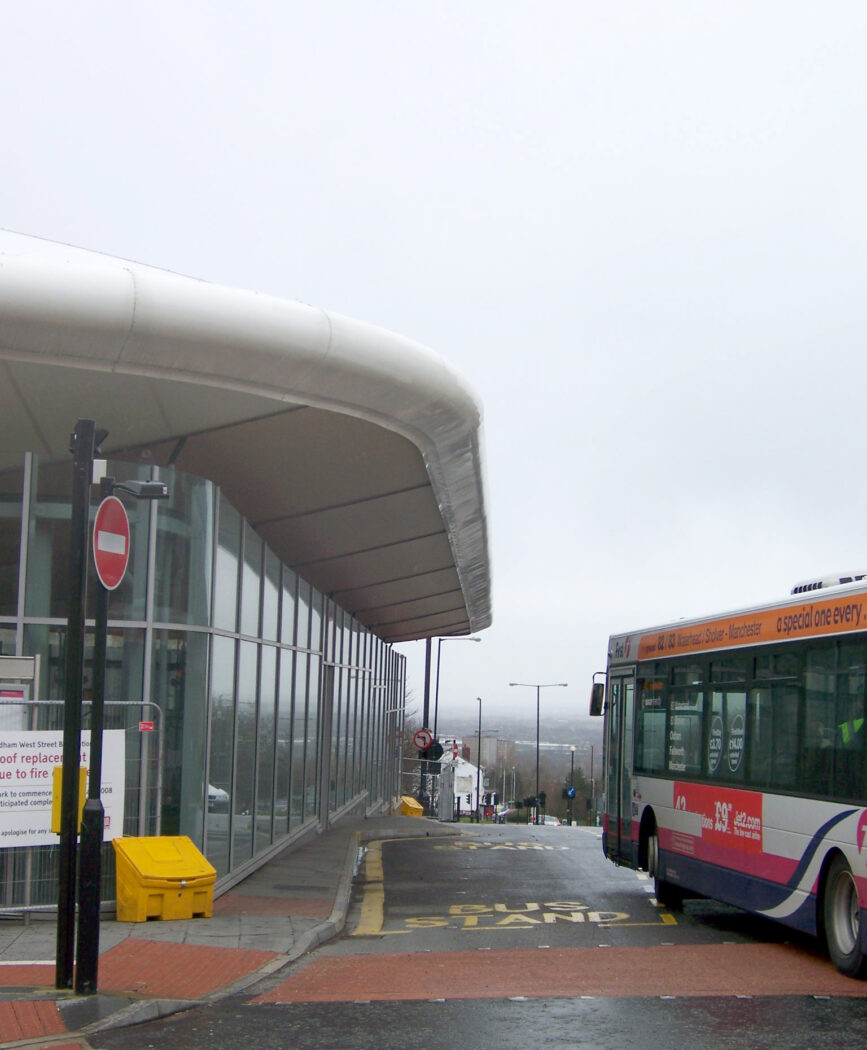 Replacement PTFE Roof
Following a fire at the Bus Station in which large areas of the existing tensile roof structure was damaged beyond repair, Base Structures were commissioned to remove the fire damaged areas of fabric, survey the existing steel and assess for structural damage, and then to replace all damaged fabric elements with new and make good the finished tensile structure.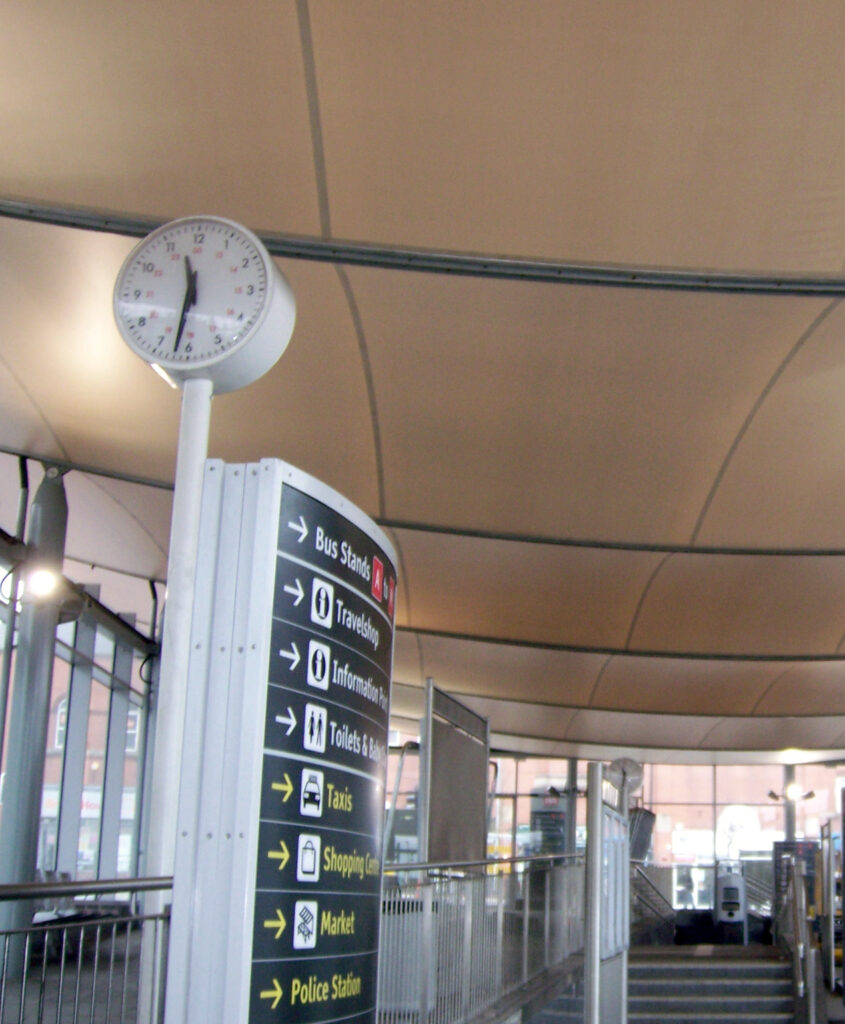 Our Solution
The existing roof is made up of a double skin PTFE multi barrel-vaulted structure contained within a large, essentially triangular, outer ring beam. All fabric elements were fixed to the steel structure via luff track or clamp plates.
Results
An aluminium facade contains the guttering and gives a nice finished appearance to the entire perimeter.
Similar Projects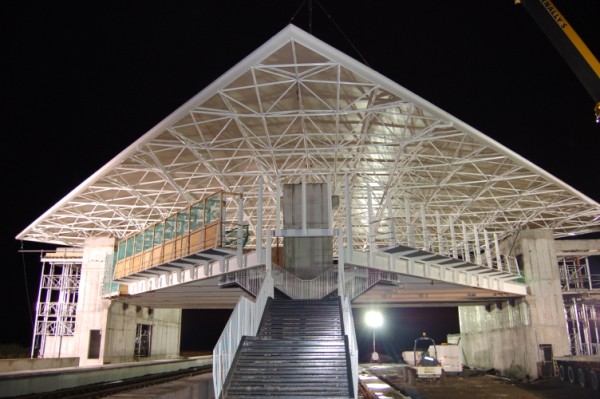 Adamstown Railway Station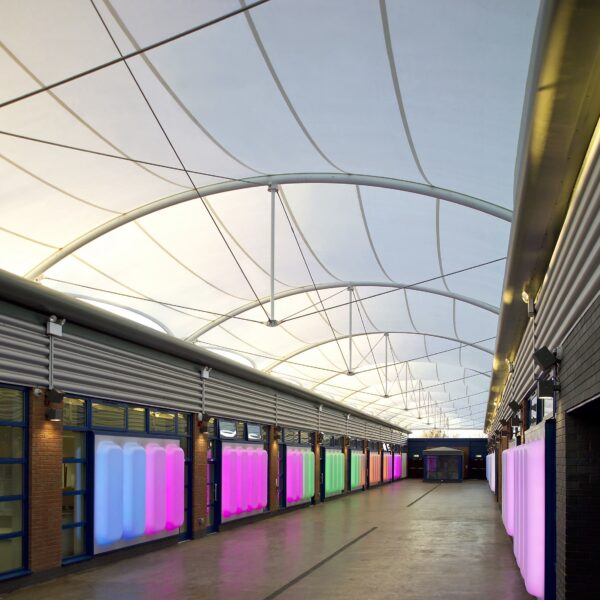 Beaufort School Roof Structure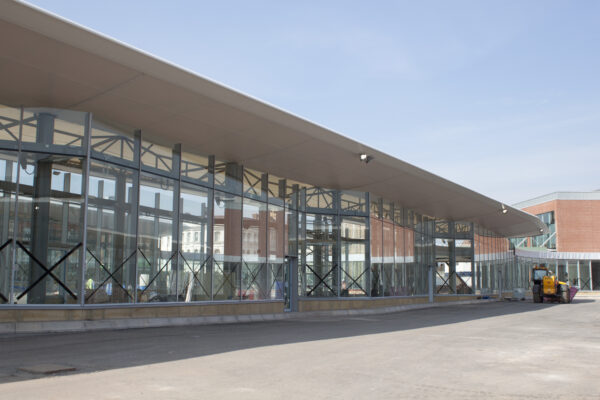 Wolverhampton Bus Station
Architect
Austin Smith Lord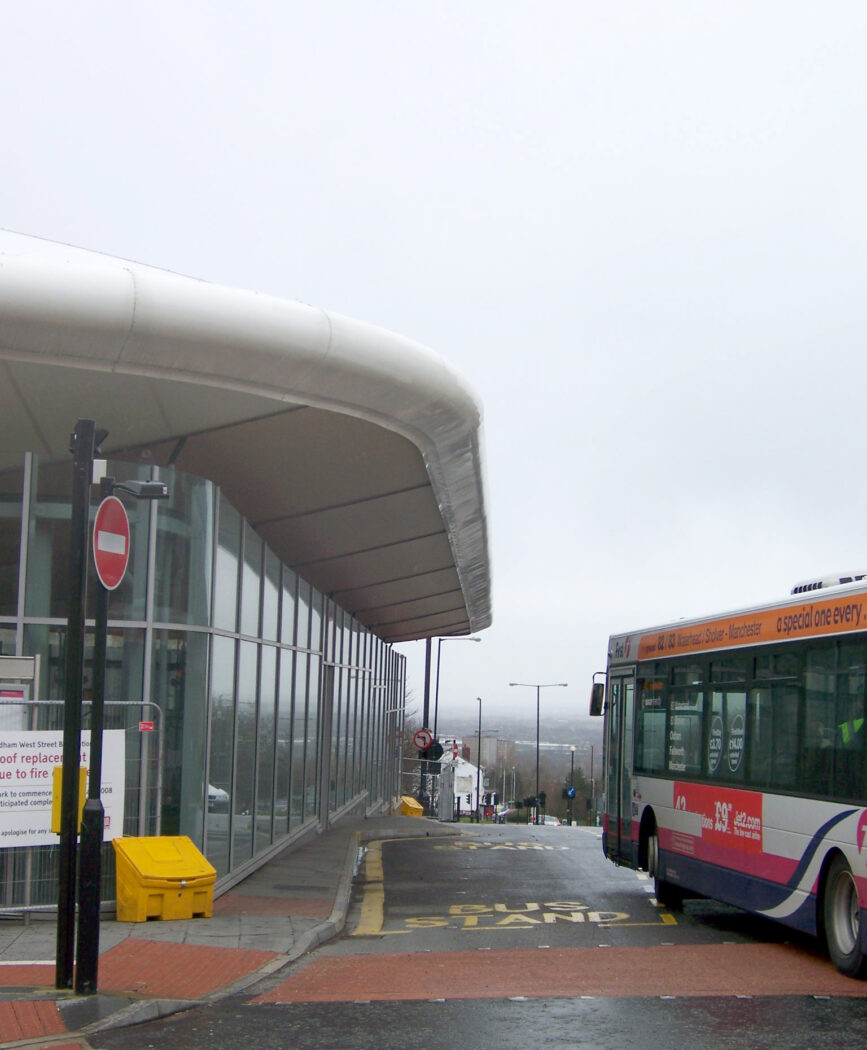 Fabric Atrium Courtyard Canopies
The client required to provide a degree of weather protection to an open atrium courtyard for the Hulme High Street Shopping Centre in Manchester.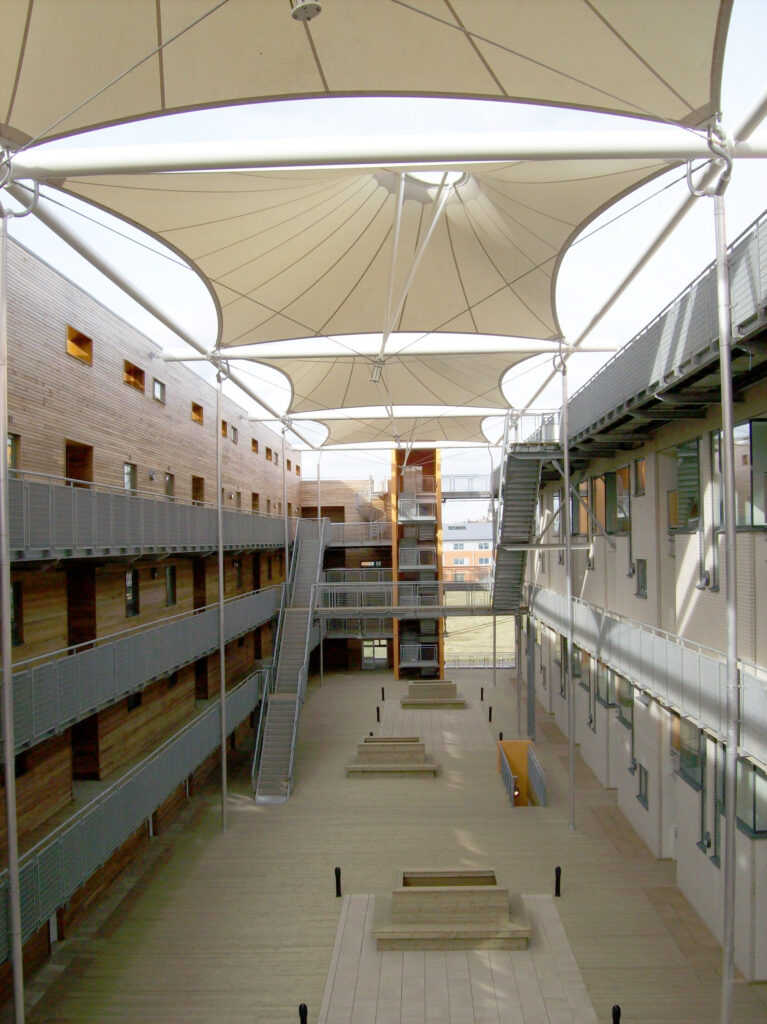 Our Solution
The PTFE canopies have perimeter upstands to allow rainwater to be collected and channeled down to ground level, allowing shoppers to stay fairly dry and happy!
Similar Projects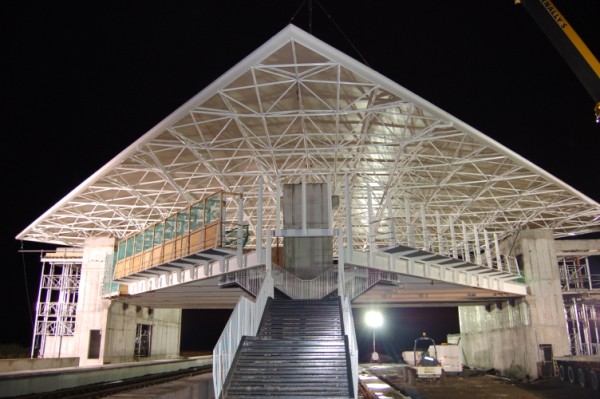 Adamstown Railway Station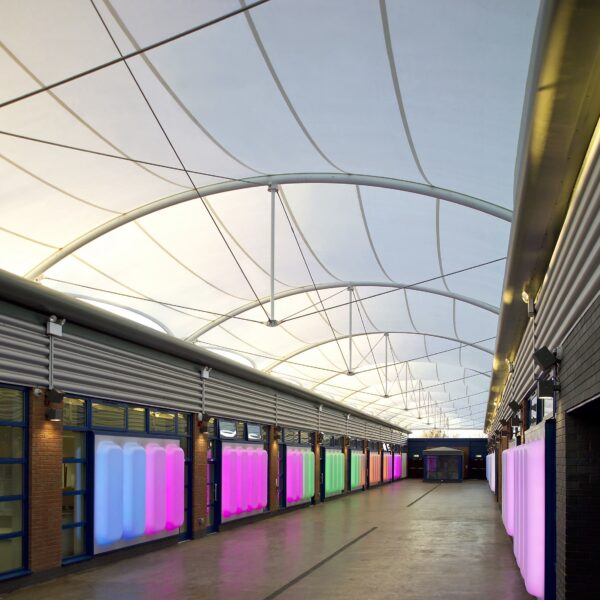 Beaufort School Roof Structure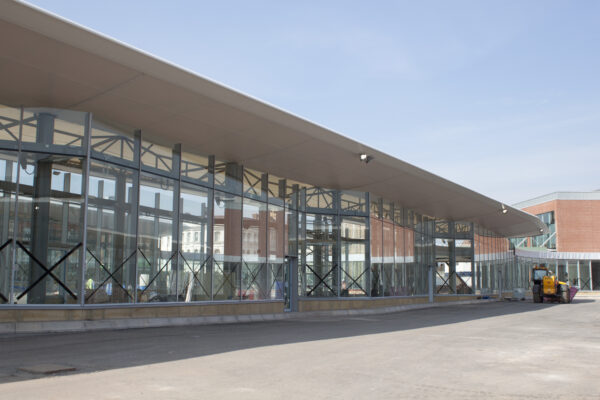 Wolverhampton Bus Station
Architect
Austin Smith Lord
Contractor
Base Structures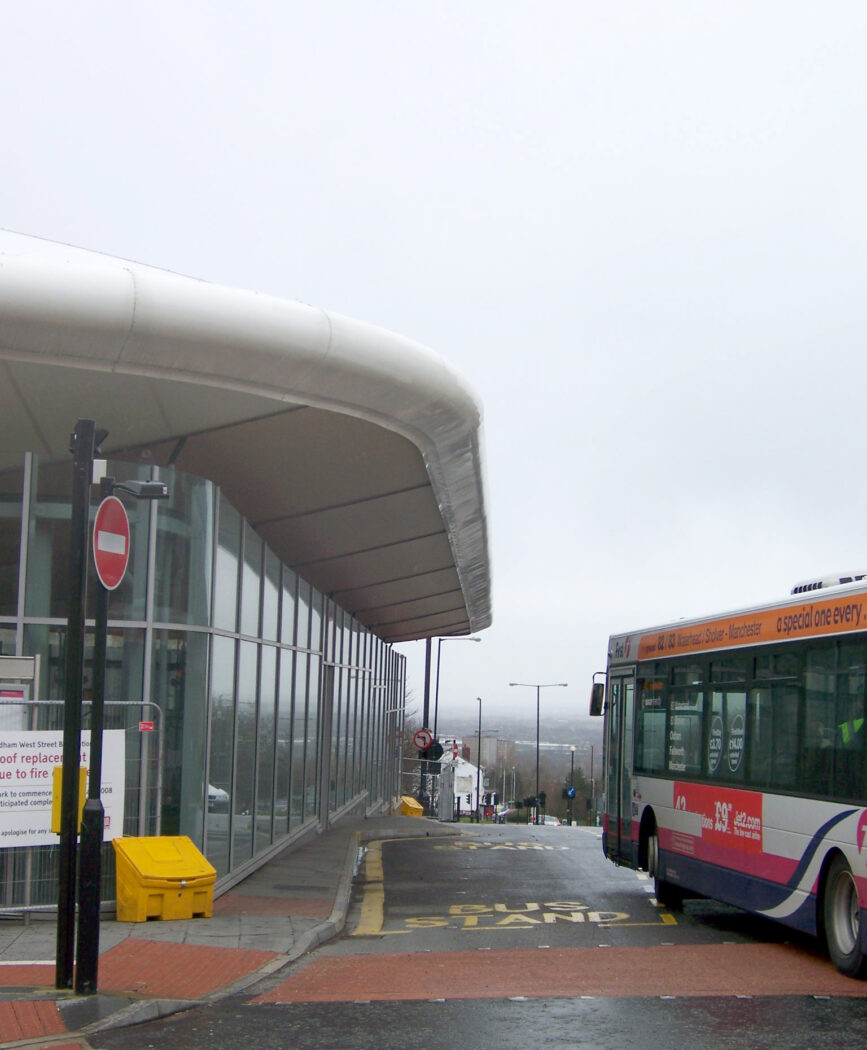 Architectural Tensile Fabric Canopy
Located in Crown Square, Manchester, this 196m2 single inclined conic fabric canopy structure was to feature as the latest part of the Spinningfields development – an area that is fast becoming known as the 'Canary Warf of the North'. By providing both a focal point and shelter for outdoor events, the tensile fabric canopy needed to lend an entirely new identity to an area surrounded by tall, modern buildings.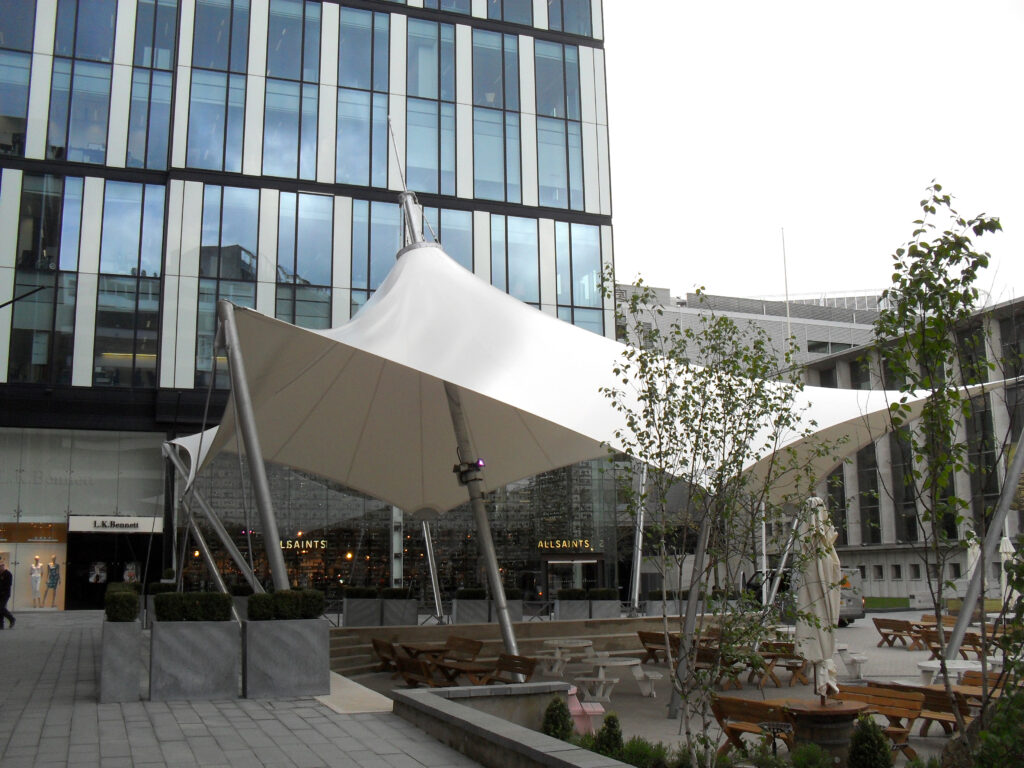 Results
Highlighting the benefits of using tensile fabric structures for exterior performance areas, this bespoke fabric canopy structure demonstrates the versatility, practicality and aesthetic possibilities of tensile fabric for extending the use of public spaces. Designed to fit onto existing foundations located at different levels, the undulating fabric perimeter and inclined steelwork present a lively aesthetic in keeping with the vitality of the wider location.
Similar Projects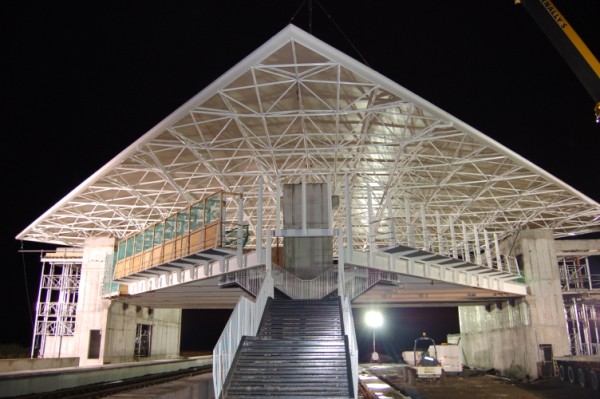 Adamstown Railway Station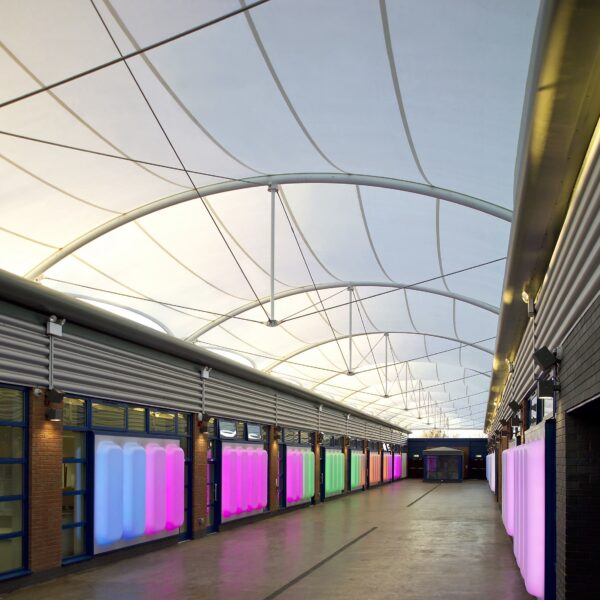 Beaufort School Roof Structure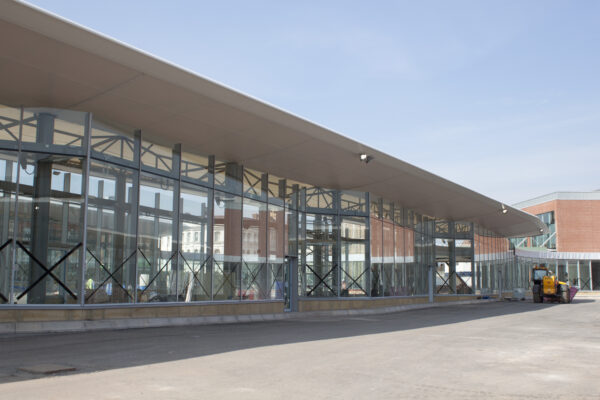 Wolverhampton Bus Station
Architect
Austin Smith Lord
Contractor
Base Structures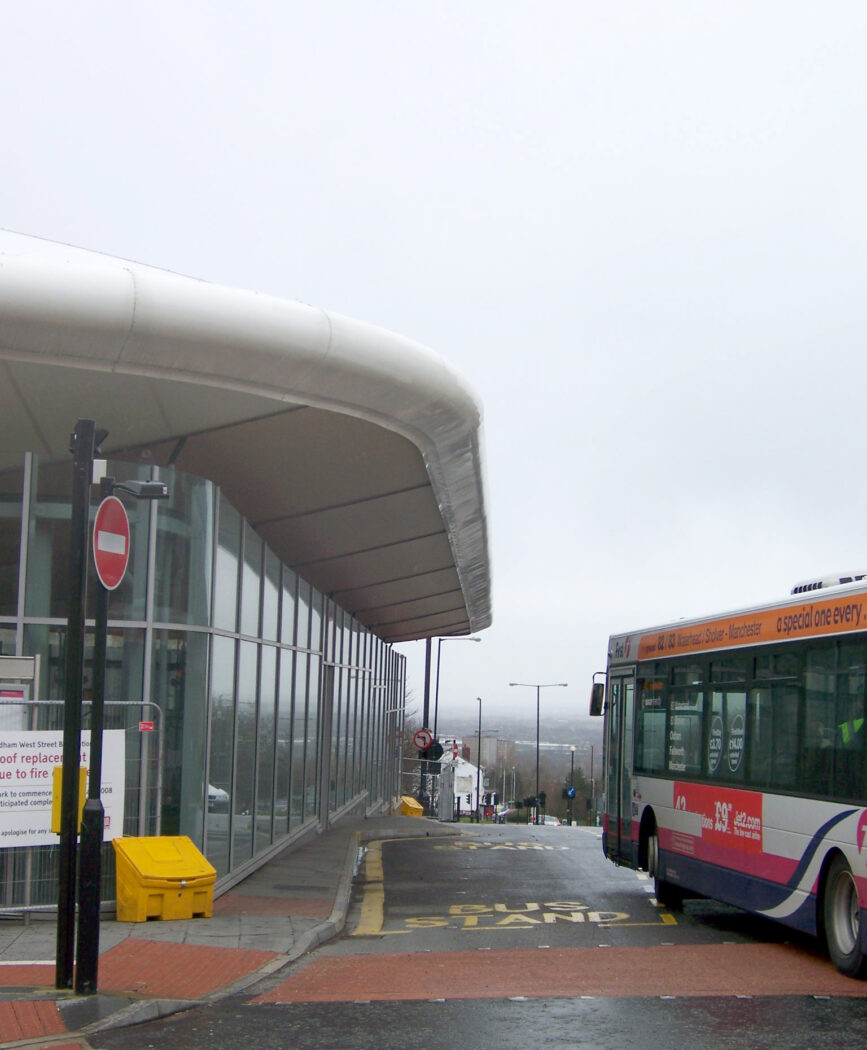 Printed Fabric Gasholder Advertising Banner
Large advertising hoardings are not everyone's cup of tea but in terms of sheer scale this one takes the biscuit! At over 6000m2 of roadside advertising area, this project was widely lauded as the largest Out Of Home opportunity available in the UK at that time. Sitting adjacent to the main arterial route from the M60 into Manchester and exposing full frontal glory to the new City of Manchester Stadium, this is one bill board that is impossible to ignore. Exposure was even claimed for airline passengers on the flight path into Manchester Airport!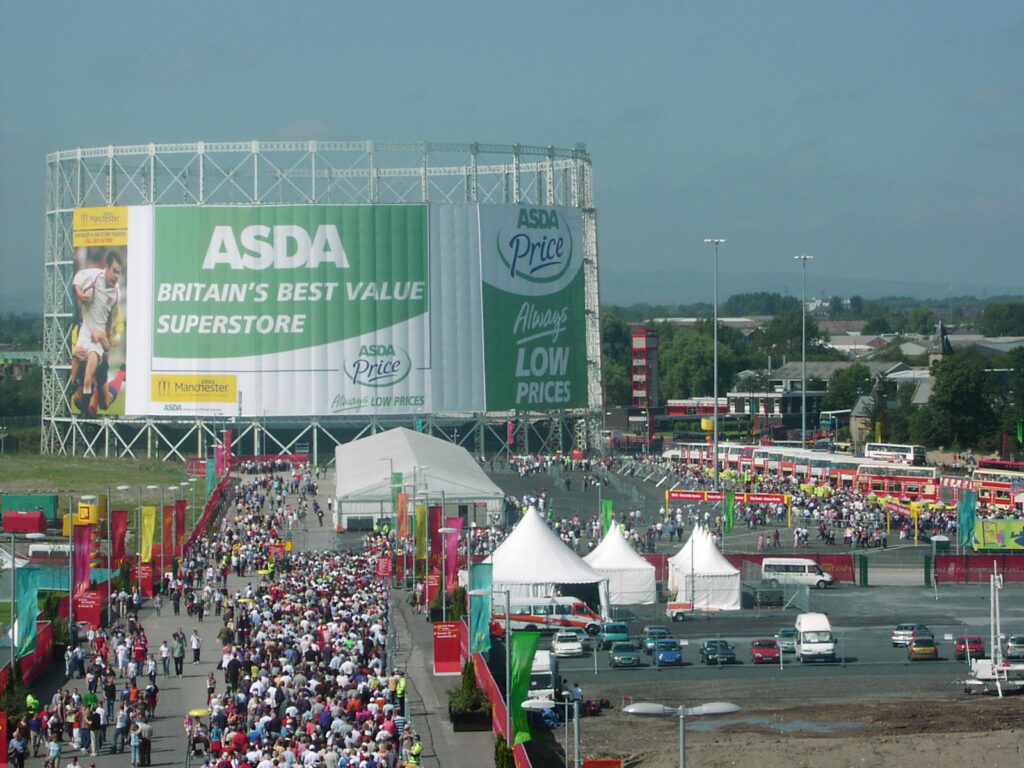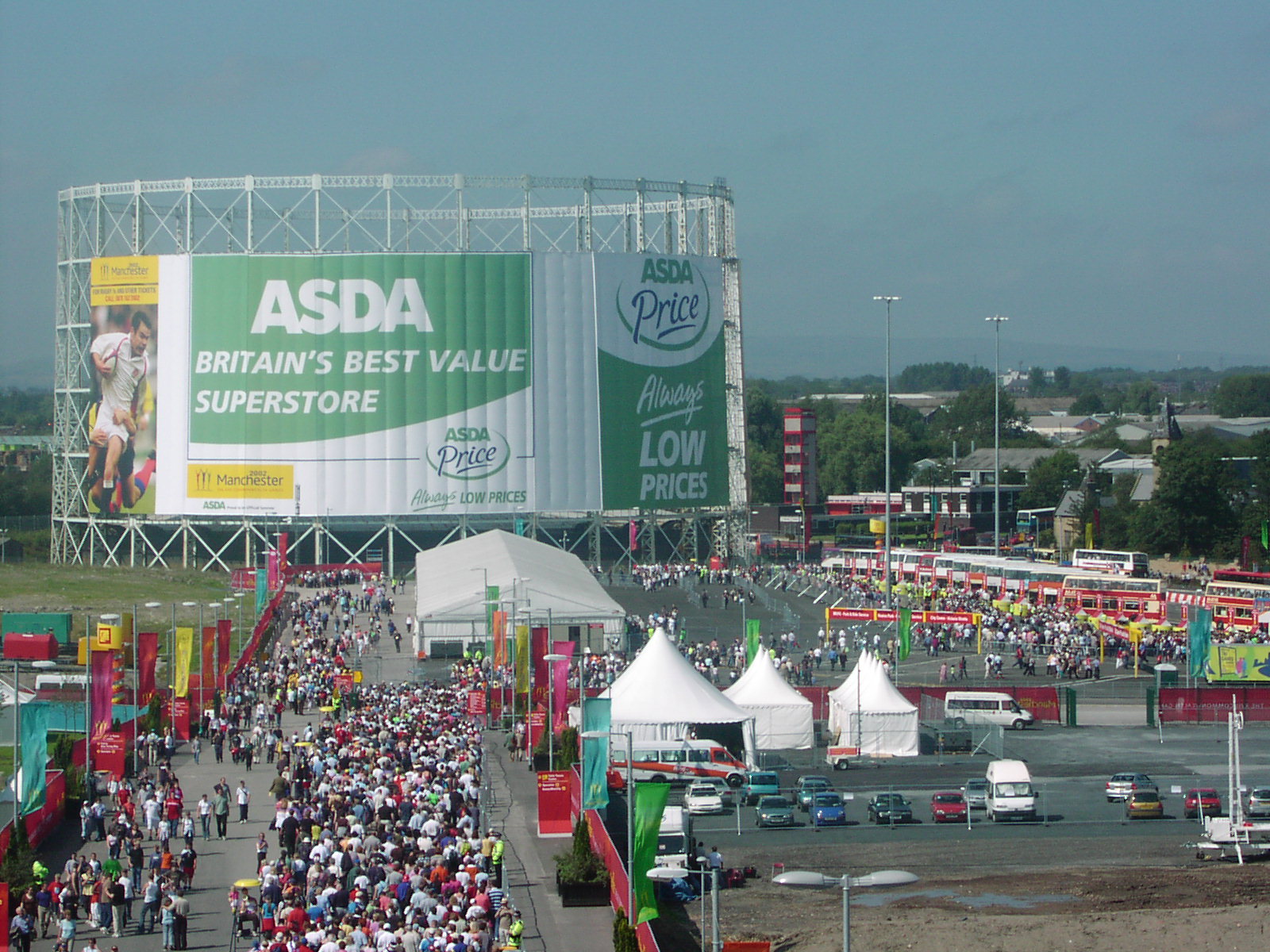 During the planning application process our client had to guarantee to the Gas-o-meter owners Transco, that clothing the structure would in no way detract from it functioning as originally intended. Therefore prior to receiving approval, extensive structural engineering calculations were produced which predicted that by wrapping the skeletal steel frame within a web of suitably tensioned stainless steel cabling the structure would not deflect sufficiently to stop the rise and fall of the gas chamber within. Thankfully the calculations were spot on and the resulting fully clothed gas holder continued performing unhindered and as unabashed as it had when naked!
An additional USP of this site was that the cable net devised for carrying these super large printed banners allowed for quick, 8-hour removal and re-installation of the media so that a pair of eyes seeing it on the way to work in the morning would be exposed to a different campaign on the way home in the evening. Striking visibility has always been the life blood of the advertising industry.
Similar Projects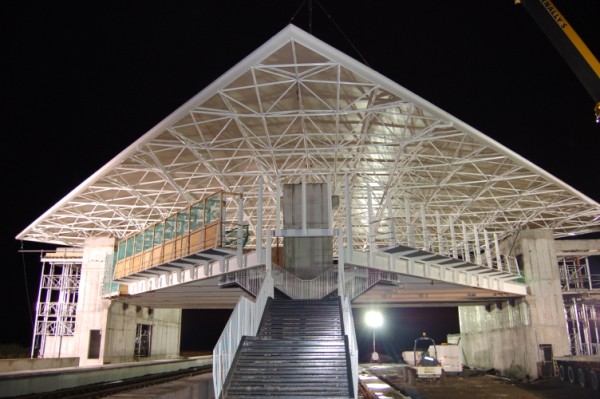 Adamstown Railway Station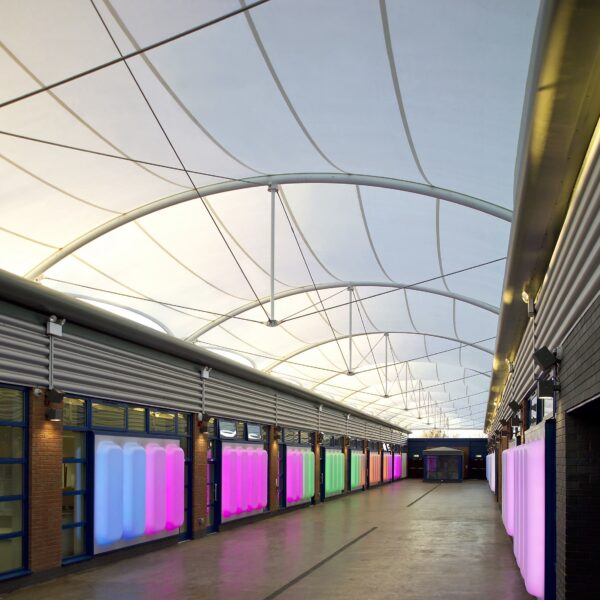 Beaufort School Roof Structure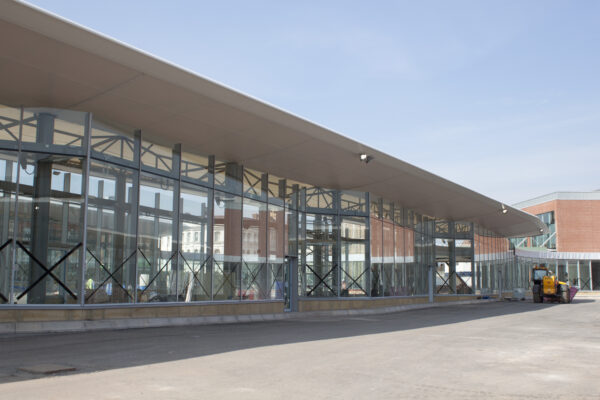 Wolverhampton Bus Station
Architect
Austin Smith Lord
Contractor
Base Structures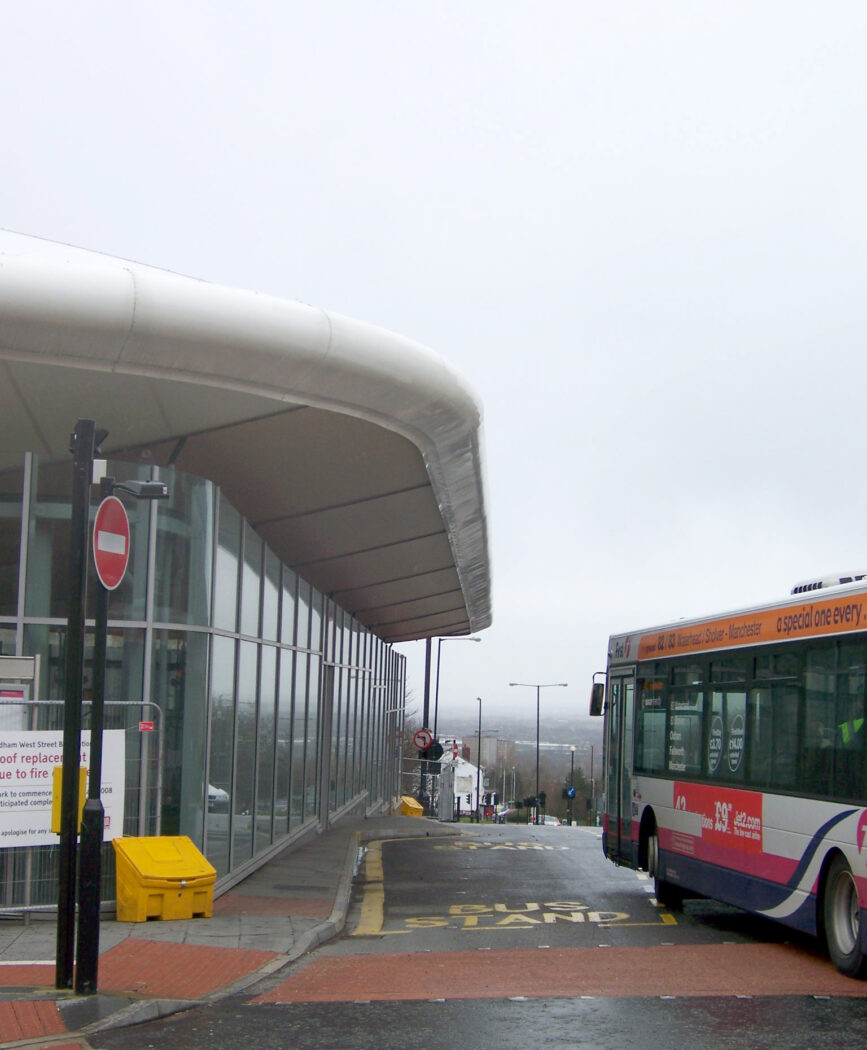 Tensile Fabric Atrium Canopy
Clever, simple, functional and high spec – all the buzz words that Abito attribute to their Salford Quays waterside development. So they thought, what better than to literally top off their brand new residential apartment building than a dramatic and striking tensile fabric architectural centrepiece.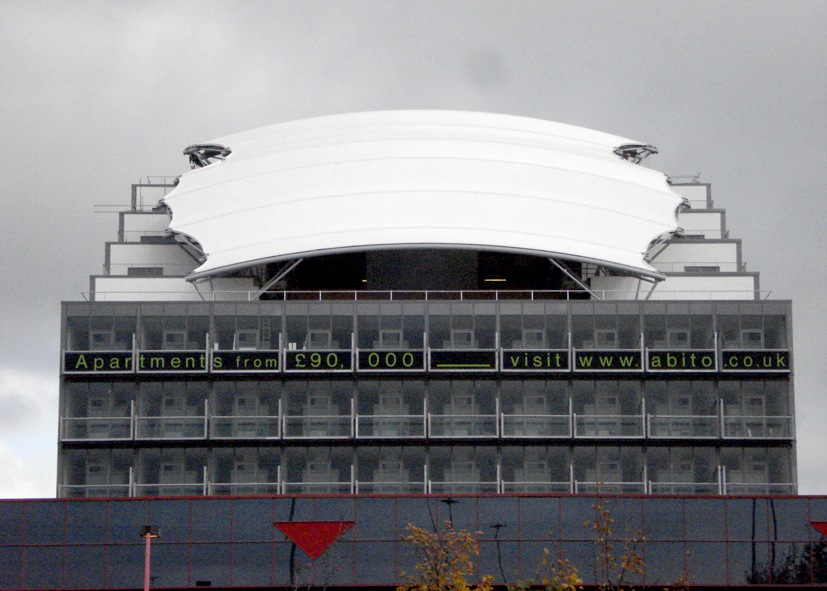 Result
Elegantly perched on the rooftops like a proud toupee, our fabric roof structure covers the central atrium with the tensioned fabric allowing a diffused light into the well of the development. Defining themselves as the creators of affordable yet chic urban living, it is these aesthetic finales that create the talking points Abito rely on to keep their buildings one step ahead of their market competitors.
Similar Projects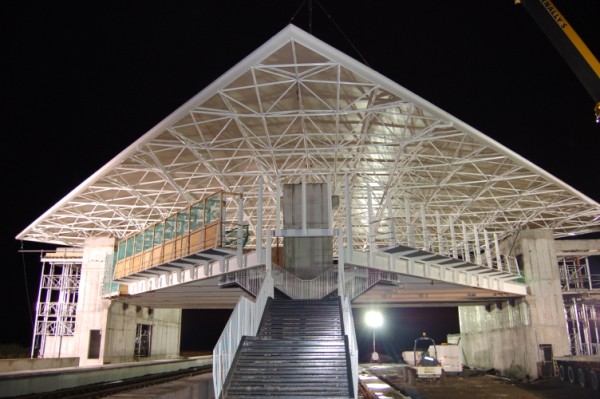 Adamstown Railway Station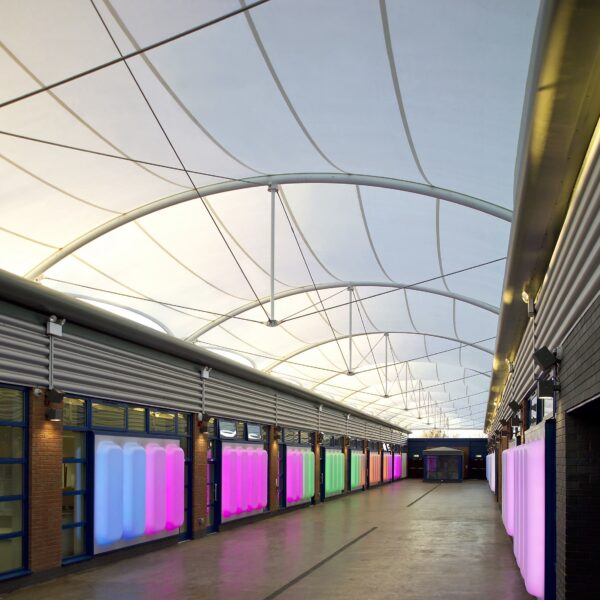 Beaufort School Roof Structure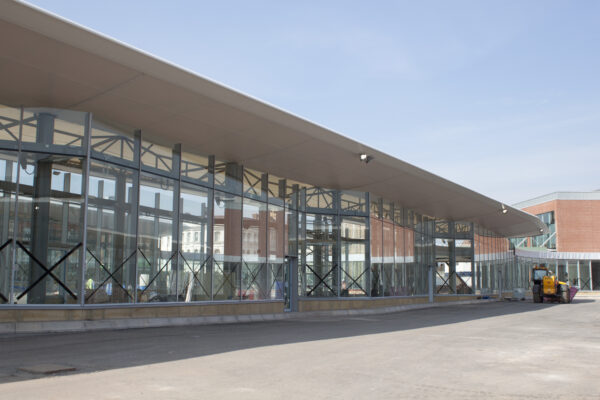 Wolverhampton Bus Station
Architect
Austin Smith Lord
Contractor
Base Structures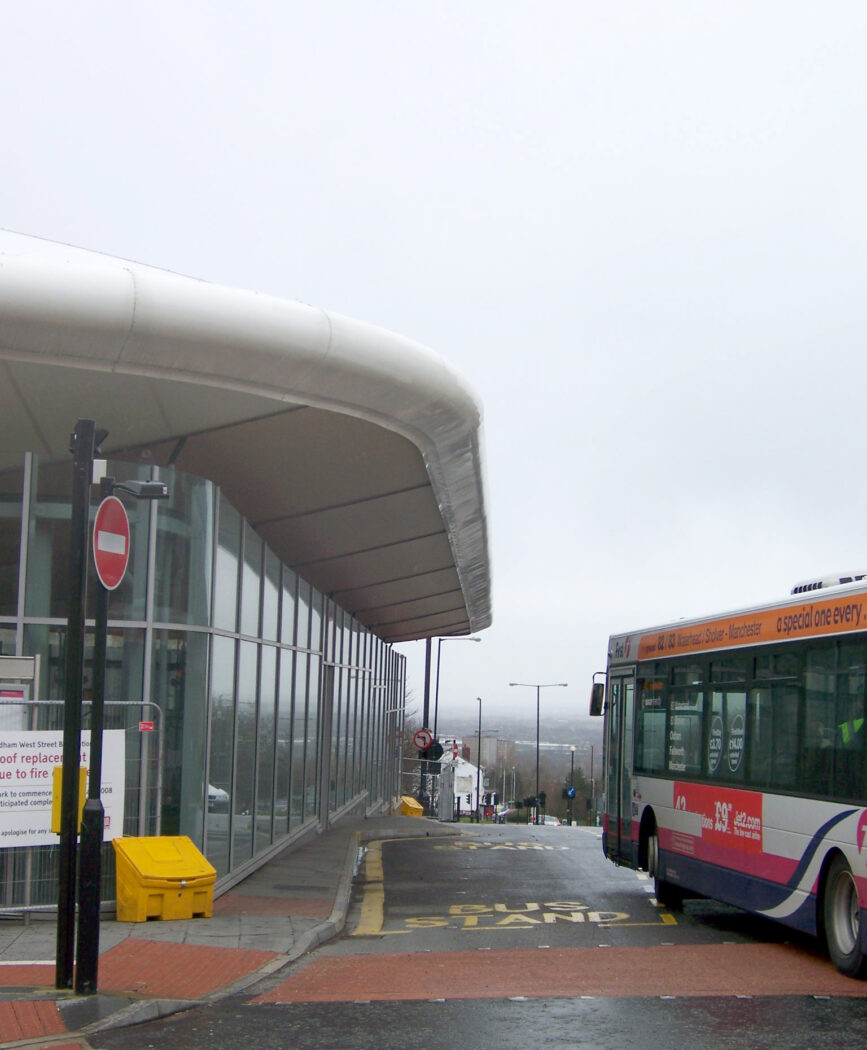 The Background
Manchester International Festival (MIF) is an artist-led, commissioning festival which presents new works from the performing arts, visual arts and popular culture. As part of the 2009 festival, Zaha Hadid Architects was commissioned to design a contemporary salon to house solo performances of Johann Sebastian Bach's music. The installation was to be housed in a 25m x 17m 'black box' in the Manchester Art Gallery. Zaha Hadid Architects responded with a stunning design consisting of a 110m long white ribbon which would wrap itself around both the stage and the audience, creating a dynamic yet intimate performance space.
Zaha Hadid is one of the most extraordinary, innovative and creative designers to work with textile architecture. Each piece designed by her team is a head turning, award winning revelation. We have collaborated on a number of projects and each time our creativity in design and manufacture as well as the technical capabilities in the fabric are challenged to their very limits. The results are awe inspiring brilliance.
Project Highlights
Stunning and theatrical interior fabric installation designed by Zaha Hadid Architects
Base's innovative fabric and framing system achieved the dramatic forms visualised by the architects while enhancing acoustics
Swift and smooth installation – 3 days with 2 teams of 4 riggers working day and night shifts
Praised by arts critic
Structure has since been installed at the Amsterdam Festival in 2010 and is due to visit Abu Dhabi in March 2011 as part of an ongoing worldwide tour.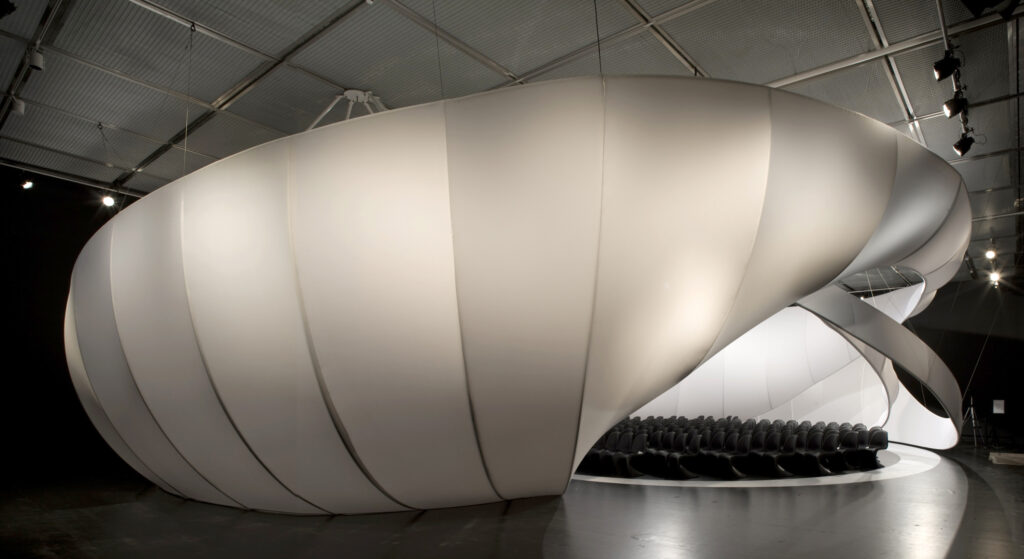 The Team
Jack Thompson, Technical Director, MIF
Tracey Low, Senior Producer, MIF
Melodie Leung, Architect, Zaha Hadid Architects
Gerhild Orthacker, Architect, Zaha Hadid Architects
Kevin Hemmings, Architect, Base Structures
Andy Traynor, Installation Director, Base Structures
Tony Hogg, Engineer, Tony Hogg Design
Benedict Whybrow, Designer, Tony Hogg Design
Michael Whitcroft, Acoustic Engineer, Sandy Brown Associates
Nick Croker & Paul Thomas, Site Supervisors, Base Structures
The Brief
Having already successfully collaborated on the Serpentine Gallery project, Zaha Hadid Architects approached Base to gain the team's technical expertise on the design's buildability – with the performance of the 'ribbon' being pivotal to its function. Transport ability was another consideration for Base, as the installation would also be reinstalled in other venues.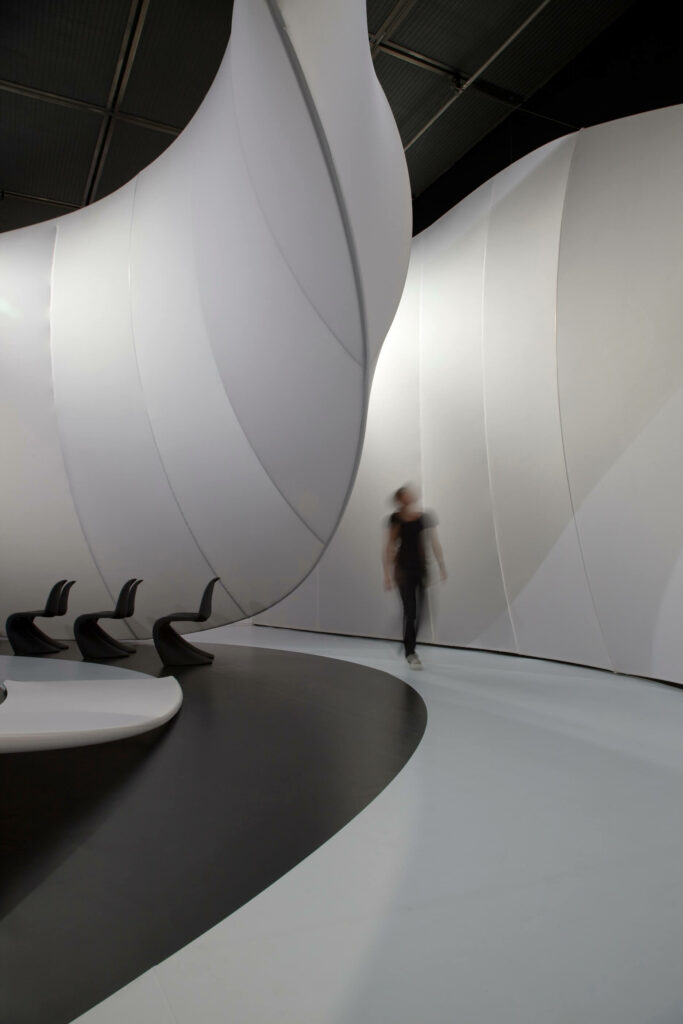 The Solution
Base's recommendation was to combine a light aluminium frame with a stretch Lycra® fabric skin. With preliminary costs coming within budget, Zaha Hadid Architects commissioned Base to develop the design through to cost certainty.
Ensuring Buildability
The first challenge for Base was to transform the architect's complex 3D model into a buildable structure that retained all the fluidity of the original design. With the help of experienced tensile engineers Tony Hogg Design, Base constructed a framework that replicated the model exactly. And to be certain of the fabric's suitability, Base fabricated and wrapped a prototype section of the frame to test fabric compensations.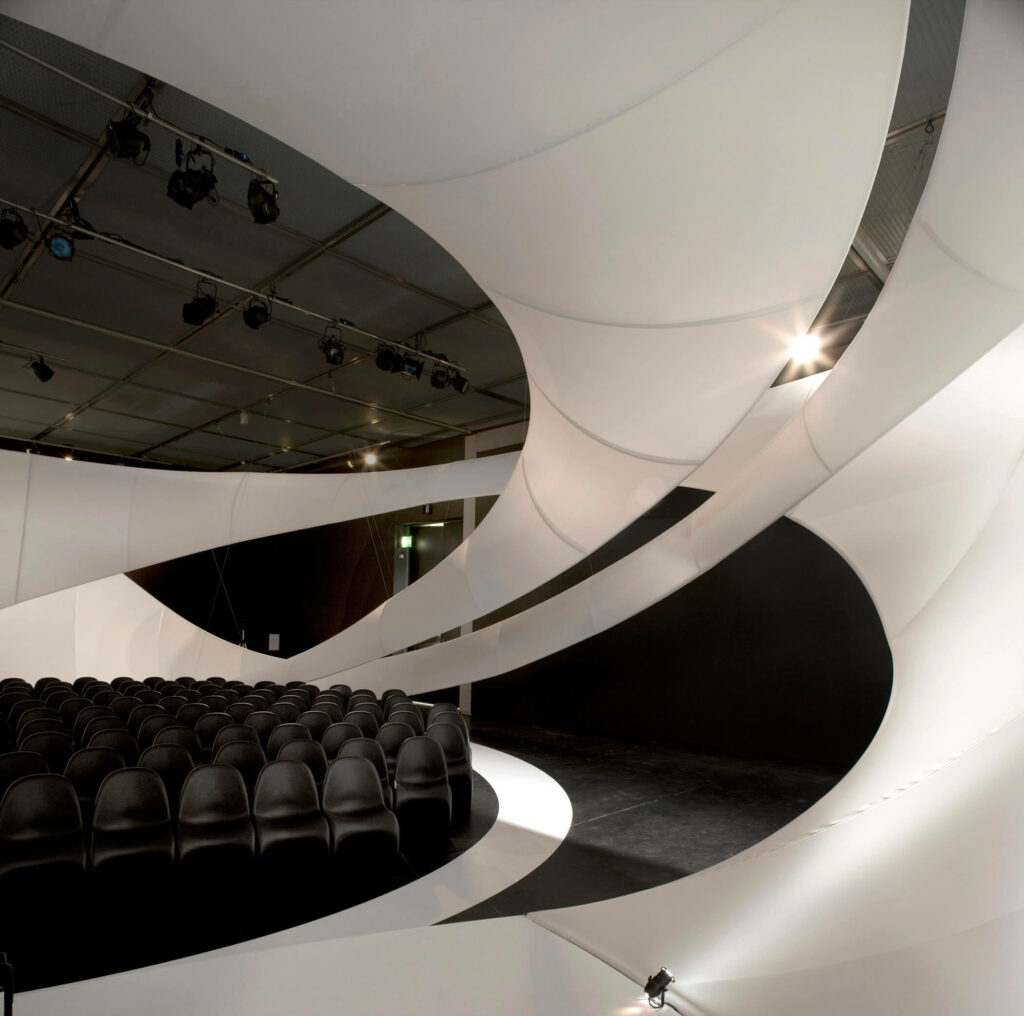 Expert Engineering
For the 'ribbon' to perform as intended, it was imperative that a smooth change of curvature was maintained throughout the structure. So Base's solution featured a series of eye shaped rib frames, connected with a top and bottom rail each rolled to a specific radius. Speed of installation was essential too, so turned nylon spigots were employed to connect the frames with a push fit connection. Likewise the fabric was designed to be applied rapidly by only having nine 'fields' which were zipped together with a discrete plastic closure, utilising Base's expertise from the banner finishing side of its business.
Swift Installation
The frame was hung by 2.5mm stainless steel cables from suspension points in the gallery ceiling, incorporating an easy to adjust fastener. Base also supplied the stage platform and fitted rigid acoustic reflector panels inside parts of the ribbon, directed by acoustic engineers, Sandy Brown Associates. The structure was installed in three days with two teams of four riggers, working day and night shifts.
The Results
The result was a single continuous ribbon which swirled around one of the main rooms in the Manchester Art Gallery, creating layered spaces cocooning both performers and the audience. Base's successful realisation of Zaha Hadid Architect's design was largely due to the combined experience of the team, ranging from engineering; detail design; fabrication of the frame; assembly of the fabric; and the professional site crew. The project's triumph was also recognised by one arts critic in particular, stating that the structure not only worked as a sculptural object but acoustically as a chamber music venue. The structure has since visited the Amsterdam Festival in 2010 and is due to continue its tour, scheduled for a visit to Abu Dhabi in March 2011.
It has been a pleasure to work with Base Structures on the J.S. Bach Chamber Music Hall. They have a positive attitude and flexible approach towards challenging proposals. Their creativity, breadth of experience, and attention to detail were invaluable to the success of the project.
Melodie Leung and Gerhild Orthacker
– Zaha Hadid Architects
Similar Projects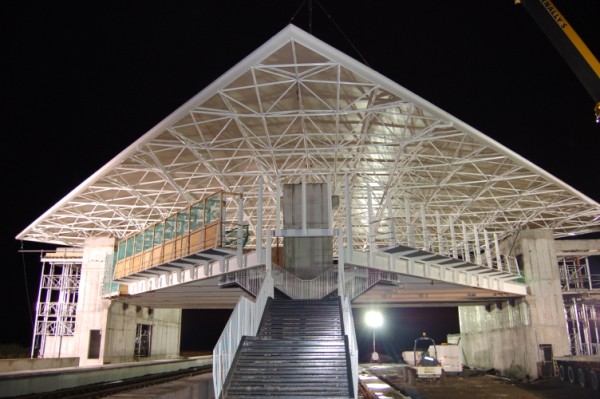 Adamstown Railway Station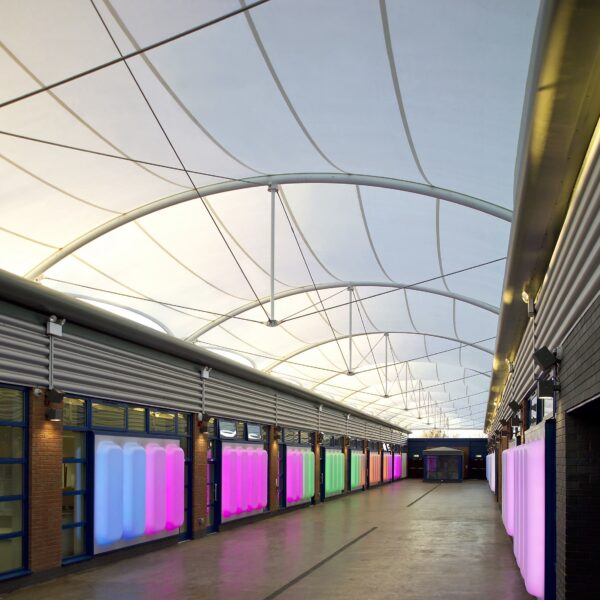 Beaufort School Roof Structure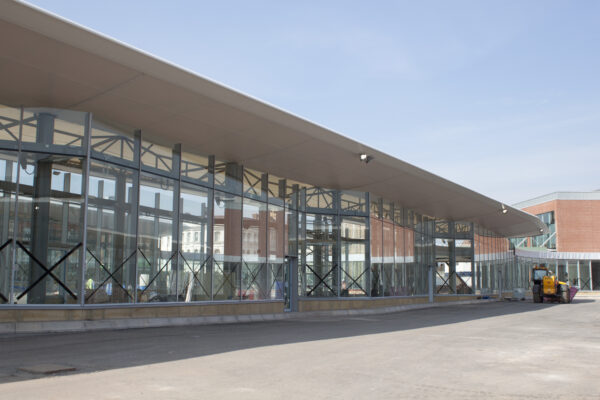 Wolverhampton Bus Station