Architect
Dan Pearlman Architects
Fabric
Polyethylene Mesh
Stainless Steel Mesh
Product
Aviary Structures
Zoo & Wildlife
Zoo Enclosures
Services
Design
Installation
Maintenance
Manufacturing
Project Management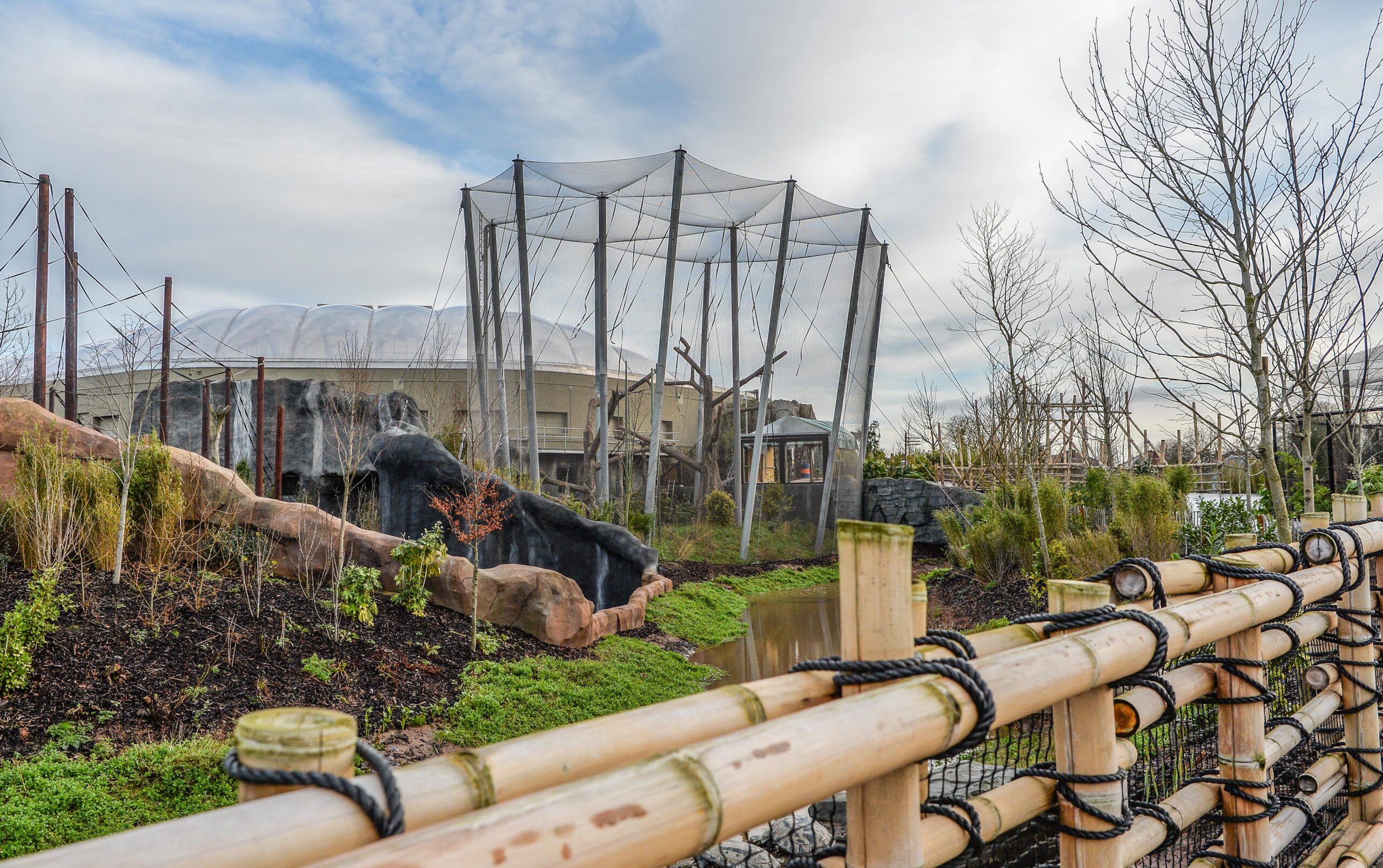 Project Outline
Base Structures were originally approached by the Zoo to offer their expertise to design an enclosure and aviary solution for a number of new home's for Sumatran orangutans, Sulawesi macaques, Rhinoceros hornbill's and Bali starlings, on the new £40m development, Island Projects, at Chester Zoo.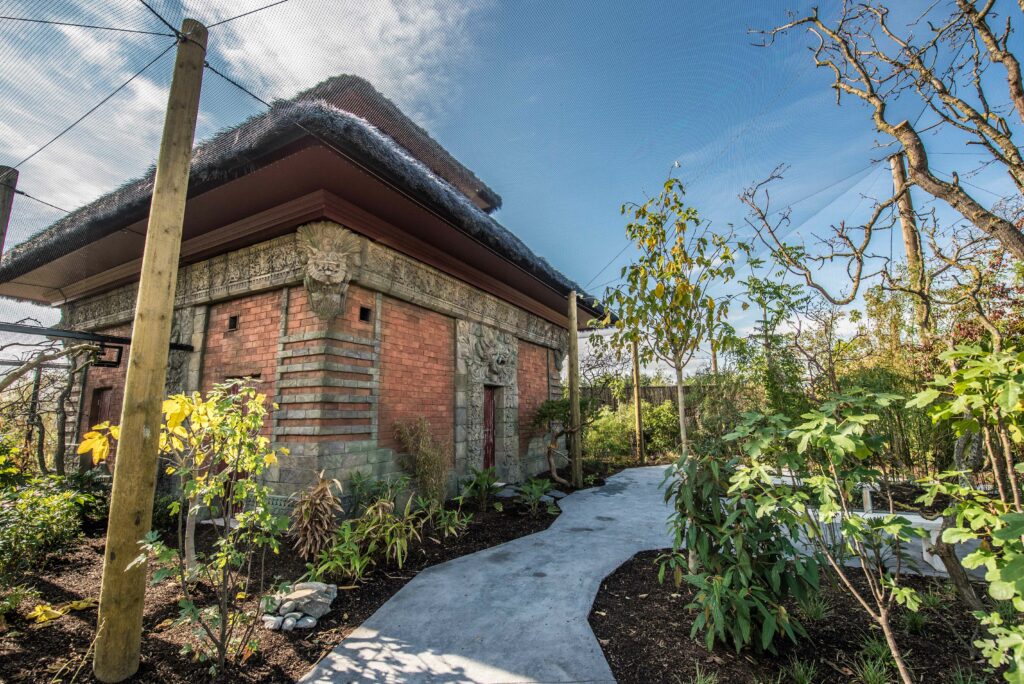 Our Solution
The main focus as always with any type of zoo enclosure is on the animal welfare, therefore very careful consideration was given on the selection and approach for the mesh netting, to ensure these critically endangered and beautiful species were provided with a safe and secure environment.
Utilising our network of specialist suppliers, we were able to select the appropriate stainless steel mesh product, and design an interface solution with other substrates on the enclosure, in a way that the orangutan in particular could not unpick or find a weakness.
The macaque enclosure, and hornbill and Bali starlings aviaries although less challenging, specific detail still had to be considered with regard to minimal visual impact, and a protective and secure environment for the apes and birds.
Results
All of the enclosures and aviaries were delivered on time and to programme, through some challenging weather conditions, and the end client was extremely satisfied with the end result, that is the animals of course!
Similar Projects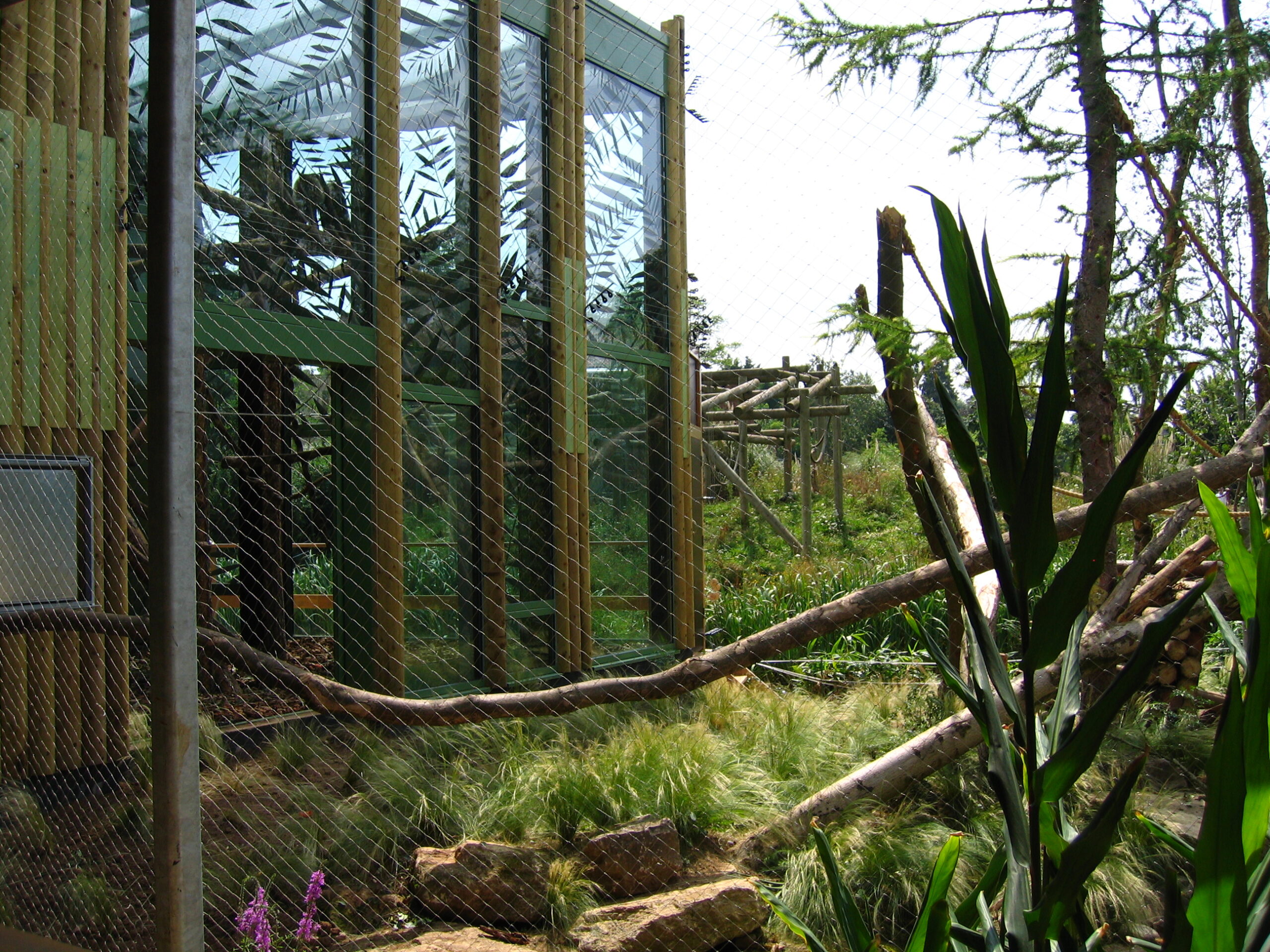 Bristol Zoo Howler Monkey Enclosure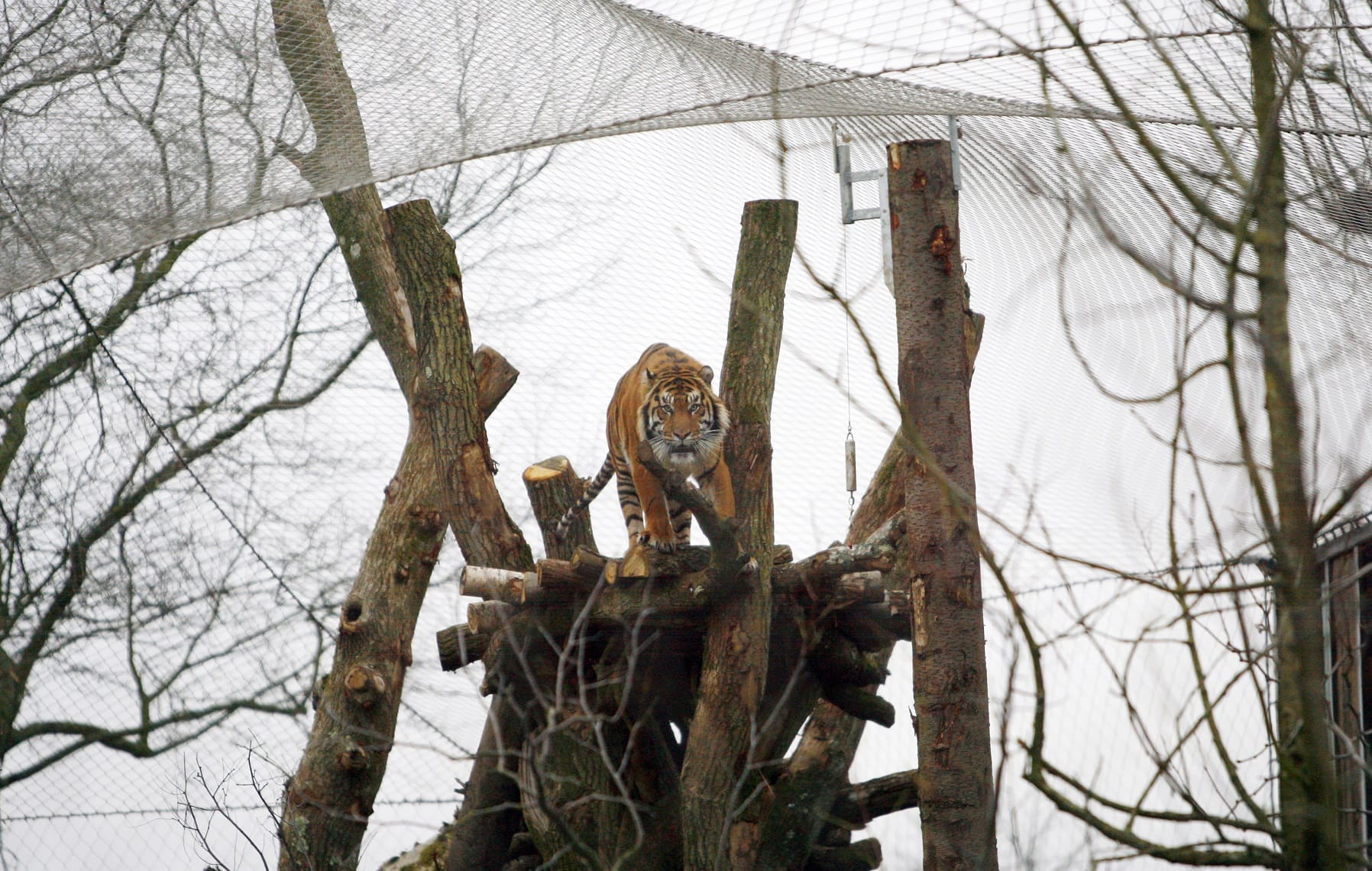 London Zoo Tiger Enclosure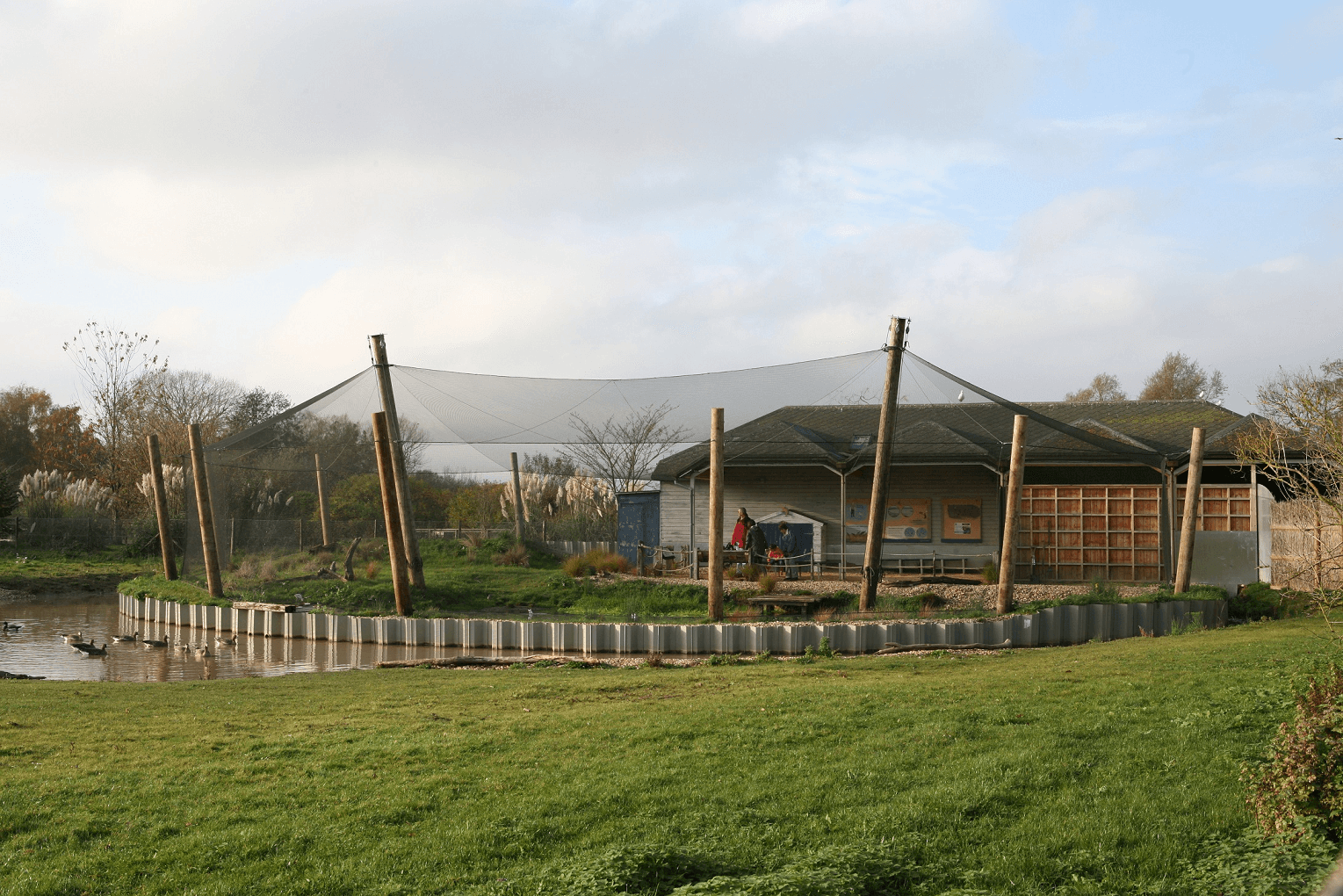 Architect
Dan Pearlman Architects
Product
Aviary Structures
Zoo & Wildlife
Services
Design
Installation
Maintenance
Manufacturing
Project Management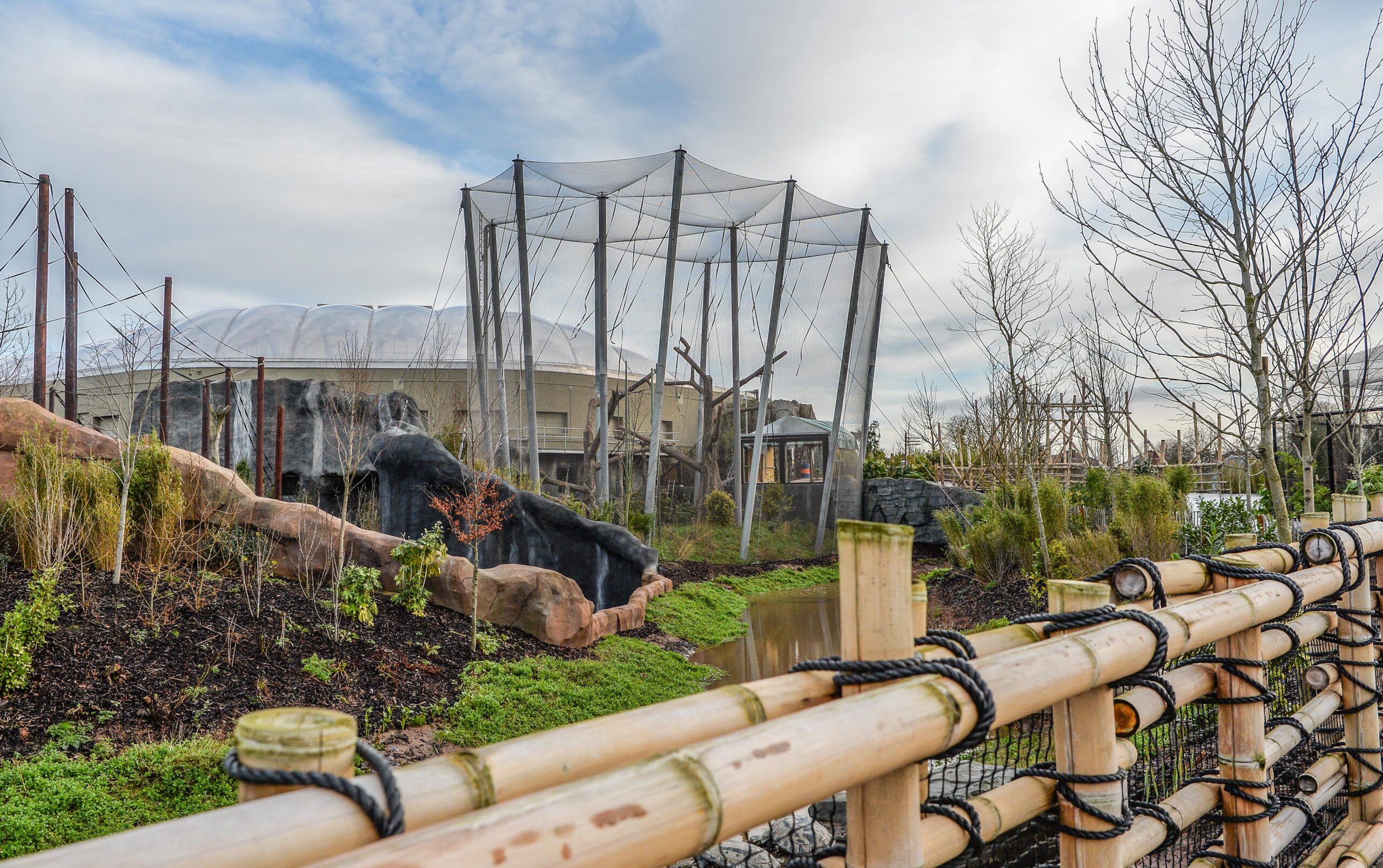 Knotless Polypropylene Mesh Zoo Enclosure
As part of a project housing for an existing zoo enclosure, Base Structures were asked to find the perfect solution for Bristol Zoo's flamingo aviary.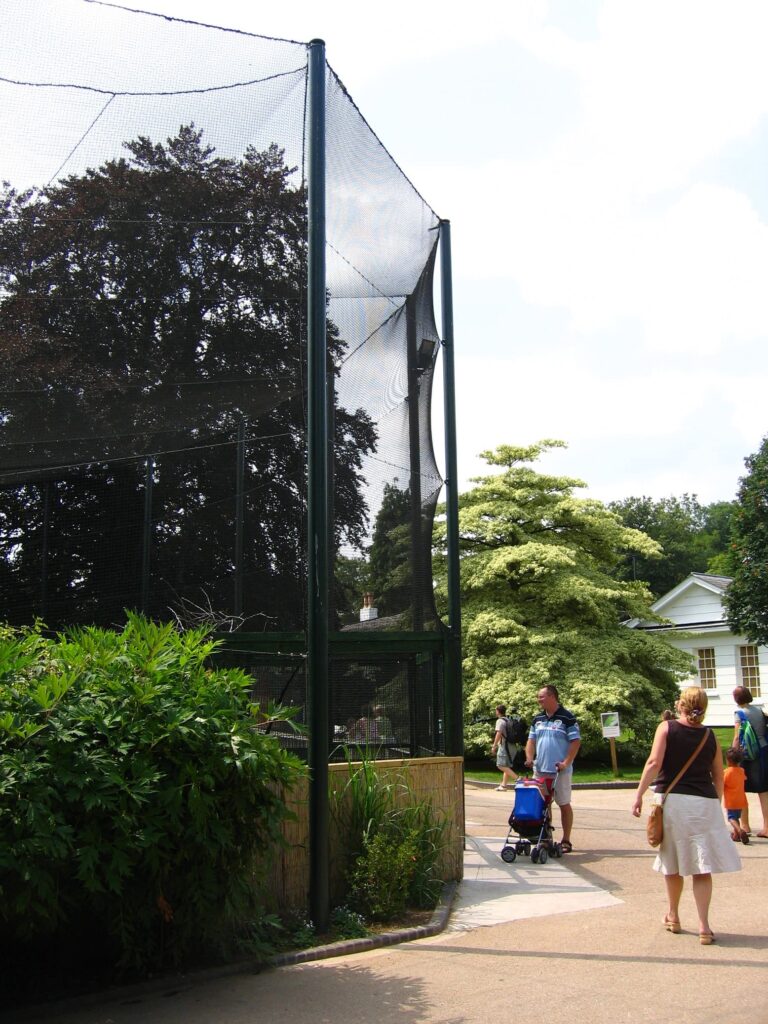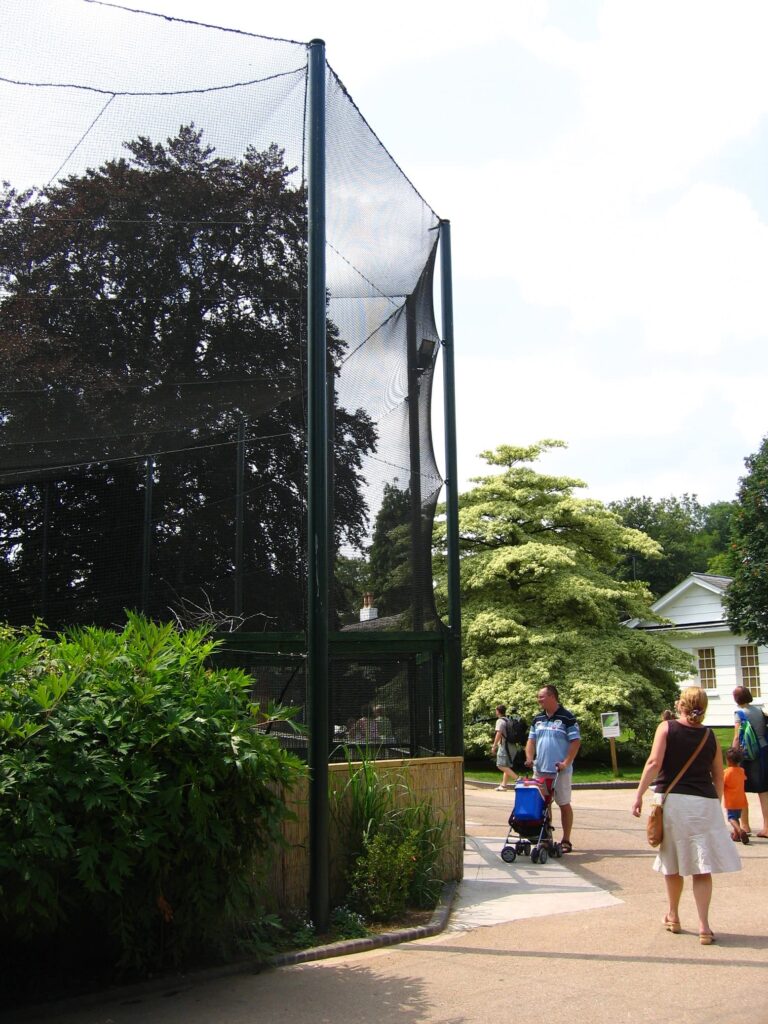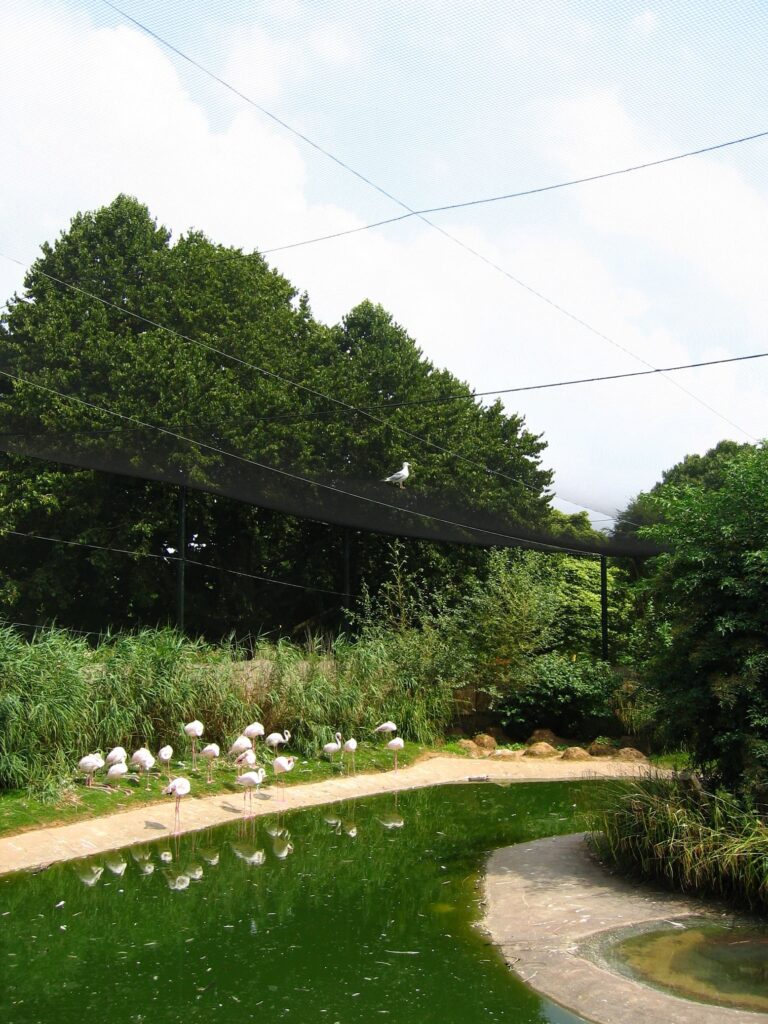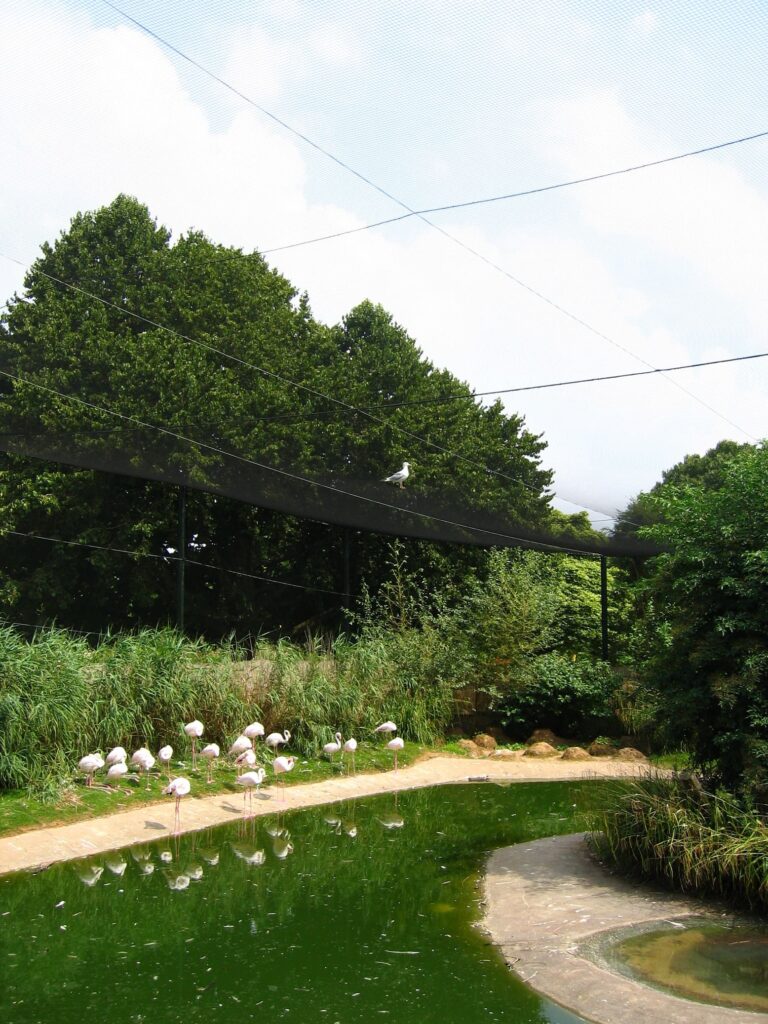 Solution
For this project, we were able to provide the materials and expertise to wall and roof this structure in Polypropylene knotless mesh.
Result
The resultant complete refurbishment of the area provides the flamingos with a lifelike habitat and for the public, an exciting walk through structure.
Similar Projects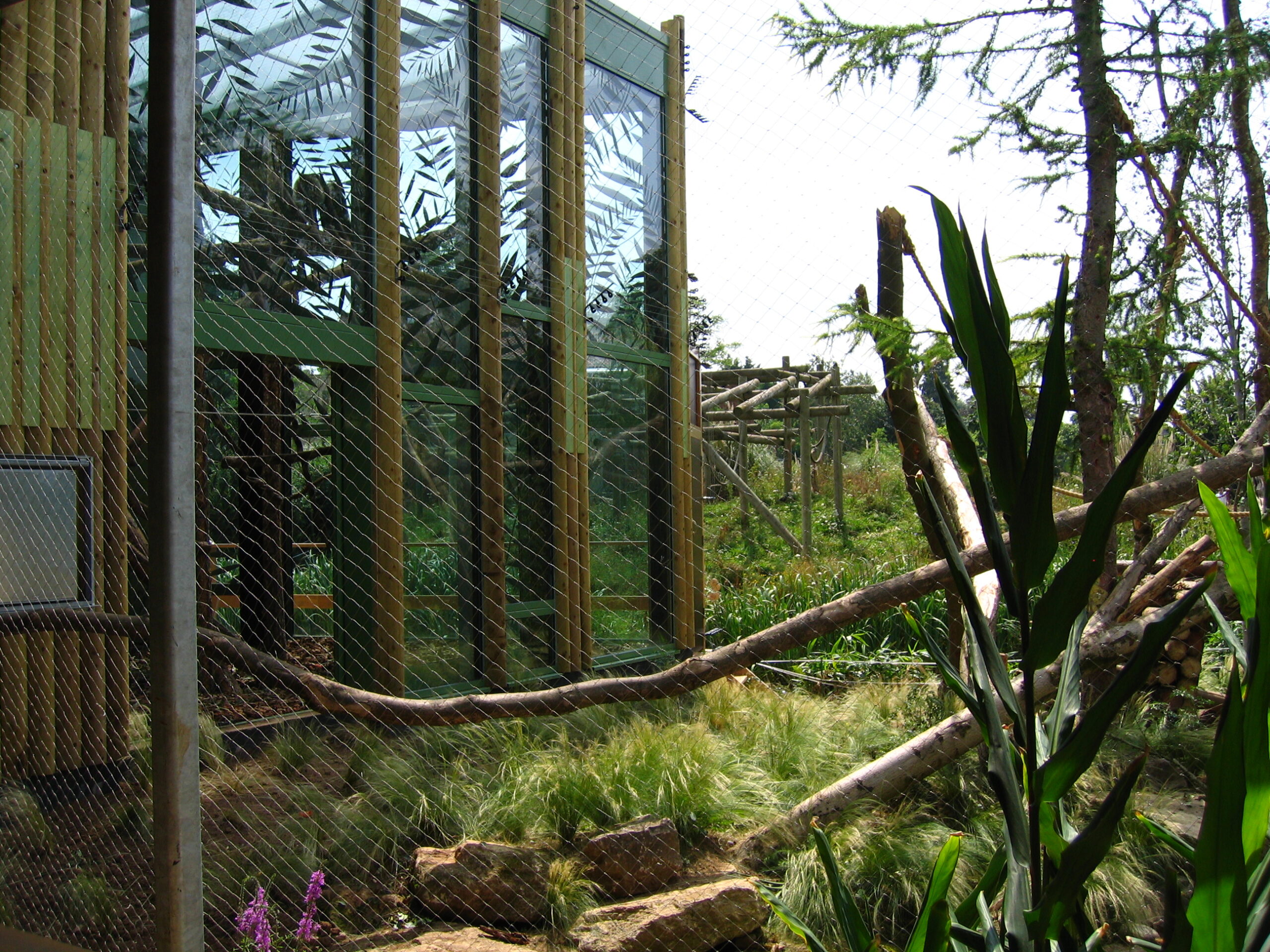 Bristol Zoo Howler Monkey Enclosure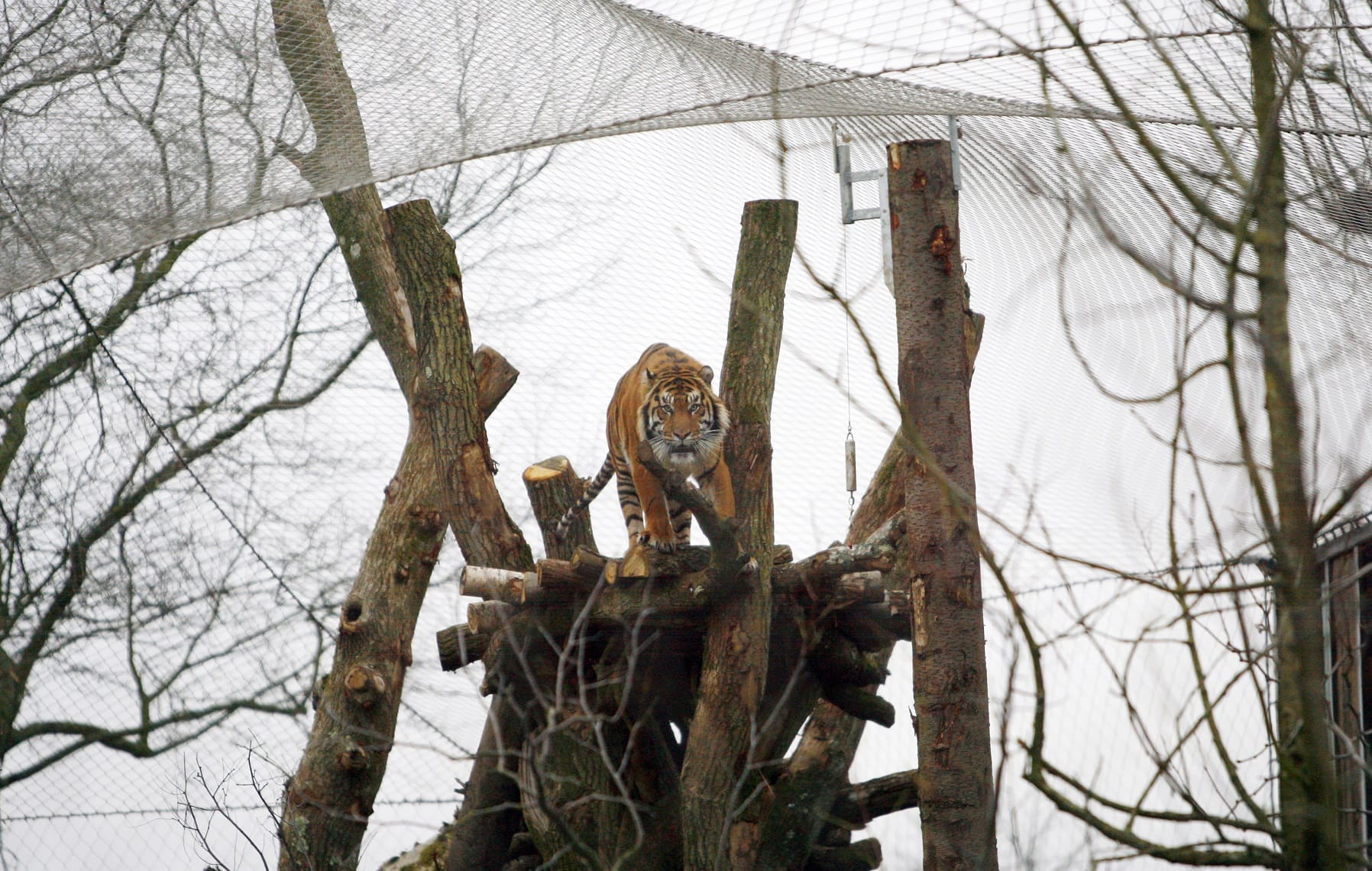 London Zoo Tiger Enclosure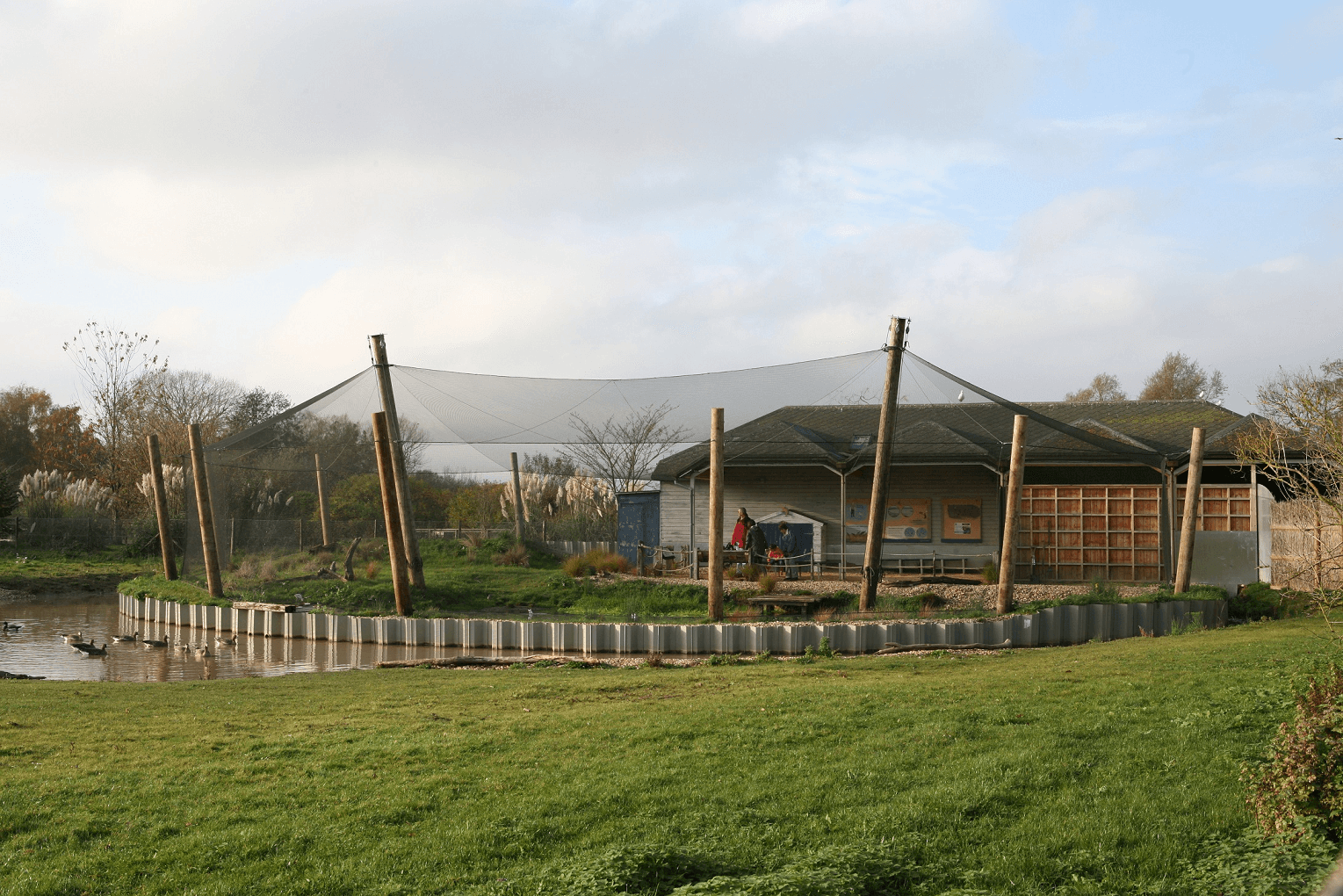 Architect
Dan Pearlman Architects
Product
Aviary Structures
Zoo & Wildlife
Services
Design
Installation
Maintenance
Manufacturing
Project Management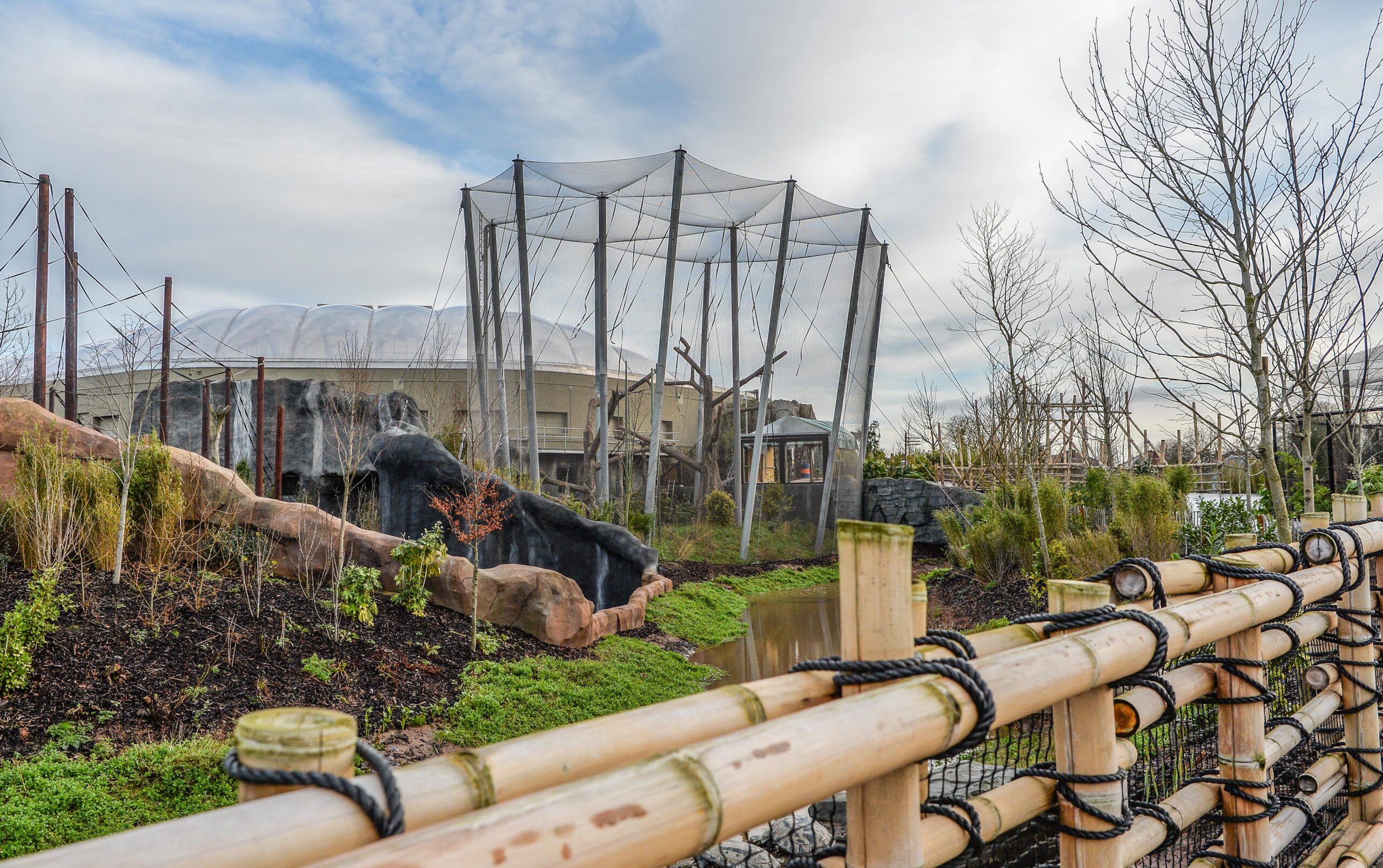 Walk-Through Zoo Aviary Enclosure
A large walk-through aviary structure was needed for the popular visitor attraction, Birdworld in Farnham, Surrey. This project was to be designed as a seashore zoo enclosure to house nesting Hammerkop, waders and other coastal birds that are part of the international breeding program, helping to ensure the survival of their species.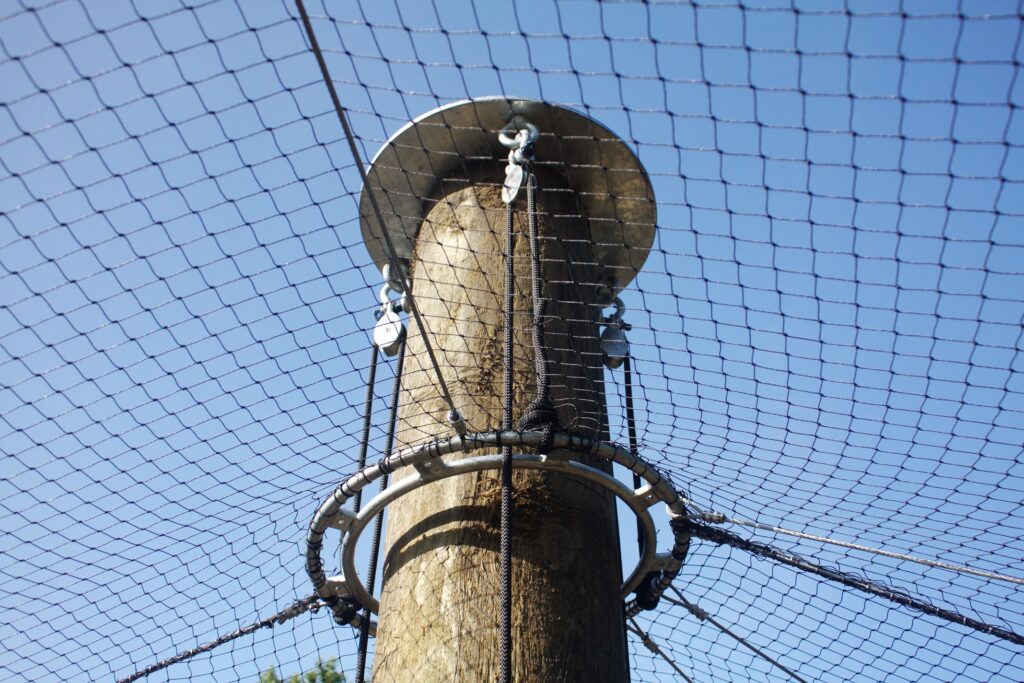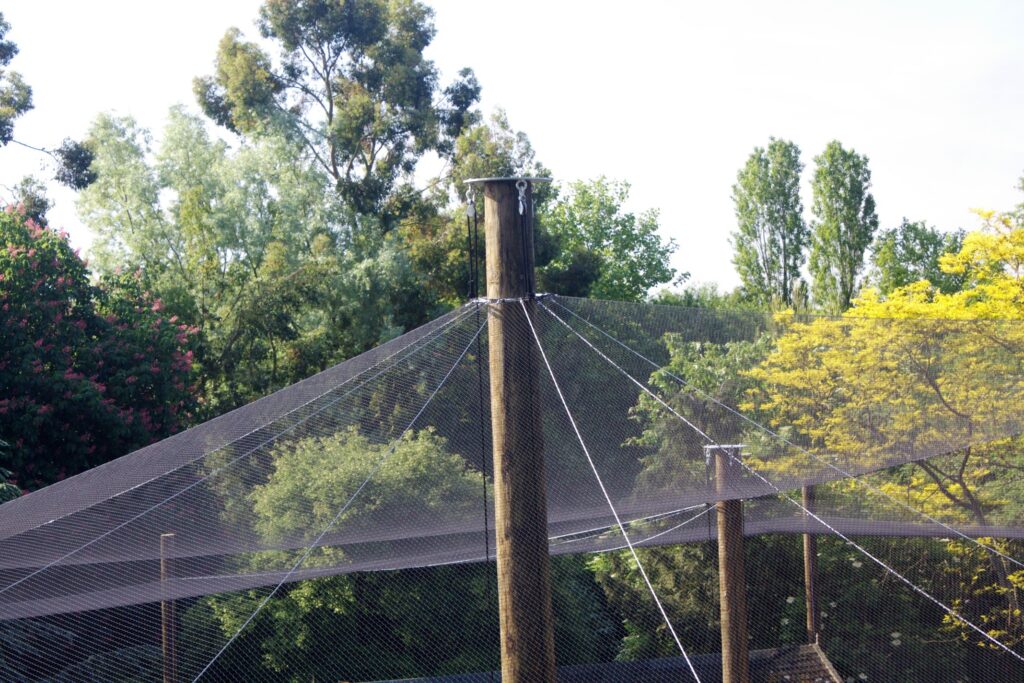 Solution
We decided to use tough 25x25mm knotted fire-rated polyethelene as it is a visually unobtrusive material, almost creating an invisible effect. A primary design feature for this aviary is that the netting is designed to be easily raised and lowered from within the enclosure by a system of ropes and pulleys. This provides incredibly easy access to the netting for maintenance and repair without the inconvenience of using access machinery, ensuring time and cost savings for the entire future of the structure.
Another key consideration in designing and installing this aviary was for it to have as low an environmental impact as possible, in both it's material specification and construction techniques. Therefore, fully engineered timber posts were selected to support the netting and installation techniques were used that required no concrete for the foundations, making huge environmental savings.
Result
With the help of their new visually appealing and environmentally friendly enclosure, the coastal birds live on!
Similar Projects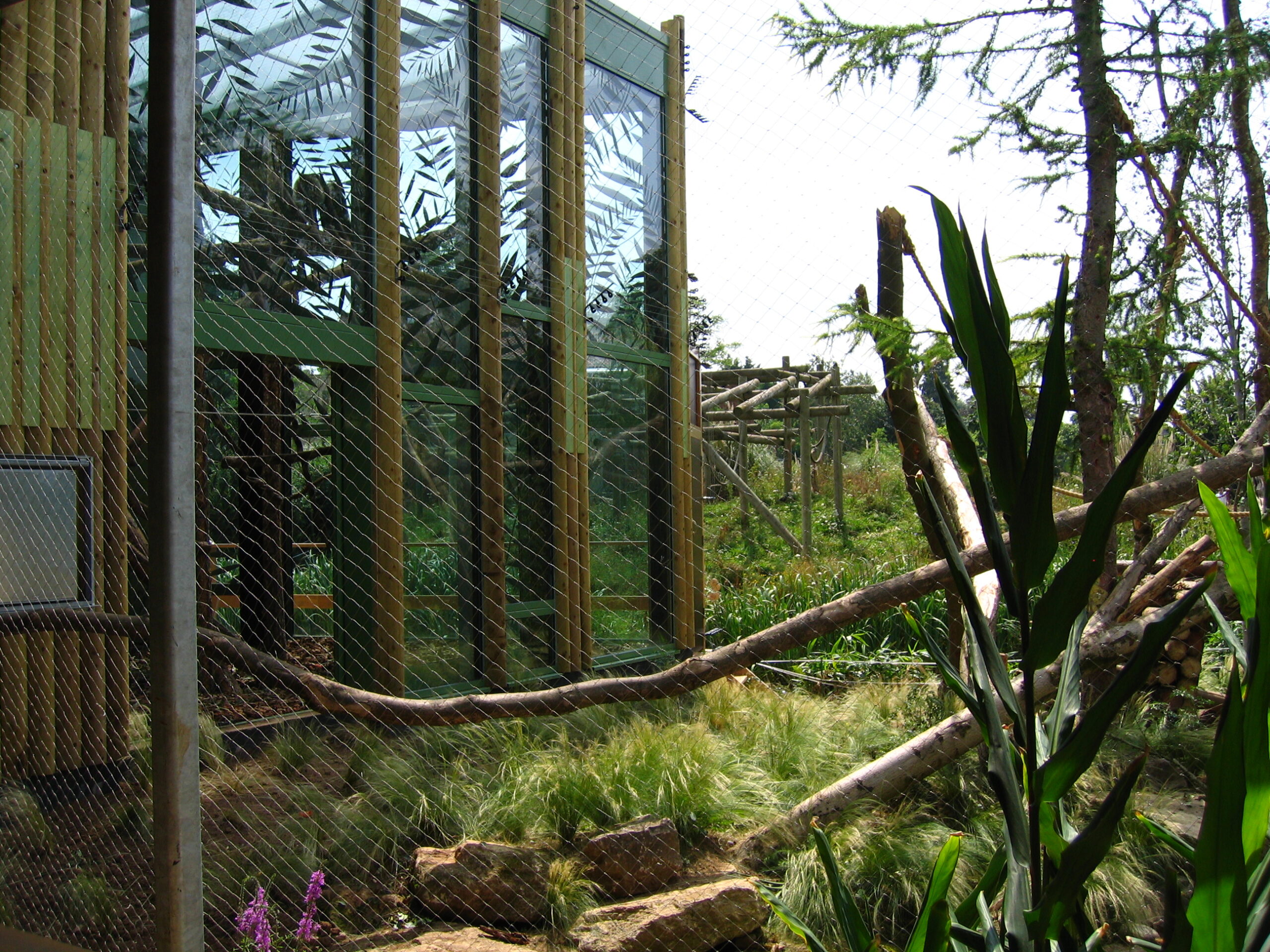 Bristol Zoo Howler Monkey Enclosure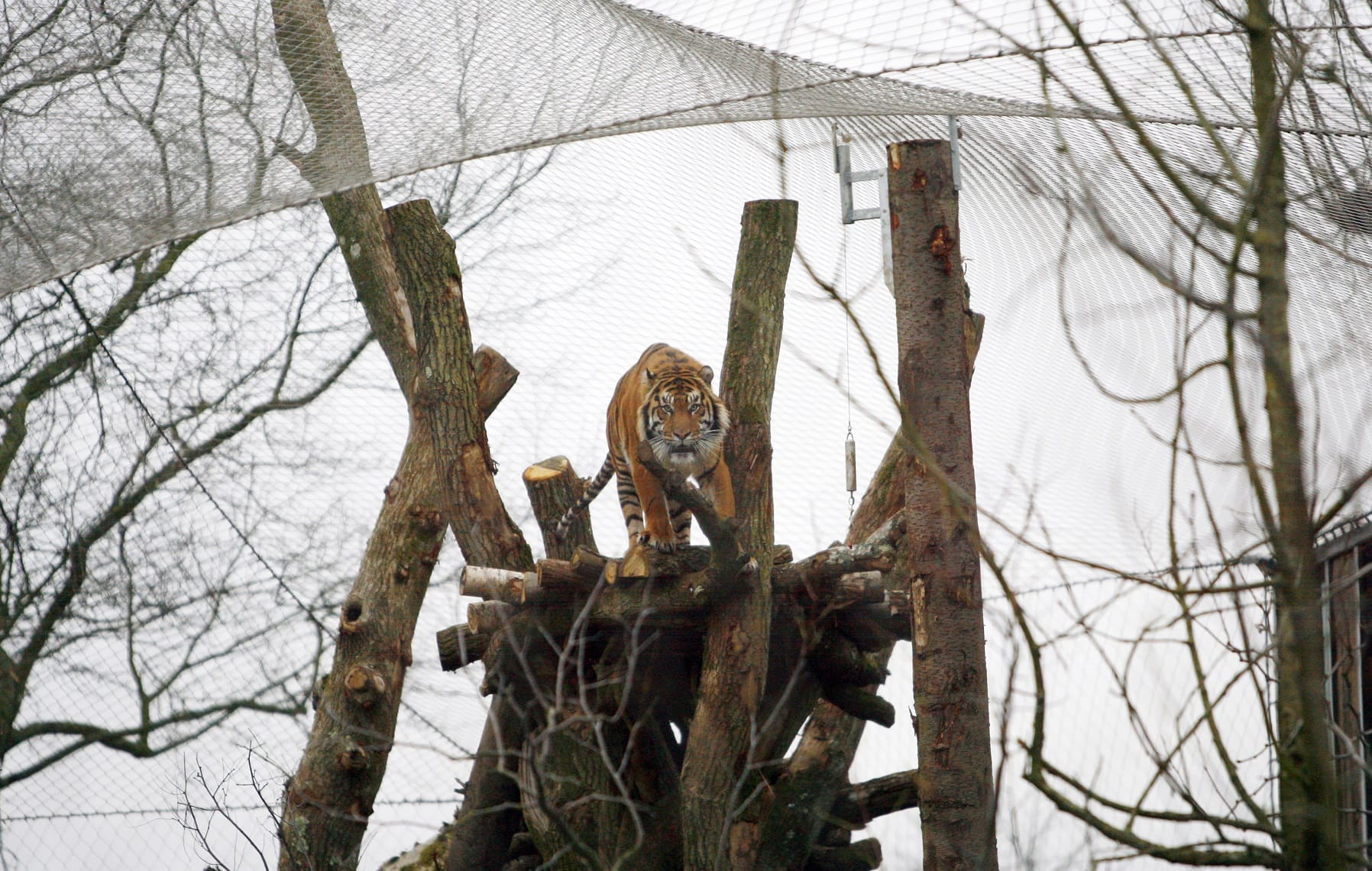 London Zoo Tiger Enclosure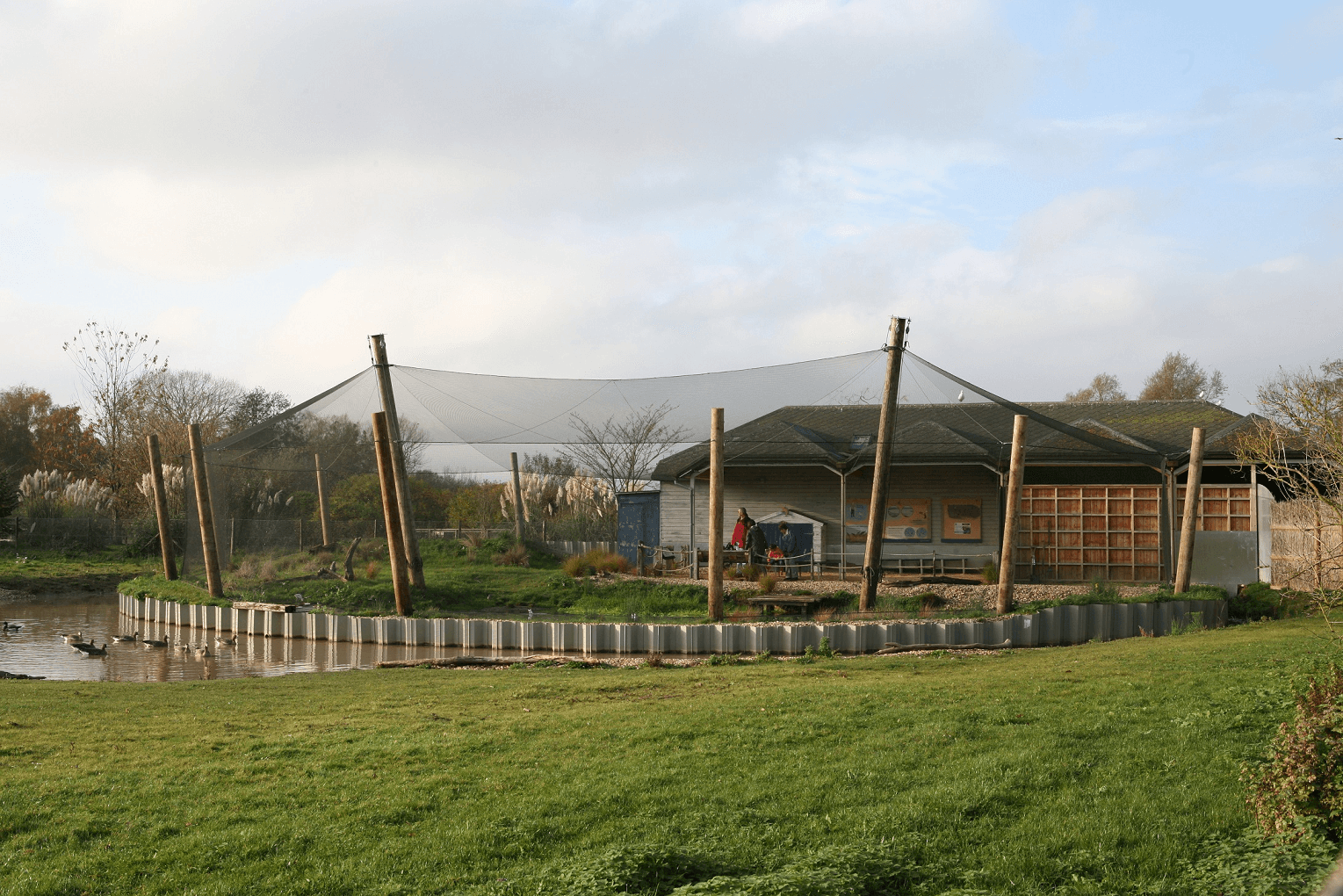 Architect
Dan Pearlman Architects
Product
Aviary Structures
Zoo & Wildlife
Services
Design
Installation
Maintenance
Manufacturing
Project Management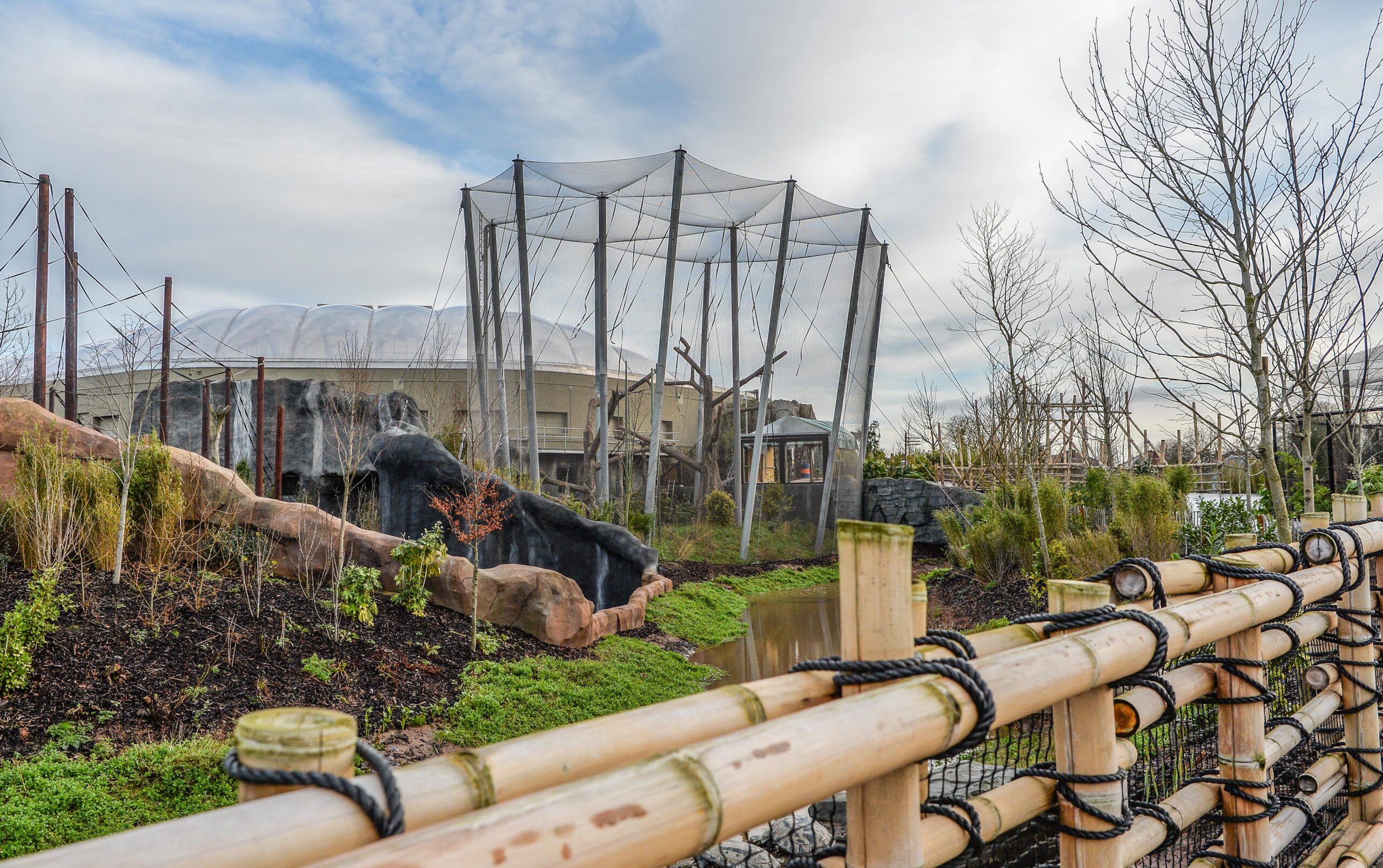 Aviary Net Structure
Back in 2002 we installed this very unique net structure to create the Living Coast Aviary for Paignton Zoo, it is a multipurpose aviary housing several species of bird from waders and penguins to auks and terns. It also ads a dramatic visual to the attraction for visitors and to the Torquay coast skyline.
Since then we have been providing regular maintenance to the structure and in particular at the end of 2016 completed a 6 year programme of gradually upgrading the structural components to extend the lifespan of the aviary. This included replacing the cable rope with PVC coated cable and replacing most of the net panels, the result is that this 15 year old structure is essentially brand new again.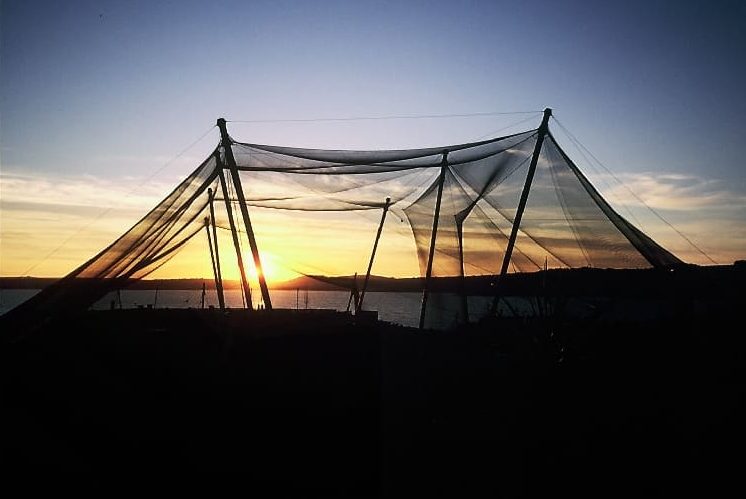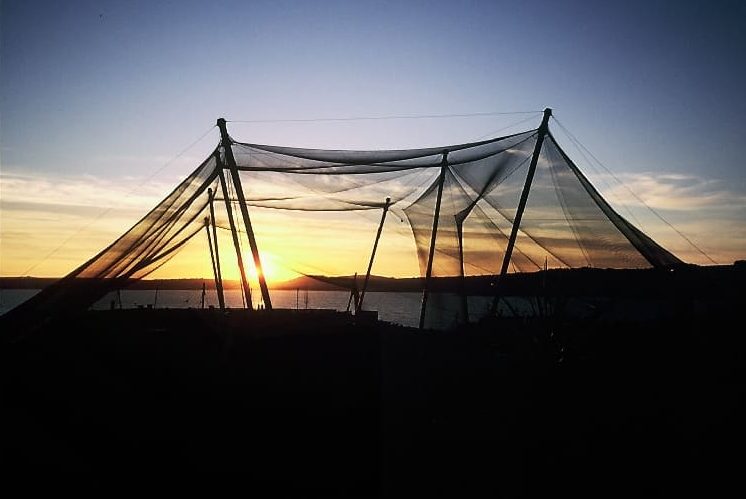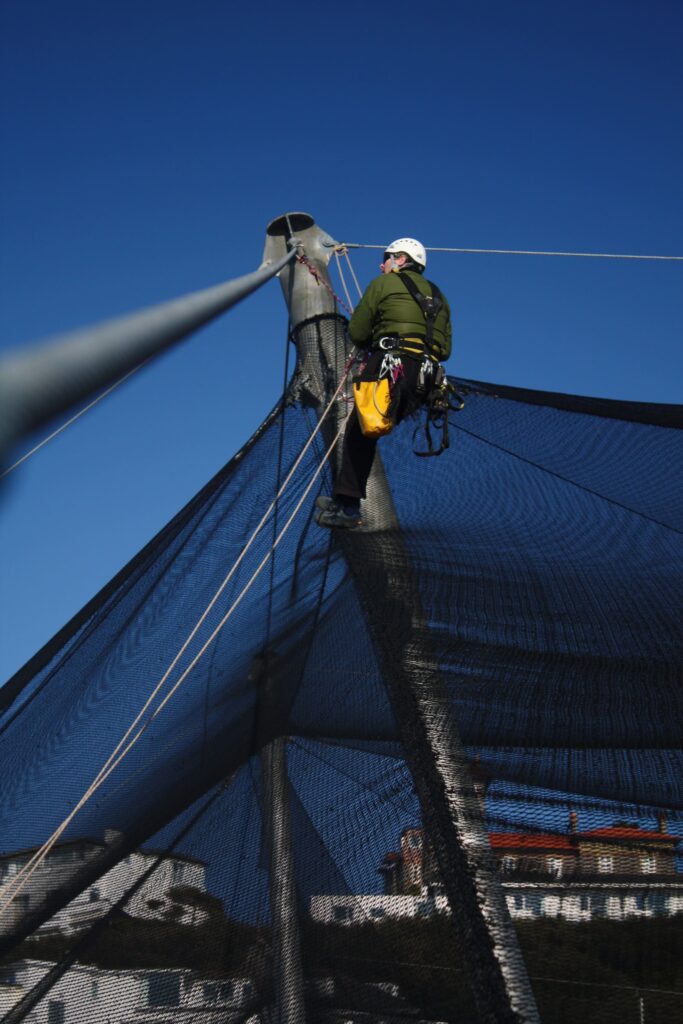 Solution
The installation was mostly carried out using rope access techniques. It was a great success and we are very pleased to have been involved in this landmark project.
Result
The Aviary is a very effective structure which both Vector and Paignton Zoo are very happy with.
Maintenance
Polyethylene net in this coastal location does require regular maintenance and upgrading, but over all is still considerably more economical than stainless steel mesh yet just as effective. We can provide this ongoing maintenance service and have highly skilled industrial rope access and fabric technicians, see bottom right images of our technicians carrying out maintenance works.
Similar Projects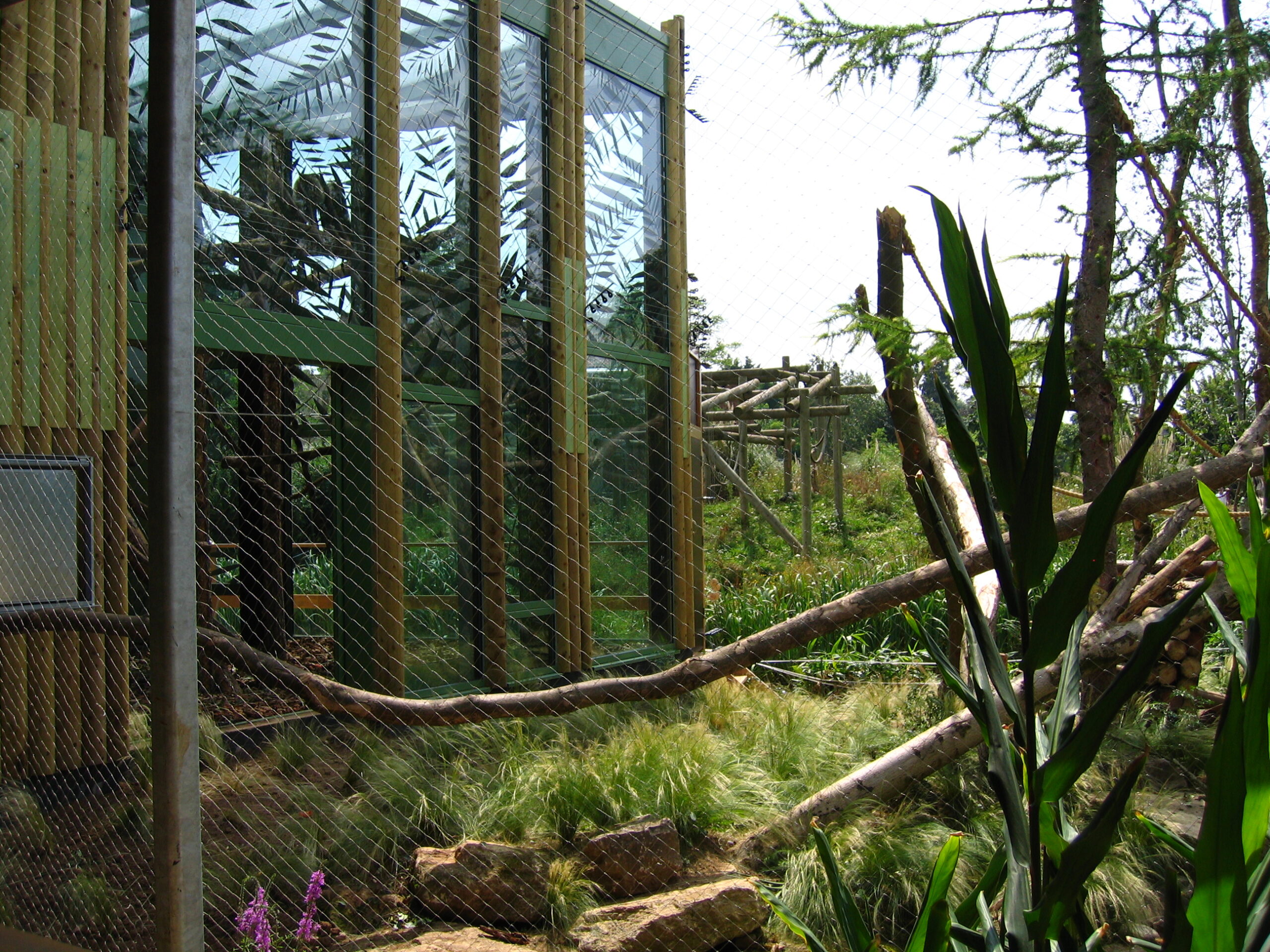 Bristol Zoo Howler Monkey Enclosure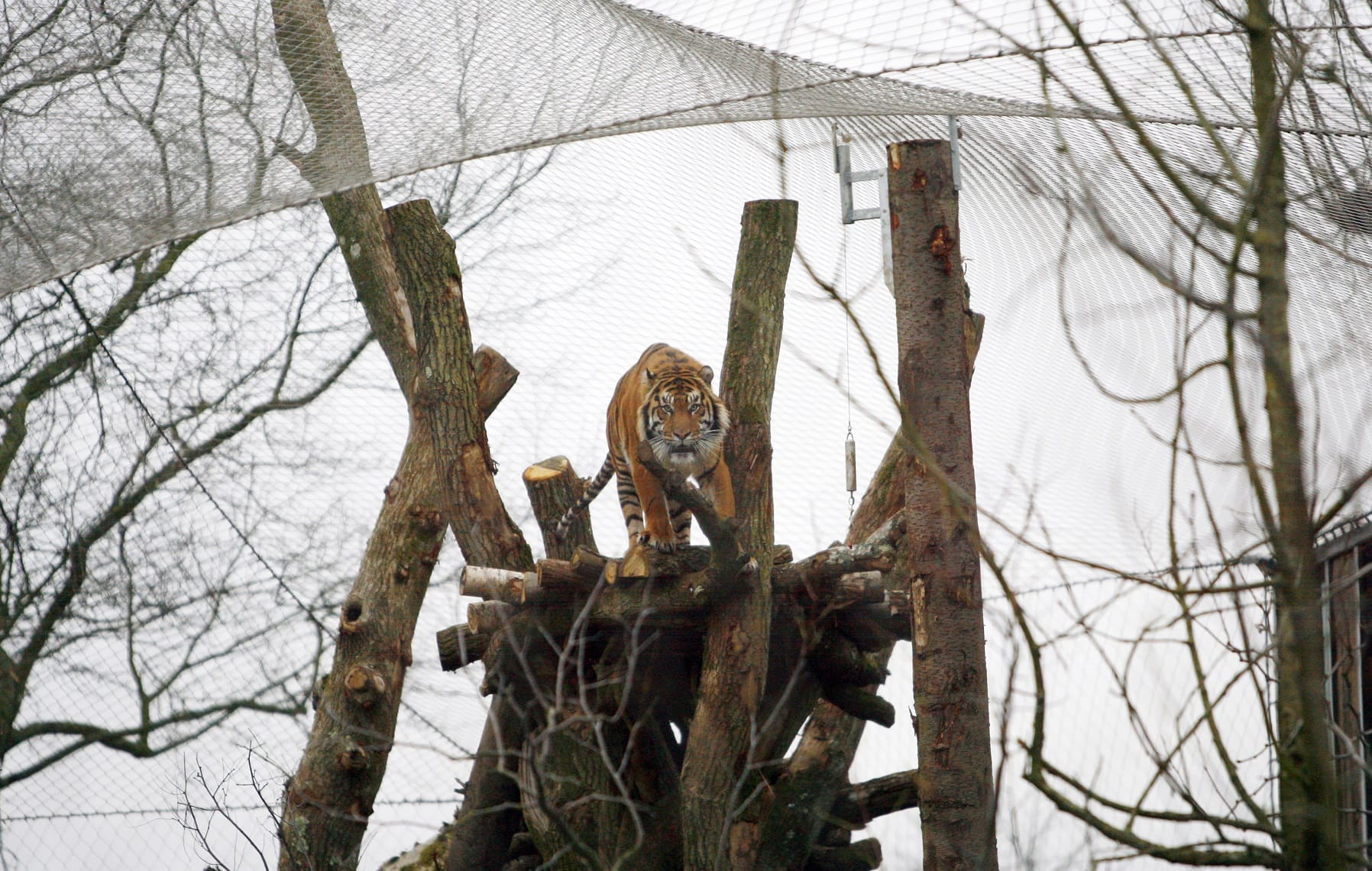 London Zoo Tiger Enclosure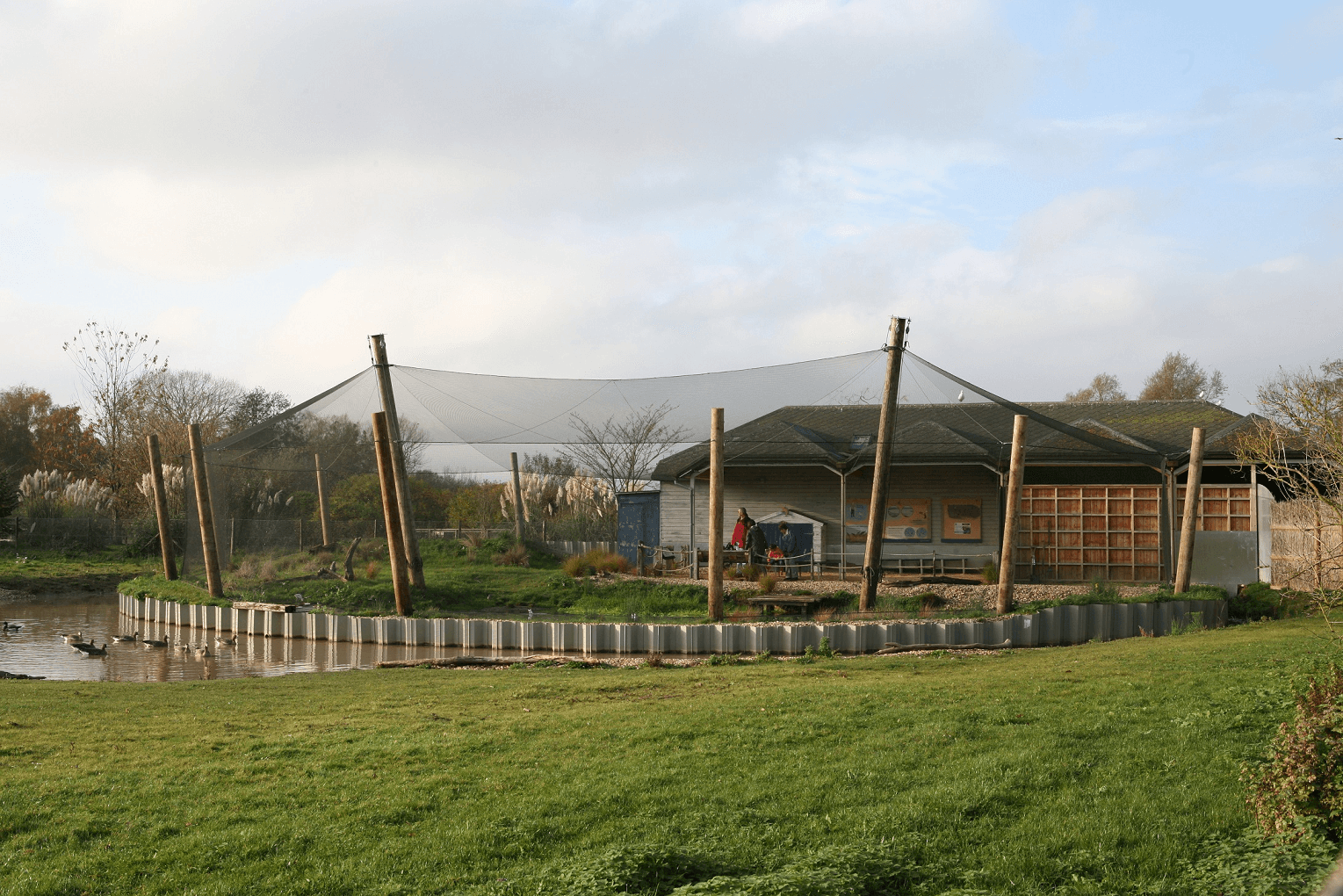 Architect
Dan Pearlman Architects
Product
Aviary Structures
Zoo & Wildlife
Services
Design
Installation
Maintenance
Manufacturing
Project Management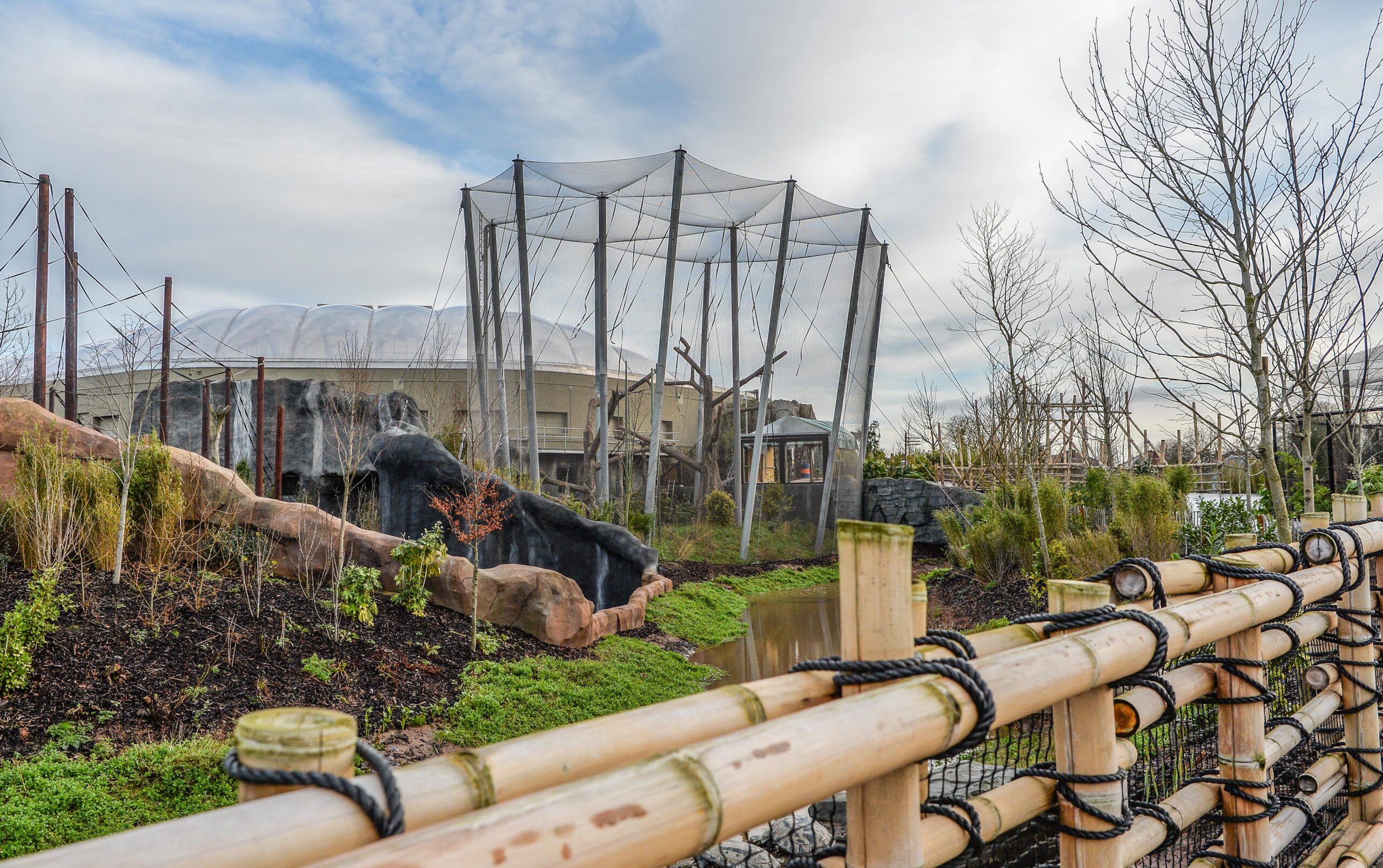 Project Outline
The Wildfowl and Wetlands Trust approached Base Structures with a specific problem for their proposed new exhibit housing Redshanks and Avocets. They needed a world class enclosure that did not feel enclosed, had an exceptionally low environmental impact and was as affordable as possible to construct, install and maintain. A fundamental requirement was also for the fabric of the structure to be wader bird friendly; these species are very fragile and if spooked can easily damage themselves on solid obstructions.
The Team
Paul Pattison, Development Projects Officer, Slimbridge WWT
Andy Traynor, Project Manager, Base Structures
Project Highlights
Environmental savings in both the material specification and construction techniques
Tough 25x25mm knotted polyethelene, an unobtrusive netting material creates a natural environment
No expensive access equipment required for future maintenance
Simple installation process of the net structure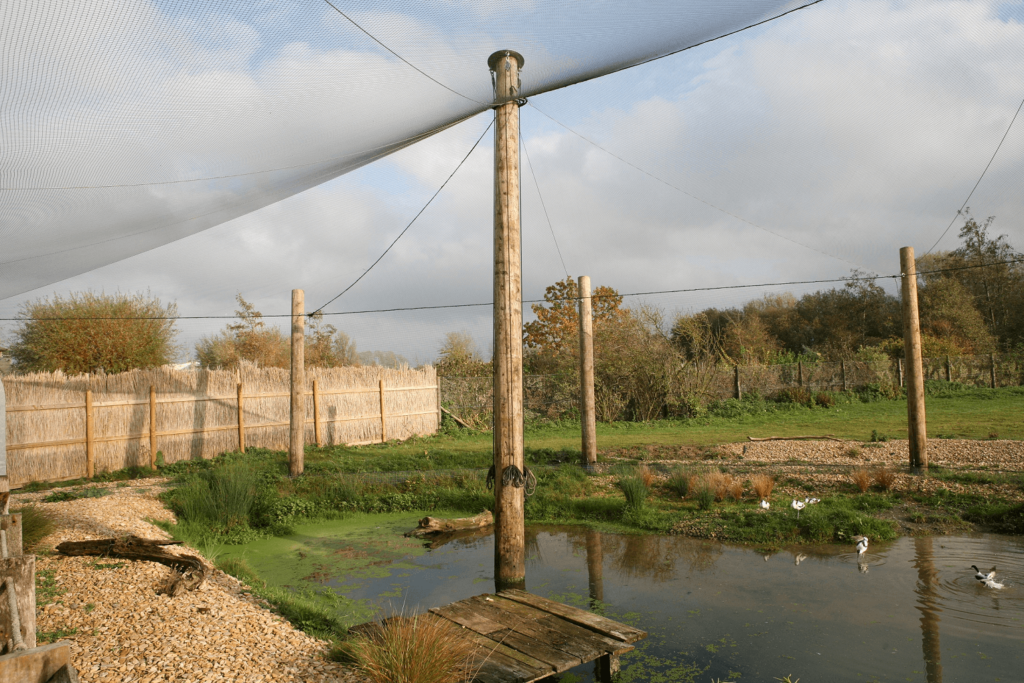 Our Solution
To provide as natural an environment as possible, the enclosure uses tough 25x25mm knotted polyethelene, a surprisingly unobtrusive material that is not visually dominating. From inside the enclosure the netted walls appear to be almost nonexistent against the surrounding landscape, providing an incredibly natural environment for the birds. This is enhanced by the supporting timber posts and netting surfaces being installed at various angles, creating a natural effect with no perpendicular lines, helping to minimise the man-made appearance of the enclosure. To offer protection to the delicate wading birds the supporting timber posts around the edge of the enclosure are all placed outside the netting, preventing possible injuries if the birds are scared into flight.
Environmental Savings
The biggest environmental savings were achieved by using construction techniques that did not require the use of any concrete. As such, the supporting structure was installed using alternative foundation techniques that did not literally cost the earth. Fully engineered timber posts hold up the entire net structure, providing the necessary support with a natural, renewable material that is no more intrusive within the enclosure than a few slender trees.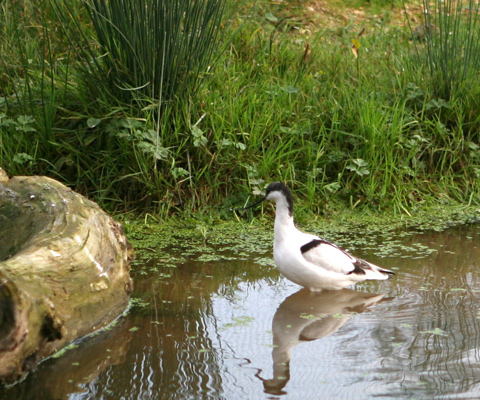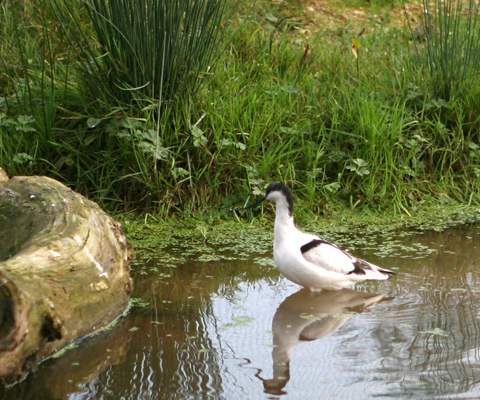 Undemanding Maintenance
A key requirement from the Trust was to ensure that the structure would be as economical as possible to maintain in the future. As a critical design requirement from the very beginning of the project, we managed to engineer a solution into the structure that alleviated the need for carrying out inspection or repair at any great height. We achieved this with a very simple system; the netting is attached to metal rings that are slightly larger in diameter than the structural timber posts, these rings are hoisted up and down the posts by a system of ropes and pulleys from ground level – being simply tied off to hold the netting in final position. Thus the whole netting structure can be easily and quickly lowered down the supporting timbers for any work to be carried out at ground level, ensuring significant costs for the lifetime of the structure.
Installation Savings
We worked closely with the Trust to supply this enclosure in kit form, allowing them to use their own equipment and expertise to install the structure with minimal supervision from ourselves. Our comprehensive survey provided the exact locations and angles for the timber posts, after these were installed by the Trust we fitted the cabling, in turn enabling the Trust to install the netting themselves and complete the installation. Once installation was successfully completed the team at the Trust had also gained the necessary experience to undertake any future maintenance themselves.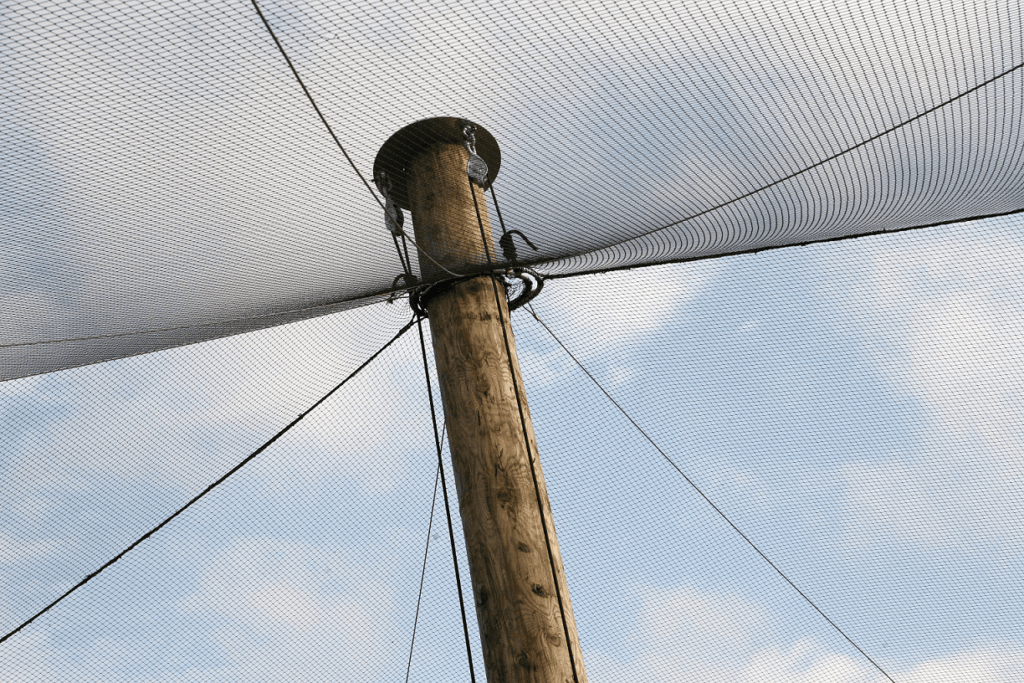 Results
The Trust are thrilled with their new visitor attraction, the cost savings achieved in construction and the knowledge that the enclosure will continue to perform in the future for minimal outlay. The birds have settled in superbly and exhibit their natural behaviour, presenting visitors with a privileged experience; to see the birds acting naturally at close quarters without feeling you are confined in a restricted space. The Trust have commented that they hope the birds may eventually breed, a sure sign of success! This would then become an even bigger attraction for visitors, helping to develop visitor empathy and fondness for the birds which is beneficial to the broader WWT conservation efforts.
It was refreshing to work with a straight-talking provider with a wealth of knowledge and experience. At WWT we like to develop an honest working relationship with our providers and our choice of Base Structures reflected this philosophy.
Simon Rose
– Slimbridge Wildfowl and Wetlands Trust
Similar Projects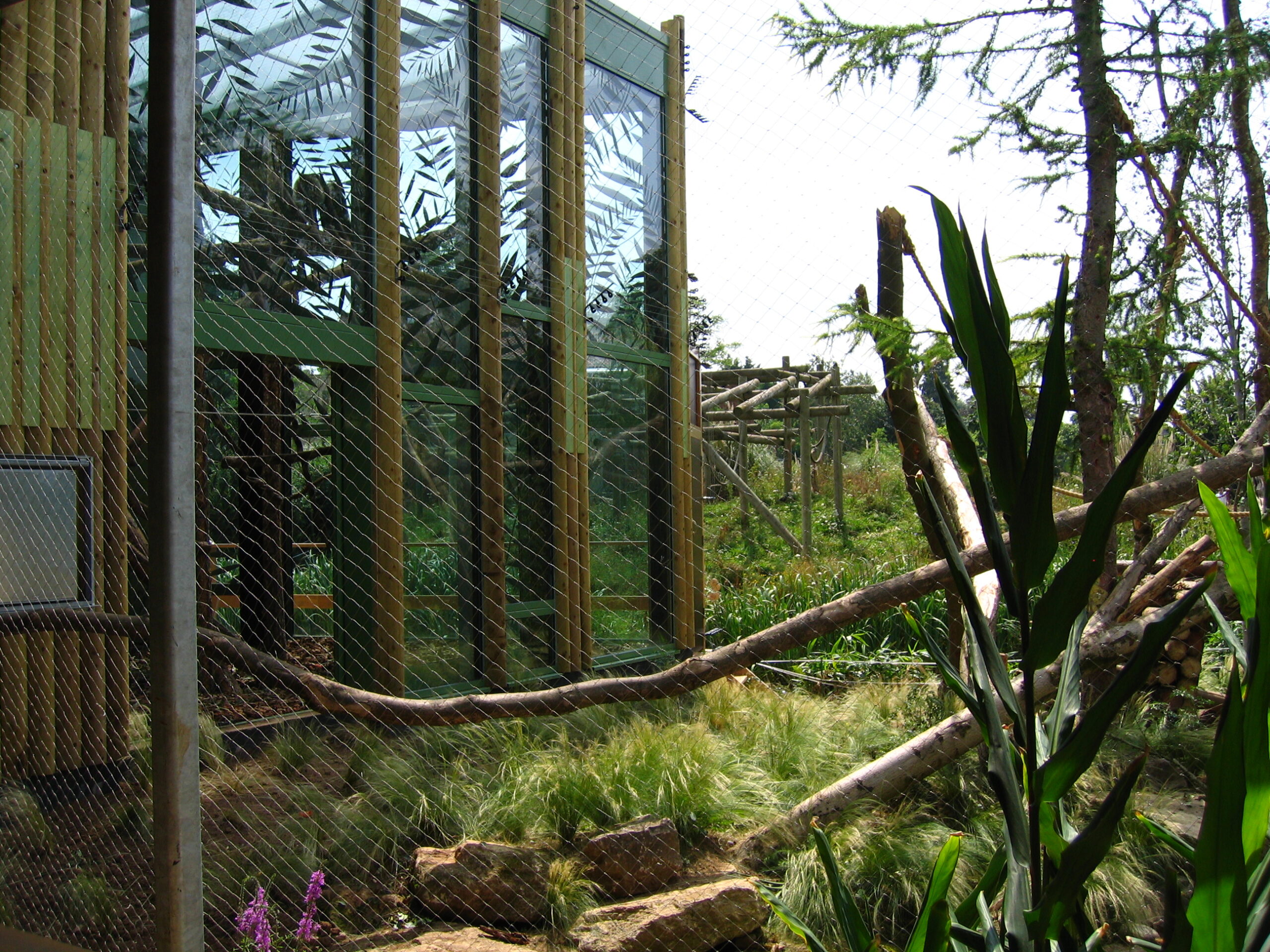 Bristol Zoo Howler Monkey Enclosure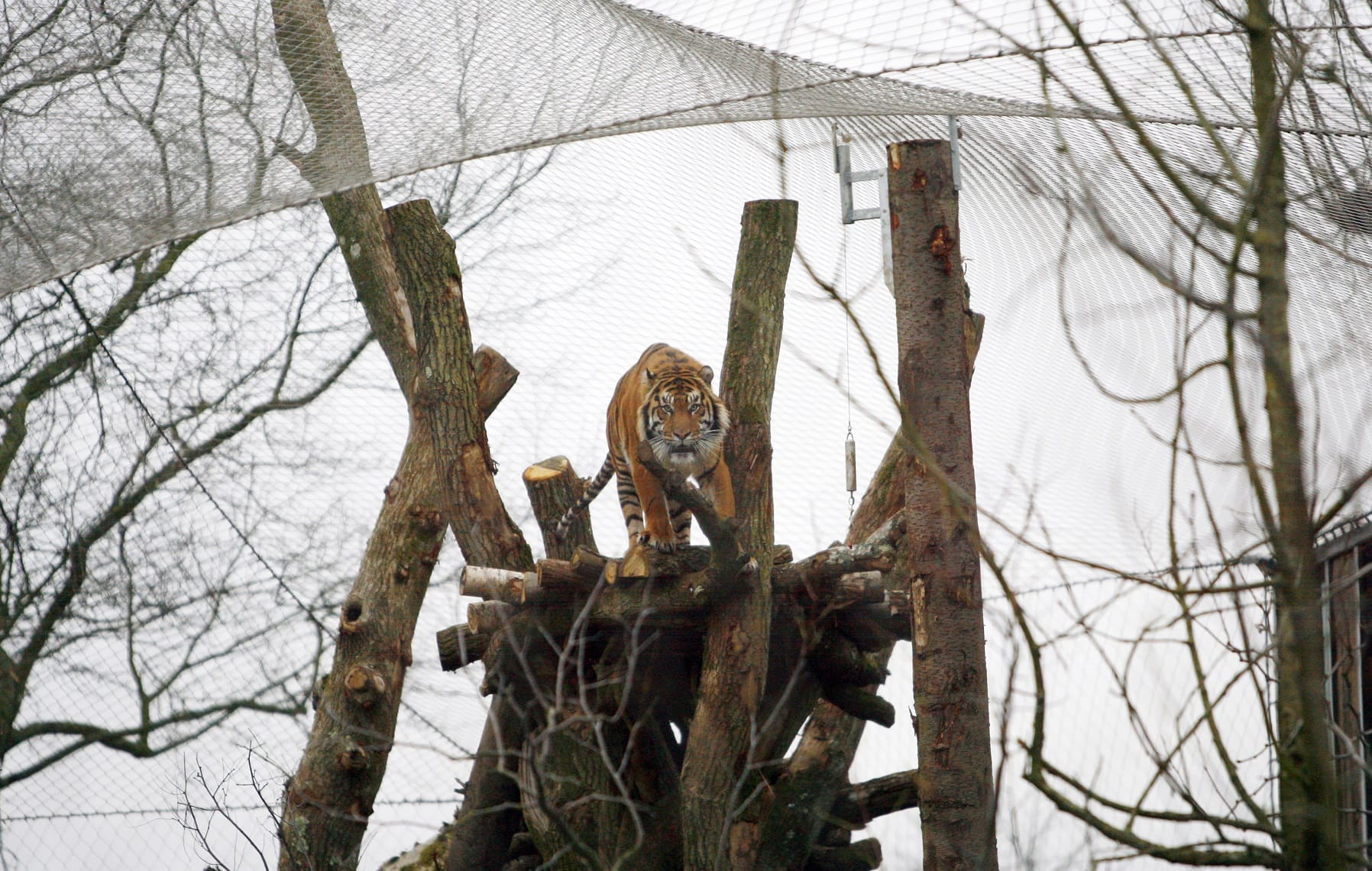 London Zoo Tiger Enclosure