Single Cone Fabric Canopy Structure
As South Bristol's iconic theatre space, The Tobacco Factory has a creative and collaborative buzz about it with regular live music and a cafe bar as well as top class theatre productions. For the commercial outdoor bar, a tensile fabric structure was needed to provide weather protection for the area.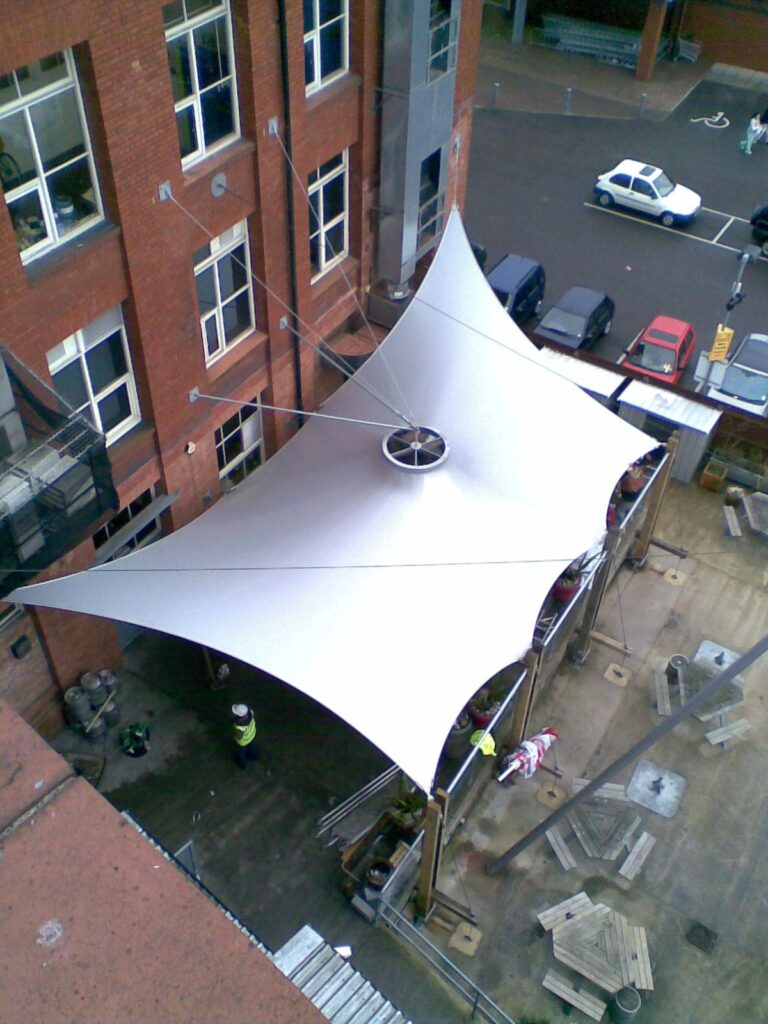 Our Solution & Results
A silver PVC single cone tensile structure was fabricated and installed to a tight programme and has provided a stylish covered outdoor area for functions and entertainment.
Twin Conical Terrace Canopy
Everyone loves a burger, whatever your preference meat, veggie or vegan, Three Brothers Burgers caters for everyone. We were thrilled to hear from our local burger joint looking to extend their outdoor terrace seating area overlooking Bristol's floating Harbour.
We previously installed the original canopy to the floating restaurant some 17 years ago and the landside restaurant canopy 15 years ago, so we jumped at the opportunity to return and work with the Bristol restaurant team again. Working with local businesses has many advantages, the flow-on remains in the local economy, it builds better relationships and has environmental benefits when supplies are soured locally.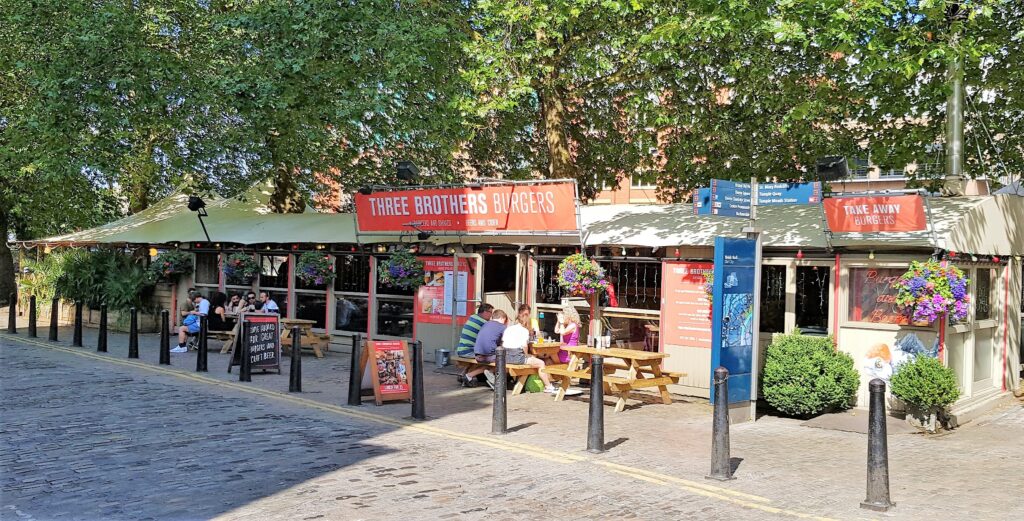 Base designed and installed the twin conical canopy over the new extended seating area using PVC fabric in keeping with the previous canopy to create a continuous feel. There were a few design challenges to resolve with regards to the configuration of trees in the terrace area. The fabric had to be deigned and patterned to wrap around the trunk and to allow for future tree growth.
Floating Restaurant Fabric Roof and Ceiling
Our client required an attractive architectural tensile fabric restaurant cover for their seasonal trade. This fabric roof structure allows the restaurant to provide a sheltered, yet al-fresco feel for their diners.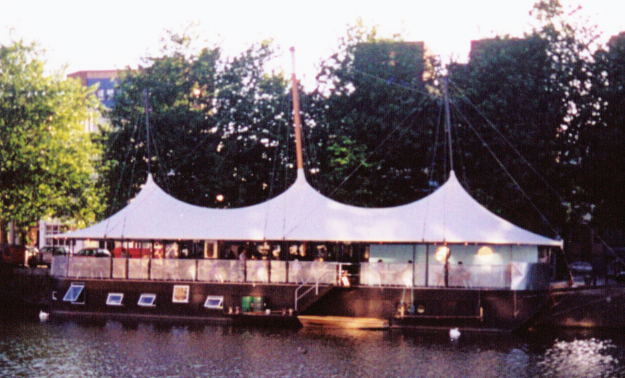 Our Solution
We installed the tensile fabric roof to the boat as well as fabric ceiling to the land side part of the restaurant. This included fabric and the associated rigging.
Results
The project was one of our first tensile's and was a great success. It has increased the restaurants popularity and turnover and they are very pleased with it.
Tensile Fabric Stage Canopy
Local architect Paul Campbell of Argyll Design Partnership was commissioned by the Town Council to come up with a design, so that a fabric canopy could be reinstated on the bandstand site in Keynsham Memorial Park.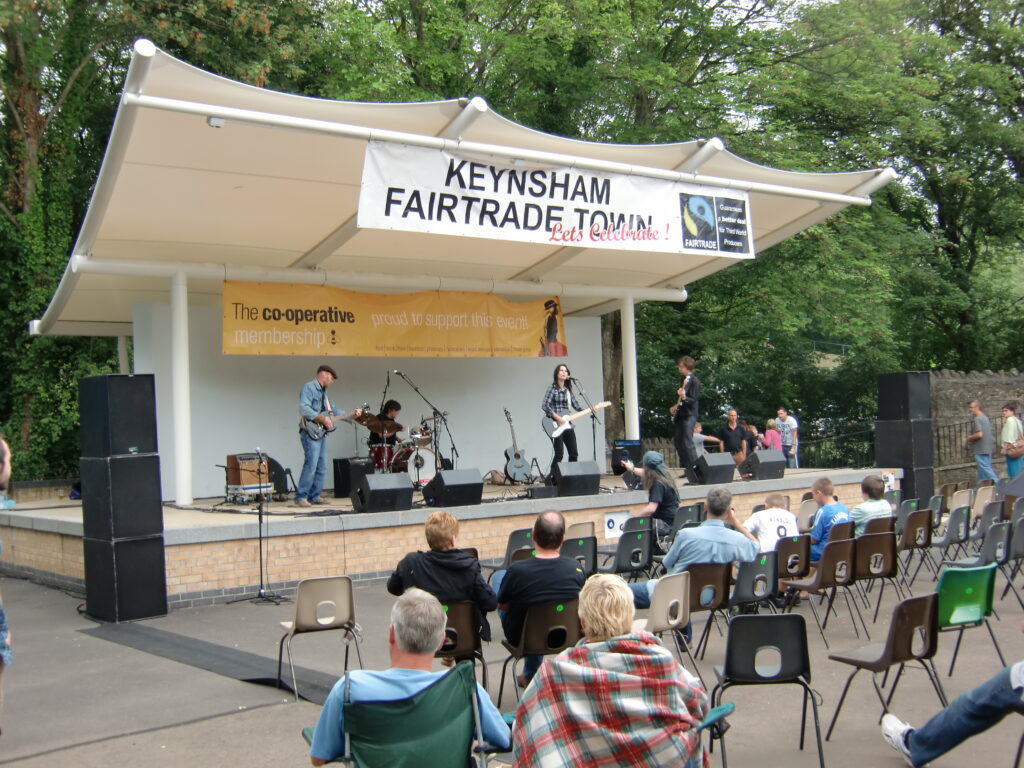 We helped the client team select a Snowdon canopy design from our pre-designed range to suit. The result is a crisp and elegant solution that provides a suitable focal point for the public performance area. Features include a hanging rail for theatrical lighting and rainwater collection via a rear column. The structure was built and installed within a very tight programme and was completed in time for the town's annual music festival.
Playground Canopy
Bristol City Council required a new playground shade canopy for Fairfield School in Ashley Down, at its original site prior to the schools relocation the following year.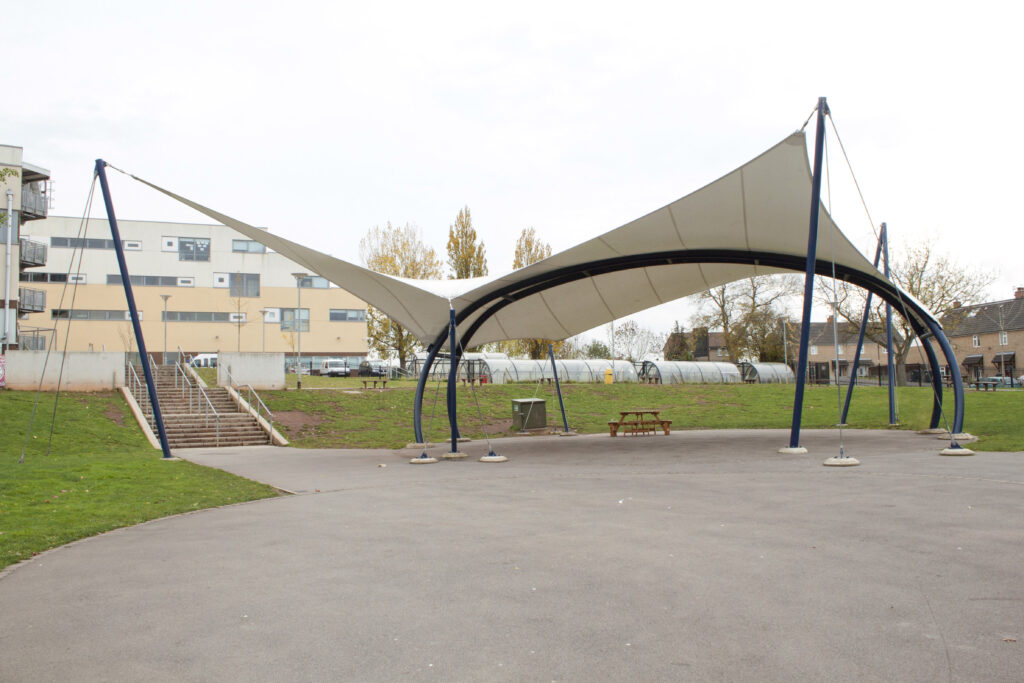 Our Solution
A canopy was designed and constructed with its relocation to the new site as a part of the overall works package. Base Structures scope of works included the design and construction of both the canopy and its supporting foundations. This steel framed structure has a 100% PVDF lacquered PVC membrane.
Results
All works are now complete and the images show the canopy in its final location.
Residential Atrium Tensile Fabric Canopy
Bristol is a city in the midst of regeneration, its architectural footprint rampantly swelling alongside its population. The commercial Dovercourt development of prestigious flats in the centre of the city had to really pull out the stops to make its mark.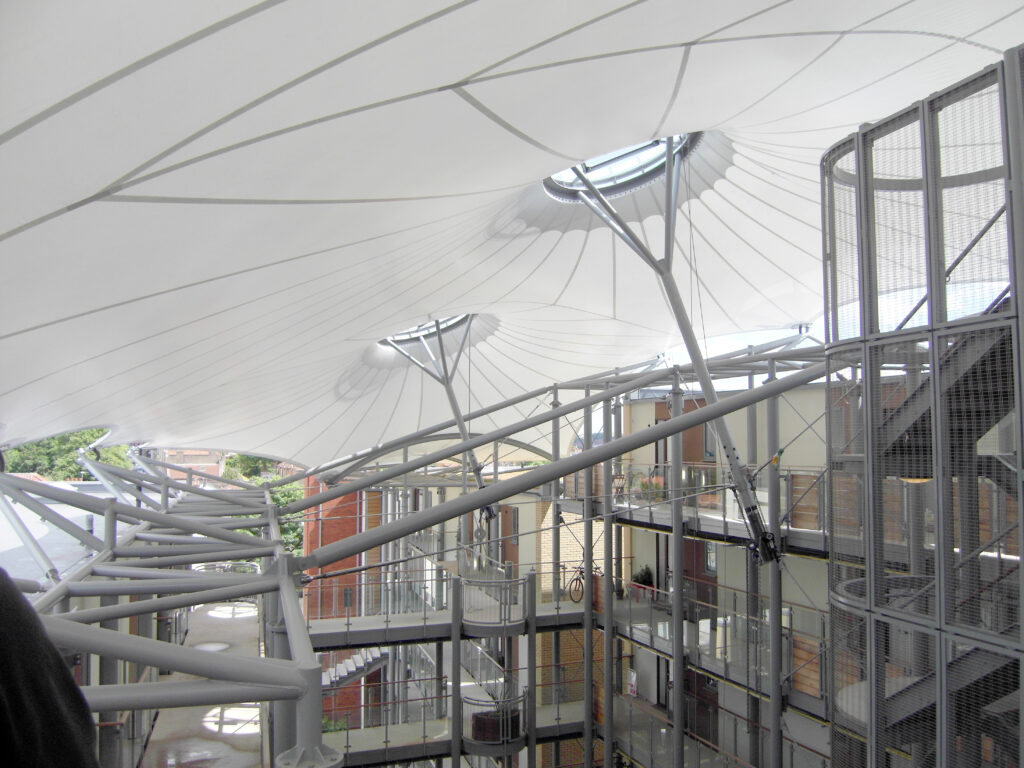 Our Solution
We delivered a phased programme of works. Initially, two tensile fabric barrel vault structures were erected to provide coverage over the show flat. They delivered impact and crucial wow factor during the early marketing when first impressions really count.
It was nearly eight months before the entire site was literally transformed as the phase two canopy was installed. The earlier structures almost paled in comparison. Two of the main supporting head rings float via a suspended 'flying' mast system, with the canopy tensioned and constrained at the perimeter by a series of cables and membrane plates. A rainwater catchment system ensures residents remain dry in the courtyard below, even in the most inclement weather.
Results
Covering an area approximately 45m x 20m, this magnificent, single-piece triple cone membrane has scale, complexity and ingenuity.
Container Bar Fabric Canopy and Traditional Yurt Structures
Running for a number of weeks during the month of June, Creative Common was a creative initiative in the heart of the city of Bristol showcasing a spectacular array of music, performers and artists, coupled with bars and eateries. Base is proud to have played its part in supplying a PVC canopy to WH Bence, working on behalf of Inside Out Events, for The Goods Yard container bar as well as three yurt structures for Tipi Events.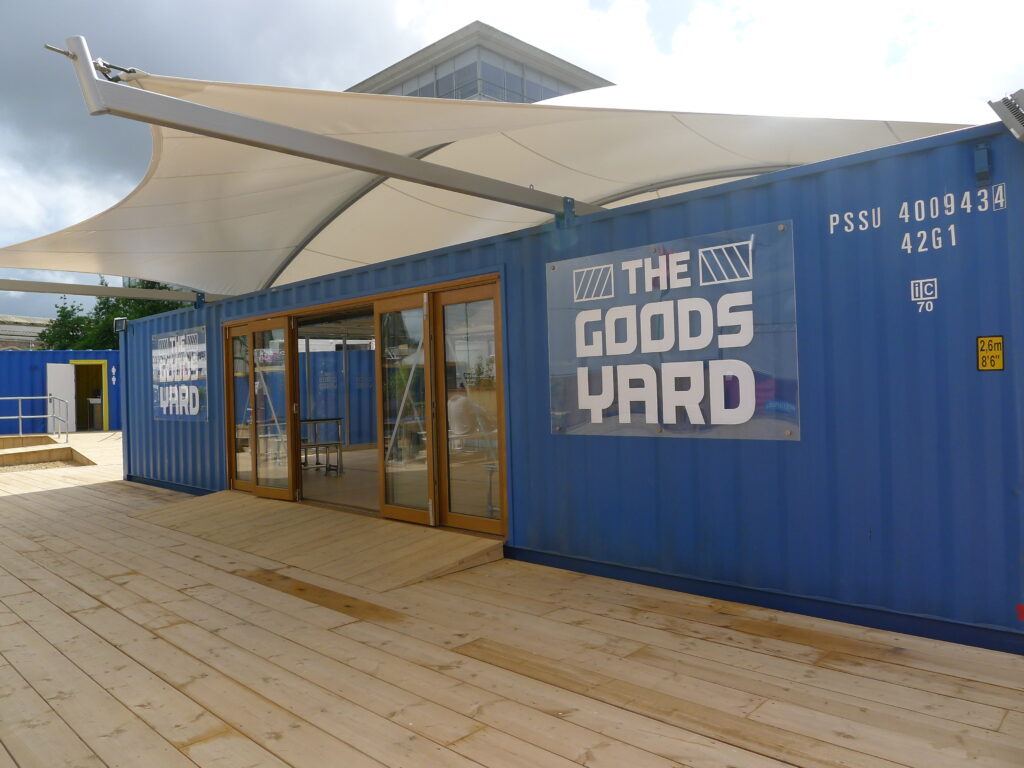 Our Solution
The Goods Yard bar was creatively imagined with two industrial containers serving an open-air decking area. We manufactured a PVC fabric canopy to envelope and extend from the containers to create a sheltered alfresco drinking area, allowing customers to enjoy the facilities whatever the weather. Base also manufactured the fabric roofs and sidewalls for three traditional yurts in the Creative Common area.
Results
The cultural installation opened with the critically acclaimed BIANCO circus. Esther O'Callaghan OBE, Acting Creative Producer for Creative Common commented "Creative Common 2013 will showcase the best of Bristol and welcome artists and audiences both local and international to the Temple Quarter Enterprise Zone in a clear demonstration of how creativity can bring these public spaces to life".
Tensile Fabric Entrance Canopy
Our brief was to install a tensile fabric entrance canopy to the Ashley Down college building as part of the re-development at the site. The tensile structure needed to provide not only a dramatic and welcoming entrance but it also needed to be a functional sheltered area for students to congregate or as a meeting point.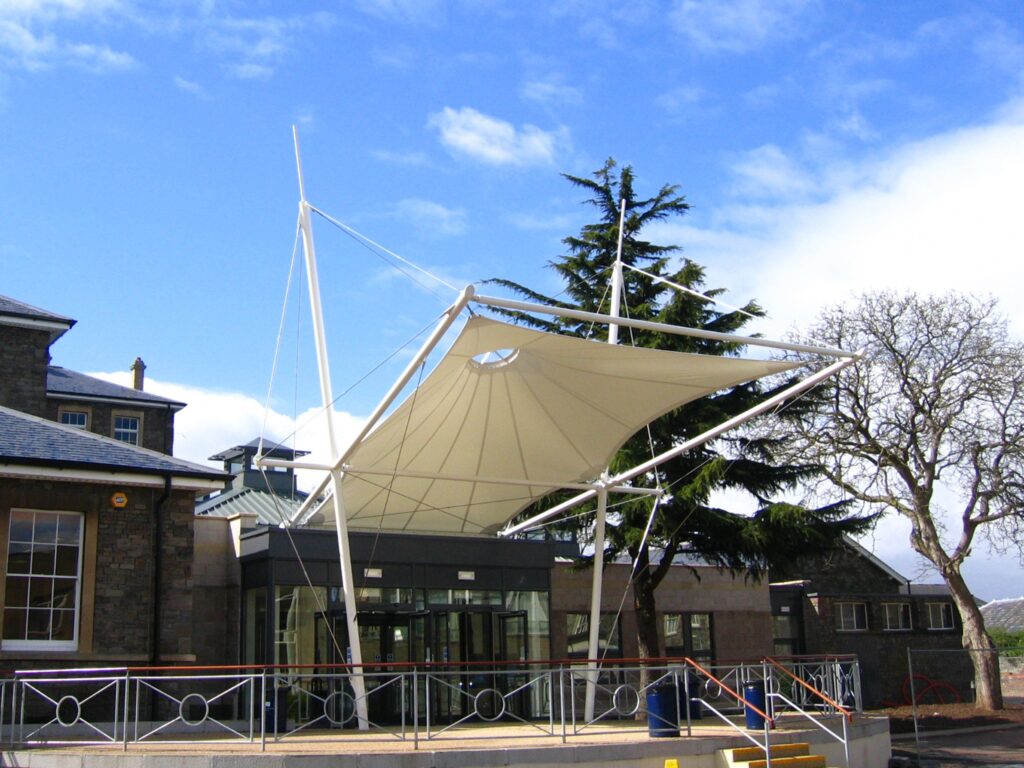 Our Solution
We designed, manufactured and installed the entrance canopy, including fabric, supporting steel structure and associated fittings.
Knotted Stainless Steel Wire Zoo Structure
Bristol Zoo asked us to help with a new primate enclosure for the Howler monkeys.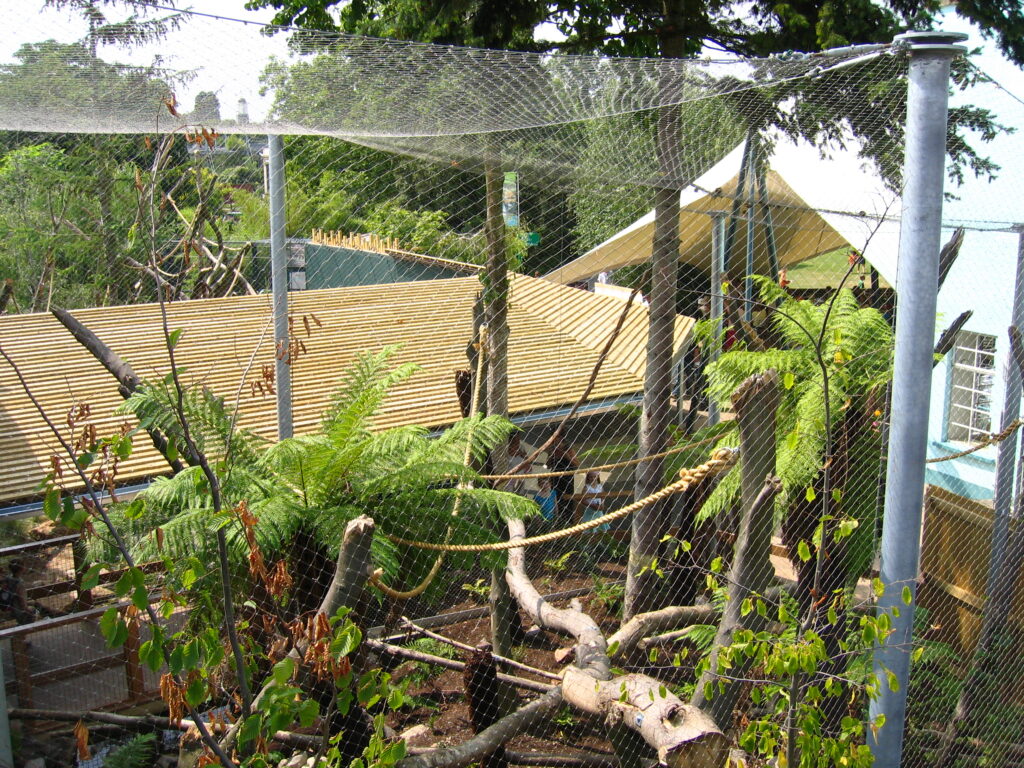 Our Solution
Base helped to design and build a habitat that maximised space and openness by incorporating natural features and using knotted 0.5mm gauge stainless steel wire, mechanically fixed to structural cables.
Results
The innovative knotted 0.5mm wire provides a safe and monkey-proof enclosure for the howler monkeys as well as an unobtrusive visual experience for visitors.
Polyethylene Knotted Net Zoo Structure
This project was an exciting new build as part of Bristol Zoo's development into their primate area including a enclosure for the Lemurs.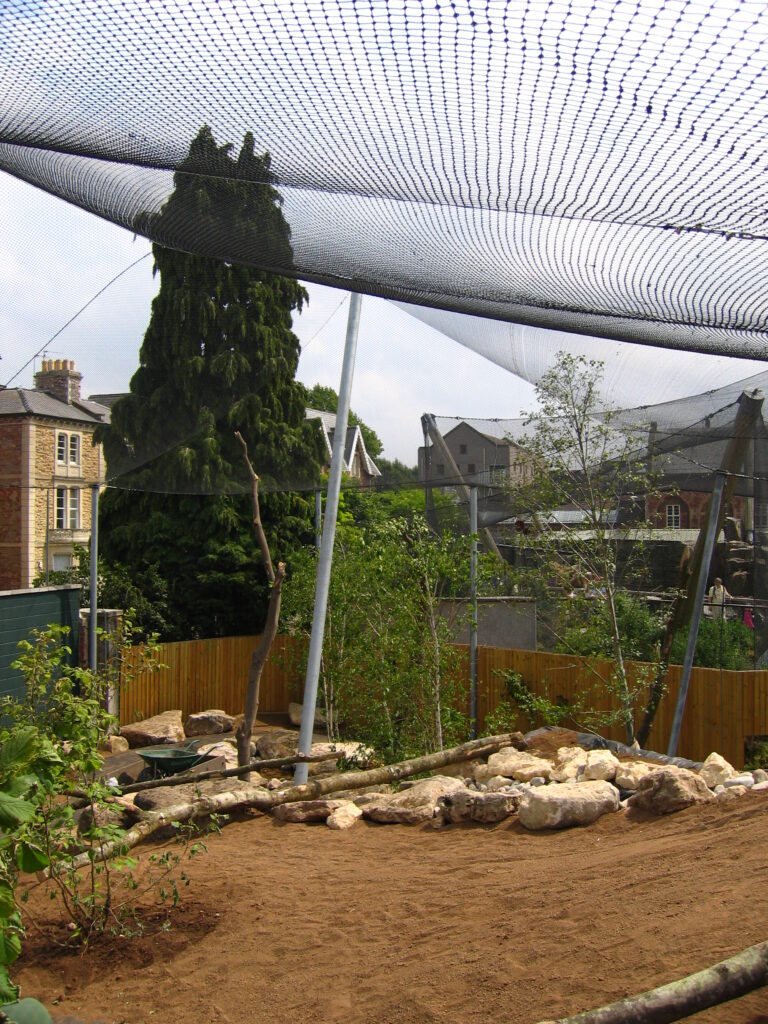 Our Solution
This enclosure was roofed and walled in durable and tough Polyethylene knotted net, hand stitched and mechanically fixed to the structural cables. Our installation team were able to put their professional climbing skills and working at height expertise into good use on this enclosure, as well as their expertise in making the netting monkey-proof!