Location
Newhaven, East Sussex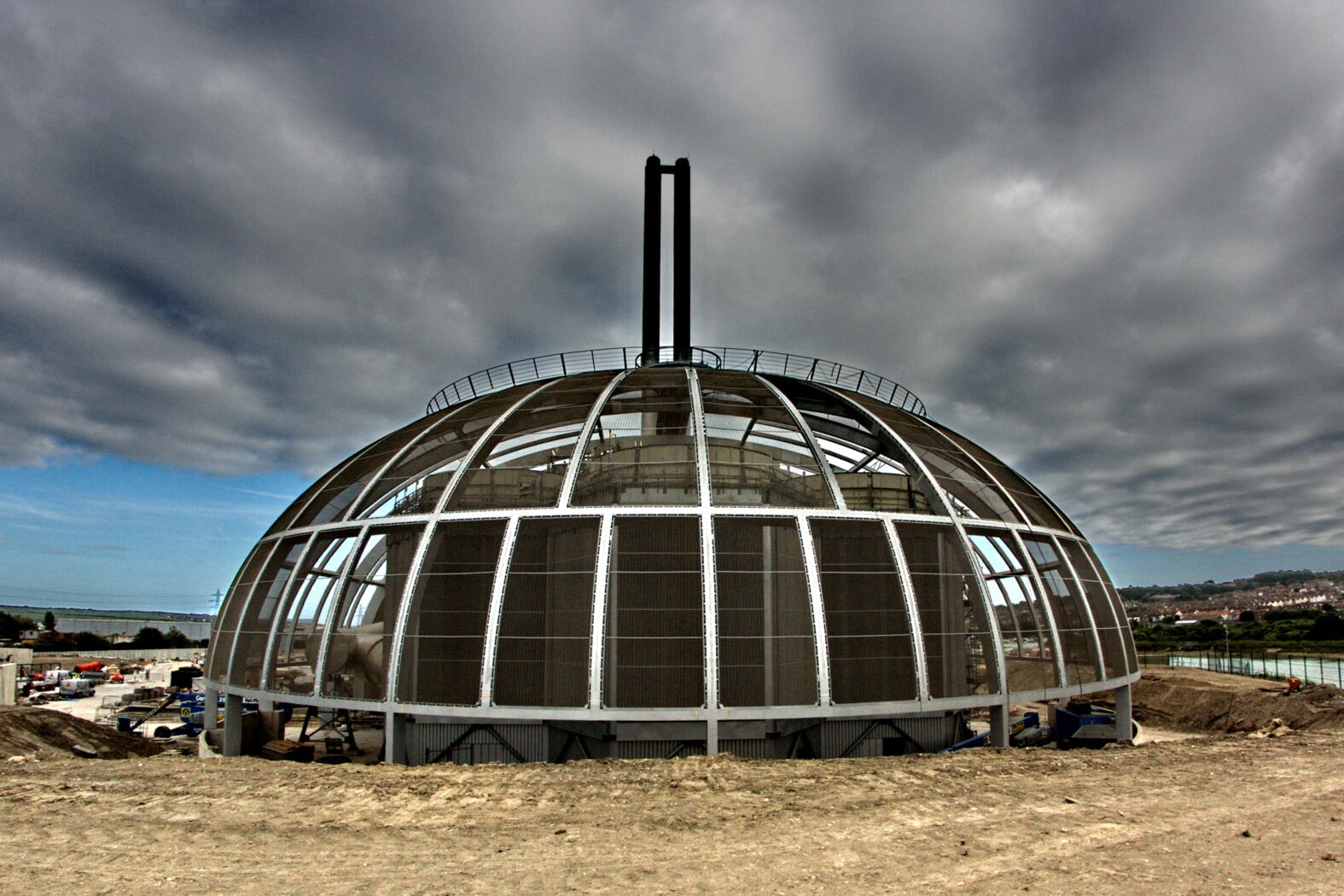 Architectural Mesh Cladding
Base Structures were asked to tender for the fitting of a screen to minimize and soften the industrial visual impact of the cooling section built at the rounded northern end of the new £140 million Energy Recovery Facility (ERF). When operational this new ERF will take receipt of some 210,000 tonnes of municipal solid waste each year, to be treated in two boilers. The challenge to Base Structures was to install a suitable screening for the air-cooled condenser area: a 54 m diameter half dome on the northern end of the Newhaven ERF which needed to obfuscate the harsh detail of the externally mounted cooling equipment and yet would allow the necessary volume of air through it.
Delivering a structural solution required us to develop a fully engineered aluminium fabric clamping detail that would complement the inherent flexibility of the fabric thereby ensuring that the daily stresses and strains imposed on these very large wind catching sails would dissipate uniformly into the enclosing skeletal steel frame.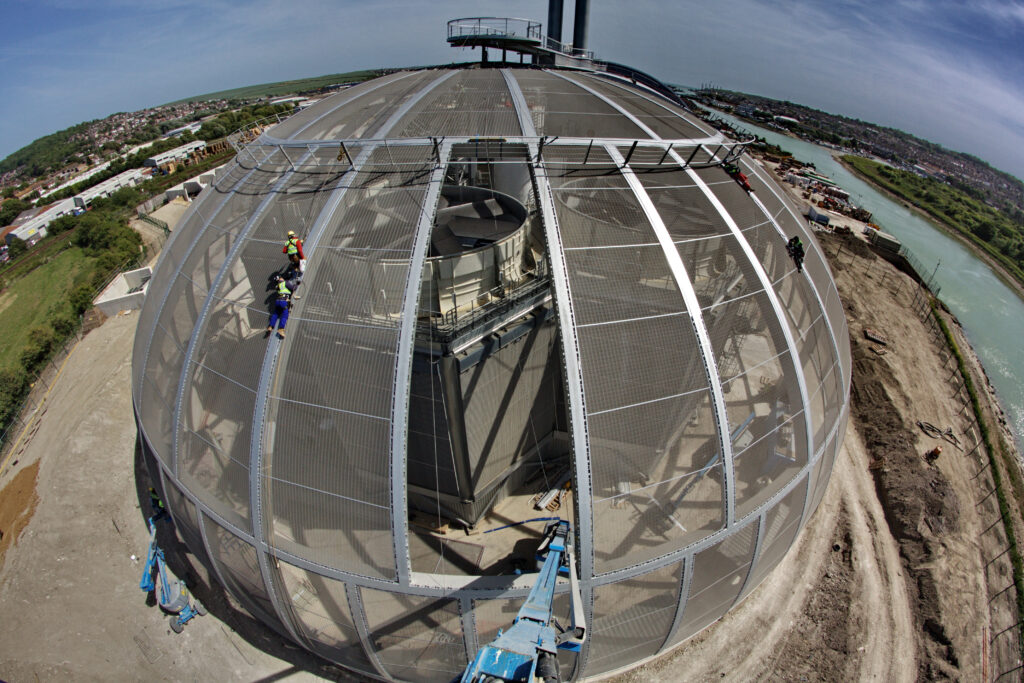 Our Solution
"We hit upon the idea of a 'wavy' clamping system," says Base Structures' Head of Projects, Mark Smith, "using an aluminium extrusion which allowed us to pass the load evenly through the steel, rather than through the PVC. We made a series of different prototypes until we evolved a fully engineered design that achieved the loads necessary."
The architect identified a 50% open mesh fabric as delivering on these functional criteria. To enable this relatively light weight architectural mesh material to perform structurally it contains galvanised steel threads which are woven through it to a regular pattern.
Two different clamps were developed: an 'intermediate' design to hold the sections of fabric together, and a 'perimeter' design, used to clamp the joined sections to the supporting steel structure. The only modification necessary was to pre-stress the mesh before it was clamped in.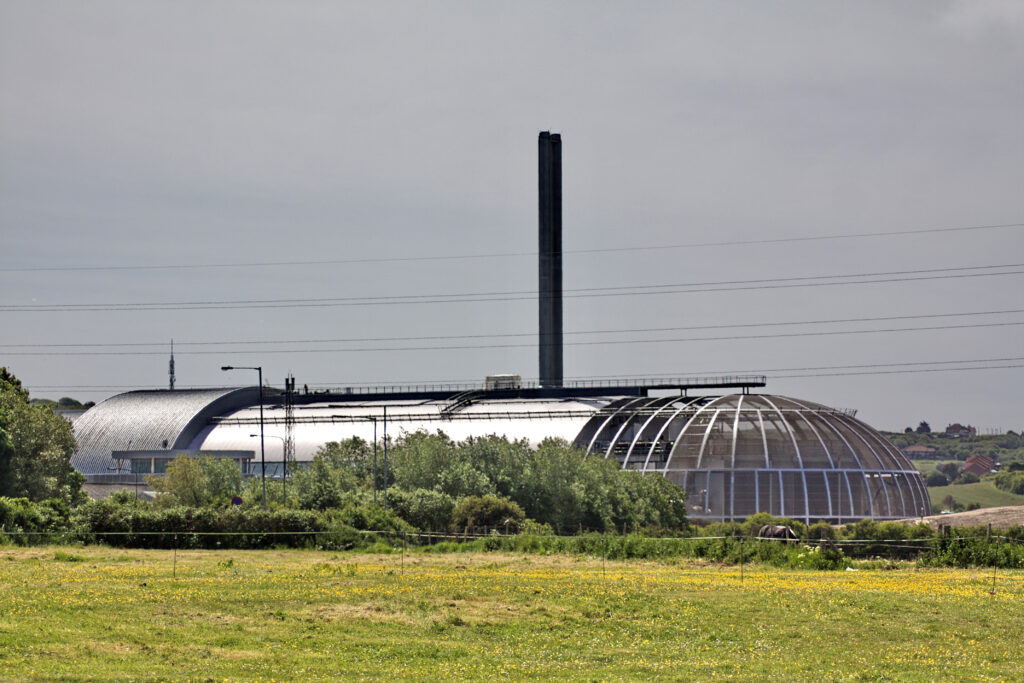 Results
Installation of the mesh above the heavy process equipment took around six weeks for a team of six on the ground fitting sections together and 14 riggers, clamping and bolting the sections into place. Having refined this techique, Base Structures is confident it will significantly reduce this build time for future projects.
Like a vision taken straight from the set of Blade Runner, East Sussex's new Energy Recovery Facility perches in the estuary of the River Ouse reclaiming the energy stored within our waste which would otherwise end up as landfill.
"Base Structures found a technical solution on the basis of their knowledge, creativity and problem solving attitude. They transferred successfully the information from design study onto the final construction."
Andreas Clausen, HOCHTIEF Construction Manager