Contractor
John Sisk & Sons Ltd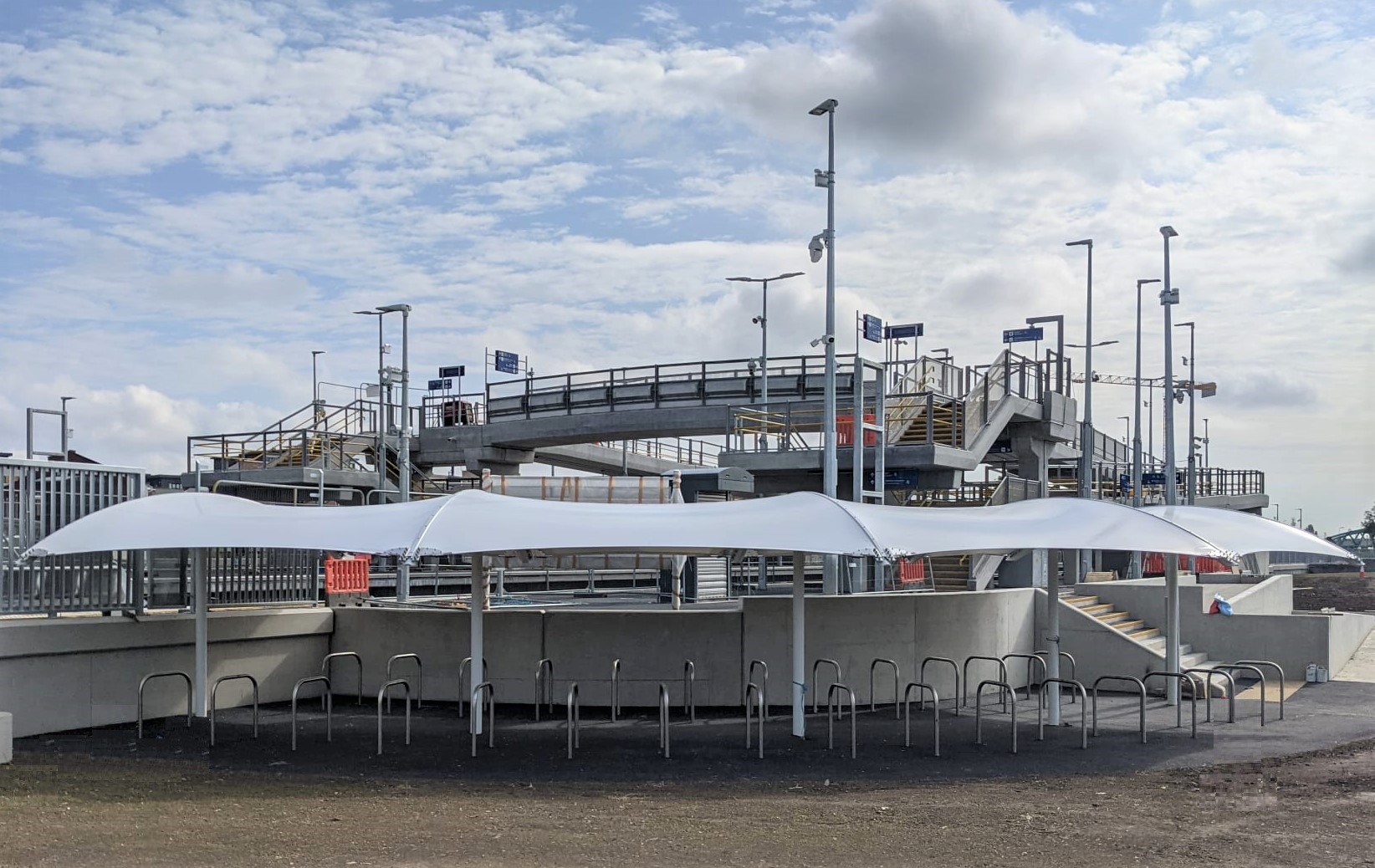 Bike Shelters Canopies
The team at John Sisk & Sons working on the newly built Pelletstown Railway Station, approached us to help them with a triple canopy scheme that would provide ample bicycle shelter space for the commuters and travellers and allow greener use of public transport.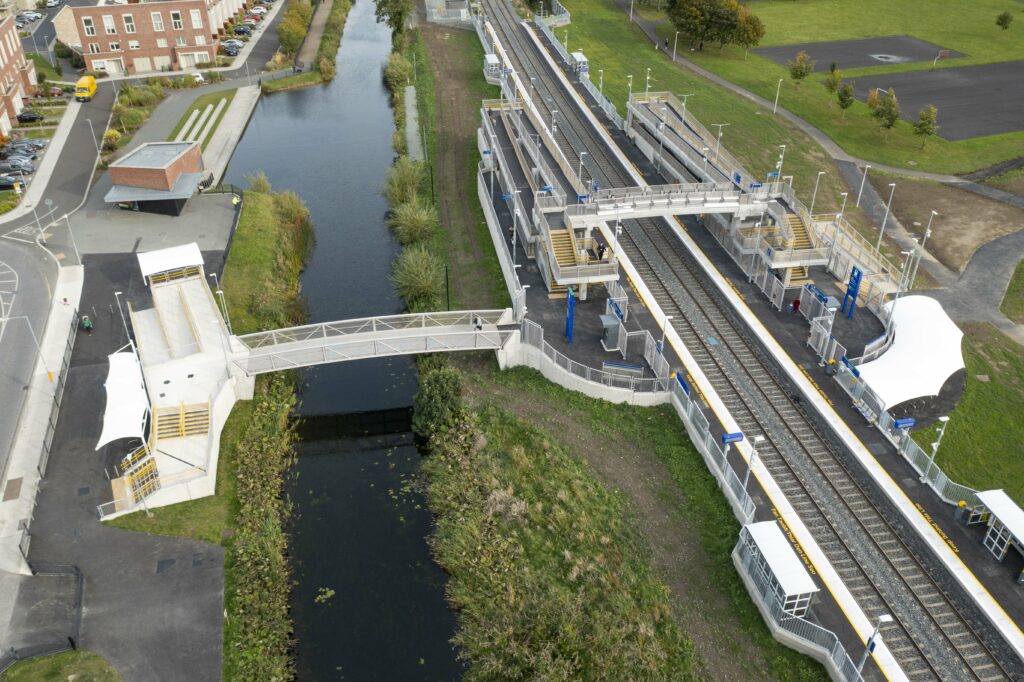 Our Solution
We created a bespoke design for each of the three canopies. The steelwork frames were manufactured in the UK and installed by SISK. The PVC fabric membranes and associated fixings and fittings were installed by Base Structures.
Along with the logistical challenges of travel restrictions between UK and Ireland at that time, summer 2021 during the Covid-19 Pandemic, we also had the challenges of working next to a live railway line into our safety procedures.
The Result
The end result is an attractive suite of highly functional fabric canopies that will improve the travelling experience for travellers and make it more practical and environmentally friendly for people to travel to the station by bicycle.
Similar Projects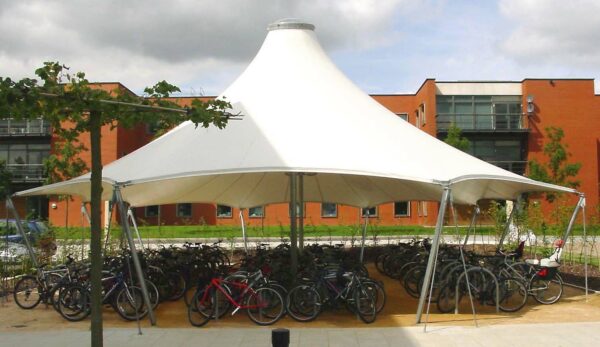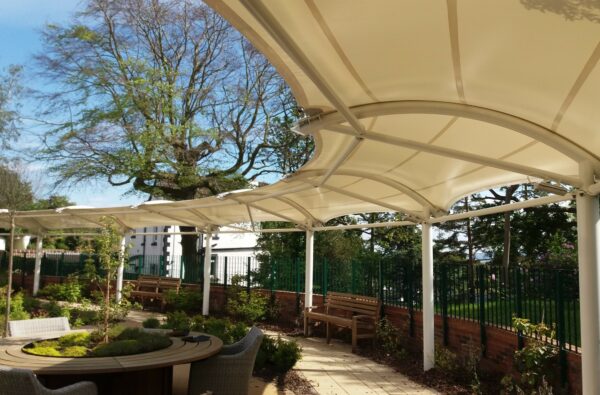 Trepassey Residential Care Home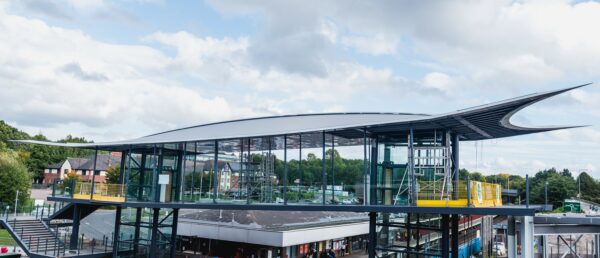 Telford Railway Footbridge
Related Articles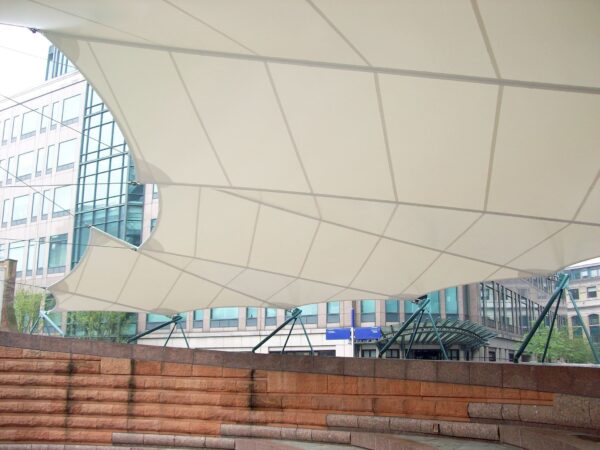 How we achieve zero fabric waste on projects
One of our key environmental objectives is zero waste to landfill. When working on the early stages of a fabric structure, this is a key…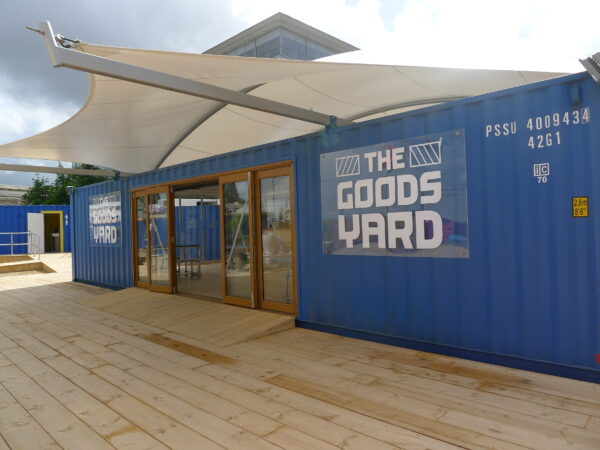 The Future of Fabric Architecture: A Blueprint for a Better World?
There is no doubt that many of the changes our communities have had to make around Coronavirus restrictions are staying put for a while yet.…
Client
Royal Dublin Showground
Demountable Tensile Fabric Grandstand Canopy
The client required a grandstand tensile fabric canopy and wall system to cover to the seating area, however the Royal Dublin Society stadium frequently hosts concerts and events for which the central section of the existing grandstand is removed to allow a stage to be erected in its place. This meant the fabric canopy would also require a removable central section to follow suit.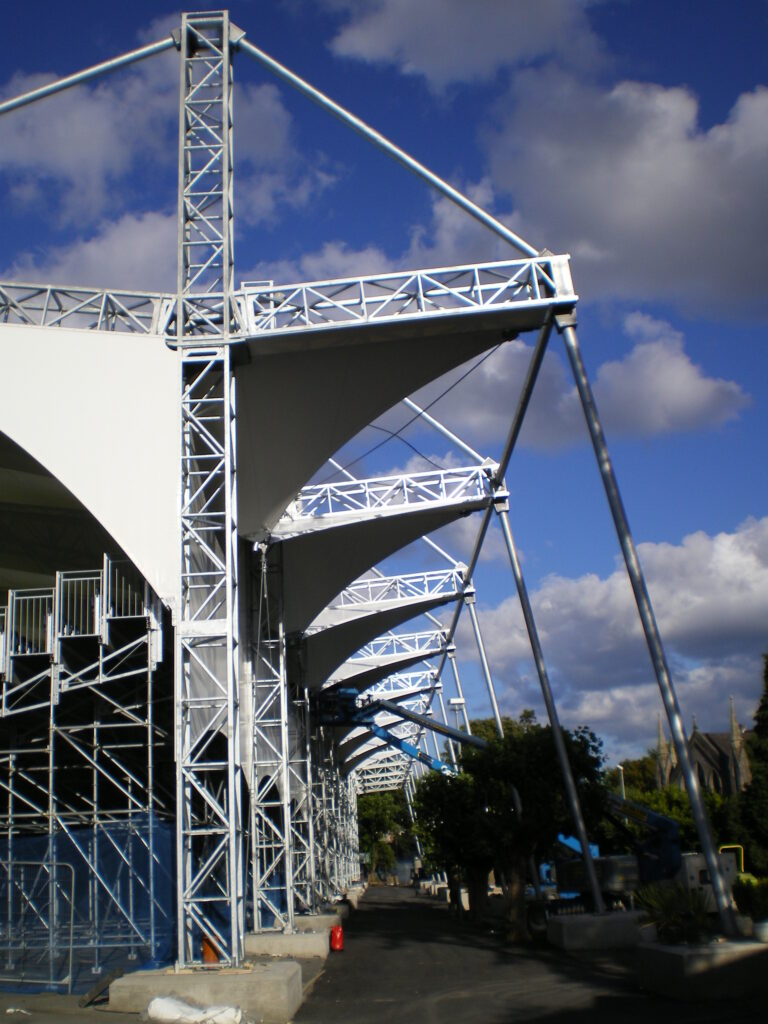 Our Solution
Fabric structures are very versatile and in this case proved a good solution for the removable section, whilst also being an attractive way to provide the much needed functional seating cover. We designed and fabricated the fabric roof canopy, side cheeks and rear walls.
Results
The project was completed on time and on budget and fabric canopy is credit to all involved.
Similar Projects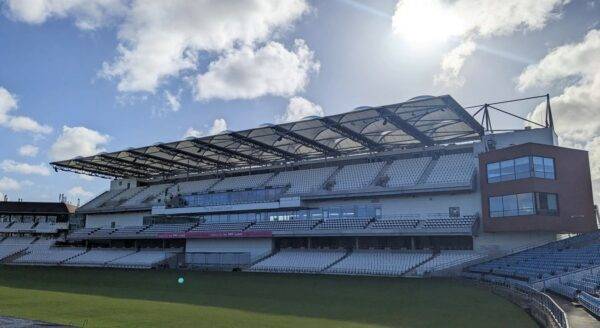 Emerald Headingley Stadium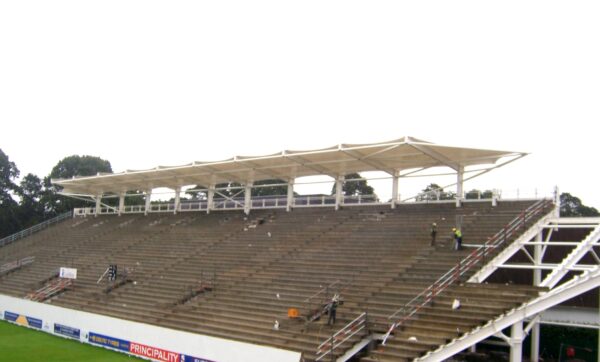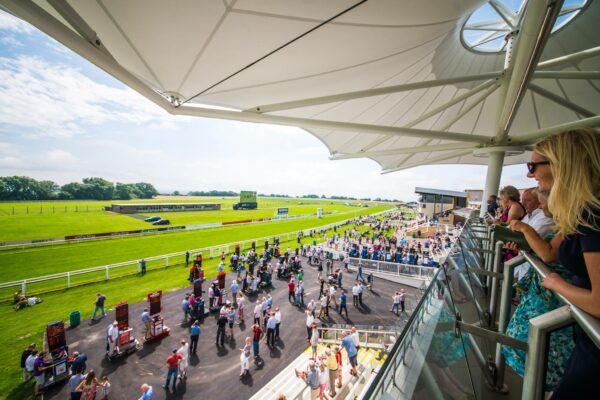 Client
Royal Dublin Showground
Fabric Clad Space Frame Roof
This tensile fabric cladding system is designed to cover the existing space frame roof to the Park West Railway Station. Having not long completed an identical tensile structure at nearby Adamstown Railway station, our clients Mero and Irish Rail were very pleased with the success of that structure and happy for this second fabric clad roof to go ahead.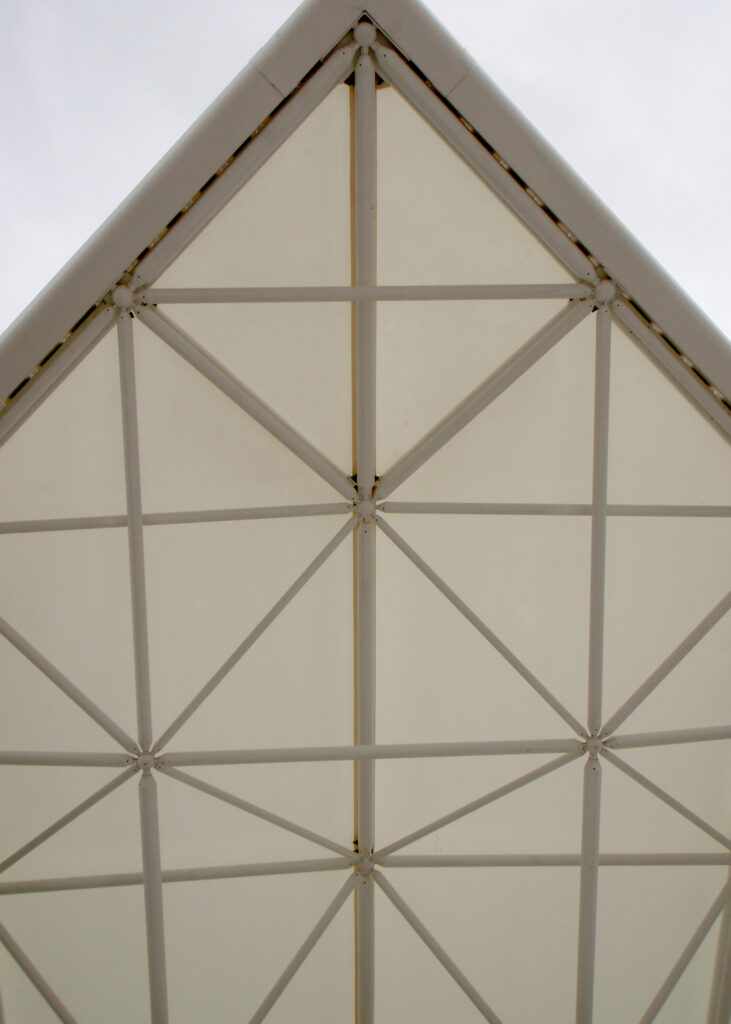 Our Solution
Using fabric as cladding in this way allows far more natural light into the building than more traditional alternatives and creates a very pleasant station environment.
Similar Projects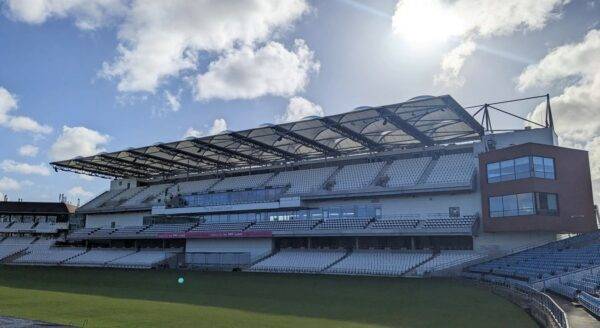 Emerald Headingley Stadium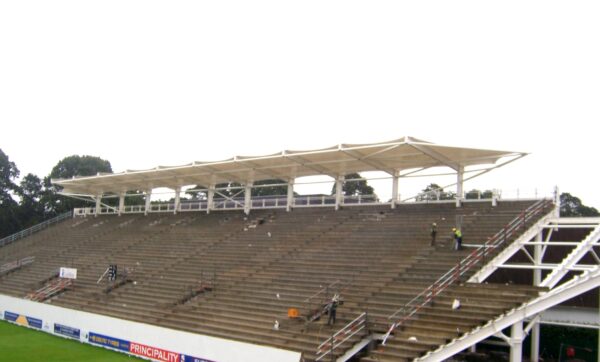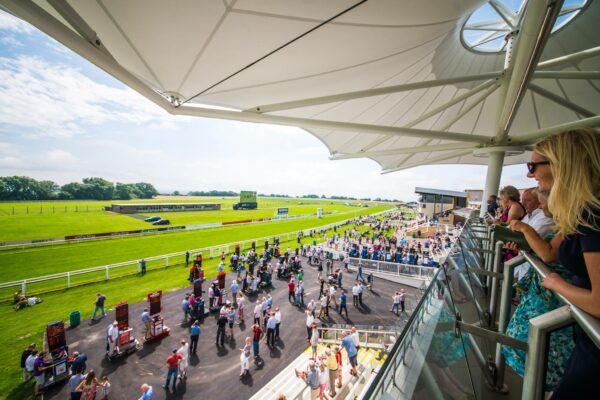 Client
Royal Dublin Showground
Retail Fabric Cone Canopies
Architects Douglas Wallace were keen to provide a keynote feature for the brand new Fresh retail stores being launched in Dublin.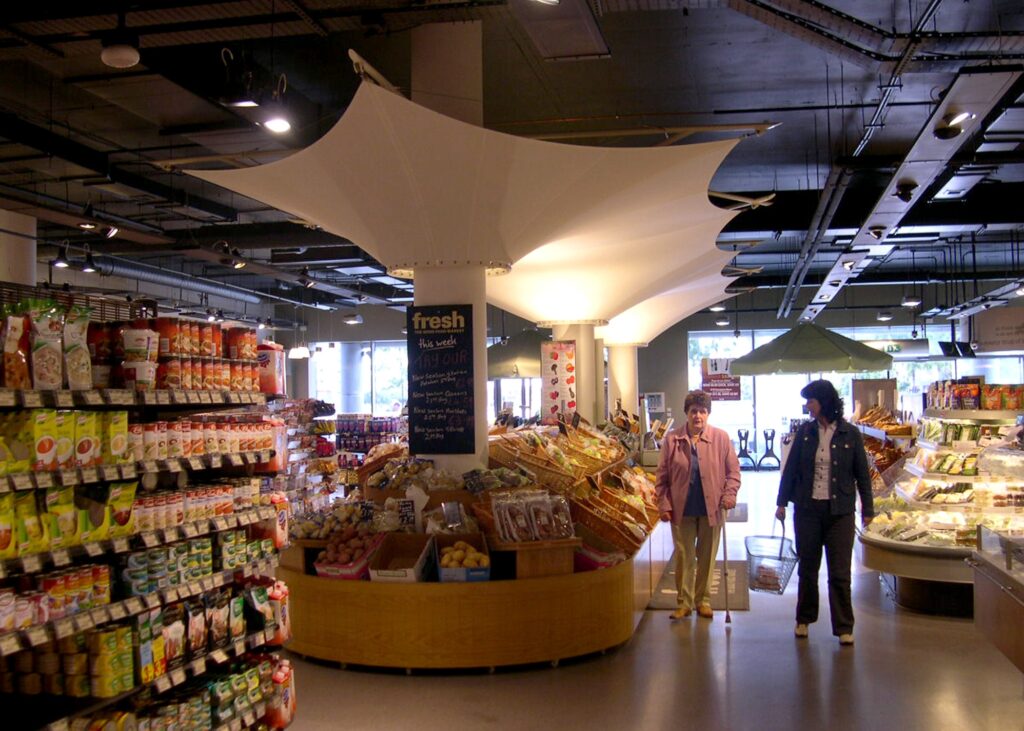 Our Solution
We designed, manufactured and installed the fabric cones, supporting steel frame and associated fittings. Similar feature tensile canopies were installed in a further two retail stores in the city.
Results
The tensile fabric cones create an elegant cafe culture feel to this unique food store, setting them apart from the competition. By uplighting the fabric canopies a soft reflected light illuminates the produce as well as providing visibility from the street.
Similar Projects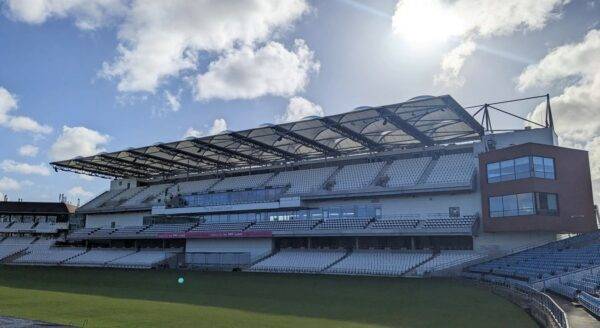 Emerald Headingley Stadium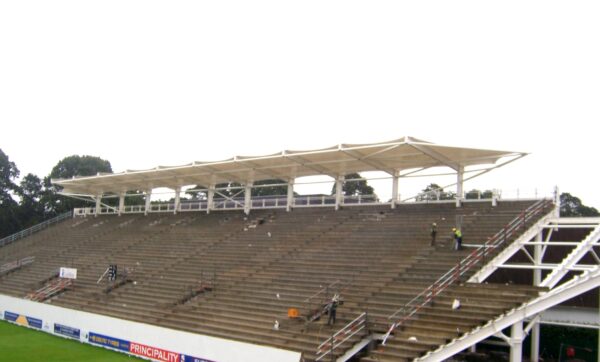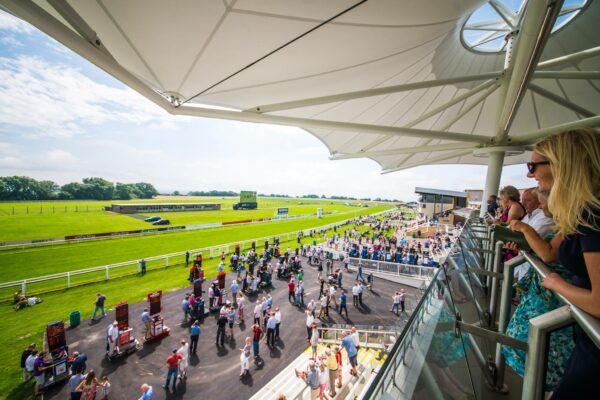 Client
Royal Dublin Showground
Tensile Fabric Cladding System
To devise a fabric cladding system for our clients space frame roof to the new Adamstown railway station. Fabric cladding is a great choice for this impressive and innovative structure because it allows more light into the interior space than traditional cladding materials.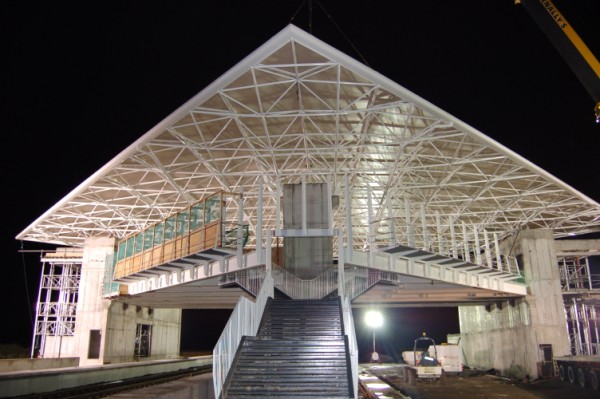 Our Solution
We designed, manufactured and installed the fabric cladding to the existing steel space frame.
Results
Patrick Reilly, Resident Engineer of Iarnrod Eireann, recently commented on our outstandingly safe working practices on site:
"Adamstown was executed with professionalism and the safe working practices shown by these operatives was a credit not only to themselves but also to your company. It is not often that one can be at ease, especially when working next to live operational railways, but the confidence installed in me by the operatives carrying out this job was welcomed – the way in which they ensured at all times the safety of the traveling public was again to be commended."
Similar Projects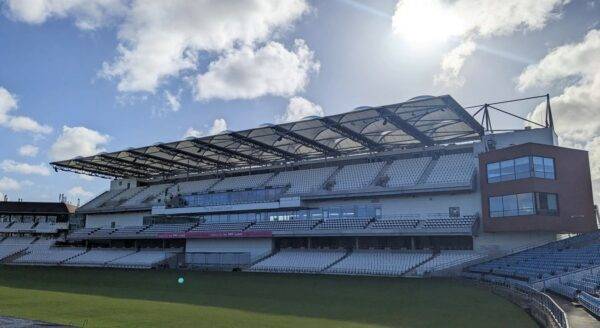 Emerald Headingley Stadium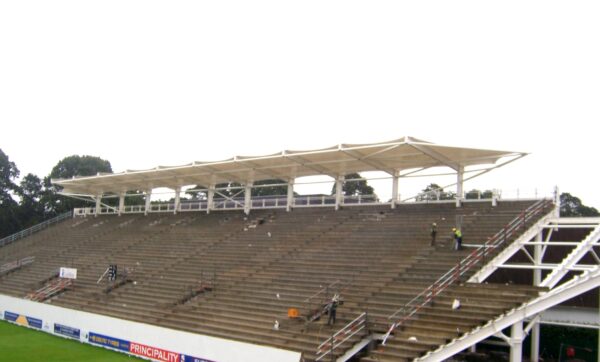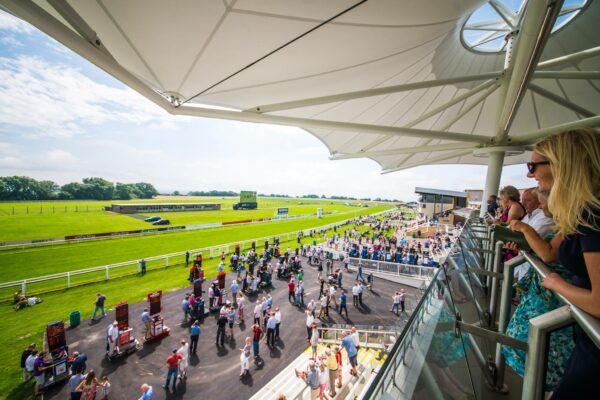 Client
Royal Dublin Showground
Terminal 2 Temporary Works Screens
Having approached Base structures about a similar scheme at the outset of the works, Dublin Airport came back to us in October 2008 with a proposal to close off the southern elevation of the building with two and a half thousand square metres of weatherproof fabric.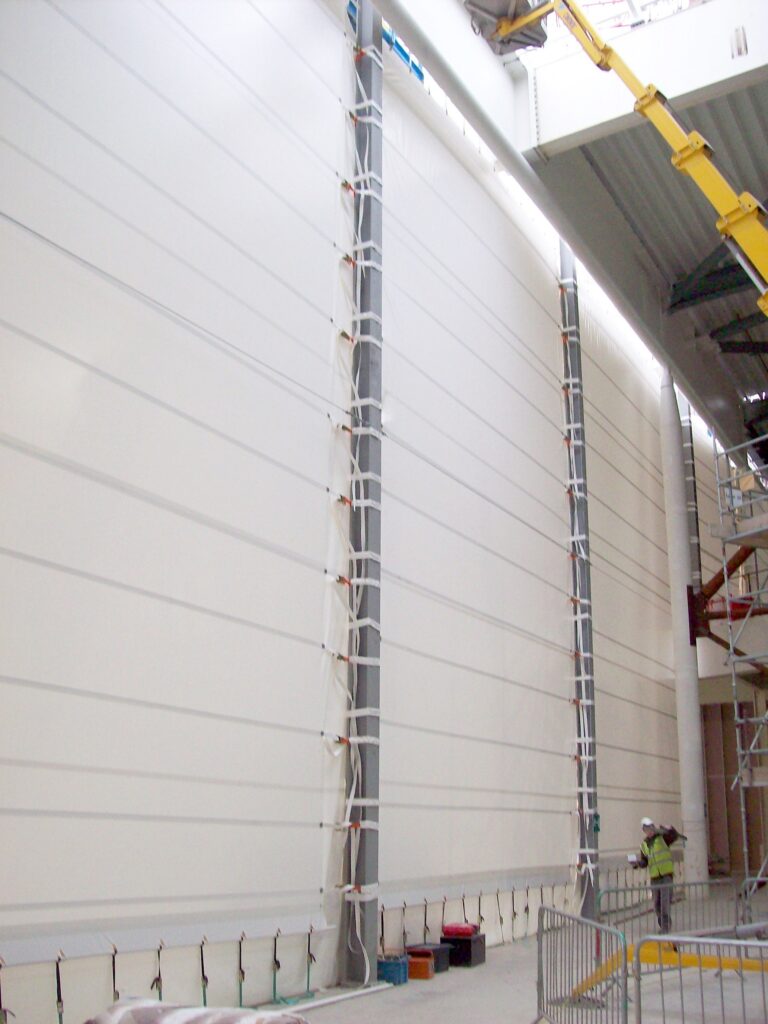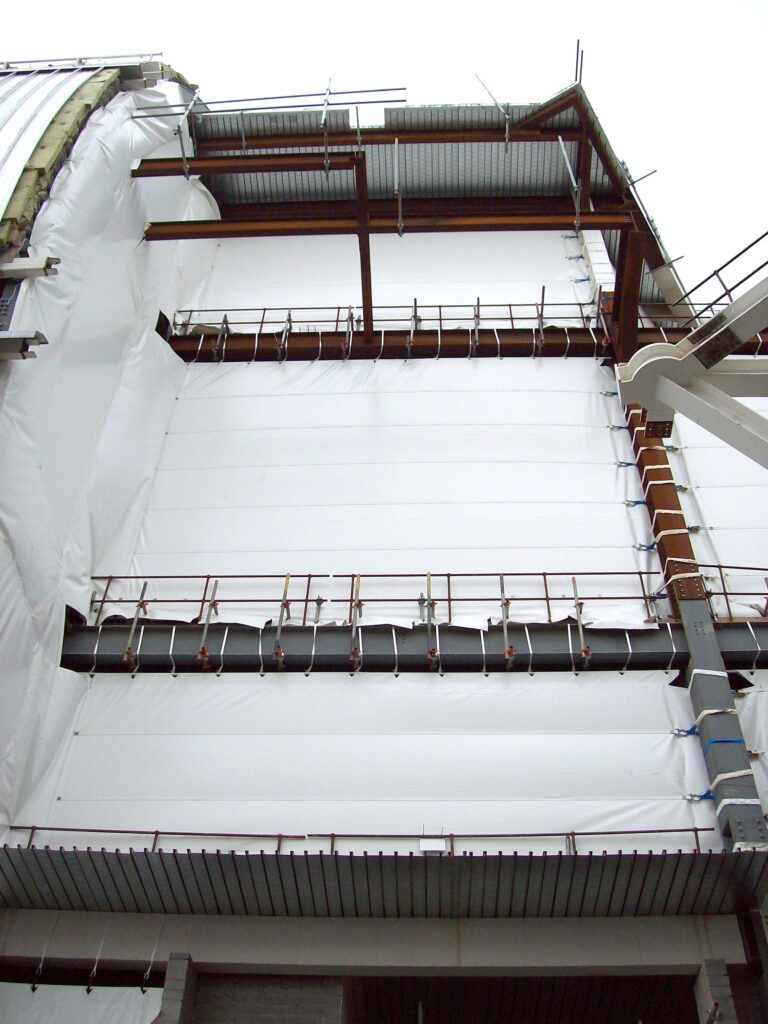 Our Solution
After receiving the brief Base set about designing, manufacturing and installing this completely bespoke and fully engineered solution in less then seven weeks, with the site install time barely exceeding two of these.
The results
This speed of service, combined with the durability, weatherproofing and reliability of the installed scheme enabled the construction team to recover time on the €609m project and made a significant contribution towards completion on the May 2010 deadline.
Similar Projects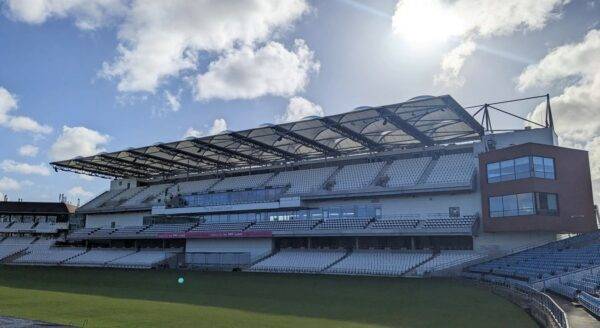 Emerald Headingley Stadium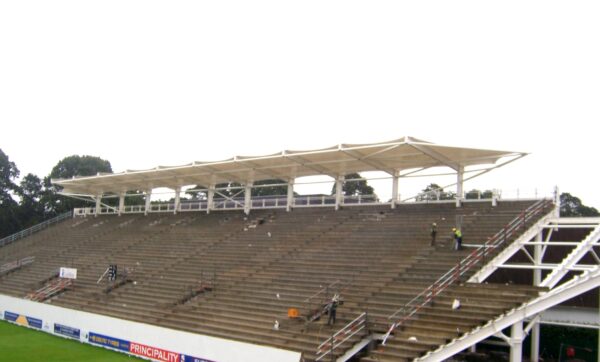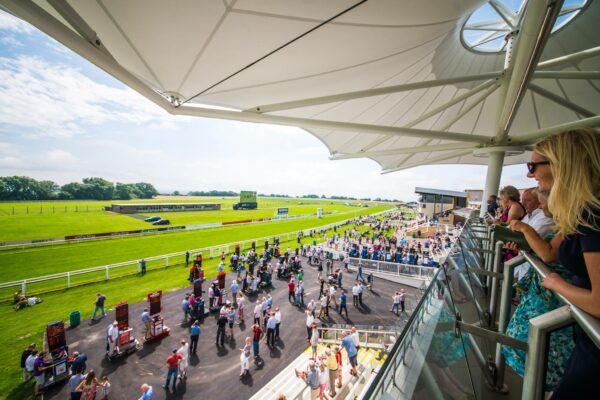 Client
Royal Dublin Showground
Project Outline
Architects LOM designed four large tensile fabric 'shards' forming a sculptural interpretation of the bank's red logo for the atrium of their Dublin head office in Grand Canal Square.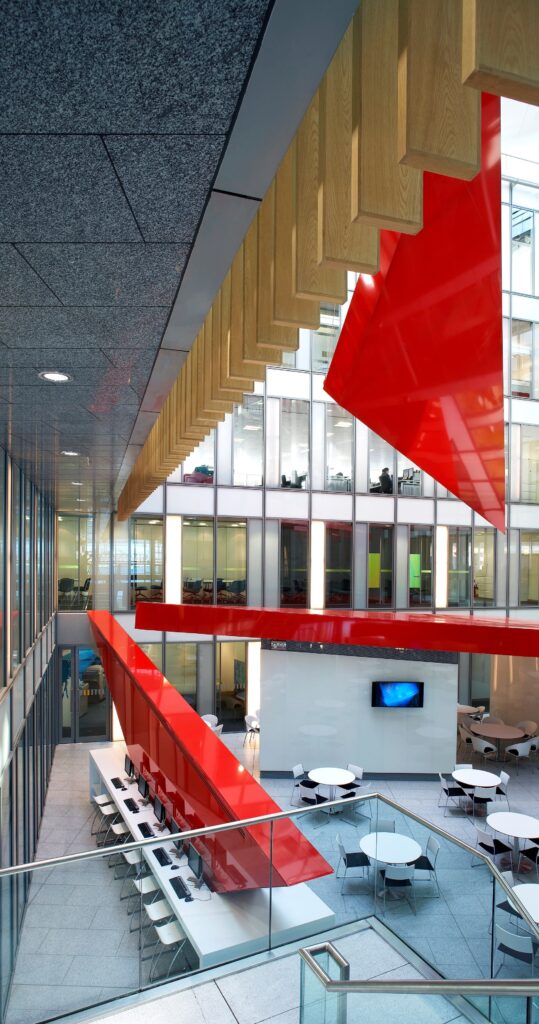 Our Solution
In collaboration with Stretch Ceilings UK, Base coordinated the design of all the steel rafts as well as the fabrication and suspension of the largest hanging shard. The dramatic shapes which dominate the space were achieved with our unique combination of design, manufacture and rope access installation skills.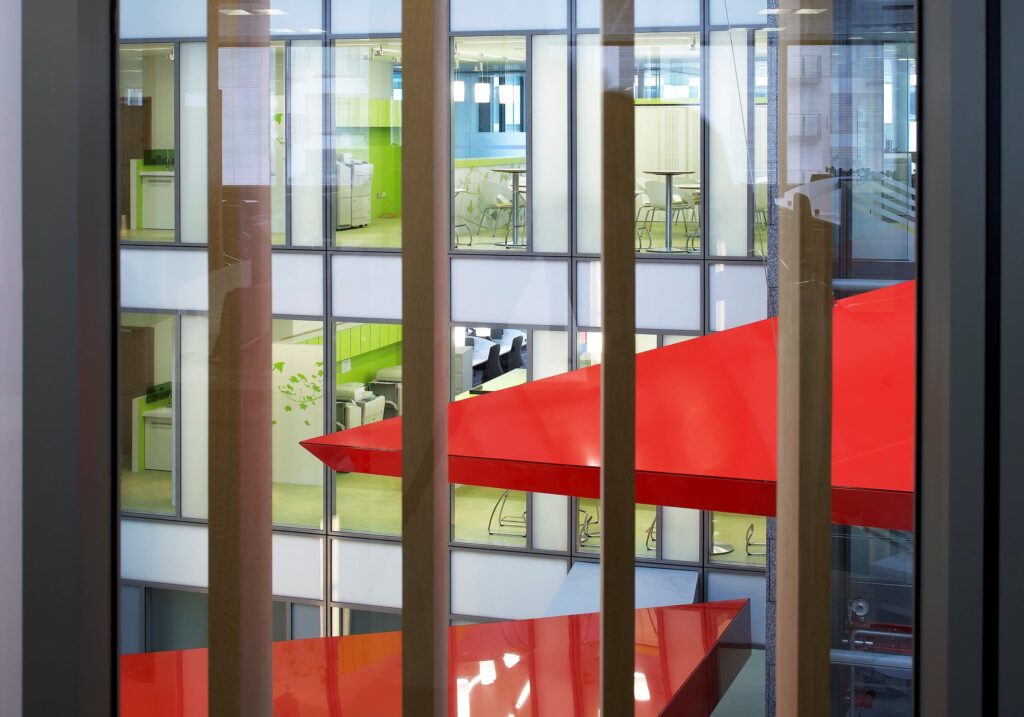 Similar Projects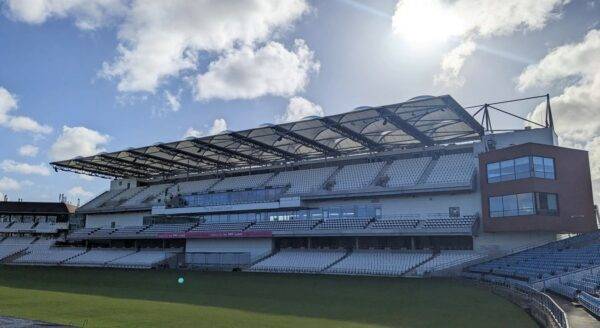 Emerald Headingley Stadium