Architect
Haskoll Architects
Contractor
Cyril Sweet Ltd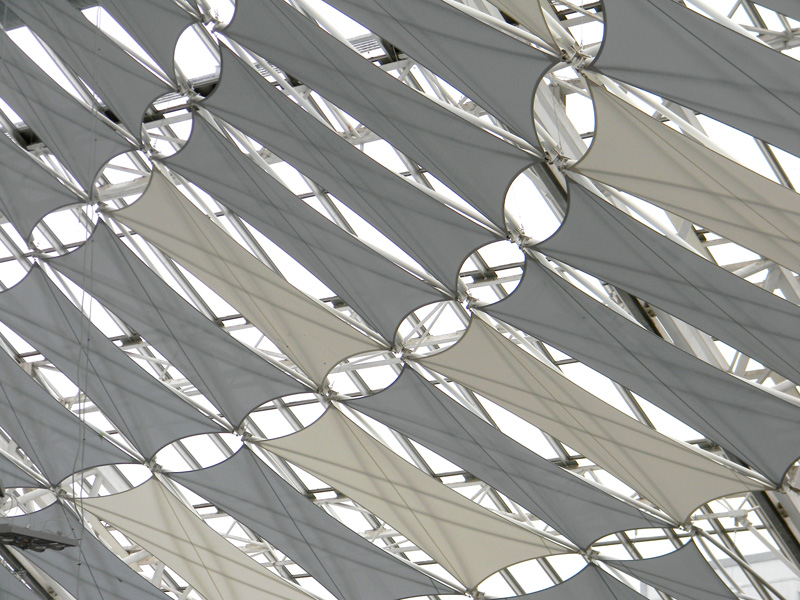 Mesh Screens and Sunshade Sails
The brief was to create thirty six twisted silver mesh ribbons, served to soften the geometry of the glass roof support steelwork in the main Mall at the St Enoch's Centre, the home of shopping in Glasgow. Three different types of fabric mesh were used to form a vertical screen wall above the Hamleys store. However the main feature is a huge array of seventy five fabric sails suspended on frames above the remodelled food court.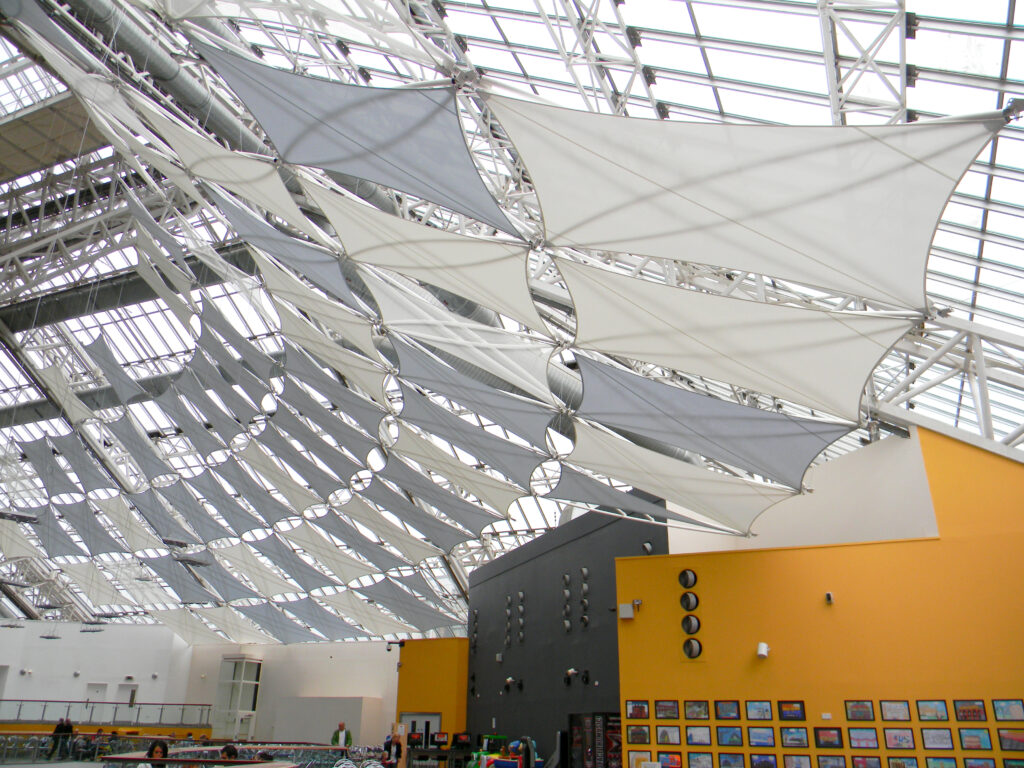 Our Solution
Base Structures carried out a sunshading analysis as part of the design stage and used three fabrics with different translucency's to provide interest. The installation was carried out by our in-house rope access installation team at night to allow the Centre to trade continuously.
Results
The fabric sails provide welcome glare control, mask unsightly ductwork and help to provide a sense of place for the restaurant area.
Architect
Haskoll Architects
Contractor
Cyril Sweet Ltd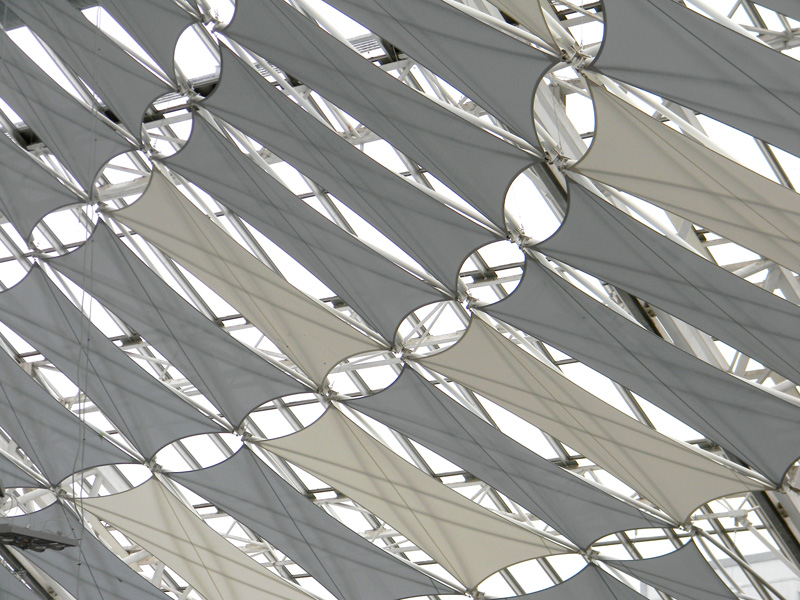 Bespoke Covered Walkway Canopy
Base Structures were asked to design and install a tensile fabric sheltered walkway 120m long, running from the shopping centre to the bus stops. It spans between the shopping centre and the next door bus station.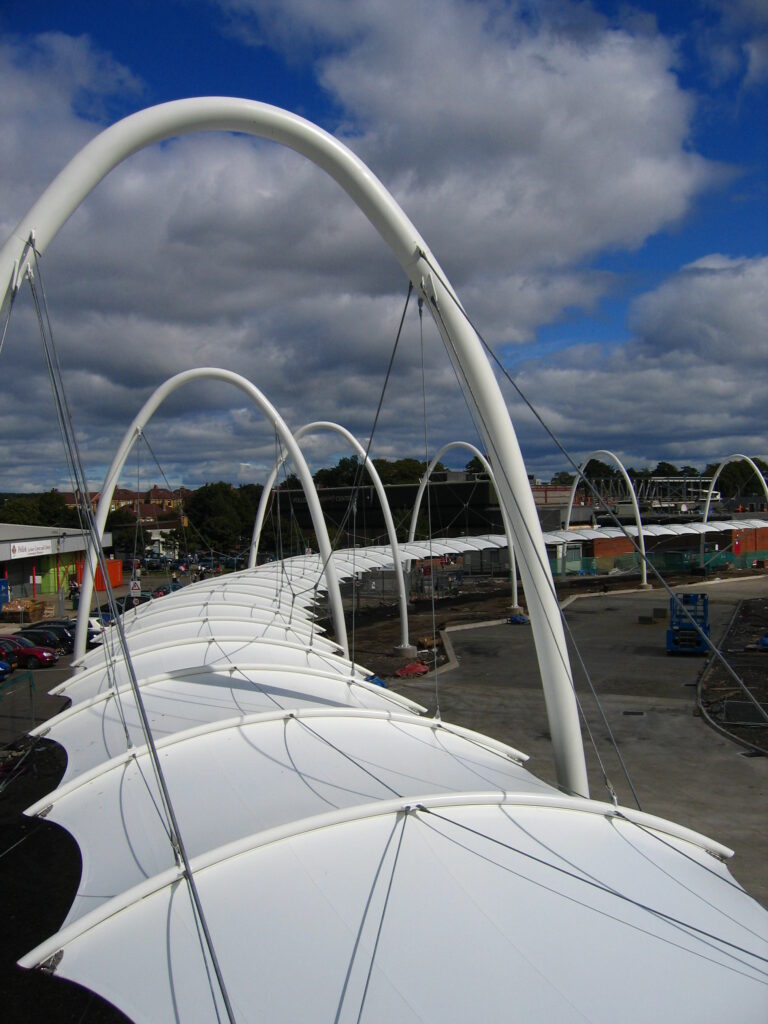 Our Solution
We engineered, designed, manufactured and installed the fabric walkway canopy including the supporting steel structure, rigging cables and fittings. This installation was very successful, it was completed ahead of time and our clients are extremely pleased with the new walkway.
Results
The fabric walkway provides the shopping centre with an impressive and effective sheltered area for the customers.
Architect
Haskoll Architects
Contractor
Cyril Sweet Ltd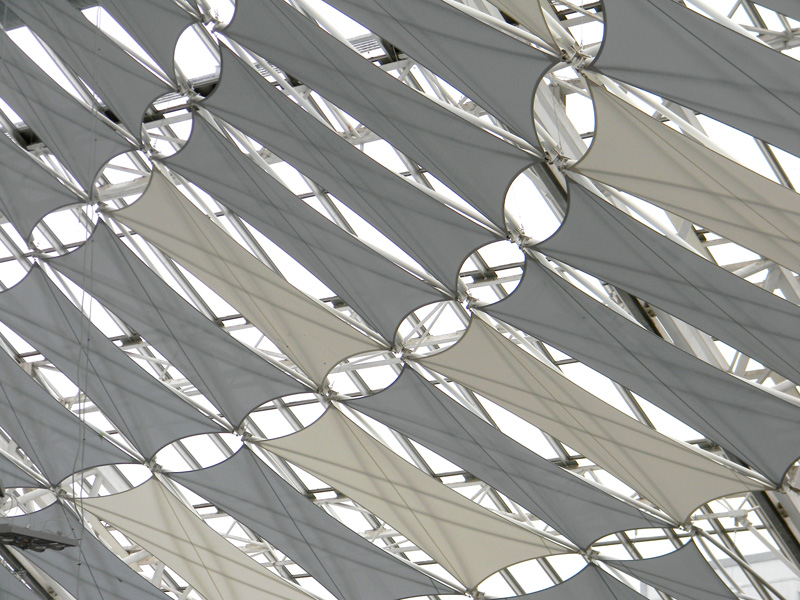 Covered Walkway Fabric Canopy
Often in our work functionality drives a design brief, yet we strive to keep creativity and innovation at the heart of every structure. Our brief was to build a sheltered walkway canopy and impressive dramatic architectural feature for the East End connector terminal at the airport.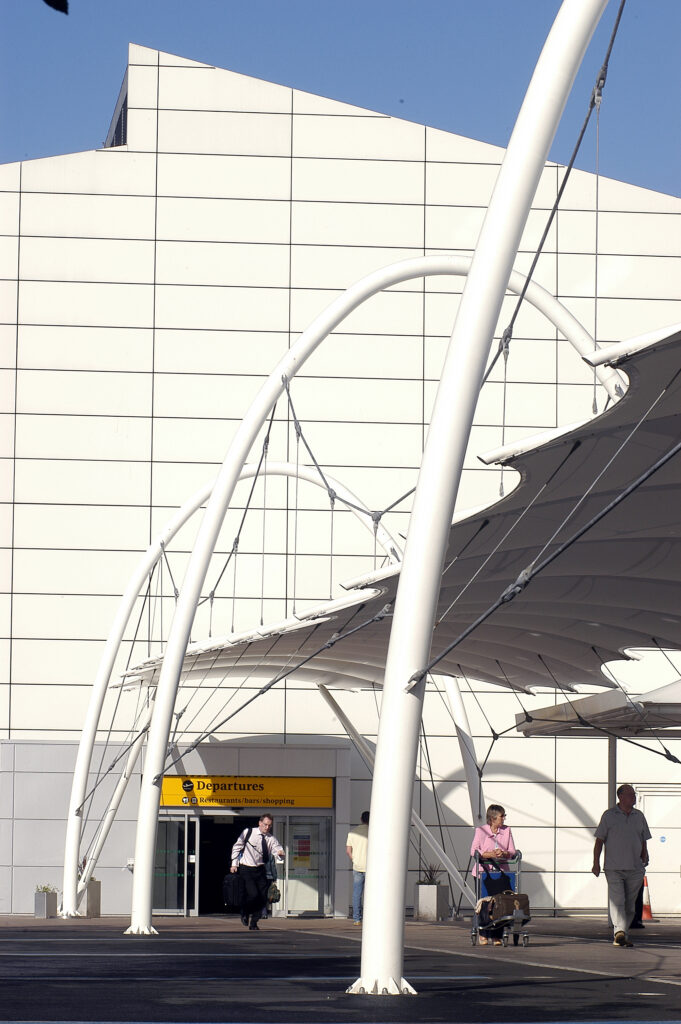 Our Solution
We designed, manufactured and installed a barrel vault canopy that gently undulates over the length of the walkway below. It is tensioned by tie-rod catenary cables with huge elliptical steel arches locking it in place. They seem to reach up out of the ground like the arms of giants holding a large umbrella over the customer's heads.
The tongue- in-cheek landing strip lighting design seemed the appropriate way to guide the airport users from A to B when dusk fell.
Results
It was a successful installation taking just four weeks in total. BAA are delighted with the canopy and are considering further fabric projects at the airport.